With jury deliberations set to resume Tuesday in the trial of a white transit police officer accused of killing an unarmed black man in Oakland, California, police in Oakland and Los Angeles were bracing for demonstrations in the racially-charged case.
The victim, Oscar Grant, 22, was among a group of revelers returning from San Francisco on New Year's night 2009 who were involved in a fight on a BART train. A fight broke out after Grant and members of his group were pulled off the train at Oakland's Fruitvale station. Grant was on his stomach when former transit cop Johannes Mehserle pulled out his gun and shot him in the back.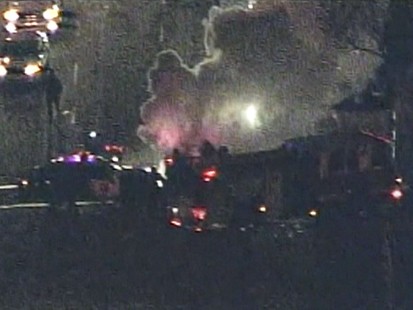 A jury in Los Angeles, where the trial was moved because of extensive media coverage, will decide whether Mehserle, 28, should be sent to prison. Legal experts called the case the most racially polarizing trial in the state since four Los Angeles police officers were acquitted in 1992 in the famed
Rodney King beating.
Mehserle was charged with first-degree murder in the killing, but a judge removed that option last week and ruled the jury could consider second-degree murder, lesser manslaughter charges or no guilty conviction at all.
When the trial ended Friday, the prosecutor asked a Los Angeles County jury to do what no local jury had done in nearly 30 years: convict a police officer of murder in an on-duty police shooting.
"I think there is a very strong chance that he'll be convicted of involuntary manslaughter, which is kind of a compromise verdict between murder and acquittal," Jonathan Masur, a professor at the University of Chicago Law School, told ABCNews.com. "At least the jury will view it as a compromise verdict. I'm not sure that the people in Oakland who are upset would be satisfied with involuntary manslaughter."
The shooting sparked violent street protests in Oakland, where Grant – a young father from Hayward, Calif., who had been recently released from jail – was seen as a symbol of long-simmering tensions between minorities and law enforcement. He became a martyr of sorts, his image plastered on buildings and storefront windows across the city.
In Oakland, police braced to prevent a repeat of the rioting that occurred after grainy videos of the shooting were made public. There were about 100 arrests. Officers were brushing up on crowd control procedures and working 12-hour shifts. In Los Angeles, already-tight security around the courthouse will be beefed up on verdict day.
"We're not anticipating or hearing of any violence," Oakland Police Department spokeswoman Holly Joshi told ABCNews.com. "The main body of preparation is not crowd control or riot preparation, but it has to do with reaching out to community leaders."
In his closing argument, Alameda County Deputy District Attorney David Stein said police officers were supposed to protect and serve, not abuse their authority. "We also entrust them with our lives and our fellow citizens,'" he said. "Oscar Grant represents one of those citizens."
But defense attorney Michael Rains called the shooting a tragic accident, saying his client had inadequate training. Mehserle testified that he accidentally grabbed his gun instead of reaching for his Taser. Witnesses testified that Mehserle appeared to be in shock after shooting Grant.
"On Jan. 1, 2009, Johannes Mehserle fired a single gunshot and it brought him to this place before you, and you are his shot at justice," Rains told jurors, using a line from the 1982 legal drama "The Verdict," starring Paul Newman.
Stanford University law professor Robert Weisberg told ABCNews.com that Mehserle's story about confusing his gun for his Taser will be hard for a jury to believe.
"The training would make that almost impossible, and the fact is that the weight of a gun is so significantly greater than the weight of a Taser, that this is improbable," he said.
And the fact that prosecutors originally sought a murder conviction may have set the bar too high, say some legal experts.
"I know there are people in Oakland urging for calm who have tried to tell residents that a manslaughter verdict would be a victory against Mehserle," Weisberg said. "The problem is that the prosecutor has set it up so that it would feel like a failure. Let's face it, the term murder is not just a legal term, it's a kind of an emotive term. And if he's acquitted of murder – and it would be true if it's a manslaughter verdict – well that is symbolically is going to feel like a defeat for many people."
Mehserle resigned from the Bay Area Rapid Transit agency after the shooting. His trial was moved from Alameda County to Los Angeles because of extensive media coverage and growing racial tensions.
Another officer was heard on video using a racial slur before the shooting, but no evidence was presented that Mehserle's actions were influenced by prejudice.
Prosecutors repeatedly played several videos for jurors, taken by witnesses, that show Mehserle aiming his handgun and firing a single round into Grant's back as he stood over him. The footage may fuel expectations of a murder conviction.
Legal experts said prosecutors rarely file murder charges in police shootings. When they do, the state faces a high legal hurdle in persuading a jury that an officer is guity.
"Every jury and juror in any part of the country is always going to be concerned about convicting any government official or law enforcement personnel under criminal laws that are themselves drawn in a general way that isn't sensitive to the unique challenges that law enforcement necessarily face," Douglas Berman, a law professor at Ohio State University, told ABCNews.com.