— -- Federal prosecutors found insufficient evidence to charge either police officer involved in the Baton Rouge, Louisiana, shooting death of Alton Sterling, the U.S. Justice Department announced today, as it laid out in a detailed statement how the department came to that decision.
This federal investigation came after Sterling, an armed black man, was shot and killed on July 5, 2016, during an altercation with white police officers Blane Salamoni and Howie Lake II outside Baton Rouge's Triple S Convenience Store. Parts of the shooting were captured on video and Sterling's death sparked protests nationwide.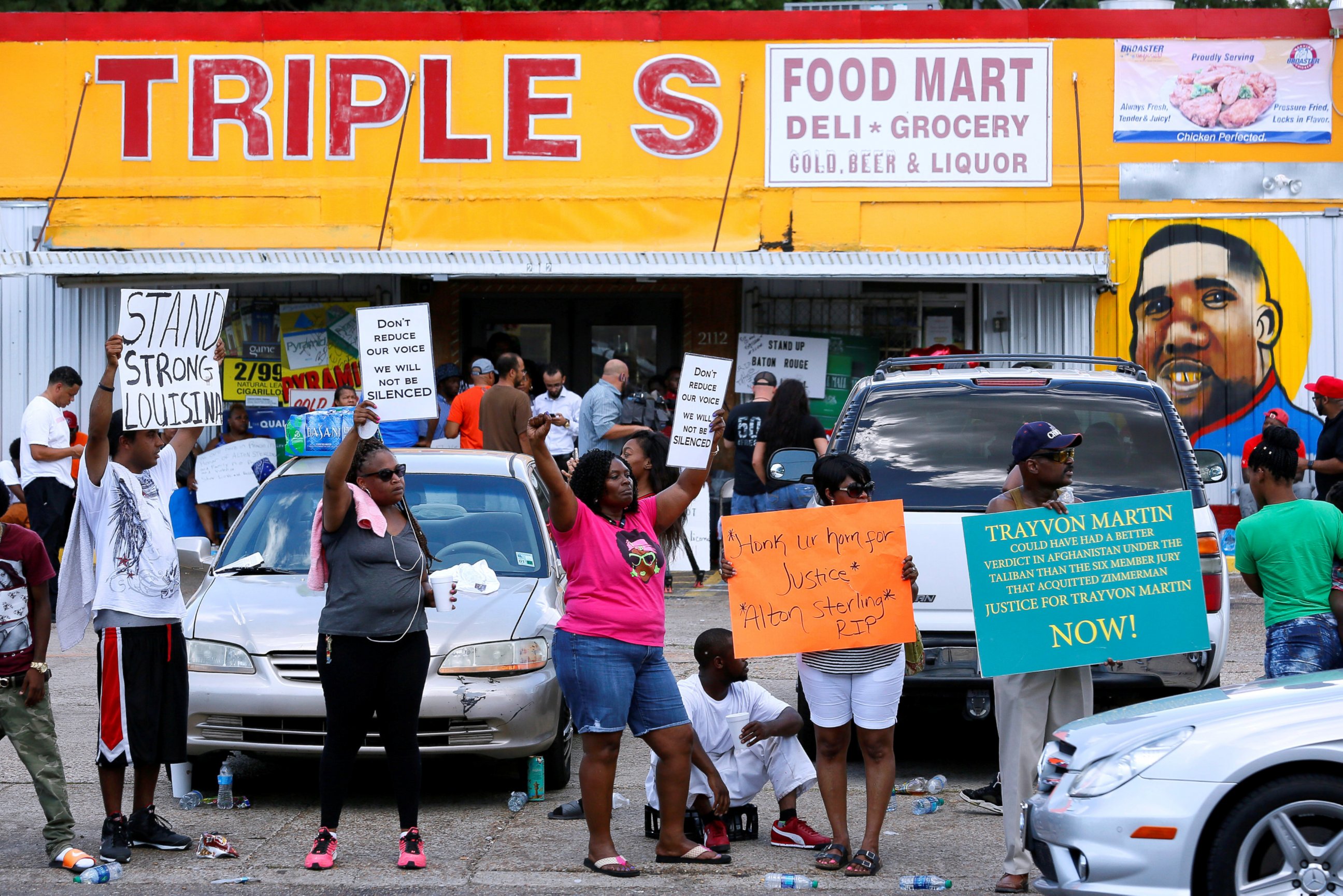 The confrontation began when a 911 caller said a man wearing a red T-shirt selling CDs was armed. When the two responding officers approached Sterling in the parking lot of the convenience store, an altercation ensued, the Justice Department said in a statement today explaining its decision. As officers tried to subdue Sterling, Salamoni shouted that he saw a gun in Sterling's pocket. Salamoni first fired at Sterling after he allegedly saw him reaching for the weapon, the Justice Department said. Sterling then continued to move, prompting Salamoni to fire again, into Sterling's back.
U.S. Attorney for the Middle District of Louisiana Corey Amundson said at a news conference this afternoon that the "exhaustive, almost year-long" federal investigation focused on whether either officer violated federal criminal civil rights laws or any other federal criminal law.
The Justice Department pointed to a number of questions it sought to answer in its investigation to reach its ultimate decision.
Did Sterling reach for his weapon?
In the statement today, the Justice Department said that while the videos "do not show Sterling's right hand at the time those shots were fired," they do "show that Sterling's right hand was not under Officer Salamoni's control."
The statement added: "The evidence also cannot establish that Sterling was not reaching for a gun when Officer Salamoni yelled that Sterling was doing so."
Also, the Justice Department said that while two witnesses said they could see Sterling's right hand and said his hand wasn't in his pocket, the department found that the witness statements were inconsistent and that some of their statements didn't coincide with the videos.
Were the actions taken by the officers reasonable?
Two independent use-of-force experts "concluded that the officers' actions were reasonable under the circumstances and thus met constitutional standards," the Justice Department said.
"The experts emphasized that the officers were responding to a call that someone matching Sterling's description had brandished a weapon and threatened another person; that Sterling was large and strong; and that Sterling was failing to follow orders and was struggling with the officers," the statement explained.
"The experts noted that the officers also attempted to control Sterling through multiple less-than-lethal techniques before ultimately using lethal force in response to Officer Salamoni's perception that Sterling was attempting to use a gun."
Was the second series of shots a violation of the Fourth Amendment?
Federal investigators also considered whether the second series of shots Salamoni fired was a prosecutable Fourth Amendment violation. The Fourth Amendment outlines what constitutes an illegal search and seizure.
"Although the videos show that Sterling's right hand was not in or near his right pocket, Sterling was continuing to move, even after being shot three times and being told again not to move by Officer Lake," the Justice Department said.
"Meanwhile, the officers were behind Sterling, and Officer Salamoni was lying on the ground, facing Sterling's back. Given these circumstances, the evidence cannot establish beyond a reasonable doubt that it did not appear to Officer Salamoni that Sterling was reaching for his pocket. Nor could the Department prove that the officer's conduct was willful."
The investigation's conclusion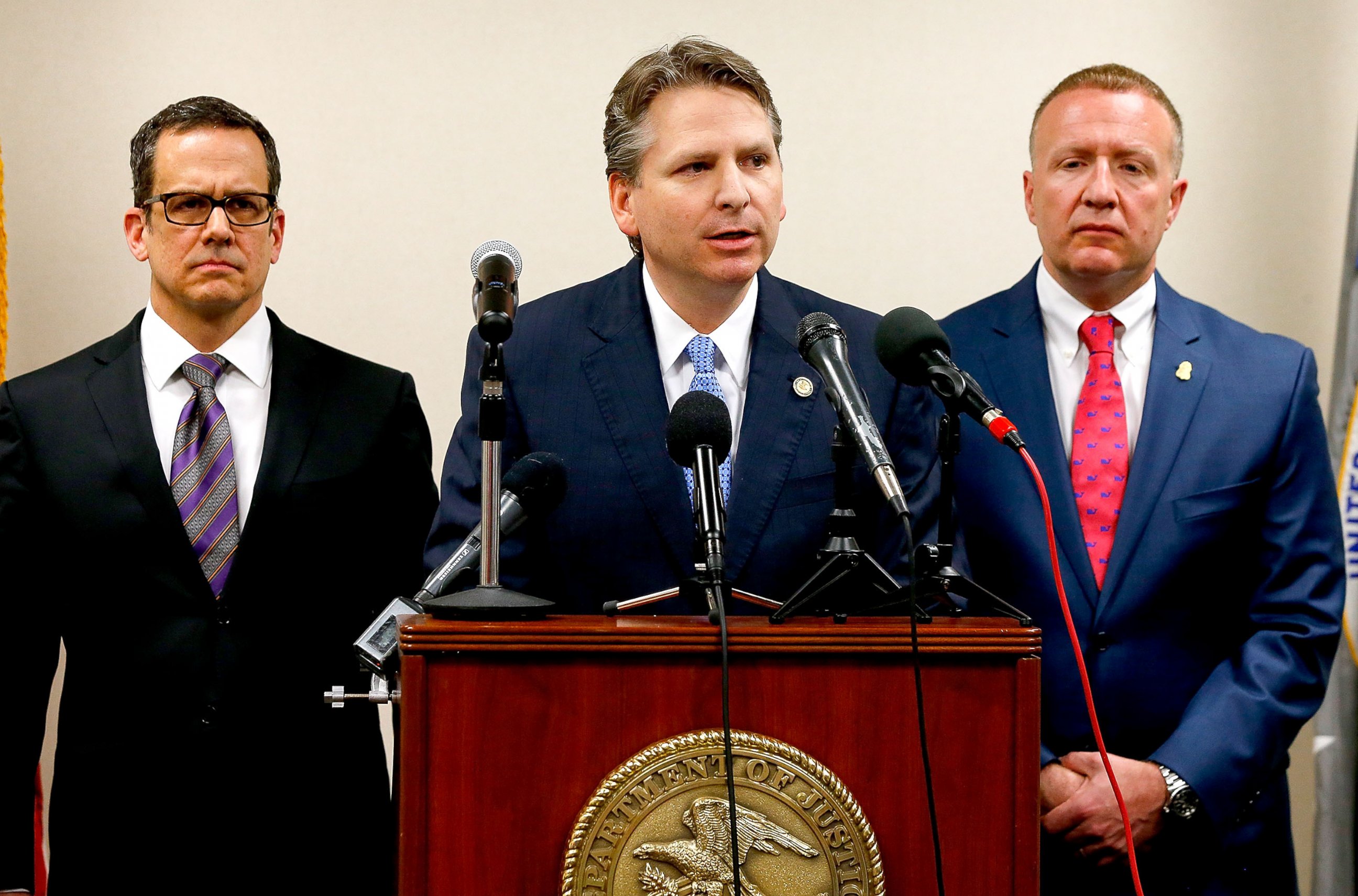 The Justice Department ultimately decided that it did not have enough evidence to pursue charges against either officer.
"Given the totality of the circumstances – that the officers had been fighting with Sterling and had attempted less-than-lethal methods of control; that they knew Sterling had a weapon; that Sterling had reportedly brandished a gun at another person; and that Sterling was much larger and stronger than either officer -- the Department cannot prove either that the shots were unconstitutional or that they were willful," the Justice Department said in its statement.
"Moreover, two different, independent experts opined that this shooting was not unreasonable given the circumstances," the statement continued. "With respect to the first series of shots, the experts assessed that it was not unreasonable for Officer Salamoni to use lethal force, in light of all of the circumstances referenced above. With respect to the second series of shots, both experts emphasized that officers are trained to eliminate a threat, and that Sterling appeared to pose a threat because he was still moving and his right hand was not visible to Officer Salamoni."
Sterling's family and officials react
Sterling's aunt, Sandra Sterling, said Tuesday night of the Justice Department's then-reported decision, "It's crazy. It's like we waited all this time for nothing."
"It just hurts so bad," she said. "It's a horrible pain. ... It's like going back to the first day all over again."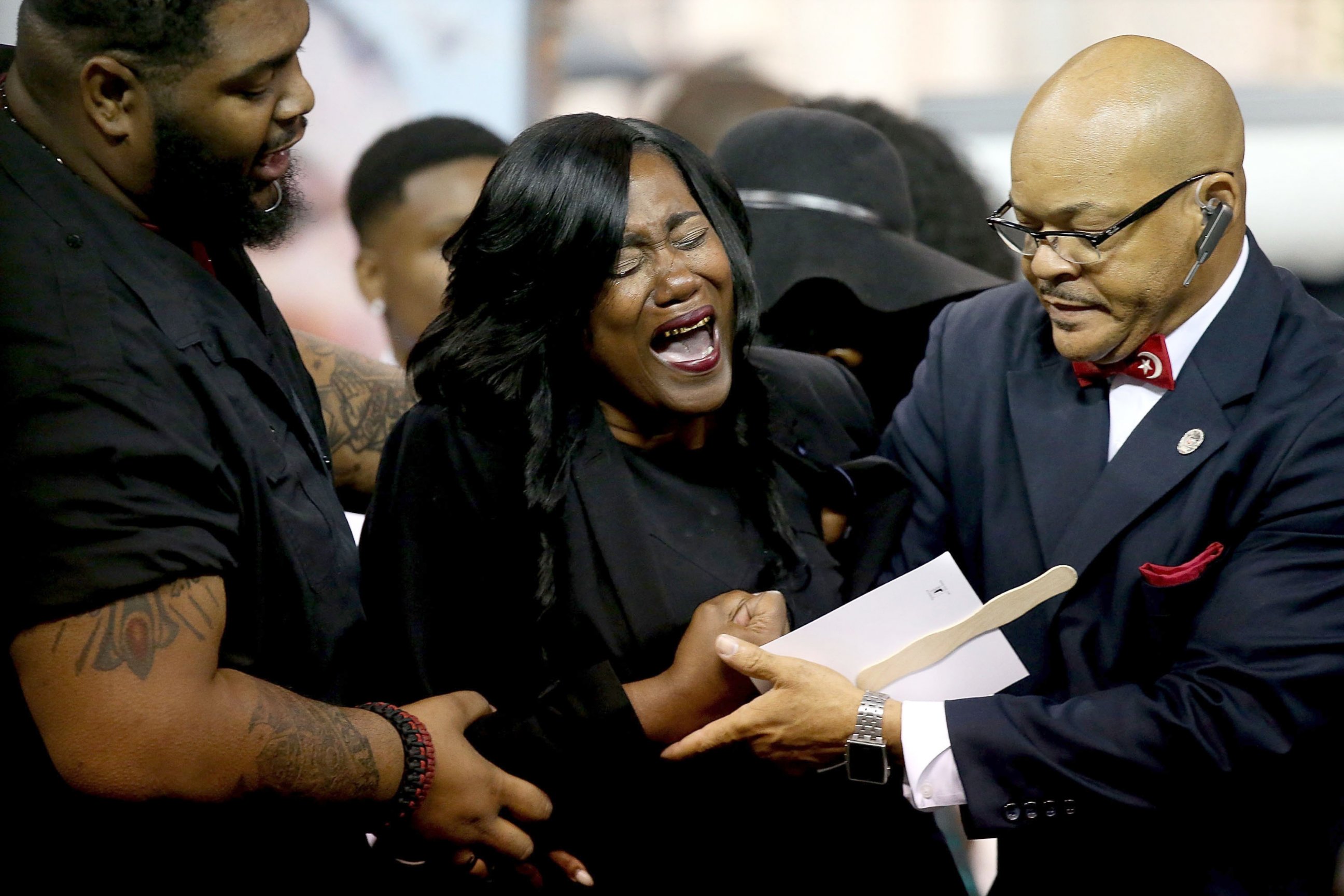 Amundson, the U.S. attorney for the Middle District of Louisiana, said this afternoon, "There are no winners here, and there are no victories for anybody. A man has died, a father, a nephew has died. My heart goes out to the family. ... There simply isn't enough evidence to proceed with the federal charge."
Baton Rouge Mayor Sharon Weston Broome said today that she was appalled that news of the DOJ's decision was "leaked" on Tuesday through the press before Sterling's family was notified.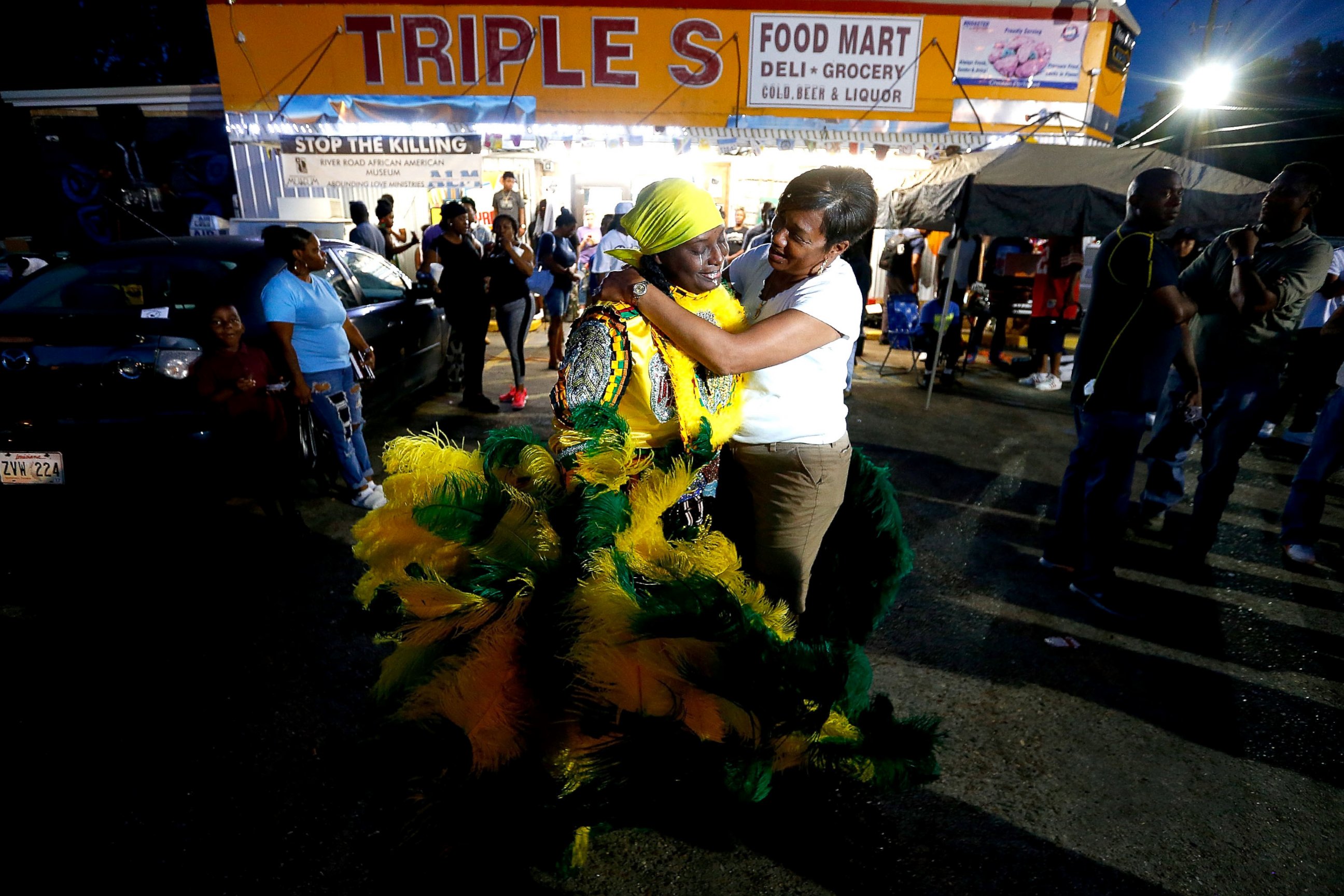 Multiple news outlets, including ABC News, reported on Tuesday that the DOJ was expected to announce that it would not be filing charges against the officers. Michael Adams, an attorney for Andricka Williams, mother of three of Sterling's children, told ABC News today that Williams is disappointed that the DOJ isn't bringing charges, adding that Williams learned of the DOJ's decision from the media on Tuesday even though the family was allegedly promised it would be told first.
Louisiana Gov. John Bel Edwards echoed the mayor's sentiments, saying it was "disrespectful to tell the family that they could expect to know first," adding, "I do hope there is an investigation into how that leak occurred."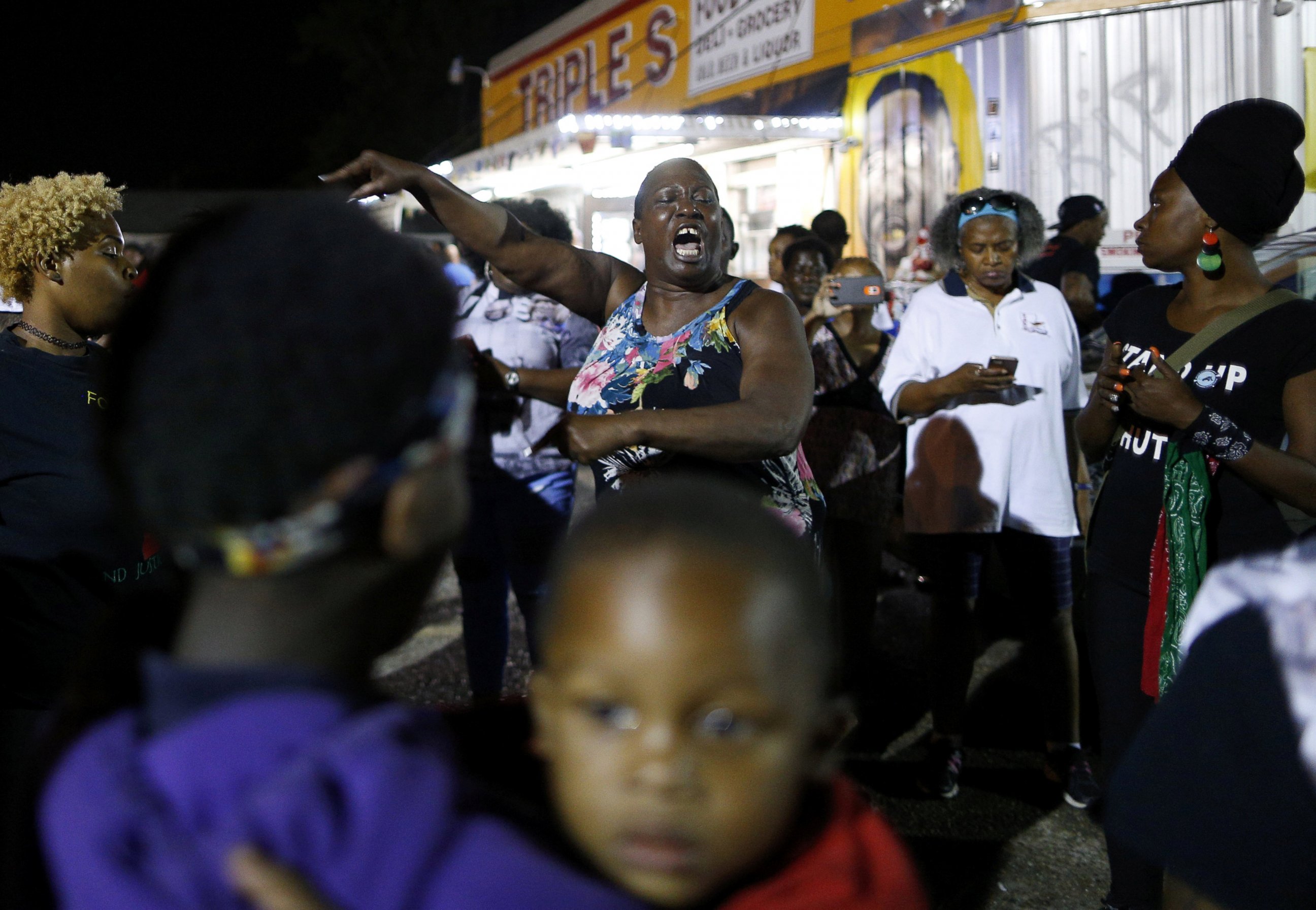 What's next
The federal investigation has now been closed, although a state investigation will follow, the Justice Department said today.
Edwards said today, "It is now up to the Louisiana Department of Justice ... to determine whether any state charges will be brought."
"While we await that decision," Edwards said, "and as I've said many times ... we still have too many people in our community who are afraid of the police and too many police officers afraid of members of our community."
"We all have a role to play to make things better," Edwards said
Michael Adams, an attorney representing Williams, told ABC News this morning that while Williams is "disappointed that the federal government could not bring civil rights charges ... we are hopeful that their report will be sufficient enough, when it's turned over to the appropriate state officials, that state charges will be filed against these two officers for the unjustified killing of Mr. Sterling."