A same-sex couple from Morehead, Kentucky, were denied a marriage license for a third time at the Rowan County Clerk's Office today, and the emotional exchange was caught on video.
The denial comes just one day after the U.S. 6th Circuit Court of Appeals denied Rowan County Clerk Kimberly Davis' appeal to U.S. District Judge David Bunning's ruling from two weeks ago, ordering her to issue marriage licenses after she had been refusing to do so, citing her Christian faith and constitutional right to religious liberty, despite a U.S. Supreme Court ruling.
William Smith, Jr. told ABC News today that he and his partner, James Yates, walked together to the Davis' office today, hopeful that because Davis' appeal was denied, he and Yates would finally be able to get an official marriage license that first requested in July and again just a few weeks ago.
"We're here to see if you're giving out marriage licenses," Yates, 41, can be heard saying in the video Smith filmed today.
"Unfortunately, at the time, we are not giving out marriage licenses," an employee at Davis' office replies. When Yates asks the employee if this is a direct order from Davis, he nods yes and adds, "Sorry, guys."
Yates and Smith told ABC News they know who the employee is, though they declined to identify him, explaining that they did not want to embarrass him "for his boss' decision." The employee also reportedly declined to identify himself to media at the Rowan County Clerk's Office today.
"Breaking the law is all it is," Smith, 33, can later be heard saying in the video. "They're discriminating and using religion to hide behind it is all it is."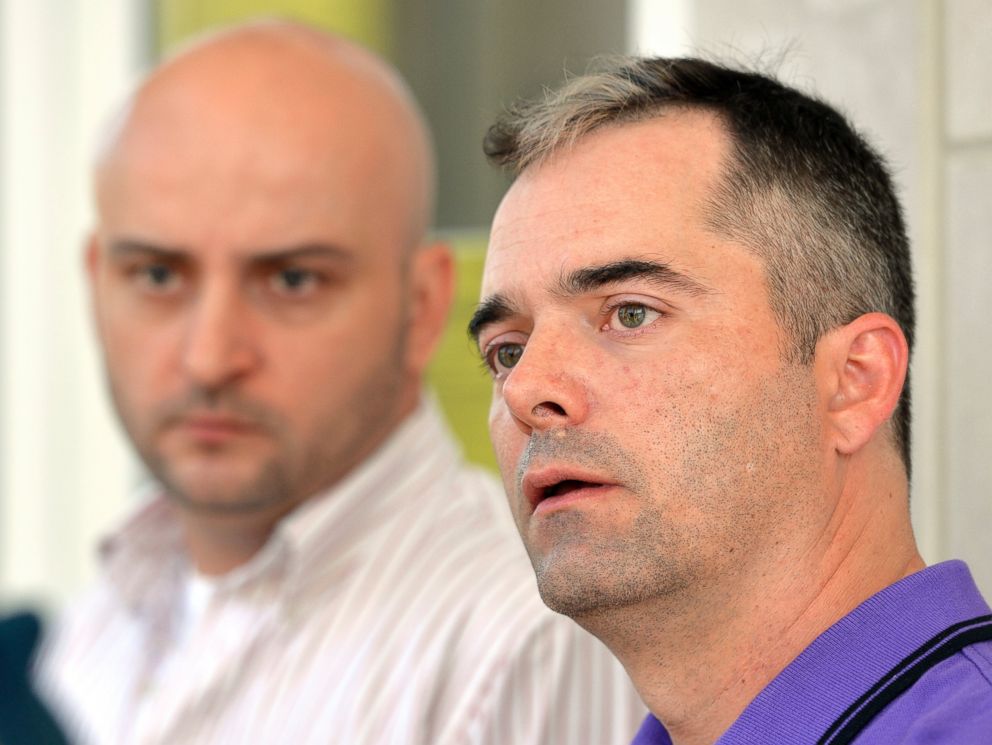 Yates and Smith can then be seen in the video, visibly upset, walking out of the office, disappointed for the third time.
"We've been together for almost 10 years," Smith told ABC News later today. "He proposed a day after the initial ruling on marriage equality by the Supreme Court on June 26. On the 27th, James got down on one knee, and I said yes."
The couple first headed down to the Rowan County Clerk's Office on July 6, shortly after the proposal, but Smith said the same office employee they talked to today told them at the time that Davis "wasn't handing out licenses because her objection to gay marriage."
The denial put a damper on their plans to have a summer wedding this year, Smith added.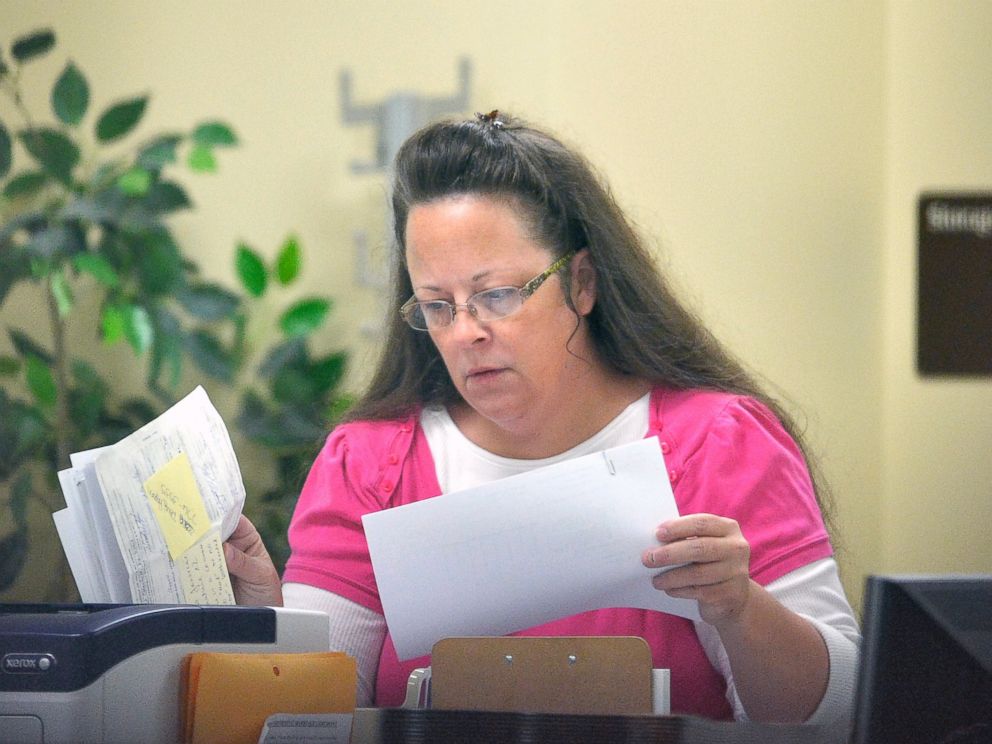 Smith and Yates later came down again on Aug. 13 after a U.S. district court upheld the U.S. Supreme court's ruling. The court had ordered Davis to issue marriage licenses after the American Civil Liberties Union (ACLU) sued her and Rowan County on behalf of four couples -- two same-gender couples and two opposite-gender couples -- who were also denied marriage licenses by Davis, according to a court complaint. Davis had apparently stopped issuing marriage licenses altogether.
But on Aug. 13, Smith said an employee told them Davis still wasn't handing out any licenses because she wanted to appeal the ruling.
"And then today, trying again for a third time, that was very hard," Smith said. "It was nerve-wracking and harder than the previous two times because we've been rejected so much and humiliated."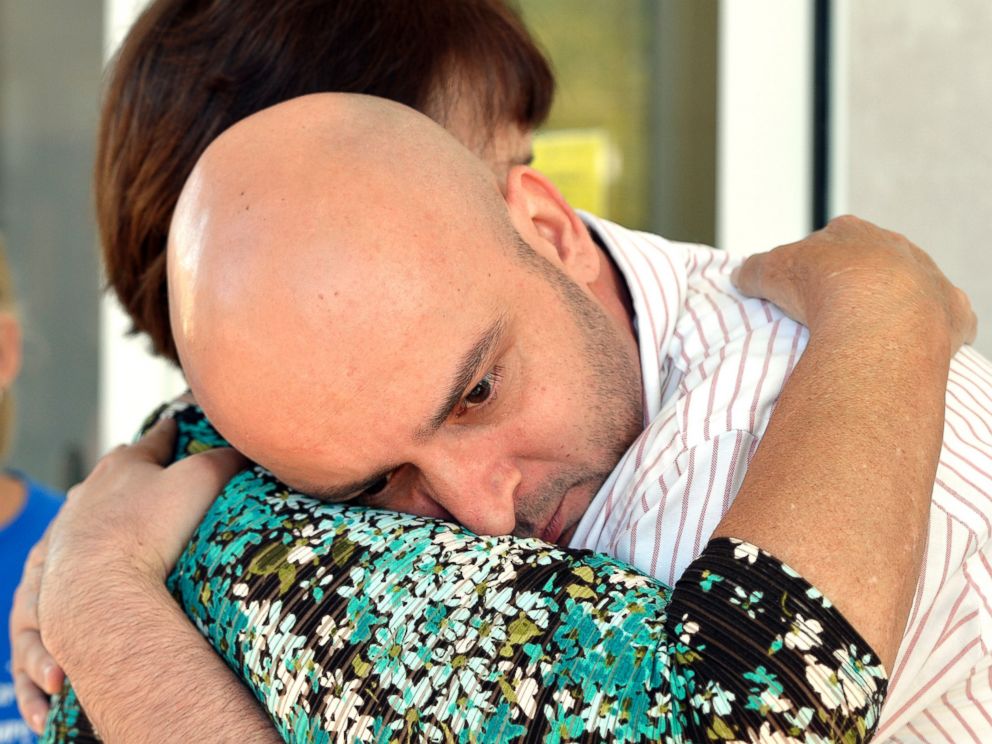 Though they've thought about getting married in another county or state in the past, Smith said he and Yates wanted their marriage to be first officially recognized in their hometown and county "where we live and pay taxes."
"We love each other very much, and we already consider ourselves married and live like we're married," he said. "We just think this is wrong, and we don't want this to happen to future couples."
He added they plan on going back to the Rowan County Clerk's Office at the end of the month or the beginning of September to try to get a marriage license for a fourth time.