— -- Three people died and two were seriously injured from a fiery, multi-car crash on Interstate 5 in east Los Angeles early this morning.
It began just after midnight when Dealio Lockhart, of Whittier, California, was driving south on I-5 while racing another car in the next lane, the California Highway Patrol said.
Lockhart saw a slower-moving car ahead and tried to go around but at the same time the slower-moving car was trying to move to the right, the CHP said.
Lockhart then lost control and collided with a UPS tractor trailer, causing the tractor trailer to crash into the center median.
The tractor trailer flew into the air and hit a gray Nissan, shearing the top of the Nissan off. The tractor trailer continued out of control and crashed onto a red Ford Explorer that was traveling northbound, and the tractor trailer immediately became engulfed in flames, the CHP said.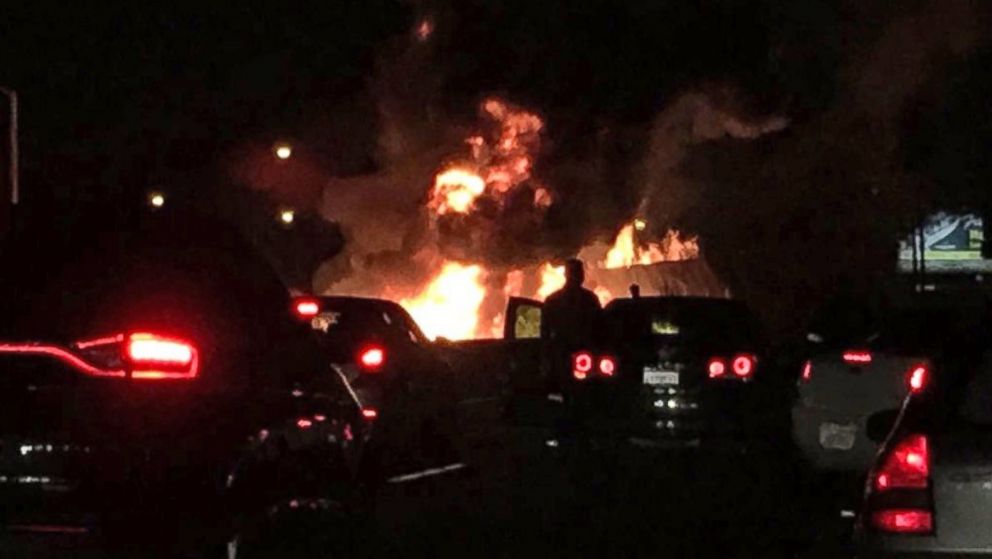 Debris from the crash also hit two other cars on the northbound side, the CHP said.
Three people died from the crash and two others were transported to LAC-USC Medical Center with major injuries, the CHP reported.
Lockhart was arrested and is facing vehicular manslaughter charges, according to the CHP. Alcohol or drugs are not suspected to be factors, the CHP said.
The northbound and southbound sides of I-5 are closed from Washington Boulevard to the 710 Freeway until this afternoon, California Highway Patrol officer Tony Polizi said.