Authorities believe that six separate robberies at several 7-Eleven stores, which left two people dead and three others wounded in Southern California on Monday morning, are connected.
Four of the six robberies involved shootings, according to ABC Los Angeles station KABC.
The convenience chain is now offering a $100,000 reward for information that leads to an arrest and conviction, it said.
"7-Eleven is offering a $100,000 reward for information that leads to the arrest and conviction of the suspect," it said. "Tipsters may remain anonymous by contacting Orange County Crime Stoppers at 855-TIP-OCCS."
Two 7-Elevens and two donut shops were robbed on Saturday in San Fernando Valley, but there is no connection, as of now, to Monday's robberies, the Los Angeles Police Department said in a press conference on Tuesday.
Police say the suspect in the four Saturday robberies was wearing a hoodie with a full-face mask. They've been unable to compare suspect images caught on surveillance cameras in the other cases, but determined the suspect was an armed Black man.
The robberies and shootings occurred over five hours Monday, spanning three counties in Southern California. Stores across the area stayed closed overnight, and 7-Eleven is asking stores to do the same Tuesday night.
The Brea Police Department responded to a call at 4:18 a.m. that a 7-Eleven employee was shot. When they arrived on the scene, they found a victim with a gunshot wound. The person was pronounced dead on the scene, the department said on Twitter.
According to KABC, the victim's girlfriend confirmed that her boyfriend, Matthew Hirsch, 40, was the person killed at the Brea store.
"He was just the most caring and compassionate person and you just wouldn't expect that from somebody who looked the way that he looked," Kristen Ewan told KABC.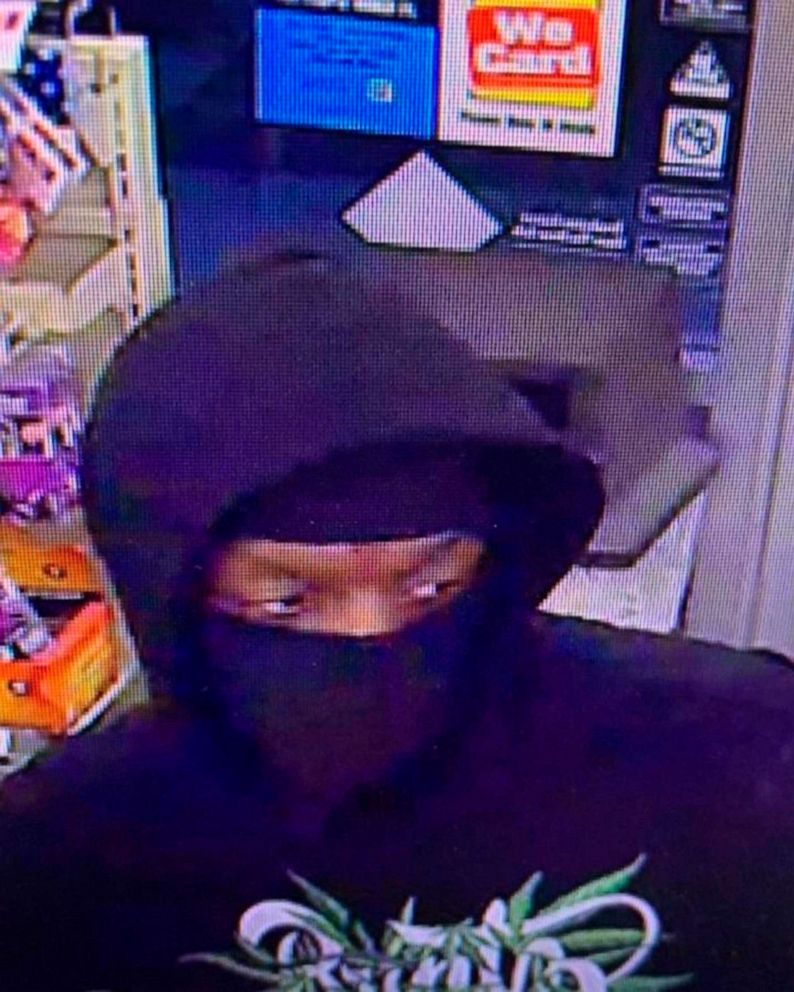 Brea police said they believe the suspected gunman also robbed a 7-Eleven in La Habra 20 minutes later, shooting a customer and a worker. Brea and La Habra are both located in Orange County.
Upland police said an armed robbery occurred at a 7-Eleven in Upland at 12:37 a.m. and the suspect stole drinks, including bottles of wine, and $400 to $500 in cash, KABC reported.
Santa Ana police said it's very likely that the same armed suspect fatally shot a man at one of the stores in the city about three hours later, at 3:25 a.m.
Police identified the victim as 24-year-old Matthew Rule.
A customer at a 7-Eleven in Riverside was shot around 1:50 a.m., with police saying the victim was in grave condition, according to KABC.
Brea police released images of the suspect on Twitter. He can be seen wearing a black hoodie with white lettering.
It's unclear if the shootings were connected to Free Slurpee Day, celebrating the chain's July 11 -- 7/11 -- birthday.
ABC News' Marilyn Heck contributed to this report.