Koko the gorilla dies: 'She taught me so much,' trainer says
Koko, the western lowland gorilla who learned sign language, died on Thursday.
Koko, the western lowland gorilla who learned sign language and became a pop-culture phenomenon, has died at the age of 46, the group that cared for her announced Thursday.
The Gorilla Foundation, headed by Dr. Francine "Penny" Patterson, the animal psychologist who taught Koko sign language, announced that the famed super-simian died in her sleep Tuesday morning at the organization's preserve in Woodside, California.
"I'm totally aware of how blessed and magical my life has been with her," an emotional Patterson, 71, told ABC News. "She was perfect. That's my sense. She taught me so much."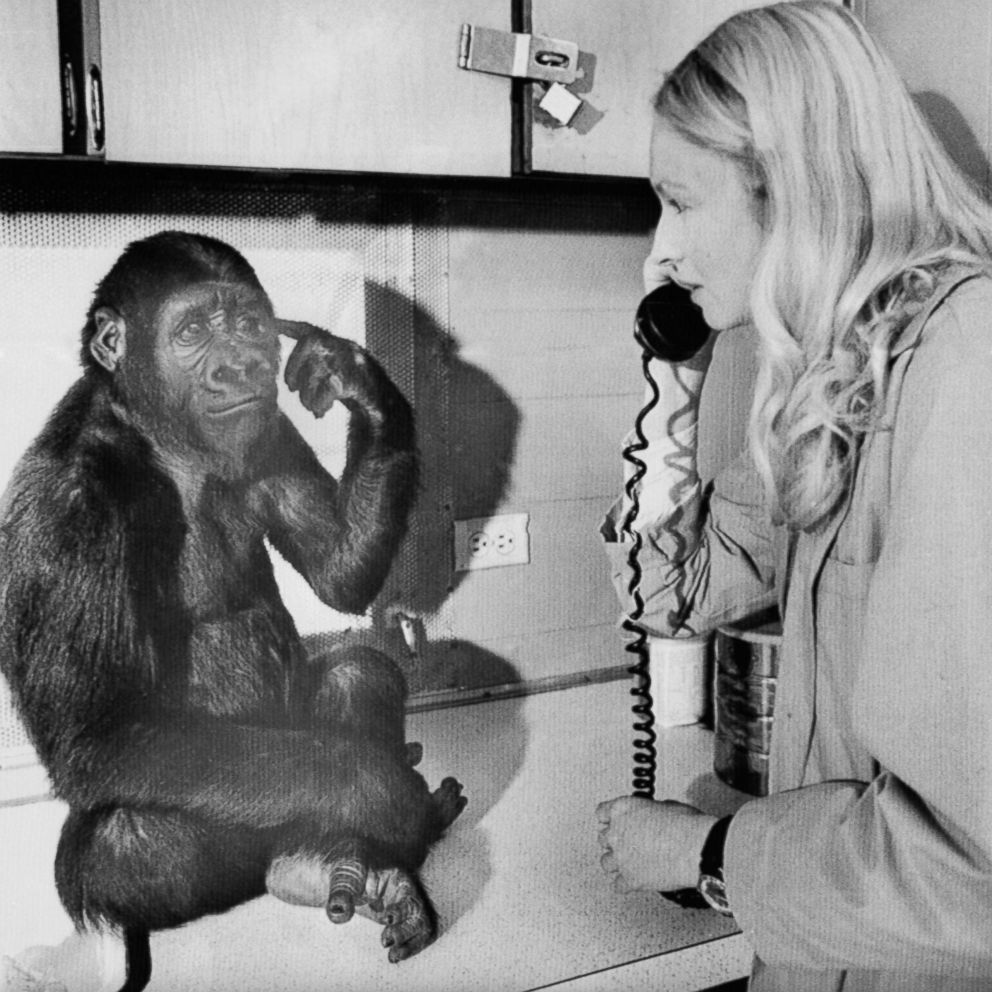 Born on the Fourth of July in 1971 at the San Francisco Zoo, Koko was loaned to Patterson at the age of 1 for a research project at Stanford University on interspecies communications. At birth, she was given the name Hanabi-ko, Japanese for "Fireworks Child," but she soon became widely known by her nickname, Koko.
When the San Francisco Zoo wanted Koko back for breeding, Patterson raised more than $12,000 to officially adopt the primate.
"Koko touched the lives of millions as an ambassador for all gorillas and an icon for interspecies communication and empathy. She was beloved and will be deeply missed," the Gorilla Foundation said in a statement.
She stayed with Patterson for the rest of her life and became renowned as one of the most intellectual apes in history, beloved by millions of people around the world.
"And she loves 'em back, even though we're pretty flawed as a species," Patterson said.
Through the years, Koko was visited by numerous celebrities.
She became friends with Leonardo DiCaprio. She taught Mr. Rogers the sign for love and cradled the children's TV show host in her lap. She once grabbed William Shatner by the testicles after he entered her cage and repeatedly told the animal he loved her. Koko also caused actor and comedian Robin Williams to crack up laughing by raising his shirt and tickling him.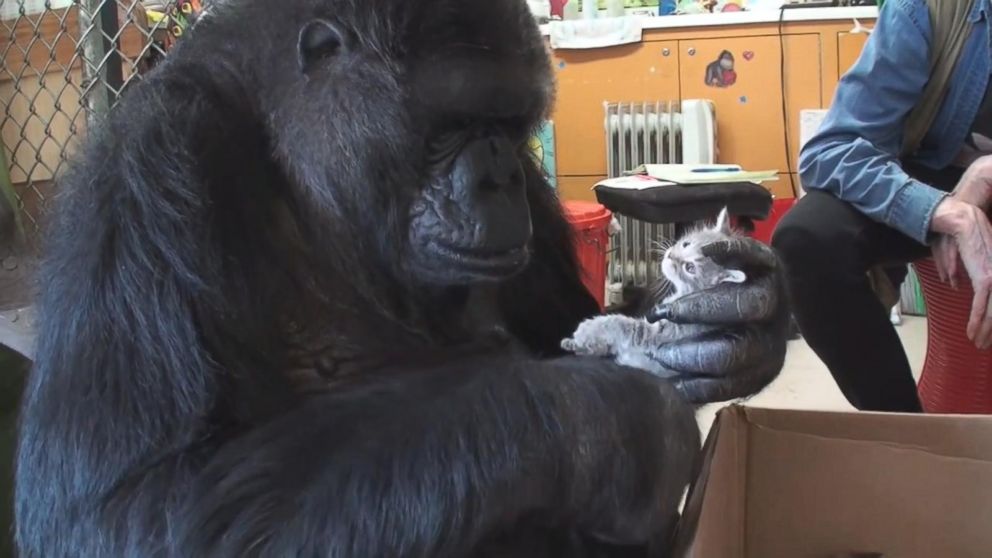 "To look into the eyes of a 300-pound gorilla and have her tell you what she's thinking is truly humbling," actress Betty White said after visiting Koko in 2012.
In 2016, Koko even jammed with Red Hot Chili Peppers bassist Flea.
"This is the greatest thing that could happen," Flea said after he handed Koko his bass and she plucked it. "This is a day that I will never forget in my life."
The gorilla was featured in multiple documentaries, including "Koko: A Talking Gorilla" that was screened at the 1978 Cannes Film Festival.
Koko was also featured on the cover of National Geographic magazine twice.
She became so famous she learned how to autograph photos for fans.
The Gorilla Foundation said that through Patterson's tutelage, Koko learned more than 1,000 words in sign language and came to understand more than 2,000 words spoken to her in English.
While she never had offspring of her own, in 1983 Koko "adopted" a kitten, a gray male Manx named "All Ball." When the cat was hit by a car and killed in 1985, Koko grieved for months and once signed "sad bad trouble" when asked about the kitty.
She even helped Patterson pen a children's book about "All Ball" titled, "Koko's Kitten."
In 2015, the staff at the Gorilla Foundation surprised Koko with a box containing a litter of kittens. Koko picked out two, naming them "Ms. Gray" and "Ms. Black" and used sign language to communicate to her trainer that the kittens were her babies.
"Koko's capacity for language and empathy has opened the minds and hearts of millions," the foundation said in its statement.