Las Vegas investigators are optimistic they'll be able to determine the identity of a homicide victim whose body was discovered inside a barrel last May on the shoreline of Lake Mead.
"One of the most important things to me ultimately is that we solve our investigations. If there's a way for us to forensically solve that investigation using the DNA lab, we will do it. We have a 90% solve rate for a reason," Las Vegas Metro Lt. Jason Johansson said in "Secrets of the Lake," a special 1-hour "20/20" airing May 4 at 10:00 p.m. ET.
The body was later determined to be that of a man who died of a gunshot wound around 40 to 50 years ago, according to Clark County Coroner Melanie Rouse. The remains are still being tested for DNA in a process that could take a year or more, in part due to a backlog of cases.
Previously submerged deep underwater on the floor of Lake Mead, the barrel was exposed as water levels plummeted to historic lows due to prolonged drought. Boaters made the gruesome discovery on May 1, 2022.
By October, six more sets of human remains were found, two of which were recently identified by the Clark County Coroner. The barrel case is so far the only confirmed homicide.
Investigators also found other clues inside the 55-gallon oil drum: a watch, Kmart clothes and sneakers that put the time of the murder from around 1975 to 1985, according to Johansson.
"Somebody out there is sweating, because they know that we've got the body, we've got the evidence, and it's only a matter of time before we find out who it is. And once we find out who it is, it'll kick into high gear," said Phil Ramos, a detective among those working on the homicide case.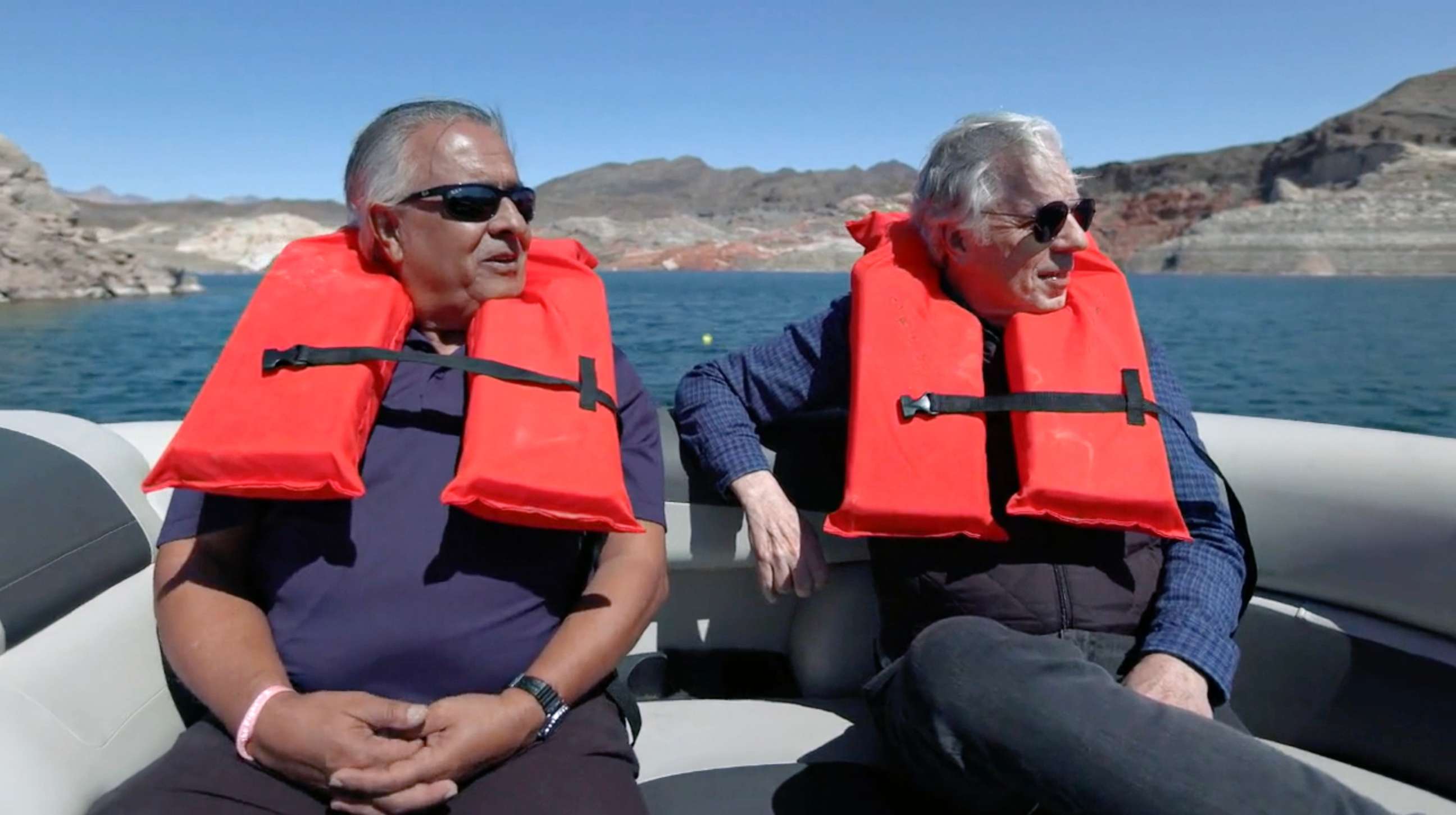 Both the time period and manner of death has fueled public speculation that the killing was carried out by the mob. At the time the man was killed, mobsters still had an influence on Las Vegas as "quiet operators and owners of the casinos," according to Mob Museum historian Geoff Schumacher.
And if a leaky pipe needed to be tightened, perhaps the mafia saw the bottom of Lake Mead, just thirty miles from Sin City, as an ideal place to make someone disappear for good, some have surmised. But if the mob was responsible, then who was the victim?
Several names have been suggested as possible victims of a mob hit, but the "most likely" one, Schumacher claims, may be a man named Johnny Pappas.
Pappas' niece, Patricia Haas, grew up hearing all about her charming Uncle Johnny, her mother's brother from Youngstown, Ohio, who had moved to Nevada and was rubbing elbows with the Vegas showbiz elite.
"He was just that kind of uncle. He'd take you around, show you things. Everybody was, 'Hi Johnny! Hi Johnny!' You could just feel that everybody really respected him," Haas told ABC News.
By the mid-1970s, Pappas was running Echo Bay Marina, a popular Lake Mead spot once known to be associated with organized crime, according to retired Las Vegas FBI agent Marc Kaspar.
Haas said her entire family was planning to move to Las Vegas and work for Pappas at Echo Bay. But in 1976, he suddenly disappeared. Pappas' wife Cheryl told the family that someone had tried to force him off the road as he drove back from Lake Mead, Haas said.
Before Pappas went missing, he was considering becoming a government witness, according to Schumacher.
As for the perpetrator, some have suggested Tony Spilotro, the notorious alleged hitman for the Chicago Mafia in Las Vegas during the 1970s and 1980s.
"Spilotro was an enforcer and a murderer. And if they wanted somebody killed or murdered, he was the guy," retired Las Vegas FBI agent Deborah Richard told ABC News.
"Everybody says, 'Tony did it,' referring to Mr. Spilotro," his former attorney Oscar Goodman told 20/20. "I think we were trying a case in Milwaukee or something at the time it took place."
Still, authorities investigating the case caution against jumping to any conclusions about the case.
"The minute you hear 'body in the barrel,' your mind instantly goes to, 'Wow, I wonder if this is connected to any type of organized crime or mob?' The fact of the matter is, we're not gonna know until the day that the remains are identified," Johansson told ABC News.
Rumors that a .22 caliber handgun was used in the barrel case only fueled speculation of a mob hit. But investigators have steered clear of that theory, telling "20/20" that the murder weapon was not a .22 caliber.
Meanwhile, theories of mob involvement, among other unsolved mysteries, have brought a frenzy of new attention to the lake, prompting many to head out to look for human remains themselves. The receding waters have also attracted treasure hunters in search of newly unearthed relics, like a sunken houseboat and remnants from the former town of St. Thomas, which was inundated with water with the creation of the lake in the 1930s.
National Park Service rules and regulations require that if anyone does in fact find any new remains or artifacts, they should not remove it and instead call the Park Service to inform them of the discovery.
For Tina Bushman, Lake Mead represents a different kind of danger.
According to National Park Service officials, more than 300 people have drowned in the lake since the 1930s, including Bushman's father, Tom Erndt.
One night in 2002, the family went out on their boat for a nighttime swim. The waves were choppier than usual, so Erndt was the only one who got in the water, telling the kids to stay on the boat, Bushman said. But when he tried to get back on the boat, it was moving too fast.
"We could hear him say, 'Help' and then we heard him say, 'You better hurry up.' That was it," Bushman said.
For years, the uncertainty surrounding their father's death gnawed at Bushman and her brother, until she got a call from the coroner asking for a DNA sample to see if it was a match with one set of remains found on the shore last year.
Twenty years after the tragedy, Erndt's family finally got the closure they had been seeking ever since that tragic night.
"I'm sad for me. You know, like this really happened. Like, he's really gone. And that's really hard. But just to know that he was there gives me so much peace. If he could have died anywhere, he would've chosen that. Because, I mean, that was his happy place," Bushman said.
ABC News' Chris Connelly, Matt Lombardi, Jonathan Leach, Sunny Antrim, and Margie Merritt contributed to this report.