Here's the latest on the investigation into the Las Vegas shooting:
Interested in
Las Vegas Shooting?
Add Las Vegas Shooting as an interest to stay up to date on the latest Las Vegas Shooting news, video, and analysis from ABC News.
— At least 59 people, including the shooter, died after Sunday night's mass shooting at a Las Vegas music festival.

— The motive remains unknown, but police say the attack was "obviously premeditated."

— The gunman, Stephen Paddock, may have planned to escape the scene.
— A note authorities found in Paddock's hotel was not a suicide note.
— Paddock visited several music festivals in the Las Vegas area.
— Paddock booked hotel rooms in Chicago in August overlooking the Lollapalooza music festival.
— Paddock was seen gambling for eight hours straight on the night before the shooting.
— Paddock was seen with another woman, who was not his girlfriend, in the days before the shooting.
Suspect may have visited other music festivals
Officials briefed on the investigation into alleged Las Vegas shooter Stephen Paddock told ABC News that Paddock booked hotel rooms in Chicago in early August during the Lollapalooza music festival. One of the hotels where he had reservations was the Blackstone on South Michigan Avenue, across from Grant Park, where the annual event took place.
The Chicago Police Department said in a statement Thursday, "We are aware of the media reports and have been in communication with our federal partners. As you saw earlier this week the city conducts extensive public safety planning and training around major events, in close coordination with our law enforcement partners, to ensure public safety."
A source with the Chicago Police Department confirmed for ABC News that Paddock had reservations at the Blackstone hotel.
However, a spokesman for the Blackstone told ABC News in a statement today, "We can confirm that there was no guest under [Paddock's] name who stayed at our hotel in August during the Lollapalooza music festival. We are cooperating with the authorities on this matter."
It's unclear whether Paddock traveled to Chicago at that time.
Officials briefed on the investigation also told ABC News that Paddock may have visited several music festivals in the greater Las Vegas area over the past several months. All the venues are believed to have been within driving distance of Las Vegas.
Paddock is also believed to have made regular trips to the Mandalay Bay Resort and Casino starting Sept. 3 and through the rest of the month. He was known at most of the big casinos on the Las Vegas Strip because he was a major player who visited the casinos a lot, the officials said.
Investigators are also looking into whether Paddock tried to secure a room at El Cortez Hotel and Casino, at the opposite end of the Strip from the Mandalay Bay Hotel and Casino, on the weekend that the Life Is Beautiful music festival took place, from Sept. 22 to Sept. 24, the officials told ABC News.
During the Wednesday news conference, Lombardo confirmed that Paddock rented a room that weekend at the Ogden hotel in downtown Las Vegas. Authorities have recovered items and surveillance video from when he stayed there, Lombardo said.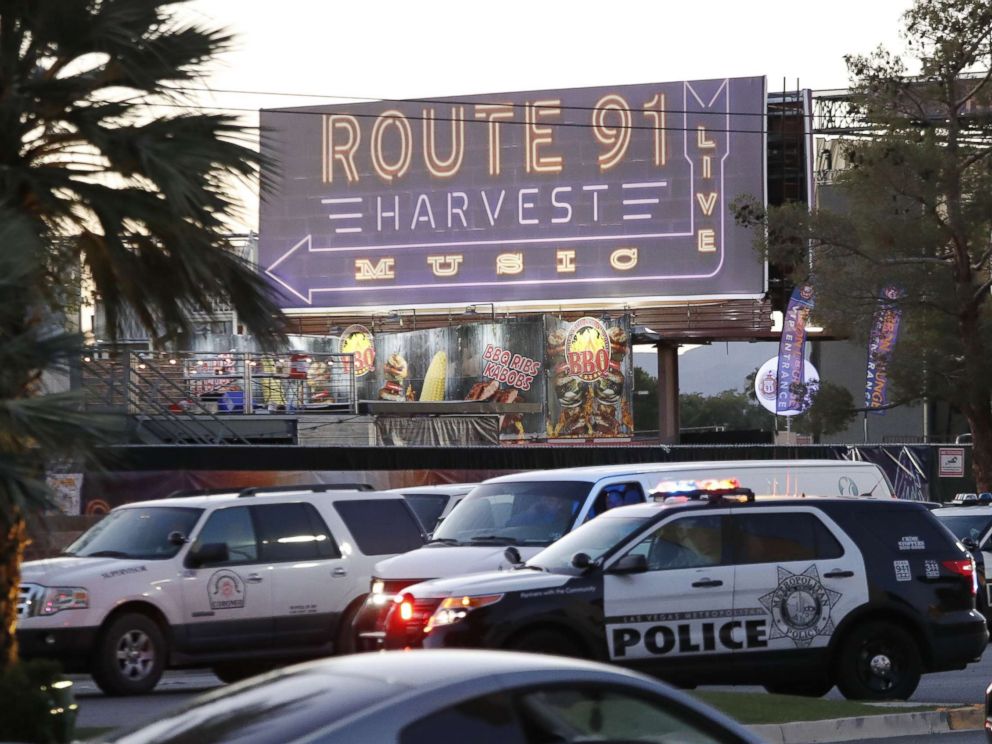 Paddock also searched for hotels near Fenway Park in Boston, though there is no indication that he traveled there, sources briefed on the investigation told ABC News.
The Boston Police Department said in a statement today, "We are aware of the media reports referencing a Boston connection to the Las Vegas mass shooting incident that occurred on Sunday, Oct. 1, 2017. The Boston Regional Intelligence Center is in contact with our local and federal law enforcement partners here and in Las Vegas and continues to monitor the situation. There is currently no known threat to the Metro Boston homeland security region related to this incident."
Meticulous planning preceded 'premeditated' shooting
As investigators delve deeper into how Sunday night's massacre in Las Vegas unfolded, more chilling details have emerged about the suspected gunman and how he carried out the deadliest mass shooting in modern U.S. history.
Authorities said Paddock opened fire on a music festival crowd from the 32nd floor of the Mandalay Bay Resort and Casino, killing 58 people and injuring 489 others — a decrease from original reports, after officials double-checked numbers. More than 22,000 people were attending the final night of the Route 91 Harvest Festival when gunfire erupted.
The shooting lasted nine to 11 minutes, with the first reports of gunshots beginning Sunday at 10:05 p.m. PT and the final shots being fired at 10:15 p.m., authorities said. It's believed that Paddock was the sole shooter in the attack.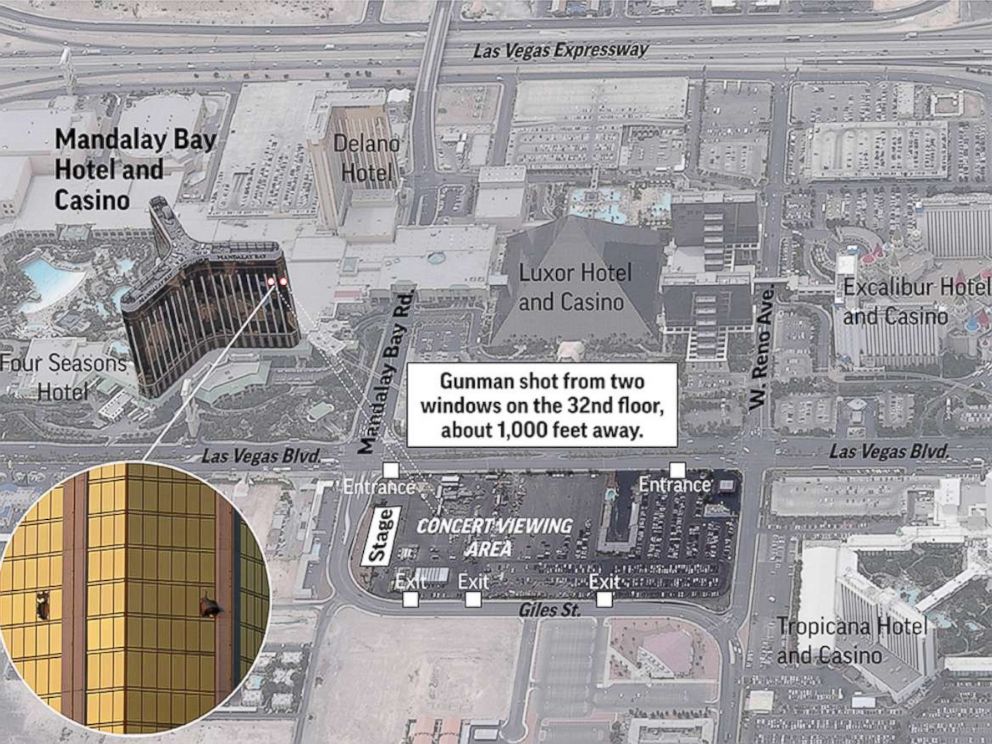 But Clark County Sheriff Joseph Lombardo told a news conference Wednesday night there are indications that Paddock, a 64-year-old resident of Mesquite, Nevada, may have had some kind of help.
Lombardo also said there is evidence that indicates he planned to escape the scene. But the sheriff did not provide any details on what the evidence was or why he believes that.
Paddock checked into the Mandalay Bay Resort and Casino on Sept. 28 with 10 bags and at least 23 guns, including high-power rifles. He set up surveillance cameras inside and outside his two-room suite.
There were two cameras on a room service cart in the hallway outside his suite, one on the peephole of the door to his room and a baby monitor in the living room. None of the cameras were recording, police said.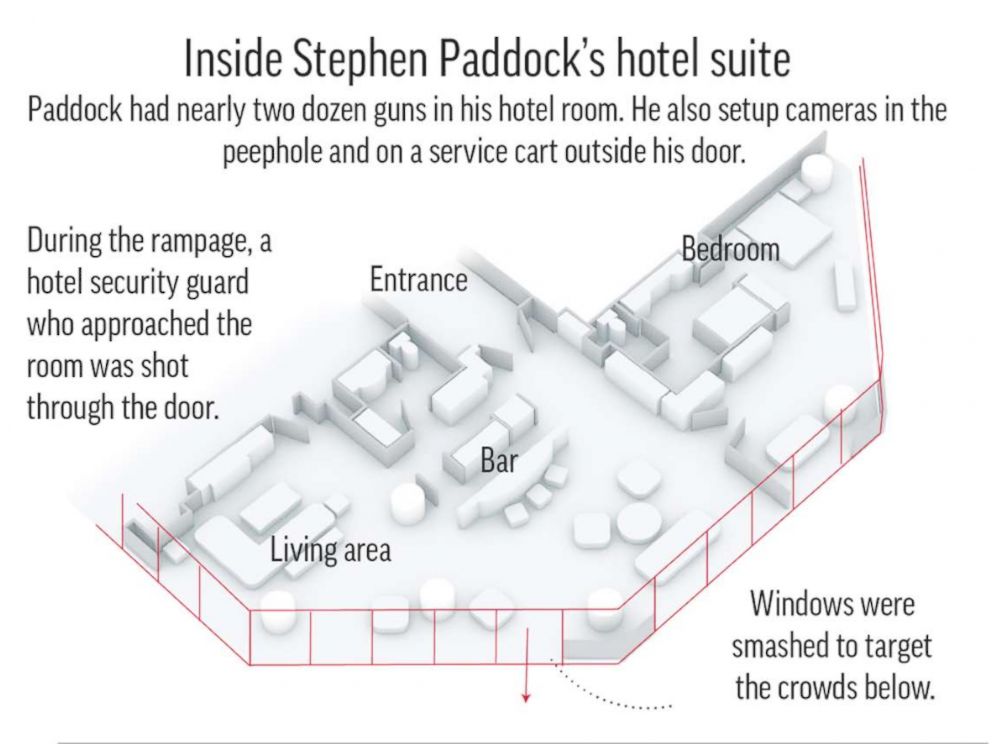 Paddock was shuttered inside his suite for three days at the giant hotel-casino, perched high above the site of the Route 91 Harvest Festival, which was taking place across the street. Room service was provided at some point during his stay, police said.
Investigators believe Paddock used a device similar to a hammer to smash two windows in his room before he opened fire on the music festival crowd, shortly after a rendition of "God Bless America."
Police responded to the hotel room, where Paddock was found dead. He is believed to have killed himself before police entered.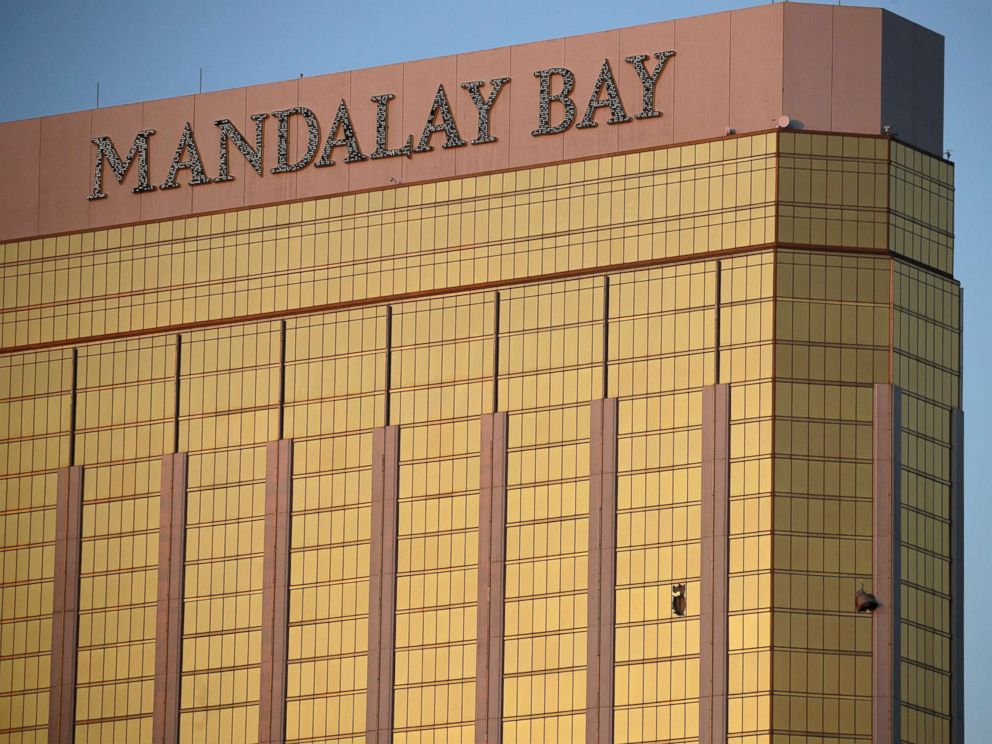 Law enforcement sources told ABC News that Paddock possibly set up the cameras to monitor for approaching authorities.
"I anticipate he was looking for anybody coming to take him into custody," Lombardo said at a news conference Tuesday.
Authorities also found a note in Paddock's hotel room but said it was not a suicide note. The contents of the note are unknown.
While the motives behind the deadly rampage remain unclear, Lombardo said the attack was "obviously premeditated" and "meticulously planned," and that the shooter "evaluated everything he did." Investigators are still combing through the life of Paddock, whom Lombardo described at the Wednesday news conference as a "disturbed and dangerous" man who had led a "secret life."
Sen. Richard Burr, R-N.C., the chairman of the Senate Intelligence Committee, told a news conference Wednesday that the shooting "doesn't seem to have a terrorism nexus."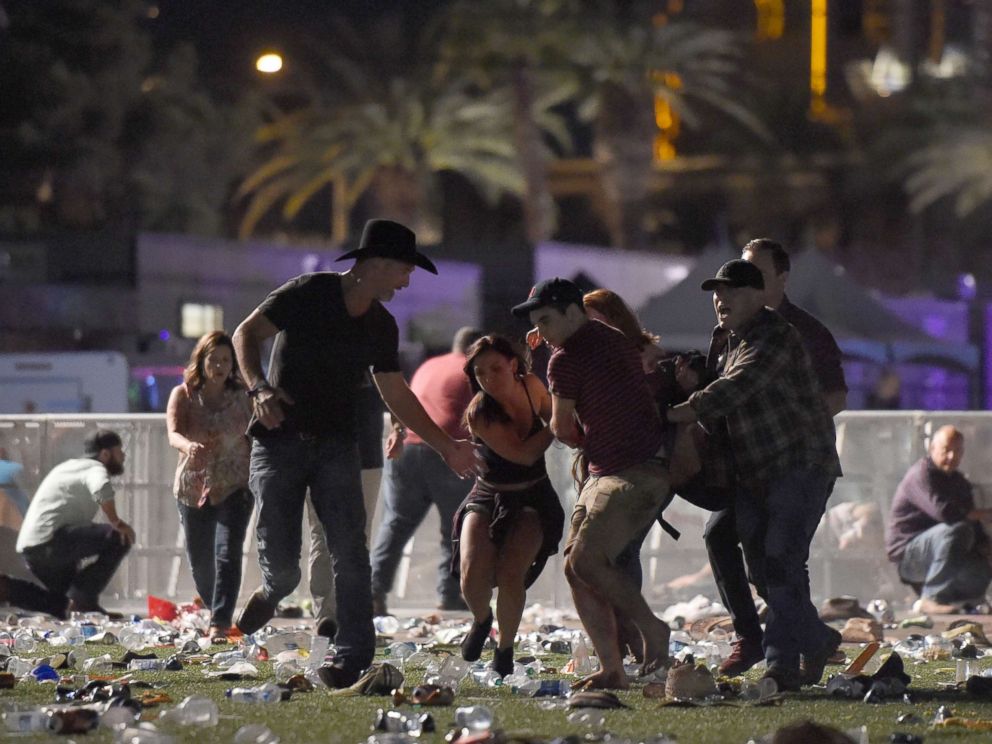 ABC News has obtained images from inside Paddock's hotel room. A body, believed to be Paddock's, is partly visibly in one of the photos.
The images also show rifles and bullet shells scattered across the floor, with high-capacity magazines stacked like bricks in a corner.
WARNING: Images may be disturbing to some readers.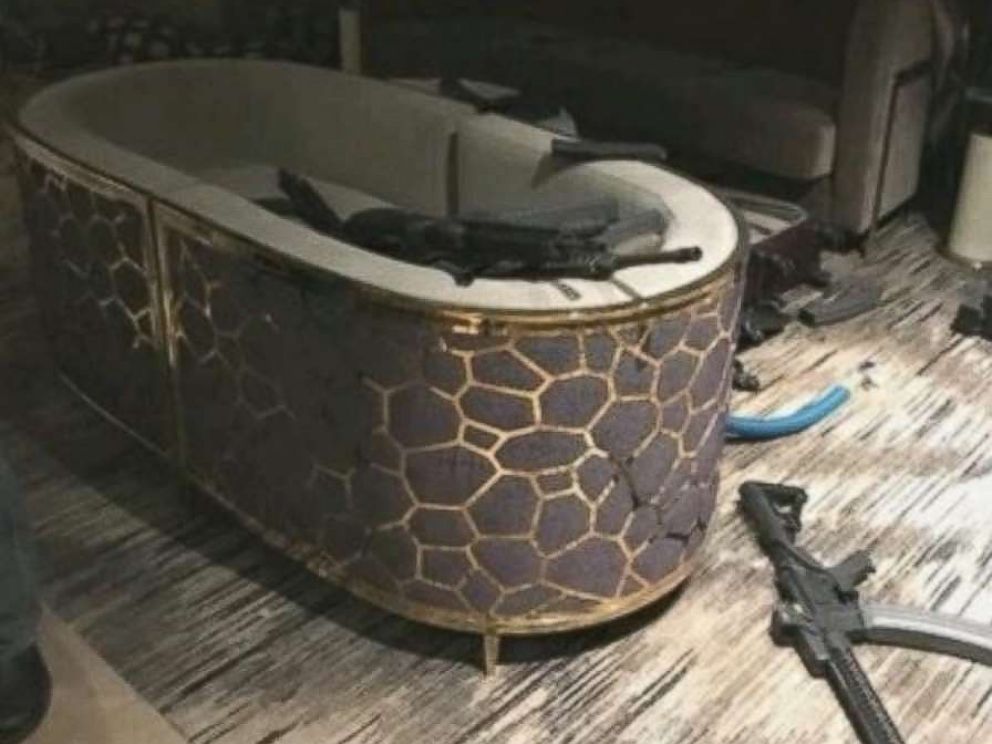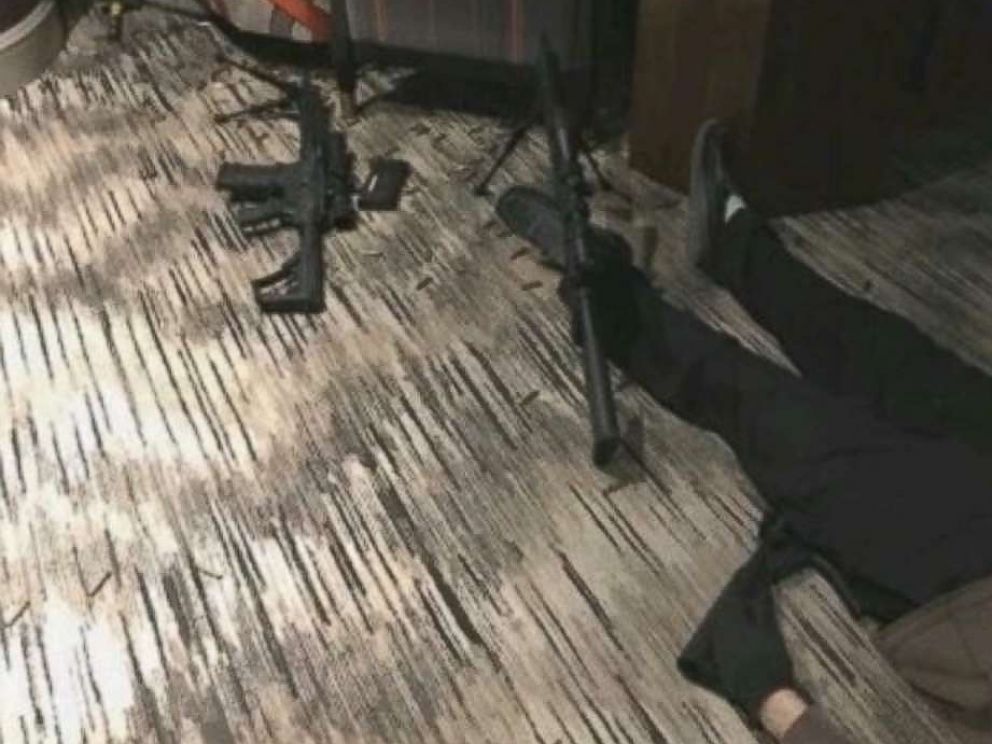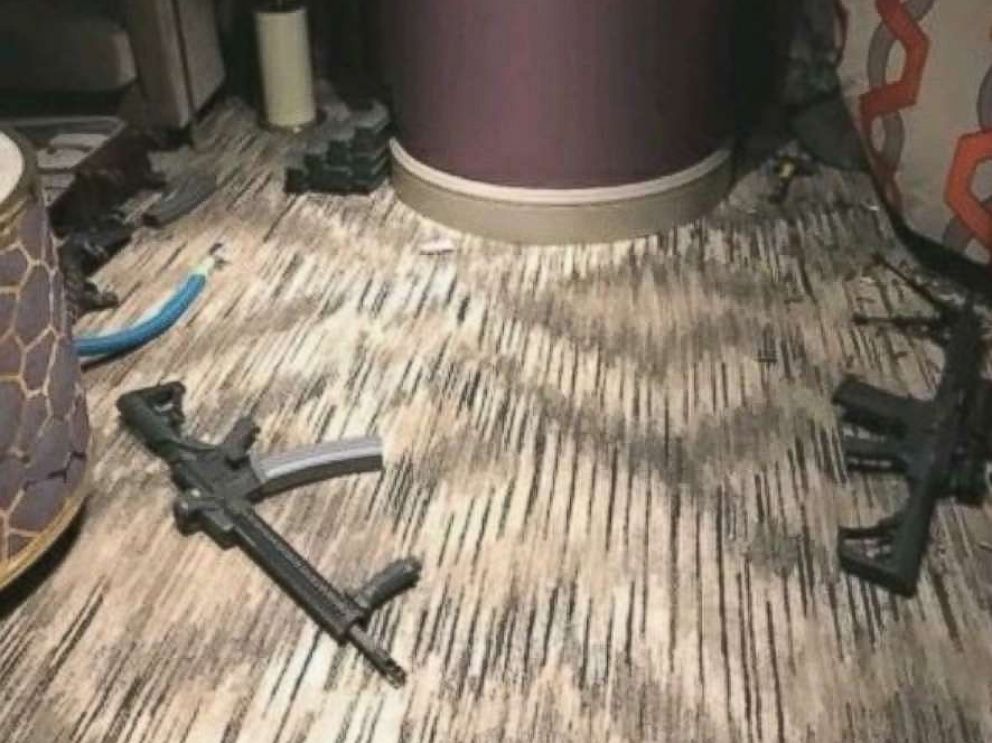 An employee at the Mandalay Bay Resort and Casino told ABC News she spent a total of 16 hours serving Paddock in the casino during her shifts there over the weekend. She said she watched him gamble for eight hours straight, from Saturday night to Sunday morning.
He played high-stakes video poker on machines in a separate, "exclusive" section of the casino, she said.
As soon as she saw Paddock's picture on the news, identifying him as the suspected gunman, she said she knew it was the man who was her customer the night before the shooting.
A 'plethora' of guns and ammo
Authorities have executed search warrants at three locations and for Paddock's vehicle parked at the Mandalay Bay Resort and Casino.
In addition to the 23 guns recovered from Paddock's hotel room — which police said were purchased in Nevada, California, Utah and Texas — authorities found a computer and several pieces of media there. Law enforcement sources said multiple loaded high-capacity magazines and a modified bump stock rifle, which allows a gun to simulate rapid automatic gunfire, were discovered in the room as well.
Investigators are still in the process of examining the firearms to determine whether they were capable of firing automatically.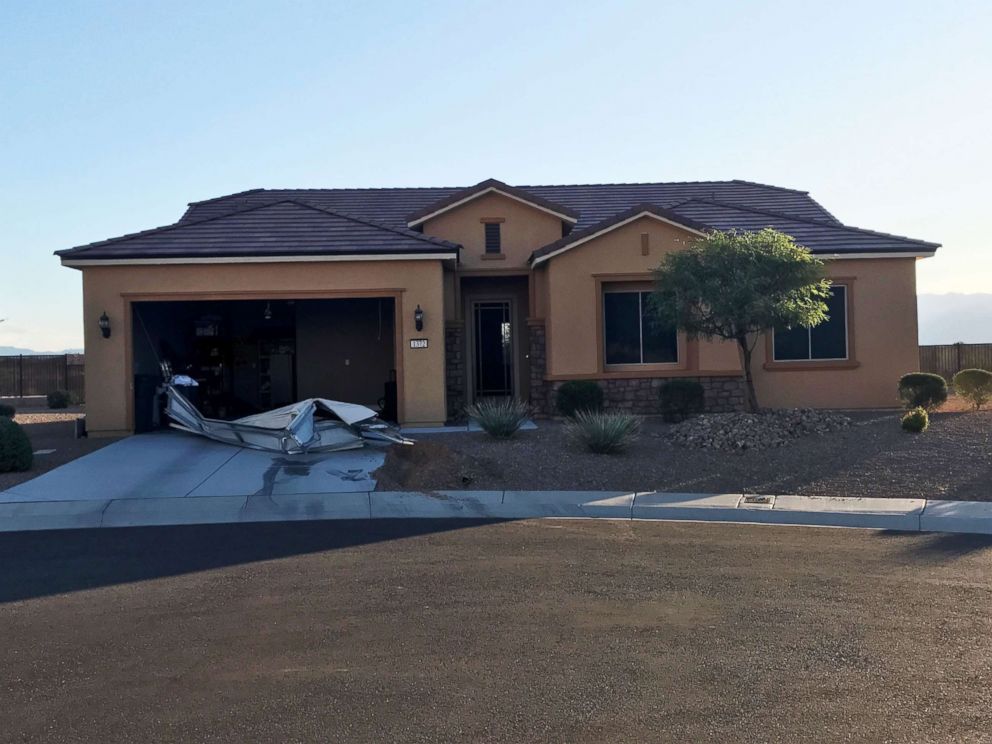 Meanwhile, 50 pounds of an explosive and about 1,600 rounds of ammunition were discovered in Paddock's car.
Explosive material and 19 additional firearms were also found at Paddock's home in a Mesquite retirement community.
Five handguns, two shotguns, numerous electronics and a "plethora of ammunition" were recovered from his property in Reno, according to Lombardo.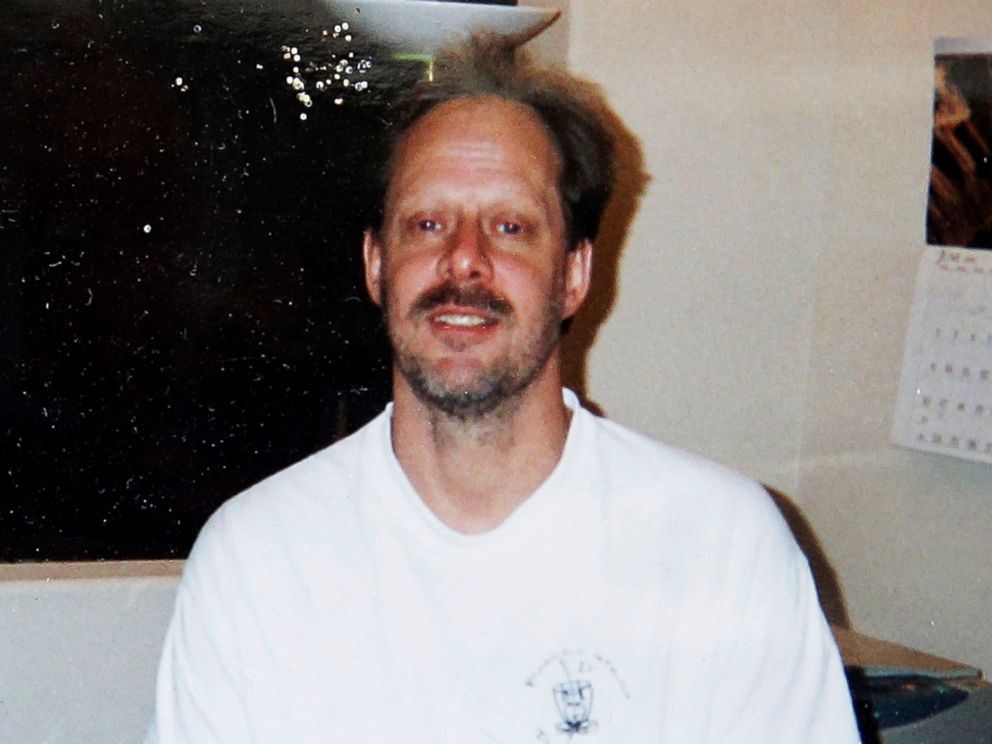 Jill Snyder, the special agent in charge at the U.S. Bureau of Alcohol, Tobacco, Firearms and Explosives, told "CBS This Morning" in an interview Wednesday that Paddock had been stockpiling firearms since 1982. He bought nearly 50 guns legally, she said, but none of those purchases set off any red flags for the ATF.
"From October 2016 to Sept. 28, 2017, he purchased 33 firearms, majority of them rifles," Snyder said. "We wouldn't get notified of the purchases of the rifles. We would only get notified if there was a multiple sale, which would be two or more handguns in an individual purchase."
Suspect's girlfriend arrives back in US for questioning
Investigators say Paddock's longtime girlfriend, Marilou Danley, who lived with him at his home in Mesquite, is more than a mere witness.
"Currently she's a person of interest," Lombardo told a news conference Tuesday.
Danley, 62, returned to the United States from the Philippines, where she was born, landing at Los Angeles International Airport on Tuesday night at 7:17 p.m. PT on Philippine Air Flight 102.
She was taken out a back way so she wouldn't be seen in public, and FBI agents met her upon landing, multiple law enforcement sources told ABC News.
The law offices of Matthew Lombard confirmed to ABC News on Wednesday afternoon that Danley was at the FBI field office in Los Angeles with Lombard, who is representing her. He said his client is cooperating with authorities in the investigation.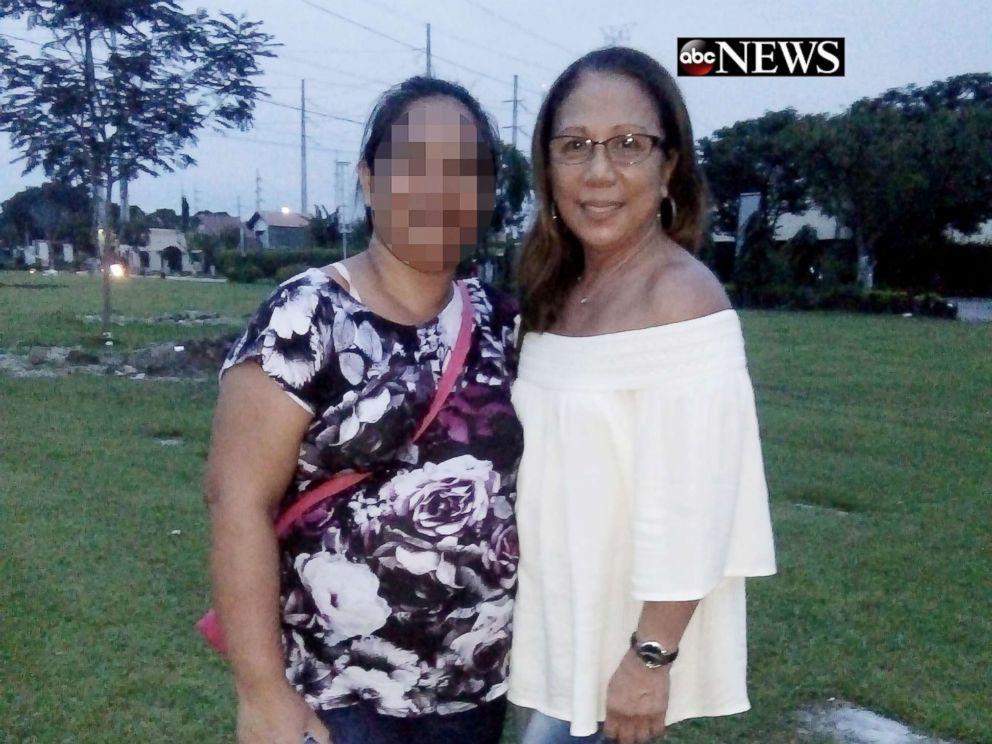 At a news conference later, Lombard read a statement from Danley, in which she said she knew Paddock as a "kind, caring man" and she was not aware that "something horrible like this was going to happen."
"I loved him and hoped for a quiet future together with him," the statement said. "It never occurred to me in any way whatsoever that he was planning violence against anyone."
Danley is not in custody and is free to go where she pleases. Investigators are hoping she can shed some light on the motivations behind Paddock's attack, but even a few months before the shooting, Paddock and Danley's relationship at least appeared to be on solid ground.
Danley accompanied Paddock to a Reno car dealership in August, where Paddock purchased a vehicle with a check for $14,411. When Danley went on a test drive, she told a saleswoman that Paddock had saved her from a troubled marriage.
"She said she had a bad relationship prior to him," the saleswoman told ABC News. "And how he had turned her life around. Really helped her out."
In an interview with ABC News on Wednesday, her elder brother Reynaldo Bustos said he immediately contacted her when he saw the news that her boyfriend was responsible for the massacre in Las Vegas.
"I called her up immediately, and she said, 'Relax. We shouldn't worry about it. I'll fix it. Do not panic. I have a clean conscience,'" Bustos said outside Manila in Tagalog, his native language.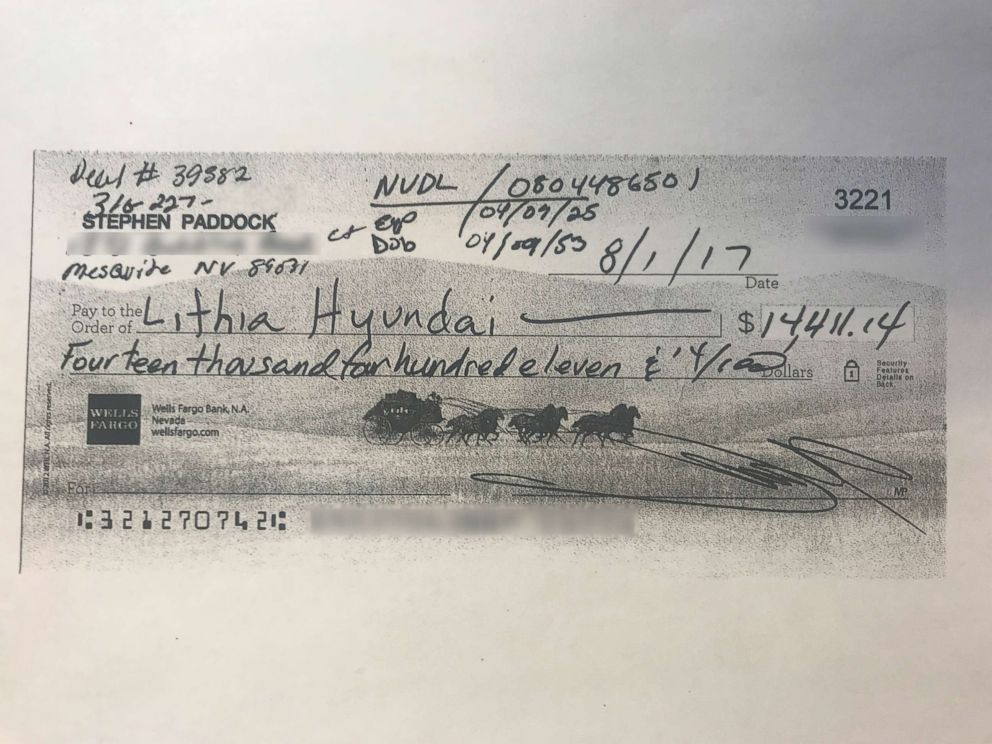 Mystery woman seen with suspect before shooting
Officials briefed on the investigation told ABC News that investigators believe Paddock was seen with another woman, who was not his girlfriend, in the days before Sunday night's shooting.
Investigators are working to identify the woman and are interested in speaking with her to find out whether she has any insight, the officials said.
ABC News' Brian Ross, Cindy Galli, Anna Marie Cerezo, Jack Date, Andy Fies, Matt Gutman, James Hill, Aaron Katersky, Meghan Keneally, Jonah Lustig, Josh Margolin, Bonnie McLean, Alex Stone and Pierre Thomas contributed to this report.