Las Vegas shooting: Survivors tell of complete strangers who helped them escape
Sheldon Mack, 21, and Mikkena Parry, 19, remain hospitalized in Las Vegas.
— -- Sheldon Mack, 21, of Victoria, British Columbia, told ABC News today from his hospital bed that scenes from the Sunday night festival massacre in Las Vegas, Nevada, continued to play for him "like a bad nightmare" he can't wake up from.
"It just kind of all happened so fast. It seems surreal," Mack told "World News Tonight" anchor David Muir. "But, I just keep seeing it in my mind still and it just haunts me."
Last weekend, Mack was in Las Vegas with friends celebrating his birthday. On Sunday, they were at the Route 91 Harvest Music Festival across the street from Mandalay Bay when gunfire sent country music fans running for their lives.
Mack said that when the gunfire initially erupted, he thought the sounds were from fireworks or some stage theatrics. Then, he said he started seeing people around him get struck down by gunfire.
"I saw a girl like two rows ahead of me and she got hit in the neck and then went down," he said. "I had my buddy get hit in the backside."
Las Vegas massacre: Suspect set up cameras inside and outside hotel room
Las Vegas shooting: Special ed teacher, kindergarten teacher, nurse who shielded wife among those killed
According to police, Stephen Paddock, 64, of Mesquite, Nevada, opened fire on the crowd from a room on the 32nd floor of the Mandalay Bay hotel. At least 59 people and more than 500 others were injured in the shooting.
When police responded to the hotel room, they said Paddock was found dead. Authorities said they believe Paddock killed himself prior to police entry. The motive behind the shooting remains unclear.
Mack said today that before he was injured, he'd tried to help people around him.
"We were just kind of looking for shelter and safety and then I saw a girl got hit in her leg so I helped her back up and then as I was kind of guiding her, I got hit in my elbow and midsection. I was kind of bleeding pretty good," he said.
Mack said a man whom he did not know brought him to Desert Springs Hospital Medical Center. He said he had not learned the stranger's name.
"He wouldn't leave my side, saved my life. ... I really appreciate all he's done for me," he said. "I think he got shot in the leg as well but he was so occupied with helping me out and helping others that he put it aside."
Mack and his parents, Hudson and Patty Mack, who left Canada to be by his side, said they would still like to meet the man who helped get him to the hospital.
"Our heart goes out to all the people who died, the victims and the families involved," Patty Mack said. "We need to do better on this world."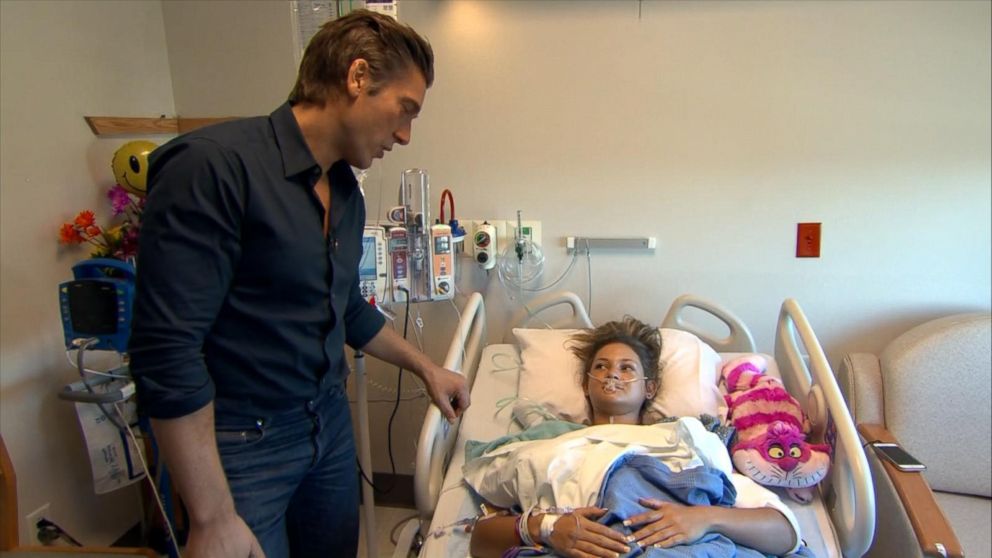 In another hospital room, Mikkena Parry, 19, of Las Vegas, continued to recover from a gunshot to the left arm that had traveled to her abdomen.
She told Muir that her boyfriend and complete strangers had put her in the back of a pickup truck so she could be taken to Desert Springs Hospital Medical Center.
"I remember my boyfriend going in to get somebody," she said. "He [the driver] only had a two-seater truck so I was laying in the bed with his girlfriend and my boyfriend."
She said she still couldn't shake the memories from that night.
"I don't know, like, it still kind of hasn't fully hit me," Parry said, starting to cry.
Her mother, Stephanie Parry, said the family was struggling after the horrors at the festival.
"I think, as a mom, just knowing that they had to see that -- and that's stuck with them forever," she said. "But I'm super happy that our family's safe and I'm super sad for all the families that don't have their family members with them anymore."
ABC News' Christine Romo and Emily Shapiro contributed to this story.