A river of lava fed by the erupting Kilauea volcano on the Big Island of Hawaii and its many fissures was moving faster and hotter than ever before as authorities raced to find people who defied evacuation orders and are now surrounded by the bubbling magma.
A lava river a half-mile wide from one of the biggest fissures, fissure No. 8, was moving at a rapid clip of 250 feet per hour and began flowing into the ocean at Kapoho Beach on Sunday night, according to Hawaii County Civil Defense officials.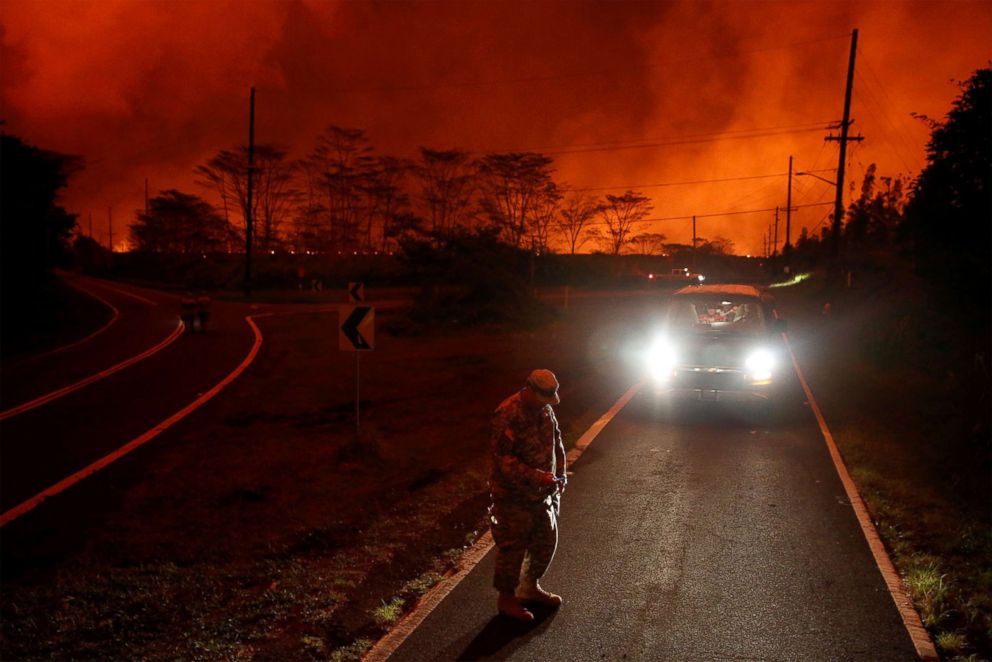 The lava flow was threatening to destroy hundreds of homes in Vacationland and Kapoho Beach on the southeast side of the Big Island. The lava has already destroyed at least 117 homes in the hard-hit Leilani Estates community.
Wendy Stovall, a scientist with the U.S. Geological Survey (USGS), said the lava was moving fast enough to cover six football fields an hour.
The lava flowing through the Puna area was the hottest ever recorded, Stovall told the Associated Press.
"It can't get hotter than where we are," Stovall said. "We are pretty much tapping mantle temperatures right now."
On Sunday, a 5.5-magnitude earthquake struck the Big Island at 3:50 p.m. adding to the chaos and fear that have existed since Kilauea first erupted on May 6. The epicenter of the quake was about a half-mile below the summit of Kilauea and at a depth of a little over a mile, according to the USGS.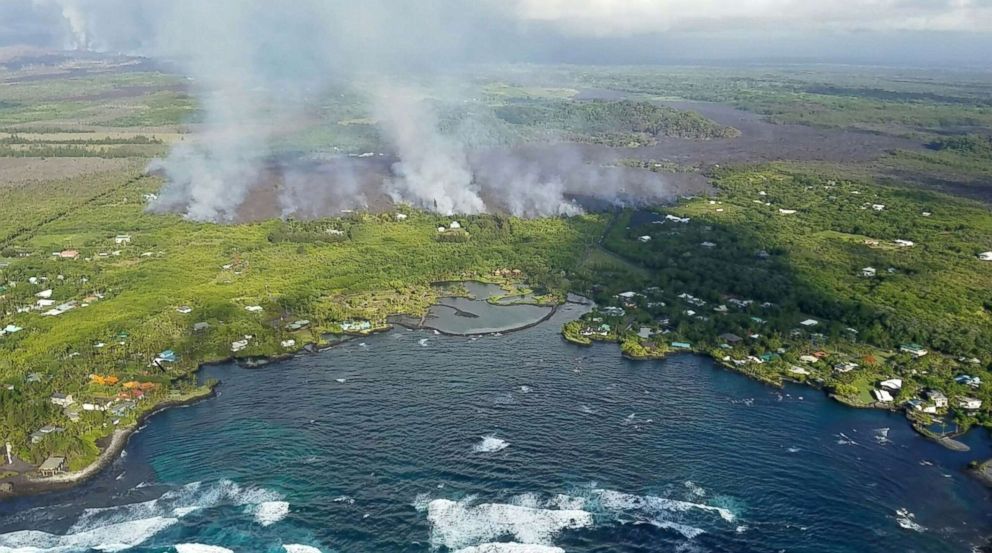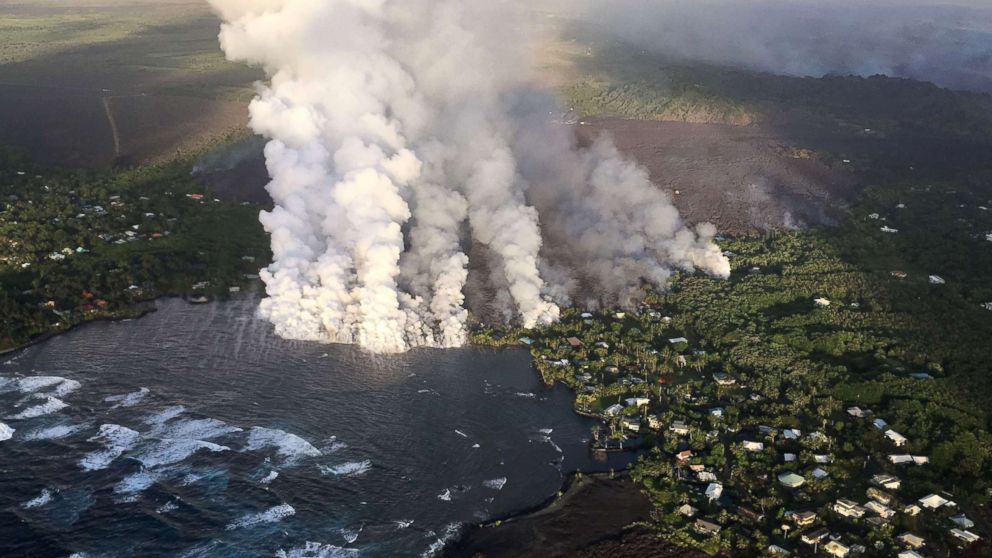 Sen. Kai Kahele, also a major in the Hawaii Air National Guard, said he was worried for the people who rejected evacuation orders and stayed behind in the Kapoho, Vacationland and Leilani Estates communities. Access in and out of the areas has been cut off by lava flowing over Highway 132 and Highway 137.
"There are still people in the inundation zone... There's no way for them to get out," Kahele told ABC News.
New eruptions from Hawaii volcano create more lava destruction
North facing view of the 0.6 miles long ocean entry with multiple lobes of lava flowing into the sea, June 26, 2018, in Hawaii.
Among those who have not evacuated were Brian Jordan and his wife, who were hoping the lava spares their Leilani Estates home.
"We're very lucky compared to a lot of our friends. They've lost their homes, they've lost their property," Jordon told ABC affiliate station KITV in Honolulu.
On Sunday, emergency helicopters located and rescued three people in the area, Talmadge Magno, Hawaii County Civil Defense administrator said at a news conference.
"We put out a message this morning for folks who knew people that were still in there to make contact with us," said Magno, adding that there was no longer cell phone or landline service in the evacuation zones.
He said fissure No. 8 in Leilani Estates was producing fountains of lava 220 feet high.
Officials warned residents still in Kapoho Beach to use respirators due to the "laze" or volcanic haze created when lava flows into the ocean. The laze contains glass particles that are dangerous to breathe, officials said.
"Volcanic gas emissions remain high at the Kilauea summit and in the fissure system," according to the latest alert Monday morning from the Hawaii County Civil Defense agency. "Residents in communities downwind should take action to limit exposure to gas and ash. On the coast, be aware of hydrochloric acid and glass particulates from the laze at the ocean entry."