Lava from the Kilauea volcano is pouring into the Pacific Ocean off Hawaii's Big Island, creating a new, dangerous hazard known as "laze."
When the lava enters the ocean, it generates a laze plume -- a dangerous mix of lava and haze that can cause eye, lung and skin irritation.
Laze plumes can travel with the wind and can change direction quickly, which has prompted authorities to urge the public to avoid the area completely. Authorities have warned that the most dangerous place to be exposed to "laze" is near the entry point of the lava into the sea. Even being downwind of the entry point is not advised because the wispy edges of the laze can cause skin and eye irritation and difficulty breathing.
The U.S. Coast Guard is also helping keep people away from the coast and only allowing permitted tour boats into the area.
According to the United States Geological Survey, "laze" is when molten lava flows into the ocean, reacting vigorously with seawater to create a different type of gas plume that results in hazy and noxious conditions downwind of an ocean entry. It forms through a series of chemical reactions as hot lava boils the colder seawater to dryness.
Charlie Mandeville of the Volcano Hazards Program at the USGS told ABC News "the trade winds in Hawaii are currently blowing the laze to the southwest direction, causing the southeast shore of Kilauea to be at highest risk of the plume."
He said that the plume is an irritating mixture of hydrochloric acid gas, steam and tiny volcanic glass particles.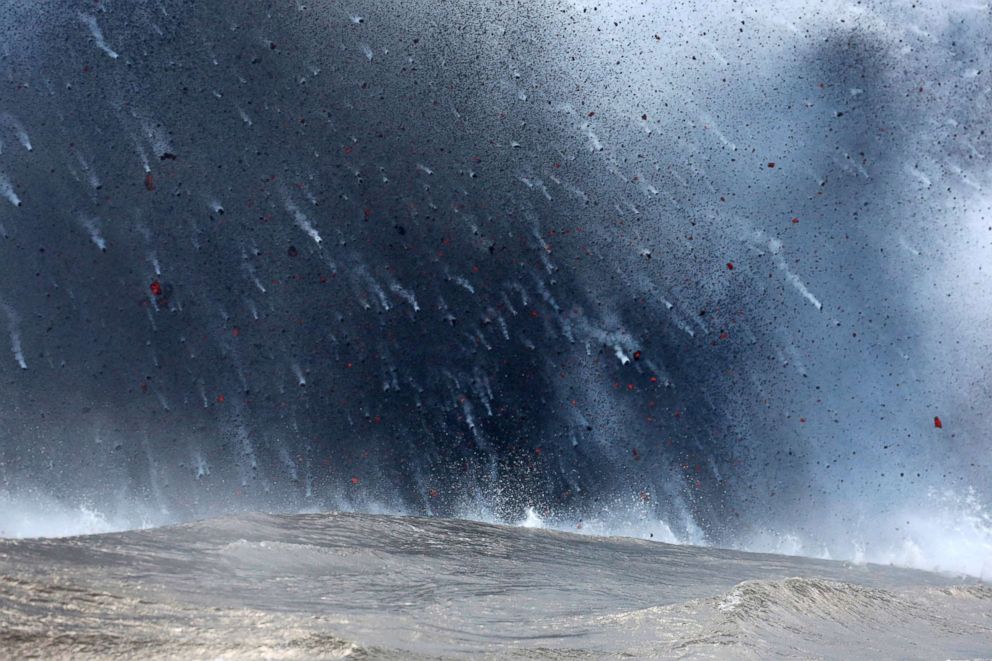 The ocean-entry plume can also cause acid rain that has a pH between 1.5 and 3.5, which has the corrosive properties of diluted battery acid.