Man opens fire, gets shot by police outside Ice Cube concert in San Diego: Authorities
The person apparently was denied a ticket to the show.
A disgruntled concertgoer was shot by police outside a concert by Ice Cube at Del Mar racetrack in San Diego on Sunday night.
The San Diego Sheriff's Homicide Unit said a man approached the ticket window at about 6:40 p.m. seeking entry to the show, but was told it was sold out. After getting into an argument, sheriff's deputies responded and confronted the man.
The man pulled out "a silver-plated semi-automatic handgun" and fired into a crowd outside the Del Mar Fairgrounds, the San Diego Sheriff's Office said.
Deputies returned fire, according to the sheriff's office, and the man was struck.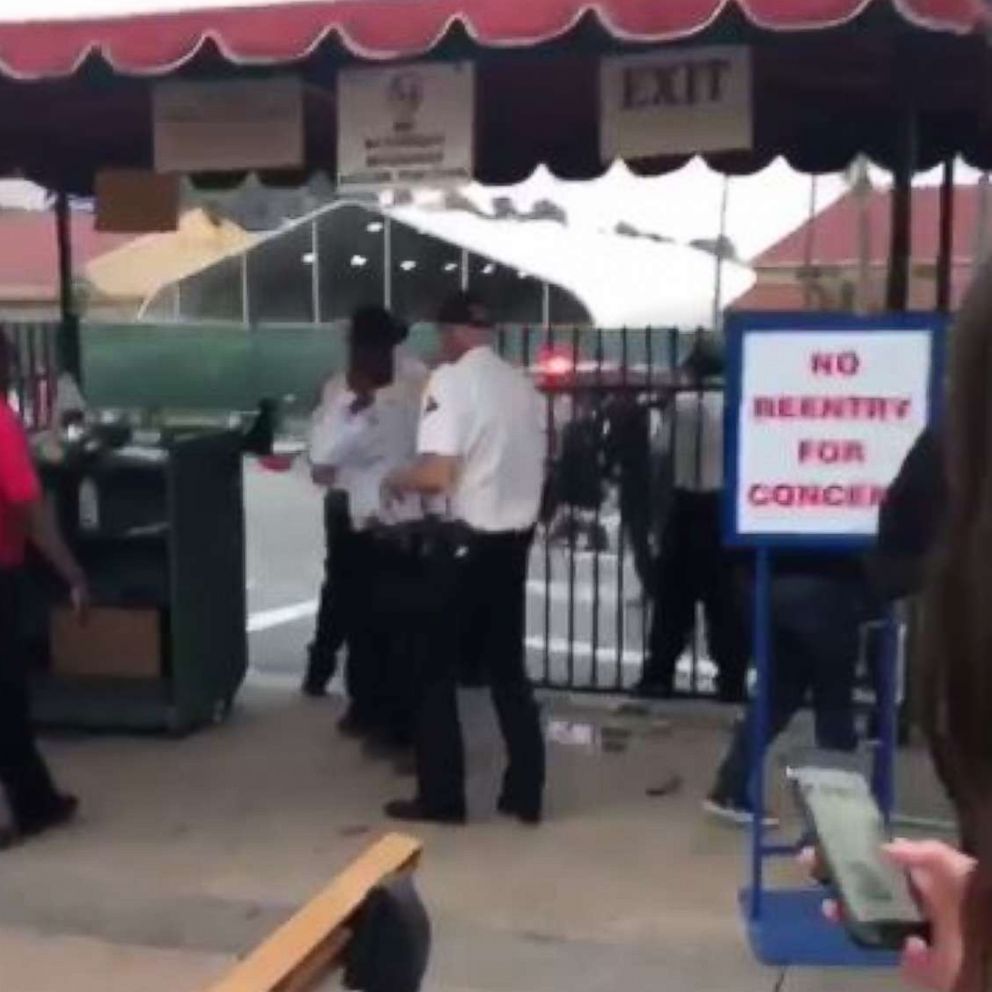 The injured man was taken to Scripps Memorial Hospital La Jolla in unknown condition, authorities said.
No one else was injured.
The Ice Cube concert went on as planned.
Video obtained by Reuters and shot by eyewitness Gary Taylor shows two officers pointing guns at a man who has his back to police before they open fire and he drops to the ground.
Broadcasters calling a race live can be heard shouting, "There is gunfire at the track, there is gunfire at the track," immediately after a race ends.
In video posted by a person just inside the entrance to the track, two shots can be heard outside before a brief pause and then a succession of four quick shots. Though the shooting is not visible, the person filming can he heard saying, "He shot him, he shot him," and concertgoers scatter away from the gunshots.
Ice Cube was performing Sunday night as part of Del Mar's Summer Concert Series. Del Mar Thoroughbred Club racetrack is one of the most famous horse racing tracks in the country.
Admission to the concert was included in a ticket to the day's racing, or $30 as a standalone ticket for the show, according to the show's Facebook page.
WFAN New York sports talk show host and horse racing enthusiast Mike Francesa tweeted he was at the track for the races and said it was "crazy."
"As is our special events protocol, substantial law enforcement and private security was on site in anticipation of the event," Del Mar Thoroughbred Club said in a statement. "In light of the circumstances that unfolded involving one individual with a gun, we take consolation in the fact that no patrons, officers or security personnel were injured in the incident."
Ice Cube was the last show of the summer schedule. The 49-year-old rap legend was a founding member of N.W.A. and popularized gangsta rap in the late 1980s and 1990s as a member of the group and later as a solo performer.