Feeling "bumped and bruised" a day after being hailed as "Nashville's newest hero," the man who wrested an assault rifle from a man at a Waffle House told ABC News' "Good Morning America" today that he sprang into action after he felt "like a fish in a barrel."
A little over 24 hours since exhibiting bravery in the face of terror, James Shaw Jr., 29, said he decided to take on alleged gunman Travis Reinking the very moment the gunfire ceased as the suspect was apparently reloading.
Shaw said he and a friend only ended up at the Waffle House in the Nashville suburb of Antioch at 3:17 a.m. Sunday because another Waffle House they first went to was too crowded. As he entered the restaurant, Shaw said, he noticed the killer sitting in his gold-color pickup truck out front.
"I saw his face. We kind of saw each other and I walk in," Shaw, an AT&T worker, told "GMA" co-anchor Michael Strahan.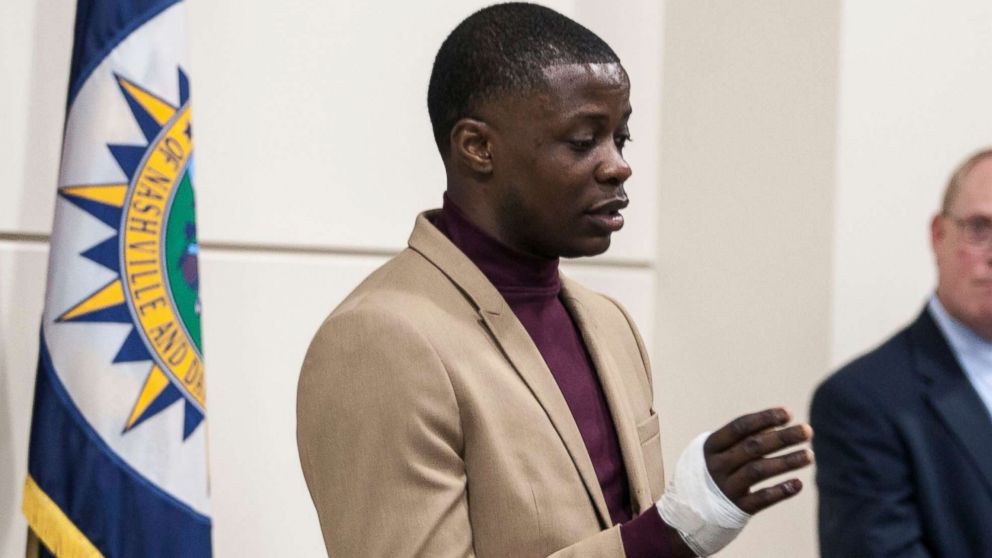 After the shooting started and he saw a body splayed in the entranceway, Shaw said, he ran to the bathroom area and hid behind a swivel door in a hallway.
"I actually just stood in the hallway because I didn't want to be locked in there with just no line of sight and I just wanted to kind of keep an eye on it to see what was going on," Shaw, the father of a 4-year-old girl, said.
"So he shot actually through that door and one of the bullets grazed me and then I think that's when I became alert about the situation and was like, there's kind of no running from this. Kind of like a fish in a barrel type thing and I'm going to have to try to find some kind of flaw or a point in time where I can make this work for myself."
Since the shooting, Shaw said, he has learned the suspect, who is still on the run, paused to reload, giving him the opportunity to take action.
"I think he was reaching in his pocket and he was about to reload the weapon and the barrel of the gun was down so that's when I took my opportunity and me kind of was just wrestling -- wrestling it from him and I ran through the door at full speed, hit him with the door and took the gun and threw it over the bar and then I took him and myself outside -- outside the restaurant and then I was just trying to run away from him and just, you know, get to freedom," Shaw said.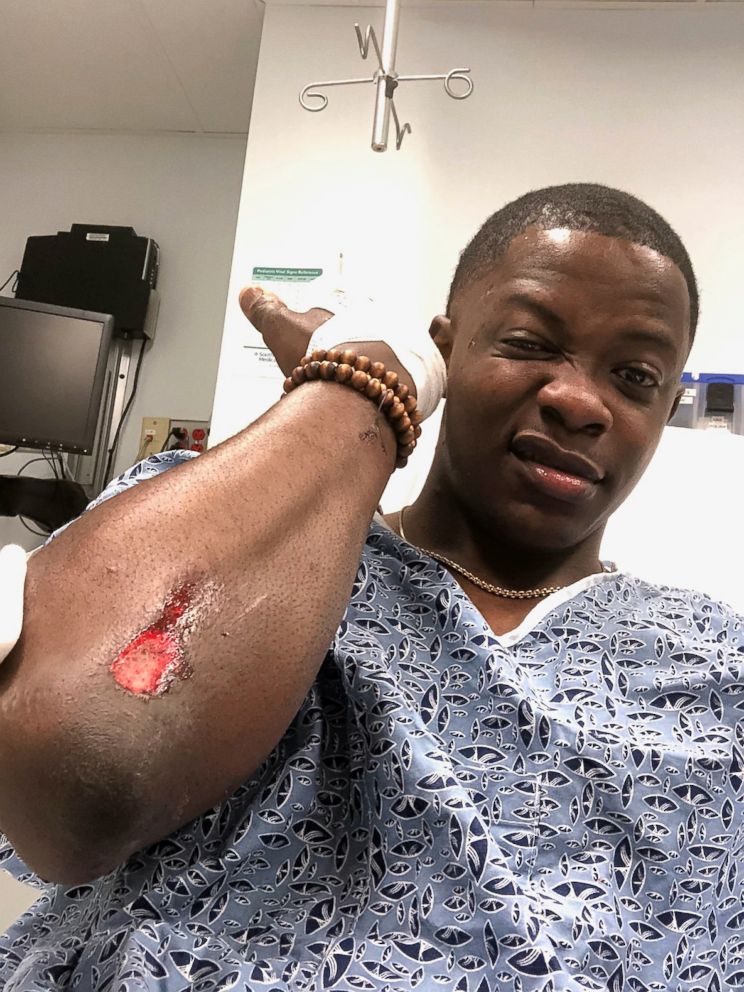 Shaw was praised by everyone from the mayor and police chief of Nashville to seasoned federal agent for his heroic actions.
"It's beyond belief that he could charge that man and take that weapon from him," Chief Steve Anderson of the Metropolitan Nashville Police Department said of Shaw during a news conference on Sunday. "So I applaud him. It was a very brave thing to do and he saved lives."
But Shaw said he doesn't feel like a hero, only someone who did what he had to do to save his own life.
"On my Instagram and Facebook, everybody's calling me a hero, but I want people to know that I did that completely out of a selfish act," Shaw said during a news conference Sunday. "I was completely doing it just to save myself. Me doing that ... I did save other people, but I don't want people to think that I was the Terminator or Superman or anybody like that. I figured if I was going to die, he was gonna have to work for it."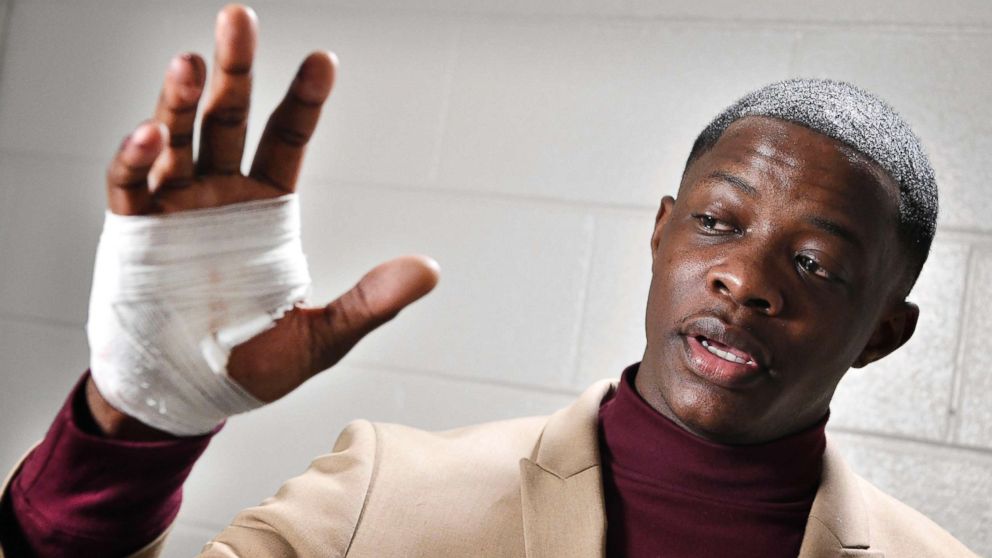 Besides suffering a grazed elbow from a bullet during the Waffle House rampage, Shaw also burned his right hand when he grabbed the scalding hot barrel of the AR-15 assault rifle.
"I'm doing all right. I'm a little bumped and bruised," Shaw said on "GMA." "I'm a little bumped and bruised. I still got some blisters and stuff on my hands from where I actually grabbed the barrel of the gun after it was discharged. But I'm all right. I'm all right. I'm going to make it."
Shaw, who grew up in Nashville, said the shooting erupted at 3:23 a.m. shortly after he and a friend took seats at the Waffle House. At first, he thought the gunshots were plates breaking in the kitchen.
"Then the second one happened, then the third one happened. I think that's when the glass busted and broke through," Shaw said Sunday.
Police said the suspected gunman, Reinking, 29, arrived at the Waffle House in a pickup truck. He was only wearing a green jacket and nothing else when he opened fire outside the restaurant with an AR-15 assault rifle.
The gunman killed two people outside the restaurant, including a Waffle House cook who had gone out for a cigarette break. The gunman then fired through the window before entering the restaurant to continue his massacre.
Nashville Mayor David Briley called Shaw "Nashville's newest hero."
"Thrown into crisis, he acted with courage," Briley said of Shaw Sunday. "He told me he saw an opportunity and he took it. He saved lives. That is certain and we all are thankful to him for his bravery."
ABC News' Kelly McCarthy contribited to this story.