— -- The manhunt for a Texas teen whose drunk driving trial included a defense witness saying he was afflicted with "affluenza" is intensifying after U.S. Marshals released a wanted poster and announced a reward for the fugitive teen who was convicted of killing four people while driving drunk.
Ethan Couch, now 18, was convicted of four counts of intoxication manslaughter in 2013 but was not sentenced to any jail time. Instead, he was given 10 years probation -- a punishment considered a mere slap on the wrist by critics, and one that outraged the victims' families. Tarrant County, Texas, Sheriff Dee Anderson today called it a "miscarriage of justice."
Now, officials are concerned that not only has he skipped at least one check-in with his probation officer, but that he has skipped town, perhaps even the country. A juvenile judge issued a "directive to apprehend" -- effectively a warrant -- for Couch on Dec. 11.
The U.S. Marshals Service issued a wanted poster for him Friday. Police believe Couch violated the conditions of his probation and are offering a $5,000 reward in exchange for his whereabouts.
If Couch is apprehended, he will only be charged with violating his probation, sources in the investigation told ABC News.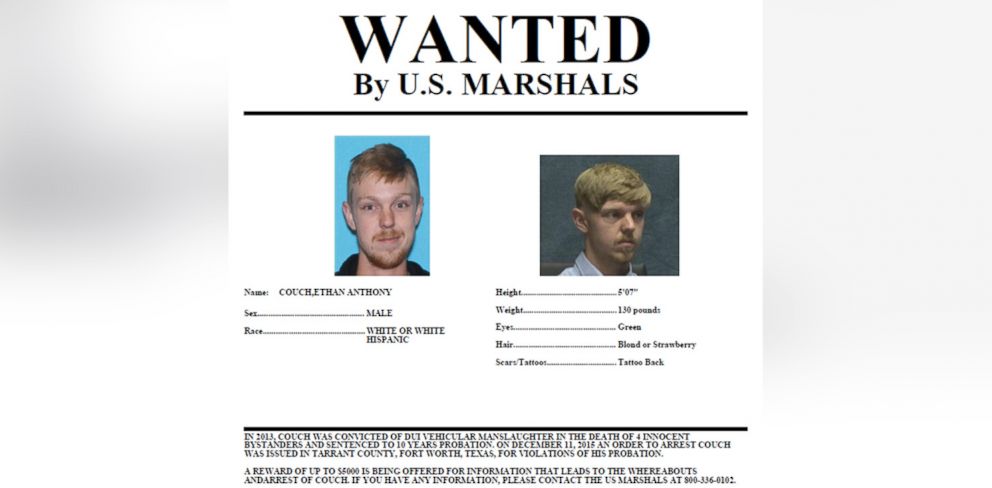 The FBI is also on the case, and investigators are fielding hundreds of tips as they track Couch's passport and family bank accounts.
Hundreds of leads have poured in, Anderson said today, but he said that authorities do not have any solid information and the teen has not been located. It was unclear how long Ethan Couch has allegedly been at large.
Now that the U.S. Marshals declared this a "major case," the agency can use unlimited funds and pay unlimited overtime, sources said.
Authorities are trying to account for every possibility, Anderson said today, including a pickup truck believed to belong to the teen's mother, Tonya Couch, that hasn't yet been accounted for. The U.S. Marshals office released photos of the truck and asked that citizens be on the lookout for it.
The teen's mother was declared a missing person, the Tarrant County District Attorney's Office said Sunday. Tonya Couch is suspected to be helping her son, the sheriff said today, but it cannot be proved, and it is not at the point where she is named as a suspect.
"Every lead is being investigated," Tarrant County Criminal District Attorney Sharen Wilson said today. She said that if Couch is watching the authorities' news conference, he should turn himself in.
Anyone who sees Couch or his mother is asked to call authorities.