Two teenagers were shot and injured at a high school in Great Mills, Maryland this morning, allegedly by a classmate who may have had a prior relationship with one of them, authorities said.
"I'm kind of traumatized," one student told ABC News. "I could have died."
Suspect Austin Rollins' two alleged victims -- a 14-year-old boy and a 16-year-old girl -- were shot in a Great Mills High School hallway just before classes began, authorities said, adding that Rollins, 17, died after exchanging gunfire with a school resource officer.
"There is an indication that a prior relationship existed between the shooter and the female victim," St. Mary's County Sheriff Tim Cameron said at a news conference today.
The extent of any relationship between them was unclear and the motive remains under investigation.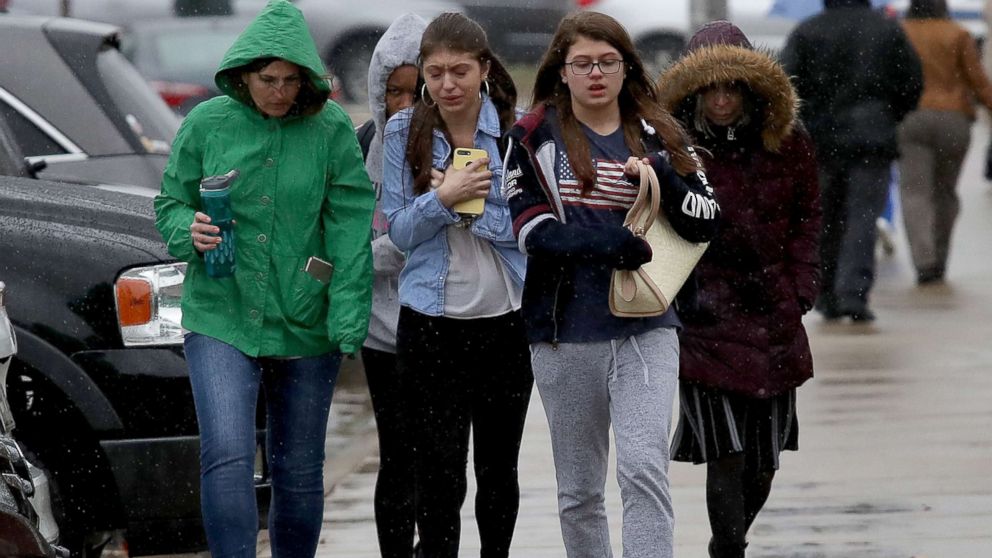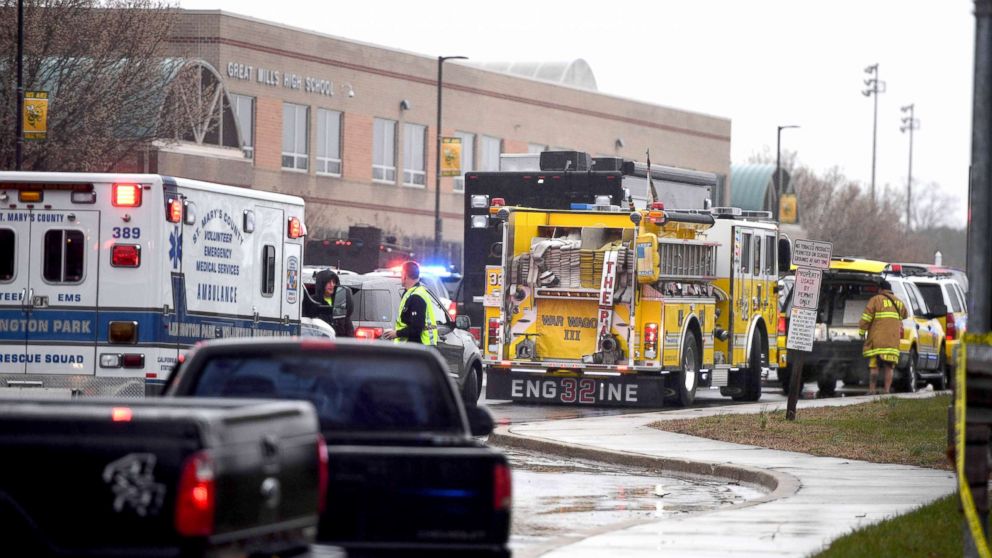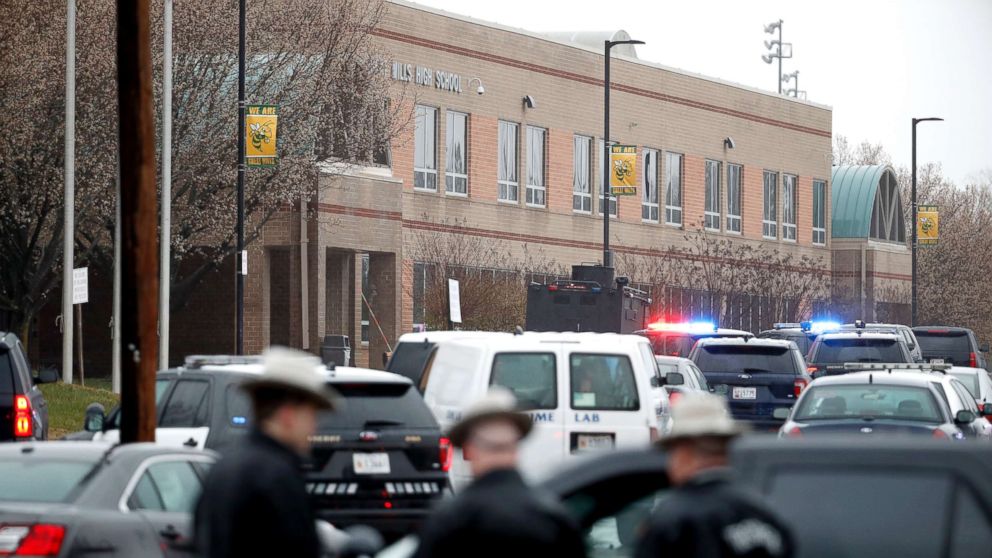 The sole school resource officer, Deputy Blaine Gaskill, engaged the suspect and fired a round, authorities said. The shooter fired almost simultaneously, using a Glock semi-automatic, authorities said. The suspect was injured and has since died at a hospital, police said. It was not immediately clear if the officer or the suspect fired the fatal shot.
The injured girl was hospitalized in critical condition and the injured boy was hospitalized in stable condition, authorities said.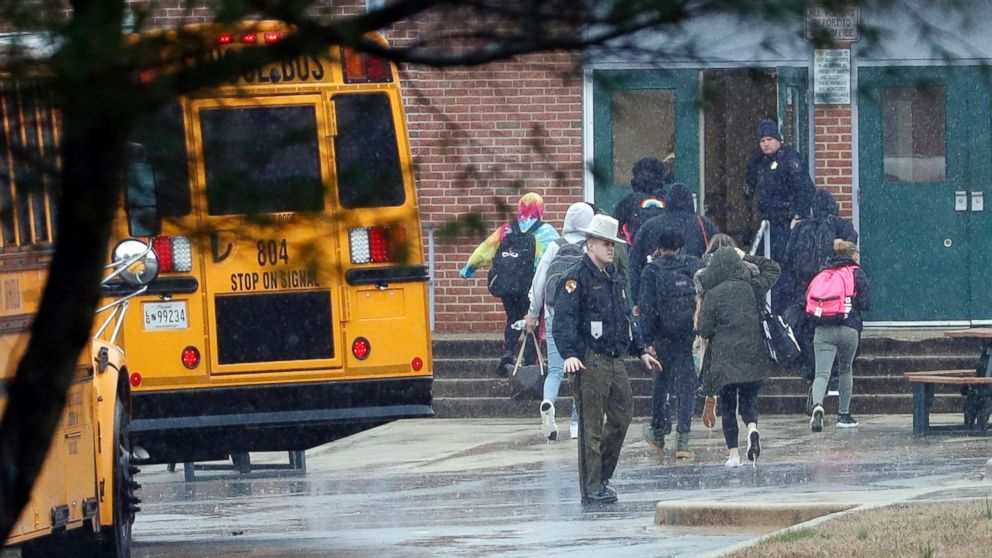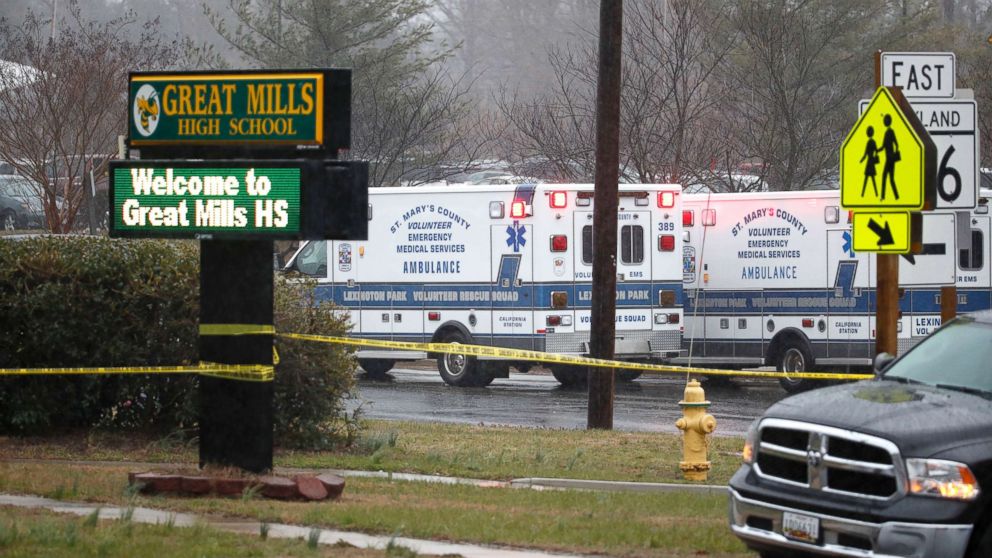 Student Nadyia Olsen told ABC News she heard what sounded like firecrackers
"Everybody started freaking out and running around," while at first, "I was perfectly calm," she said.
Olsen and her boyfriend put a metal bookcase in front of a door to barricade themselves in a classroom with their peers.
Once the reality of the situation hit her, she said, "I was scared. I was ready to just, like, break down and cry. But I wanted to protect everybody first because my school means the world to me."
"I'm kind of traumatized," Olsen said. "I could have died."
Another student, Jenna Lane, told ABC News she didn't see anything but she knew something was wrong when she heard the principal's voice over the speaker system because he sounded panicked and upset. She said she stayed in lockdown until officers came to her classroom, after which they were brought to the cafeteria, which was full of sobbing students.
Authorities evacuated students from the school and bused them to a reunification center at nearby Leonardtown High School, St. Mary's County Public Schools said. Students have since been reunited with their parents at Leonardtown or sent home by bus, the district said this afternoon.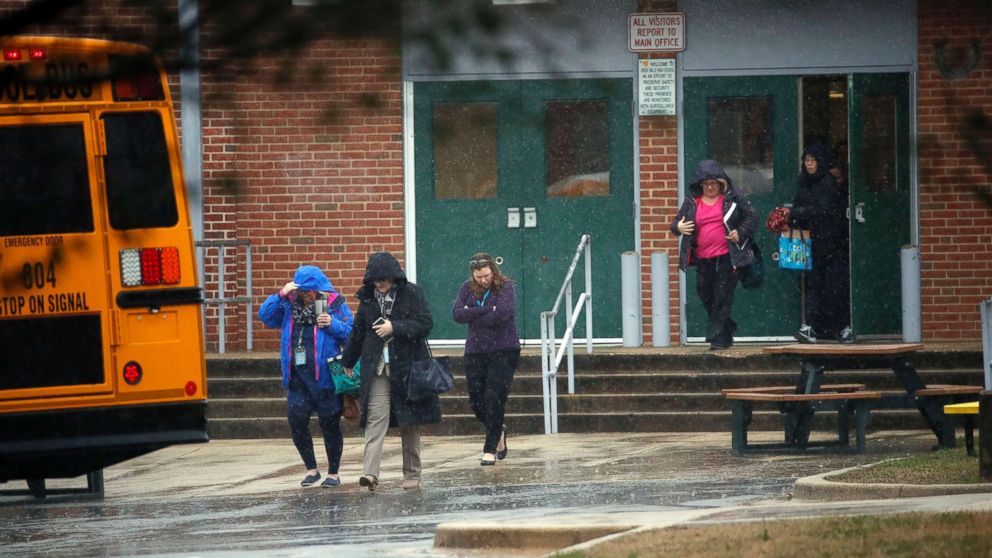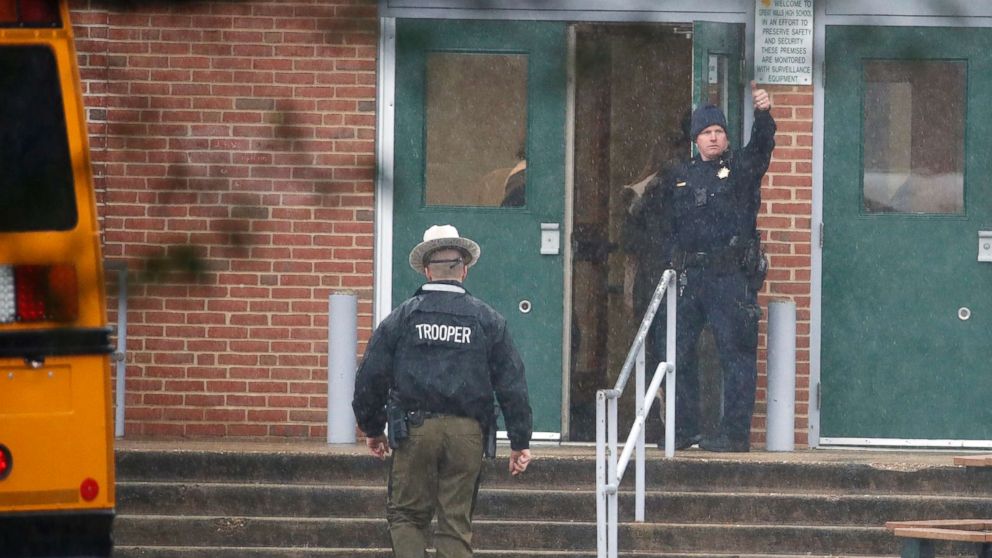 Great Mills is located about 60 miles southeast of Washington, D.C.
FBI and ATF agents have responded.
As the sheriff's office investigates, Cameron said no "pre-incident signs" have been found on social media accounts connected to the suspect at this time.
Police have responded to the suspect's home, Cameron added.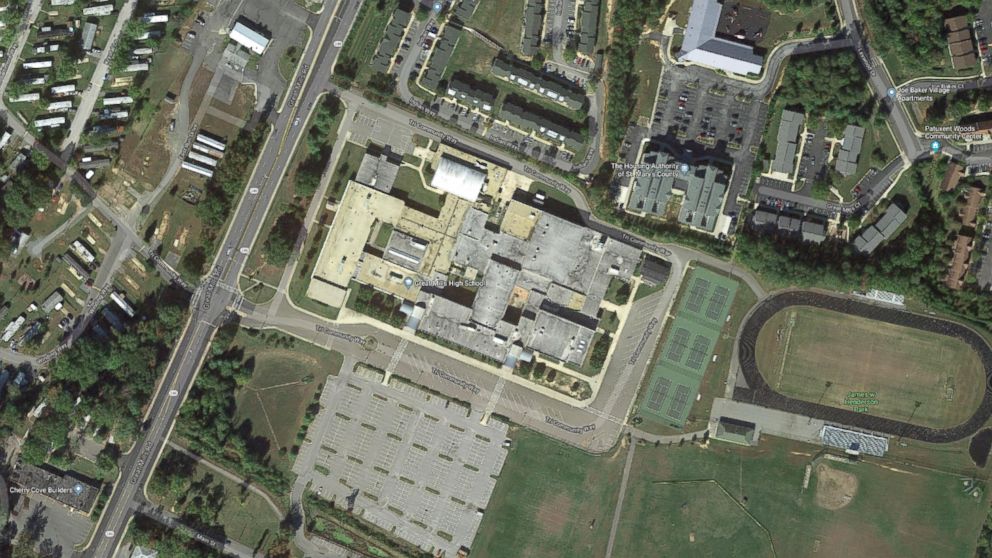 Maryland Gov. Larry Hogan said it appears the shooting was handled "exactly the way it should have been handled."
"Had a very capable school resource officer that also happened to be a SWAT team member," he said at a news conference. "This is a tough guy who apparently closed in very quickly and took the right kind of action. And I think while it's still tragic, he may have saved other people's lives."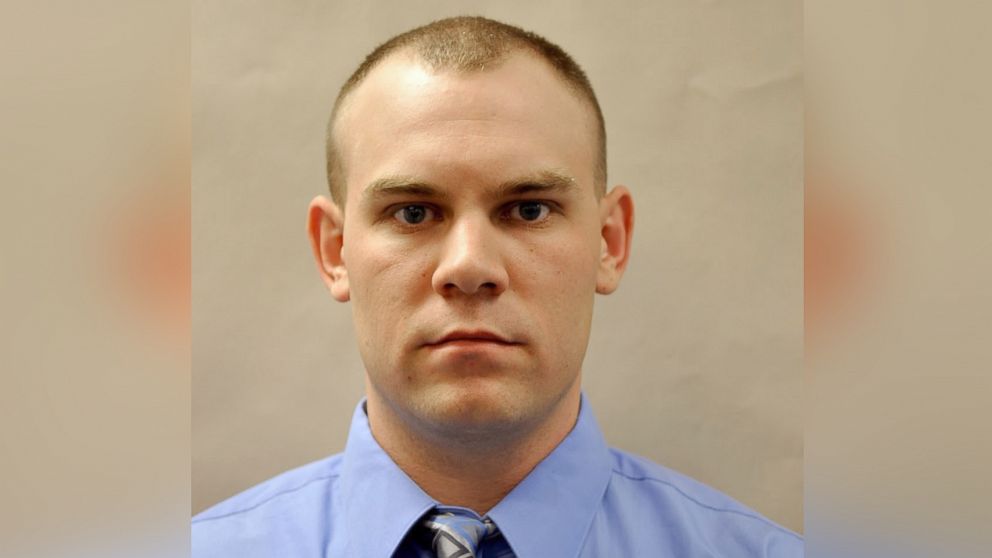 Hogan said in an earlier statement, "I want to express my deepest gratitude to the St. Mary's County Sheriff's Office and all of the first responders who swiftly and bravely took action to secure the school. The first lady and I are praying for those who were injured, their families and loved ones, and for the entire Great Mills community as they come together to heal in the wake of this horrific situation."
"But prayers are not enough," Hogan continued. "Although our pain remains fresh and the facts remain uncertain, today's horrible events should not be an excuse to pause our conversation about school safety. Instead, it must serve as a call to action."
Cameron said at the news conference today, "This is what we prepare for. And this is what we pray we never have to do. And on this day, we realize our worst nightmare. That our greatest asset, our children, were attacked in one of our places of ... safety and security, one of our schools."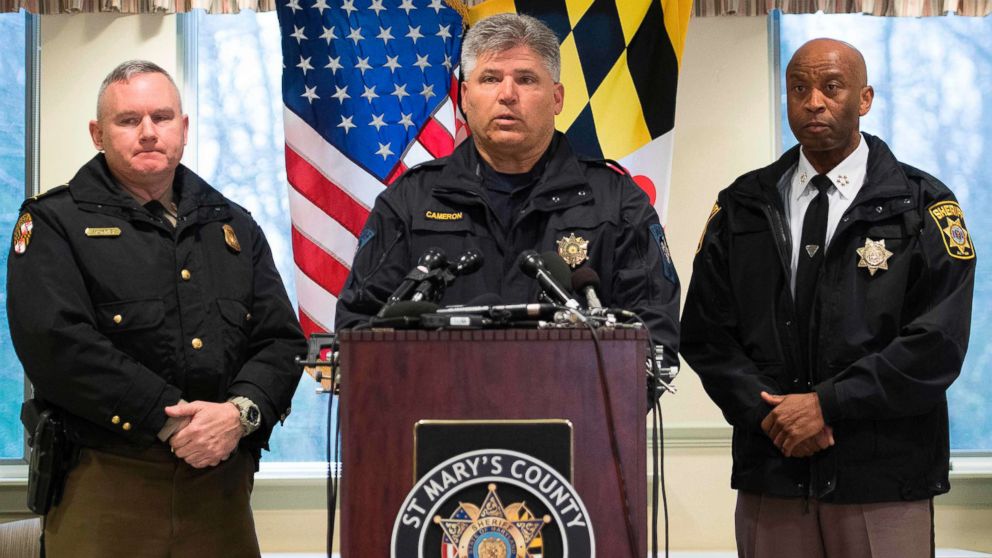 Meanwhile, a subcommittee of the House Judiciary Committee held a hearing this morning on how to prevent school violence and other violence in the country.
As the hearing began, Rep. Jerry Nadler, D-N.Y., said of today's school shooting, "We can only hope there are no fatalities. We simply cannot watch this happen time and time again and take no action."
This shooting comes four days before Saturday's March for Our Lives in nearby Washington, D.C. Thousands of students are expected to descend on the nation's capital to rally for gun control and safer schools in the wake of the deadly Feb. 14 school shooting in Parkland, Florida.
Less than one week ago, Great Mills High School students were among the thousands participating in the National School Walkout, according to local news outlet TheBayNet.com.
The walkout, which marked a month since the Parkland massacre, was organized as a call on Congress to tighten gun laws.
ABC News' Kenneth Moton, Fergal Gallagher, Mike Levine and Lauren Effron contributed to this report.