As Meadows heads to federal court in Georgia case, Trump allies watch closely
Monday's hearing may be an early indicator of how the case could proceed.
As attorneys for former White House Chief of Staff Mark Meadows and prosecutors with the Fulton County district attorney's office prepare to appear in court Monday for the first federal hearing in the DA's sweeping racketeering case, sources tell ABC News that attorneys and aides for former President Donald Trump and some of the 17 other defendants will be watching the proceedings closely.
The evidentiary hearing, set to occur Monday morning before Judge Steve Jones, comes as part of Meadows' effort to have his trial removed to federal court, in what is expected to be a major first indicator of how the case could proceed.
Multiple sources close to some of the 19 defendants -- which include Trump, Meadows and former New York City Mayor Rudy Giuliani -- have told ABC News that the legal teams for many of the defendants will be keeping a "close eye" on Monday's proceedings, with some even sending people to watch in person.
Many involved in the case are unclear what the ramifications would be if Meadows' case is moved to federal court, the sources said, and whether it would bring along all 19 defendants or leave their cases in state court.
"It is completely untested," one attorney for a defendant in the case told ABC News.
"The issue that's being litigated is 'under color of office,' former Georgia prosecutor Chris Timmons told ABC News regarding the charges against Meadows, which include his role in the Jan. 2, 2021, phone call Trump made to Georgia Secretary of State Brad Raffensperger in which Trump asked Raffensperger to "find" the number of votes needed to win Georgia.
"The question is whether the call was made by Mark Meadows, the chief of staff to the president of the United States -- or Mark Meadows, a private citizen or member of the Trump campaign," Timmons said. "The president's chief of staff typically doesn't have a reason to call the Secretary of State in Georgia. Thus, arguably he was acting in a private capacity and he's going to have a difficult time Monday."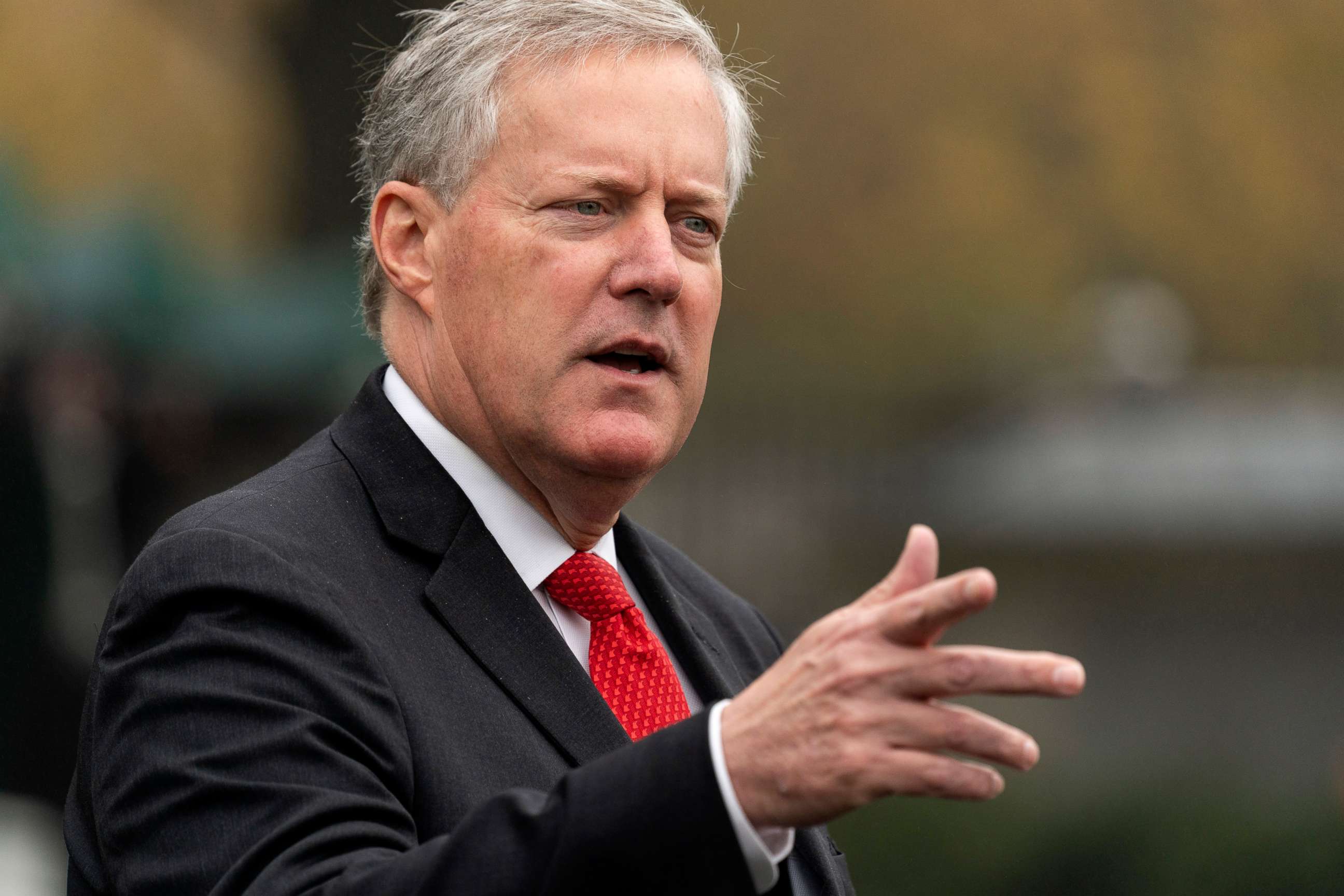 At least five defendants charged as part of the DA's case have filed motions to move the case to federal court, according to court filings.
Meadows was the first of the group to be granted a hearing. Jeffrey Clark, a former Justice Department official, has a hearing on his motion to move his case to federal court on September 18.
In remarks before boarding his plane at after surrendering Thursday in Fulton County, Trump said he had the right to challenge an election "we think is dishonest."
"We did nothing wrong," said Trump, continuing to falsely claim that the election had been stolen. "We have every right to challenge the election."
After attorney Kenneth Chesebro filed a motion Wednesday requesting a speedy trial in his case, on Friday the judge overseeing the case set a trial date of Oct. 23 for Chesebro only, according to a scheduling order. After the judge's order, former Trump campaign lawyer Sidney Powell also filed a request for a speedy trial.
Attorneys for Trump have asked that his trial be separated, citing the need for more preparation time.