Medical probe into whether police inaction contributed to any deaths in Uvalde shooting is at a standstill
There's no progress in the DPS' "casualty analysis," says the panel's leader.
Fourteen months after a school shooting left 21 dead in Uvalde, Texas, the investigation into whether law enforcement inaction might have contributed to the deaths of any of the victims has yet to make any progress, according to the official leading the review.
The Texas Department of Public Safety, which conducted the criminal investigation into the rampage at Robb Elementary School, tapped a panel of five medical experts to perform a "casualty analysis" to determine whether any of those killed at Robb might have survived if police, first aid and medical assistance had reached them sooner. Nearly 400 law enforcement officials who assembled waited more than an hour before ending the attack.
Although the panel was assembled last year, its leader said the group has yet to receive the records required to conduct their assessment.
"It's been months," said DPS Chief Medical Officer Dr. Mark Escott, who heads up the panel. "And the most important piece of evidence are the autopsies, and I don't have any of those."
Escott said that his team has also not received hospital and EMS records for the victims. By contrast, he said that DPS records -- including school security videos showing the victims and their injuries -- were turned over quickly last fall.
An Austin city spokesperson told ABC News that Escott, who is the EMS medical director for the city of Austin in addition to his position with DPS, was barred from answering additional questions at the direction of Uvalde County District Attorney Christina Mitchell, who is overseeing the criminal investigation into the Uvalde shooting.
The spokesperson referred questions to the DA, who declined to comment.
News of the delay has been met with disappointment and surprise in Uvalde.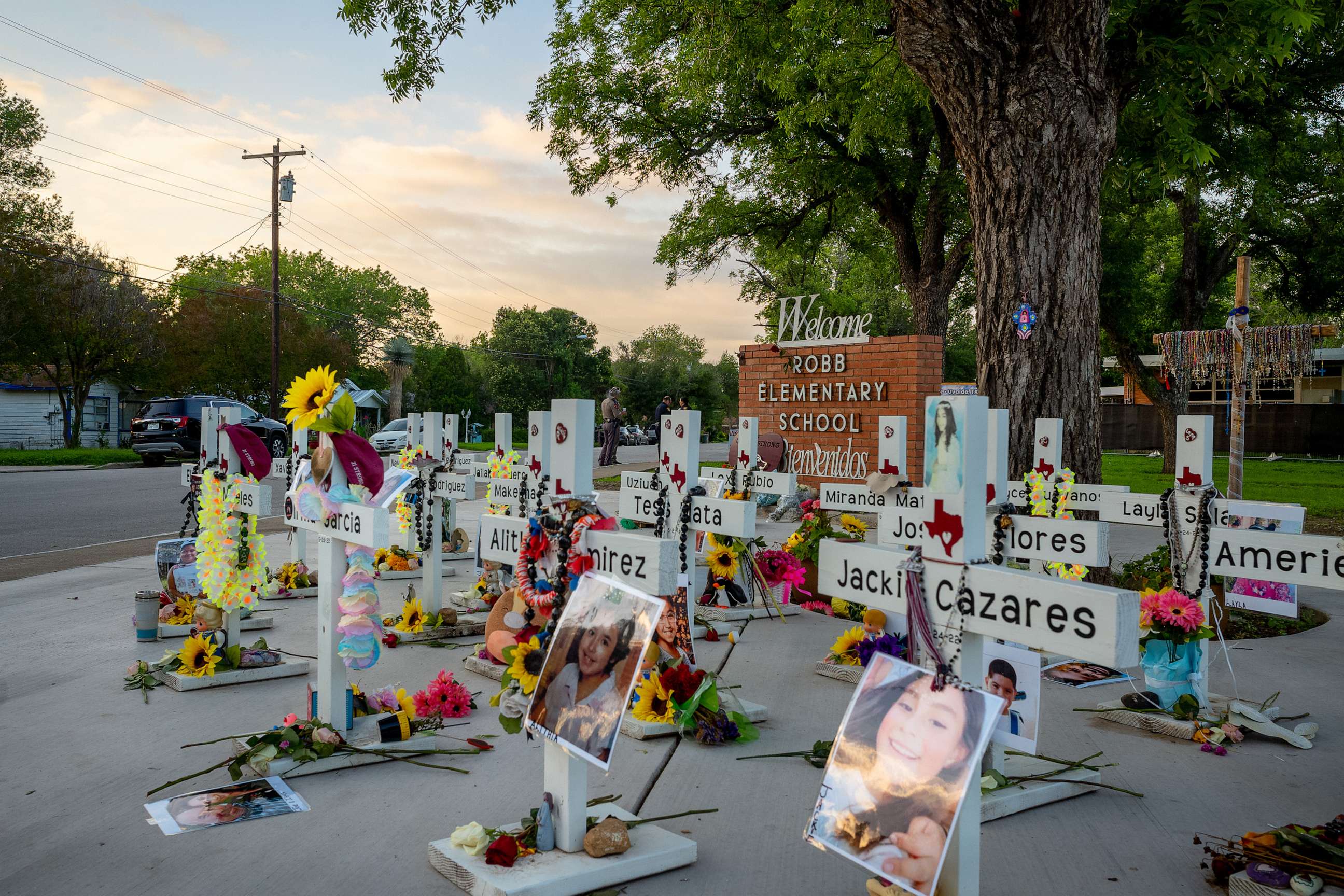 "We have to continue to fight for Jackie, and we need the justice for them, and I don't think the healing process is even going to begin if we don't have that," Gloria Cazares, whose daughter Jackie was killed at Robb, told ABC News correspondent John Quinones.
"It's hard because I'm tired of missing her," Cazares said. "And it's hard because you feel disappointed in yourself, too, because I feel like I haven't done enough for her. I haven't -- she deserves it. She deserves justice."
Jackie Cazares was one of 19 fourth graders and two teachers who were killed when a gunman stormed Robb Elementary on May 24, 2022. Police and federal law enforcement officials quickly descended on the location 80 miles west of San Antonio. But there was a 77-minute wait for police to stage a counterassault -- a delay that's been criticized by experts, including the head of Texas DPS, as an outright violation of modern police procedure that dictates responding officers must run toward gunfire in an active-shooter incident.
In Jackie's case, her parents told ABC News that they were told Jackie had a pulse when she arrived at Uvalde Memorial Hospital with a gunshot wound to the chest. Based on what they've been told about her injuries and the extent of the blood she lost, they believe Jackie could have survived if police had moved more quickly to stop the massacre.
As investigative reports and police recordings later revealed, officials were aware that some of those injured were still alive inside classrooms as the minutes ticked away.
The Texas Rangers, an elite unit of the DPS, conducted a sweeping investigation into the incident, trying to determine whether any law enforcement officials could be held criminally liable for their decisions or actions that day. Prosecutors plan to bring the case to a grand jury for a determination on whether to proceed with criminal charges.
The expert panel led by Escott was tapped to go beyond normal criminal investigations to determine whether lives could have been saved by faster action, and what lessons -- if any -- could be learned by first responders dealing with mass shootings in the future. Oversight of the panel moved from DPS to the DA's office earlier this year, as DPS was completing its probe and preparing to turn it over to the prosecutor.
In an interview earlier this year, Scott Durfee, a special assistant district attorney working on the case, told ABC News that he could not "comment on the causation between the inaction and the subsequent deaths of the children and the two adults."
"That is really, you know, the whole point of the investigation, and that would be a part of what's presented to the grand jury," Durfee said.
Documents obtained from the Austin city officials show that requests for records connected with the Uvalde investigation date back to November.
Emails from the spring show that Escott tried repeatedly to set up meetings in Uvalde to move his investigation forward.
On April 11, District Attorney Mitchell wrote that she would not be able to meet with Escott until June because "the one year anniversary of the shooting with all the expected press and protestors ... is taking precedence of all of our time and energy right now."
On May 8, Mitchell sent Escott another email in which she suggested delaying the meeting until later in the summer.
"Let's look at the end of July or the first part of August," she wrote, according to the email. "The end of July gives everyone some breathing room after the 1 year anniversary."
In the meantime, according to an official briefed on the investigation, Escott has suggested that the DA's office should proceed with issuing a list of subpoenas in order for his panel to get the necessary records to begin its work. The analysis process could take months.
Dr. E. Reed Smith, an associate professor of emergency medicine at George Washington University who has conducted similar casualty analyses, explained that they are based on the type of detailed autopsies typically performed on members of the military who die in combat. Smith said the analyses are geared toward developing new protocols to save lives in the future.
"To improve survival, you have to understand why people die and why they live," Smith said. "You look to see if they had gotten stabilizing care within 10 minutes and surgical care within an hour, what were the chances they could live."
The team conducting the survivability probe for Uvalde includes a trauma surgeon, a pediatric trauma surgeon, an EMS doctor, a pediatric EMS doctor, and a medical examiner. Because the investigation is being done under the auspices of law enforcement, Smith said, Escott's team would have the benefit of being able to access confidential medical records through subpoenas.
"I know that investigations take time," Jackie Cazares' uncle, Manuel Rizo, told ABC News. "But damn it, if you need help, ask for help. Let's get out there and get some work done and communicate with the families and the general public where are we at today."
ABC News' Hannah Prince contributed to this report.