Meet families receiving Red Cross donations in Harvey's wake
"The feel of love is overwhelming," said Tabitha Barnes.
September 5, 2017, 8:58 AM
— -- Disney hosted its Day of Giving last week, raising more than $15 million and counting for the Red Cross to donate to those impacted by historic Hurricane Harvey. ABC News visited the George R. Brown Convention Center in downtown Houston to see just how the Red Cross is putting these generous donations to work.
"We are here to wrap our arms around the people of Texas, and we can only do it with generous donations," Donna Morrissey, director of national partnerships for the American Red Cross, told ABC News.
The Red Cross said at least 33,000 people sought refuge in 284 Red Cross and partner shelters across Texas, and that they have supplies to support more than 85,000 victims. To date, they've served over 690,000 meals and snacks, and have distributed more than 30,000 relief items like deodorant, toothbrushes and diapers.
Those emergency supplies help people like Tabitha Barnes and her family, including four children under age 6 who lost their home during Harvey.
"We were almost out of food, it was just a horrible experience, so I reached out to the Red Cross and they sent someone to get us," Barnes told ABC News.
"It says, 'start each day with a grateful heart,' and I think that really applies to us," she continued while gazing at her daughter's coloring page. "Because they have so many kids who don't have anything, and at least we have each other."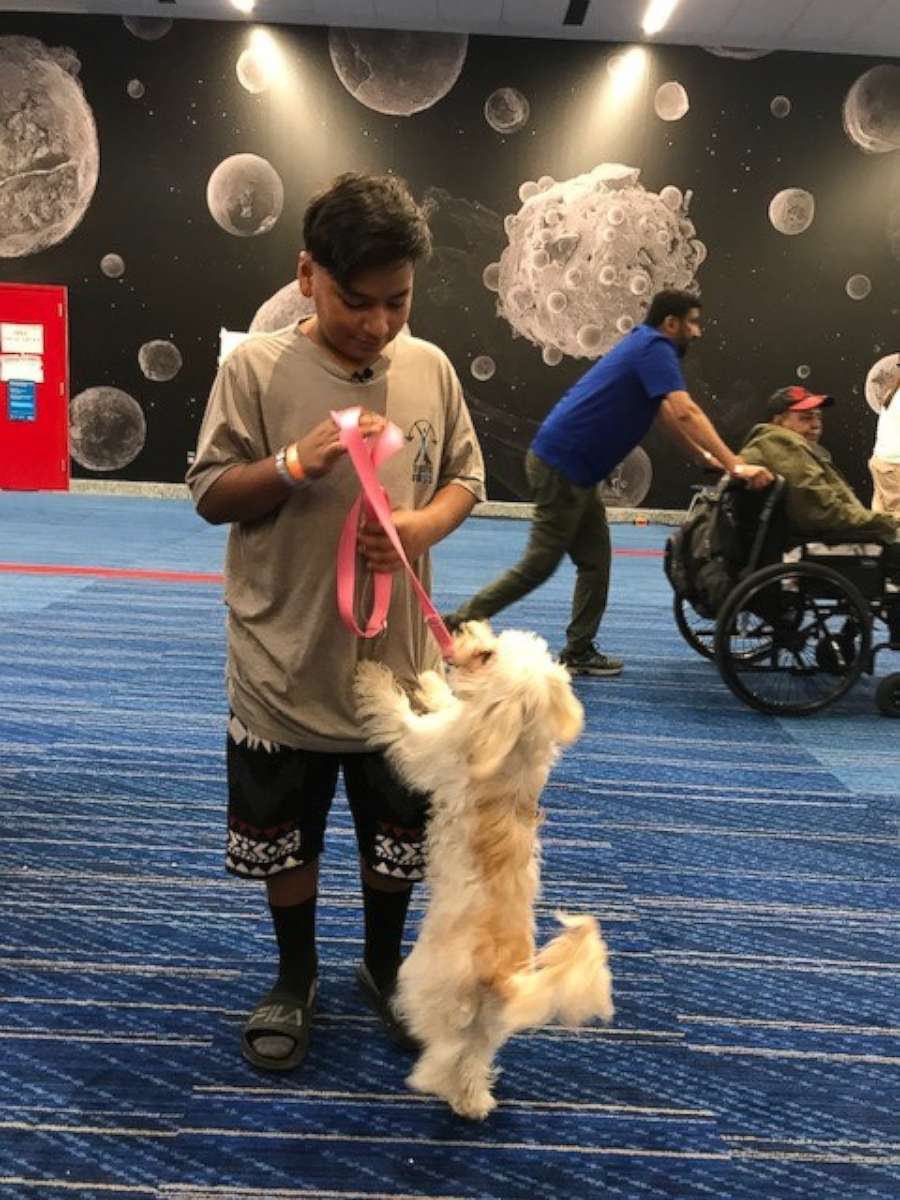 In the shelter, Barnes' kids are able to unwind in a play area, and later in the day they're able to pick out their own backpacks with coloring books and crayons.
"To feel the love it's just overwhelming. These are strangers," she said. "They don't know me, they don't know my kids, and they're showing so much compassion."
Savannah McCormick is a mom of three, with one on the way. In the shelter, she's able to choose some brand new items donated by Walmart through their partnership with the Red Cross.
"We had nothing, but here at the shelter they gave us a lot of stuff," said McCormick. "It's just, it's really difficult."
Luis Balbuen, 11, is staying in the shelter with his family and his dog, Linda, who is by his side after their family was pushed out of their home by flood waters.
"Inside, the water reached to me right here by my knee, and outside to right here," Balbuen said while pointing to his chest.
Even though it's tough to be a child displaced from his home, Balbuen said he's grateful for the help his family has received so far.
"Thank you for donating stuff for the people that's here and need help," he said.
It is less than two weeks after Harvey ravaged the region, and the road to rebuilding and recovery is just beginning, but the Red Cross said it will be there in the long run.
"We're gonna stay here as long as possible and that's why it's important that people are generous with financial donations because it enables us to help them through each part of the recovery path," said Morrissey.