— -- The Menominee Indian Tribe of Wisconsin is demanding answers after a mystery person allegedly dropped a small package of crystal meth into a Wisconsin toddler's trick-or-treat bag over the weekend.
Menominee Tribal Police Chief Mark Waukau told ABC News the toddler's father found the questionable bag at a community event they were attending on Sunday.
The father alerted the police after pulling out a small baggie with yellow powder inside it, Waukau said.
"The father was going through the candy and he finds a really small clear plastic packet like the size of a quarter," Waukau said.
The family had attended the tribe's annual Halloween trick-or-treating event in Keshena, Wisconsin, alongside several other families to "go house-to house-with parents" to collect sweets, Waukau said.
"I think people are pretty upset," he went on. "That's what we want. We want people to get upset and come forward and give us information. We're already getting tips."
When the substance was field tested, it was proven the yellow powder was methamphetamine.
"We thought it looked a lot like Pop Rocks candy in that little baggie," Waukau said.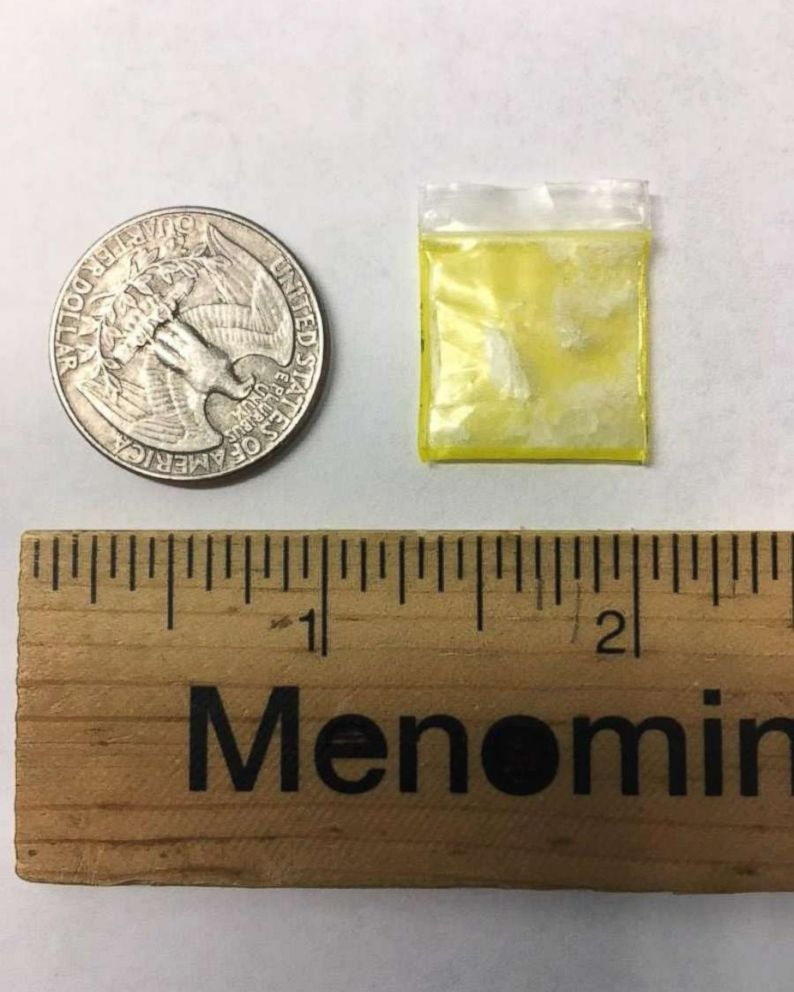 Waukau said he immediately alerted families to dispose of the candy from the Sunday event, fearing there may be more crystal meth bags surreptitiously dropped in other trick-or-treat buckets.
The Menonminee Police posted a statement on Facebook confirming there was "a complaint of a suspicious package located in a child's Halloween Candy."
It also verified that the package contained crystal meth.
"A small yellow Ziploc type baggy containing crystalline powder was located. The crystalline powder tested positive for methamphetamine a.k.a (Meth)," according to the post.
The incident stoked fears in educators at the Keshena Primary School and they barred students from bringing to school any of their candy.
"Due to the very unfortunate incident with the trick-or-treat candy from Sunday, no students will be allowed to bring and distribute any candy or other treats tomorrow (10/31) for our Halloween parties," according to a statement from the school's Facebook page. "Instead, KPS will be providing cookies, popcorn and plenty of candy for our students to ensure it is safe for them."
Drugs have riddled the Menominee Indian Tribe community for years, Waukau said. But heroine and crystal methamphetamine have become the latest substances infiltrating the community, he noted.
"We're seeing such a big increase of people outside the reservation from Milwaukee and the Chicago area bringing drugs in here that are so lethal," he said. "We've been targeting them pretty good and kicking some people off [the reservation] when we catch them."
Waukau said a "controlled" Halloween "Trunk or Treat" event at the College of Menominee Nation campus will be held today for the local children.
"We'll be supplying the candy and this time we want families to dress up and participate without being afraid," he said.