An ailing, retired racehorse has helped his own recovery through money earned from his paintings, which sell for upward of $2,000. Yes, this is about a horse that paints.
Metro Meteor, now 10 years old, won turf races at Saratoga and Belmont, and took in more than $300,000 in purse money throughout his career. But bone chips in his knees took him out of the races, and in 2009 he was purchased by Ron Krajewski of Gettysburg, Pa., who owned a 3 percent stake in Metro.
"He was our first horse. We got him for free from the stable," Krajewski told ABCNews.com. "But he never got above 50 percent with his knees. He was always struggling with his health. Then last fall he was diagnosed with bone growth in his knees. They said that within two years, his knees would lock up."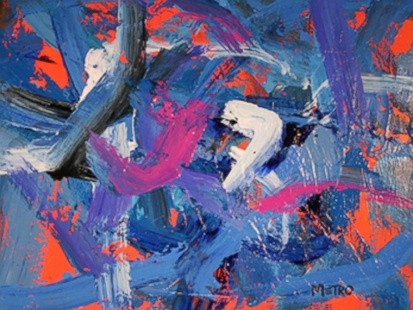 Krajewski fell in love with Metro though, and as an artist himself, he decided that he would teach the horse to paint.
"He's got a habit of putting stuff in his mouth and bobbing his head," he said. "I thought if I could teach [him] to hold a brush, maybe we could do something with him."
Metro's first painting definitely looked as if it was done by horse, Krajewski said, but his second one was pretty good. He said that he and Metro developed a style of building paintings up over several days, adding two colors one day, then letting them dry, and then adding more layers of color for depth and texture.
Krajewski said while he sets things up, it's always Metro who applies all the brush strokes during the process. "It takes around three or four days, depending on how many layers we want to build," he said.
The paintings were so good that Krajewski decided in December to put one of Metro's works up for sale, and the first one -- a large painting -- went for $300. Since then word has spread about Metro's talents. And his biggest sale has been $2,100, in an eBay auction.
And the proceeds from the sales have paid for Metro's mounting medical bills.
Krajewski said that Metro is being treated by a talented veterinarian named Kim Brokaw, who is using an experimental drug called Tildren to treat Metro's bone chips and arthritis. The drug is not approved in the U.S., but Krajewski said that Brokaw was able to obtain a license and prescribe Tildren to Metro.
"The treatments were thousands of dollars. We couldn't have done that without his painting," Krajewski said. "[Brokaw] did it in a new way. The drug hadn't been used on a horse's knees before. It felt like a last resort. We'd tried everything for him. It's been phenomenal. He's better than he ever was, and he's not going to die in two years."
In addition to being sold online, Metro's paintings are also displayed at Gallery 30 in Gettysburg, where there is a waiting list of 80 people who are interested in Metro's art, according to a gallery representative.
In addition to earning money to pay his own medical bills, Metro is helping out other horses. Half of his profits go to the New Vocations Racehorse Adoption Program, which seeks to help other horses looking for homes.
And for Krajewski, Metro is fulfilling another dream. Though Krajewski is an expert with watercolors and paints pet portraits, he's never been able to master one of his passions, abstract art. Luckily, Metro's got that covered.
"I'm living my dream through Metro," he said.