The Michigan Board of State Canvassers on Wednesday deadlocked along party lines on a ballot initiative seeking to enshrine abortion rights in the state constitution.
In a 2-2 vote, the board was unable to approve the measure on Wednesday.
Sponsors of the ballot initiative have indicated they will file a lawsuit and ask the court to order the measure be added to November's elections.
The proposed amendment, which was initially put forward by "Reproductive Freedom for All," a grassroots campaign that has worked for months gathering more than 753,759 signatures from across the state -- a historic number recorded for a single ballot initiative in Michigan -- seeks to block the enforcement of a 1931 state law banning abortion except to save the life of the mother.
The bipartisan canvassers' board in Michigan is made up of four members, with both major political parties represented by two individuals each.
On Wednesday, the Republicans voted no while both Democrats voted in favor of certifying the ballot measure. The case will now head to the Michigan Supreme Court. Those supporting abortion rights have seven business days to appeal.
Wednesday's vote opened with a public comment portion which featured dozens of supporters and opponents of the proposed measure, with protesters saying the language was "full of errors," was "hard to understand" and that it was "sloppy" -- and if it passed, it would "set the bar very low for future amendments" in the state.
The measure's detractors cited formatting and spacing issues, referring to text that included "INCLUDINGBUTNOTLIMITEDTOPRENATALCARE" instead of "including but not limited to prenatal care" and "DECISIONSABOUTALLMATTERSRELATINGTOPREGNANCY" instead of "decisions about all matters relating to pregnancy," according to Citizens Support MI Women and Children, an anti-abortion group campaigning against the ballot initiative.
Dr. Jessica Frost, an obstetrician-gynecologist from Lansing, spoke in favor of the ballot initiative on Wednesday, telling state election officials that she entered her field with the purpose of "dedicating her life to helping patients" and that at one point in her practice, she had to tell a 13-year-old child she was carrying a baby.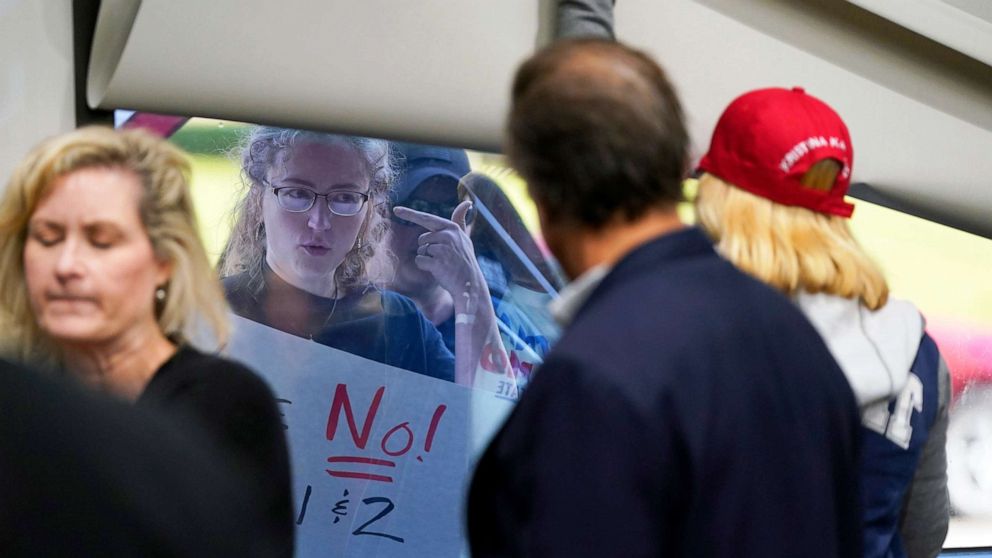 "I trust my patients to make their own decisions," Frost said, saying her role was to "provide proper treatment" and "not to judge and coerce."
Reproductive Freedom for All gathered hundreds of thousands of more signatures than the 425,059 required to get on the ballot. The campaign was started to amend the state's constitution to protect abortion access after the Supreme Court overturned Roe v. Wade in June and said abortion should be determined by individual states.
After the board's verdict on Wednesday, Reproductive Freedom For All doubled-down on their campaign, asking supporters online to join their cause.
"More than 730,000 Michiganders read, understood, and signed the petition!" the group said. "The board is disenfranchising hundreds of voters who want to restore Roe and keep in place the reproductive rights we've had in Michigan for the last 50 years."
Citizens Support MI Women and Children, on the other hand, praised the decision, telling ABC News in a statement that "the Board of State Canvassers today did the right thing by refusing to insert into our constitution the gibberish proposed by advocates for this extreme amendment. The Michigan Supreme Court should support this move to protect our constitution from their vandalism as well."
If the state's high court votes in favor of the ballot initiative and it were to be finalized by Sept. 9, Michigan will then join California, Kentucky, Montana and Vermont in presenting abortion-related initiatives on the ballot before voters in November.
Kansas voters took up a similar question in August and rejected an anti-abortion amendment to their constitution.
While the secretary of state of Michigan is the chief election officer in the state, members of the state's bipartisan board are responsible for helping in the canvassing and certification of statewide elections and, if needed, the recounting of state office positions.
Abortion has been a major issue among candidates vying for office this November, with Democratic incumbent Gov. Gretchen Whitmer and Republican nominee Tudor Dixon both making it a central issue in their campaigns.