The death of George Floyd, a black man seen in a video pinned down by a white police officer and who later died, has caused outrage in Minneapolis and across the United States. What started as mostly peaceful protests earlier in the week have turned into chaos.
City leaders have pleaded with communities to voice their outrage in a lawful manner, but the widespread escalation of protests continued Friday night into Saturday.
In the wake of Floyd's death, murder and manslaughter charges have been filed against Derek Chauvin, one of four officers at the scene, all of whom have been fired. The Department of Justice said a full investigation of the incident is a "top priority."
Prosecutors said Chauvin, seen in the video pressing his knee against Floyd's neck, had his knee on Floyd's neck for eight minutes and 46 seconds, including for two minutes and 53 seconds when Floyd was unresponsive.
Here is what happened on Saturday. All times Eastern.
11:53 p.m.: NYC mayor urges protesters to 'go home'
New York Mayor Bill de Blasio urged protesters to go home late Saturday after a night of mayhem.
More than 100 people had been arrested as of 11 p.m.
A number of police cars were set on fire and demonstrators vandalized stores and banks. There were pockets of protesters in Times Square, Union Square, Columbus Circle, the Bowery and other parts of Manhattan after daytime protests blocked traffic but were largely peaceful.
"To the peaceful protesters, if any of you are still out there tonight, we are trying to work peacefully for change," de Blasio said during a press conference just before midnight. "Let me be very clear, we hear your desire to see these issues, the relationship between police and community, the need for justice, the need for real change in our society. We hear you loud and clear."
"We appreciate and respect all peaceful protests, but now it is time for people to go home," he added.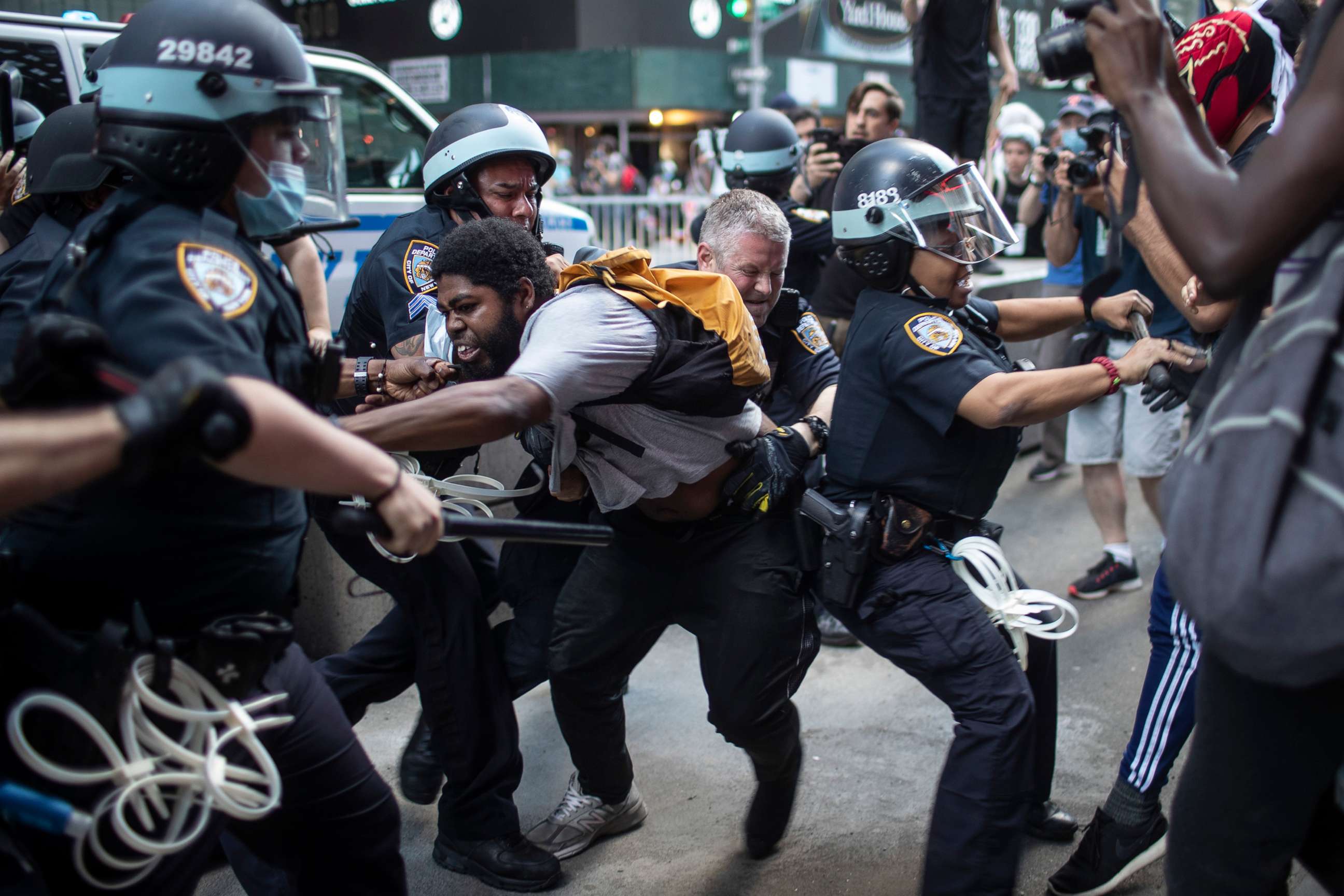 De Blasio said a "substantial" amount of the violent protesters were from outside of the city, but did not have the official numbers yet.
"People who represent the communities of the city, and the residents of our city, they are not joining negative and violent protests," he said. "You can see it with your own eyes, they're not participating in it. Very few people are doing this, whether they are from outside New York City or from one part going into a neighborhood that is not their own. Unfortunately, a small number of people are creating a lot of violence."
11:05 p.m.: LA sending in National Guard as looting spreads
Los Angeles Mayor Eric Garcetti said he has asked Gov. Gavin Newsom to send the National Guard into the county as protests turn to looting.
Several local businesses were looted, as well as a Target and CVS in West Hollywood. Shops along glitzy Beverly Hills, where a curfew is in place, were covered in spray paint.
Flight Club, a famous West Hollywood shop that sells collector's edition sneakers for sometimes tens of thousands of dollars, was smashed in and people were seen carrying out boxes of the expensive footwear.
Ventura County also announced it was sending 40 deputies to Los Angeles "to assist with response to rioting."
10:44 p.m.: Protests in Texas mostly peaceful
Two protests in Houston and Dallas were mostly peaceful as crowds moved through the downtown areas.
There were tense moments, including when Dallas police fired tear gas and rubber bullets to disperse a crowd vandalizing City Hall and police vehicles.
Houston police continued to make arrests, adding on to the more than 200 that were made Friday evening.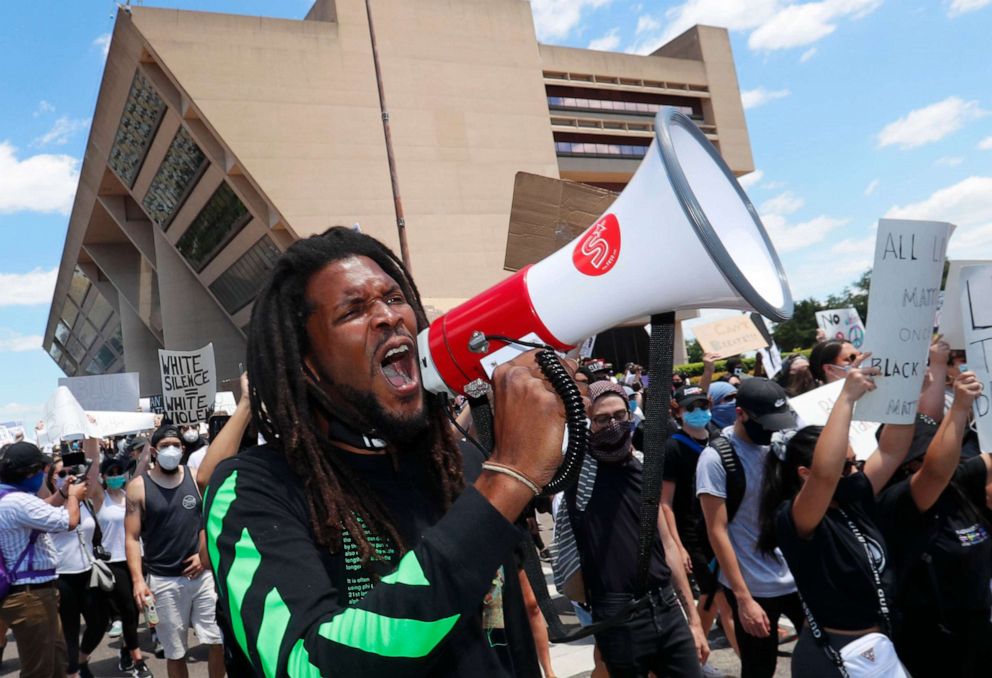 10:40 p.m.: Minnesota National Guard drop water from helicopter on fires
The Minnesota National Guard dropped water from helicopters to put out fires in the state, according to the state's Department of Public Safety.
It was used at a car fire on Interstate 35W and fires at other locations, the department said.
Earlier in the evening, the Minnesota State Patrol troopers were moving in to secure the 5th Precinct.
The 3rd Precinct fell to protesters and was lit on fire earlier this week.
State patrol asked the public to go home and obey the 8 p.m. curfew in Minneapolis and St. Paul.
10:27 p.m.: 13 states, D.C. have activated or plan to activate National Guards
The National Guard Bureau said as of right now 13 states, plus the District of Columbia, have activated or plan to activate their National Guards, but they expect the list could keep growing.
"Several states have alerted National Guard elements, and are conducting staff planning for potential employment should the Governor request National Guard support," Master Sgt. Michael Houk, a spokesman for the National Guard Bureau, told ABC News.
Governors in 10 states -- Minnesota, Ohio, Georgia, Colorado, Wisconsin, Kentucky, Texas, Utah, Washington and Missouri -- have publicly announced they've activated their states' National Guard to respond to the protests. Washington, D.C., also activated its guard, which is the only federal National Guard, reporting to the president.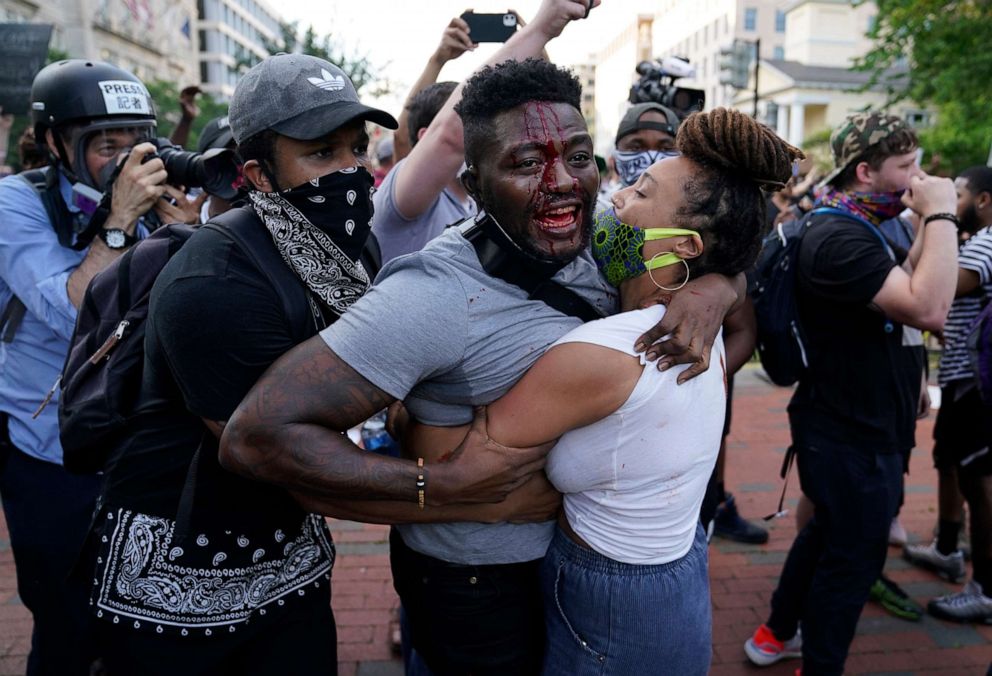 9:55 p.m.: Pressure mounting for Trump to make a formal address: Sources
Pressure is mounting inside the White House for President Donald Trump to make a formal address to the nation from the White House amid the chaos and unrest erupting across the United States in the wake of Floyd's death, sources familiar with the discussions told ABC News.
Some top advisers, including the president's chief of staff Mark Meadows, believe Trump should deliver a formal address arguing it would offer him a chance to show leadership and unity with a message to the U.S. that this is a moment to heal. Some also believe it would help gain African American support.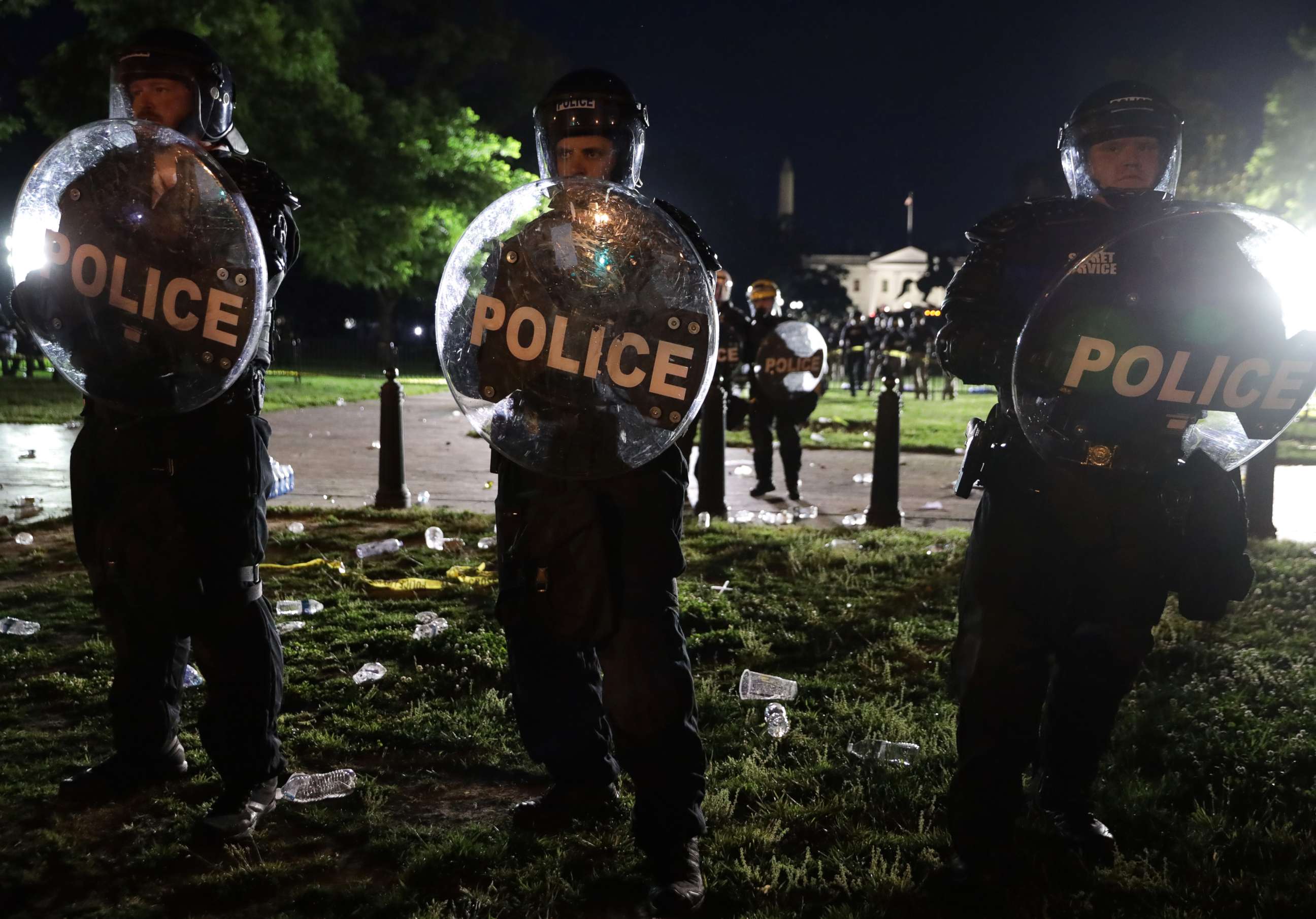 However, there is a growing divide in the West Wing. The president's son-in-law and senior adviser Jared Kushner believes this is not the way to go, as the president is known to dislike Oval Office addresses and has made errors during them in the past. Kushner and others believe that Trump saying more on this will just make the situation worse, according to sources.
Some aides believed the president's trip to Florida to watch the SpaceX launch looked like he was turning his back on the issue. Neither Kushner nor Meadows traveled with the president.
Trump today did make his lengthiest remarks yet on Floyd's death during remarks after the successful launch at the Kennedy Space Center.
In addition, there is also pressure from conservatives outside the White House and on Capitol Hill who have privately made clear they are growing frustrated with the silence from the White House on this.
Last year, Meadows ended up breaking his silence when the president lashed out at the late congressman Elijah Cummings when he called his district a "very dangerous & filthy place." Trump also labeled Cummings a racist.
Meadows, who had a close bond with Cummings, urged the president at the time to stop his tweeting on his friend. He ultimately released a statement -- that many criticized as lackluster -- saying neither man was a racist.
9:52 p.m.: Clashes at mostly peaceful protests in Miami
Protests in Miami were mostly peaceful, yet as the evening went on turned more violent.
Police have used tear gas and rubber bullets on the protesters, according to Miami ABC affiliate WPLG. At least three police cars were set on fire and protesters were seen throwing large rocks at officers, according to the outlet.
The majority of crowds had dispersed ahead of the 10 p.m. curfew.
There were at least two planned protests in Miami, starting at 3 p.m.
9:40 p.m.: Courthouse set ablaze in Nashville
Police in Nashville deployed gas at a courthouse after protesters set it on fire, officials said.
The Nashville Fire Department is at the scene and being escorted into the building by officers.
Videos also showed flames inside Nashville's City Hall.
Mayor John Cooper lauded earlier protests as peaceful and warned protesters to go home tonight. A curfew is in effect at 10 p.m. Cooper later signed an executive order declaring a state of civil emergency.
9:38 p.m.: 13 officers injured, 14 arrests in Philadelphia
What began as a peaceful protest in Philadelphia turned violent, and resulted in 13 officers injured and 14 arrests so far, police said.
Police Commissioner Danielle Outlaw said at least four police vehicles were set on fire and other fires were set throughout downtown, according to Philadelphia ABC station WPVI.
A large building fire broke out in Center City just after 9 p.m.
It is estimated that about 3,000 people turned up to the protests.
9:22 p.m.: LAPD to mobilize entire unit
The Los Angeles Police Department is taking the rare step to mobilize its entire unit, according to a senior official.
All officers are told they will be on duty and personal time off is canceled, the official told ABC News.
The official also said detectives and others are told they are or will be in the field.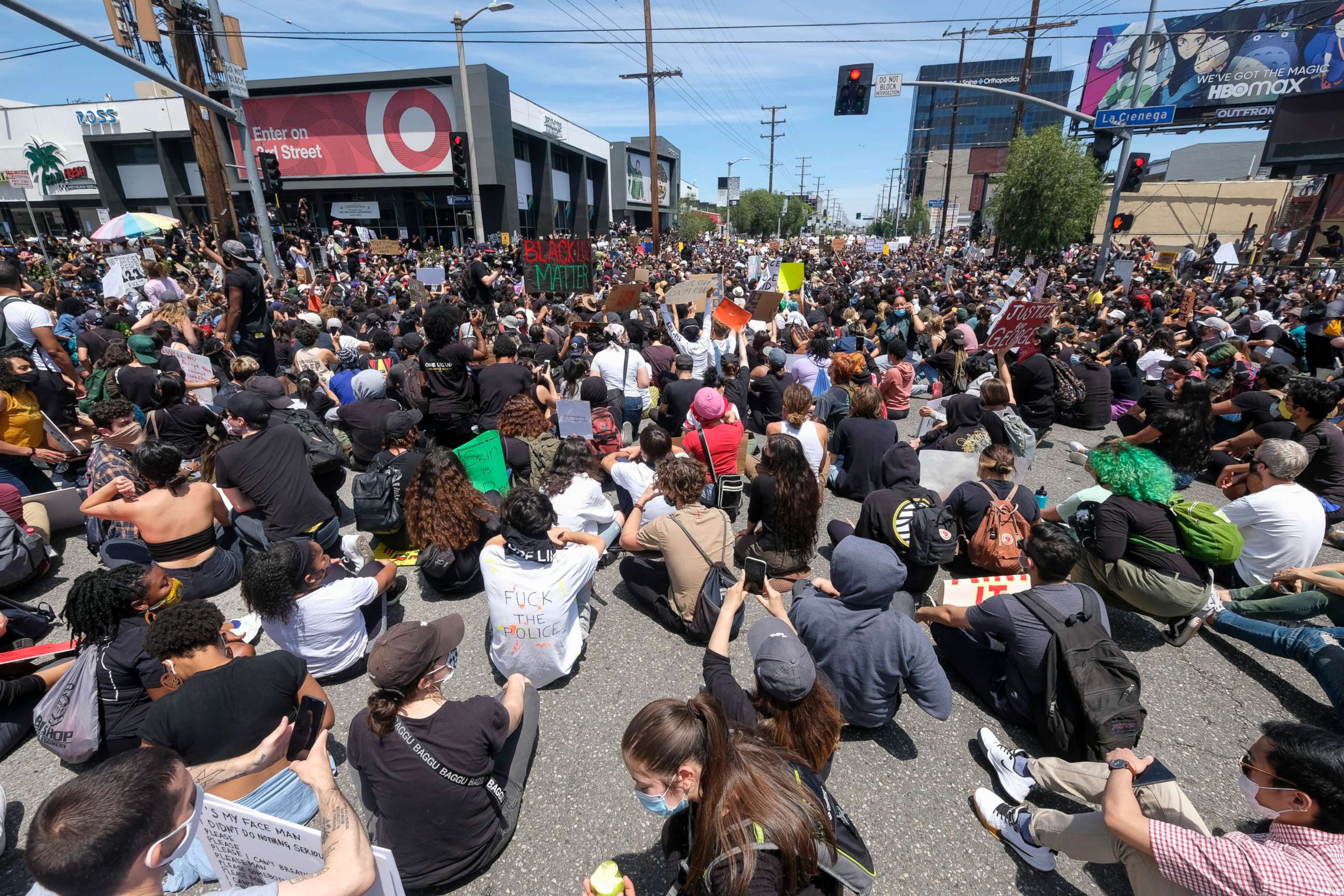 9:05 p.m.: Major thoroughfares shut down at points in NYC due to protests
Protesters coursed through New York City again Saturday night.
At times during the protest, demonstrators had shut down the FDR Drive, the West Side Highway and the Brooklyn Bridge.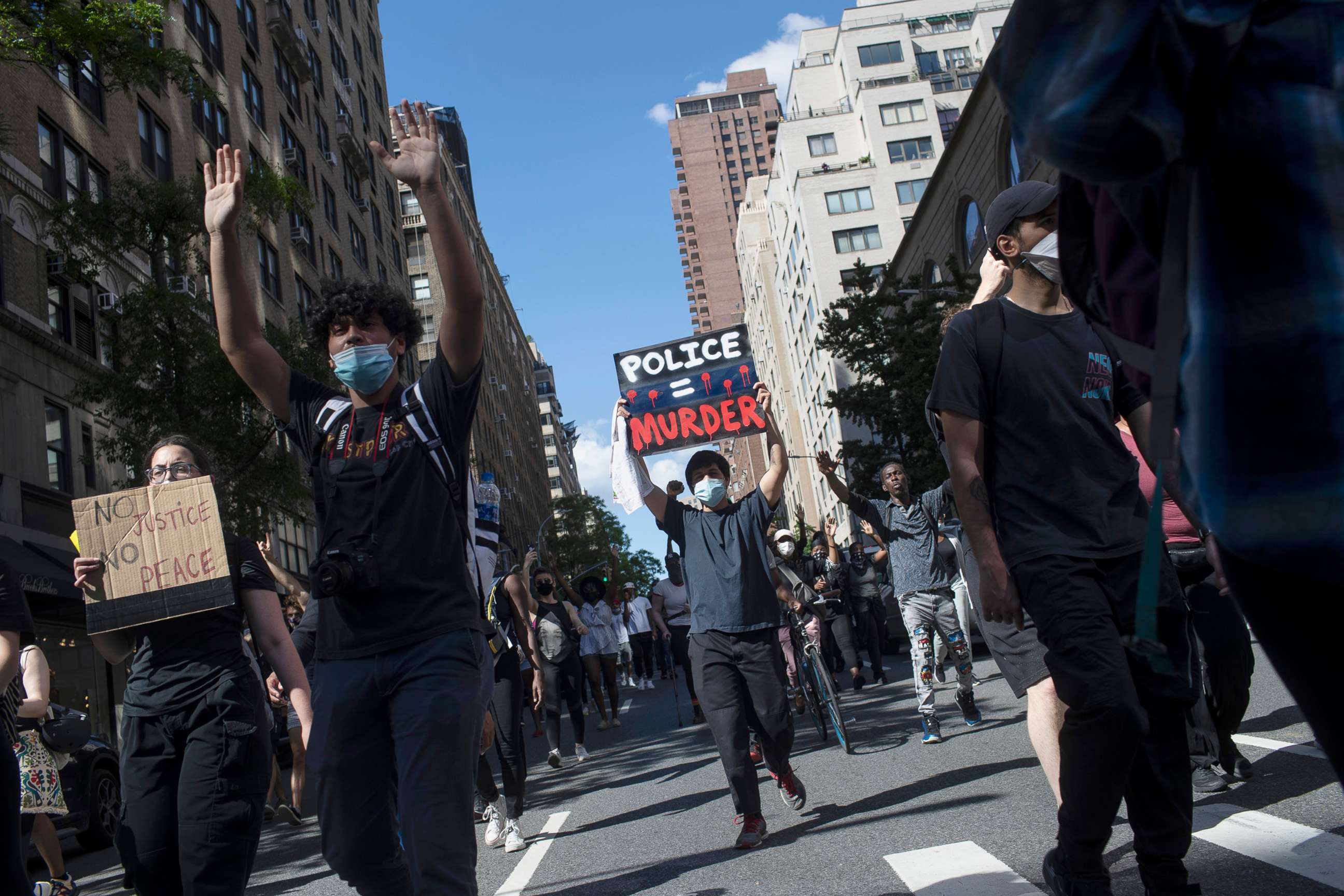 Rocks were thrown at police and fires were set in the heart of Midtown, at 45th Street and 7th Avenue, officials said.
There have been minor injuries to a number of officers and the city would later announce over 100 arrests.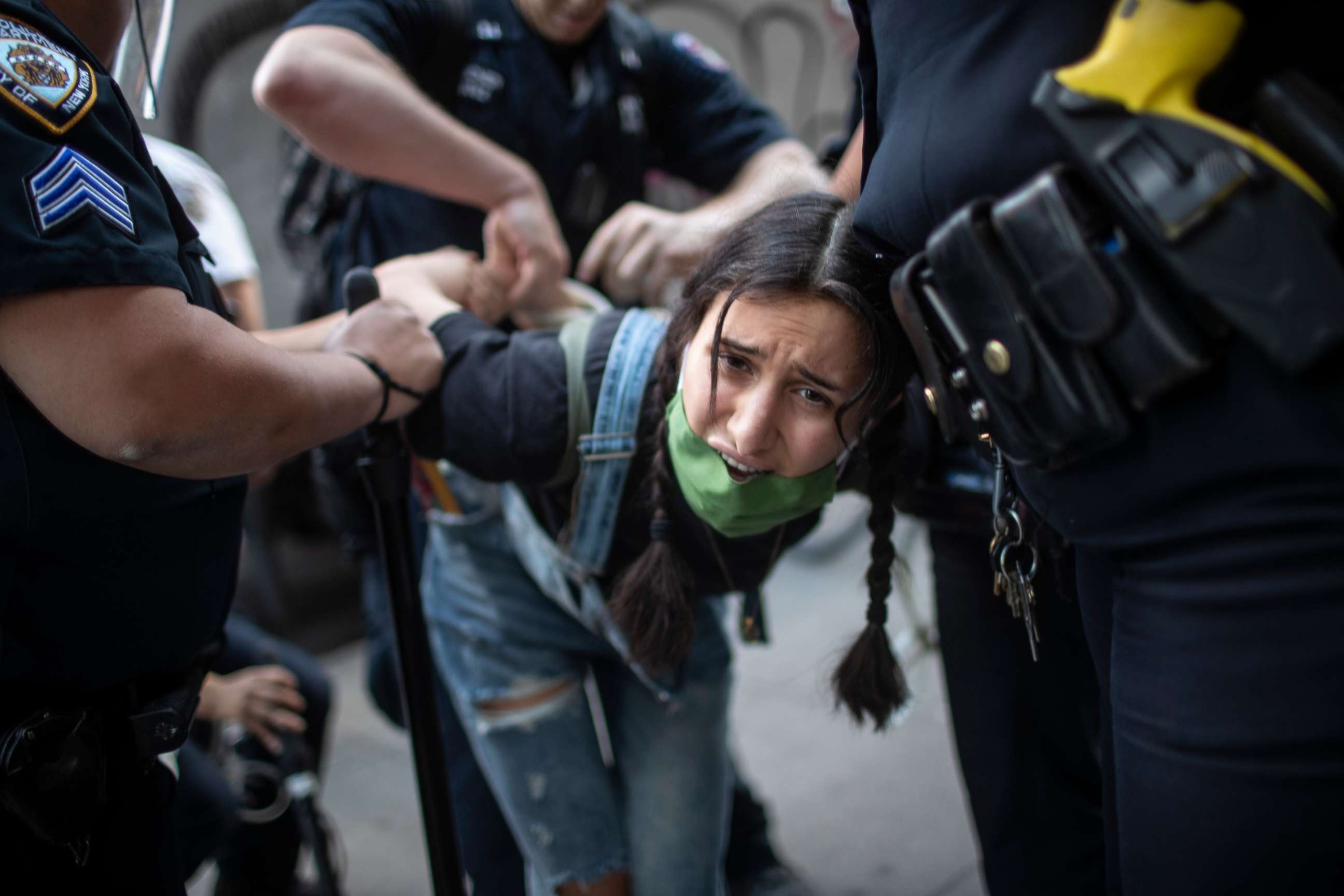 9 p.m.: Tensions run high in Denver with tear gas, confiscated weapons
Thousands of people gathered in downtown Denver to peacefully protest, yet tensions still ran high.
Police at one point appeared to be advancing toward the crowds, after tear gas and what appeared to be pepper balls were used to get them to disperse, according to Denver ABC affiliate KMGH.
Police told the outlet that they confiscated weapons and gallons of gasoline planted around parts of downtown Denver.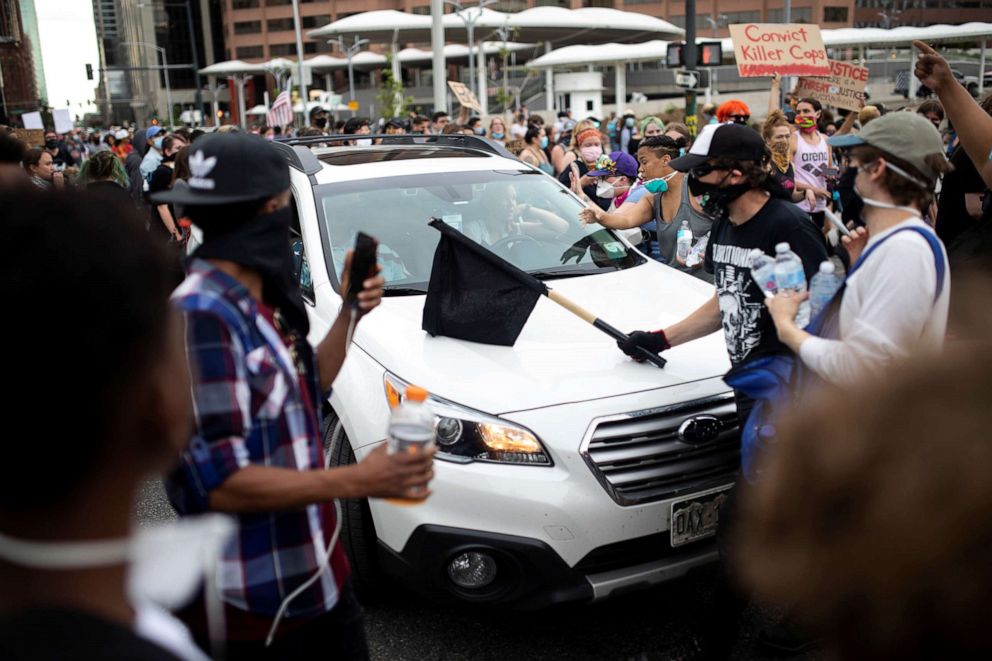 8:40 p.m.: Young girl 'screaming in pain' after allegedly being sprayed in eyes
A young girl was seen crying out in pain at a Seattle protest after she was allegedly sprayed with either mace or pepper spray, a protester said.
A video circulated on Twitter of the little girl screaming while other people gathered around her to help clear out her eyes.
Evan Hreha, who filmed the video but did not see the incident, said it happened during a prayer outside the Westlake Center.
"I was about 20 yards away. I saw a very minor scuffle, it looked like someone knocked over a sign so I went over and saw the young girl screaming in pain," Hreha told ABC News.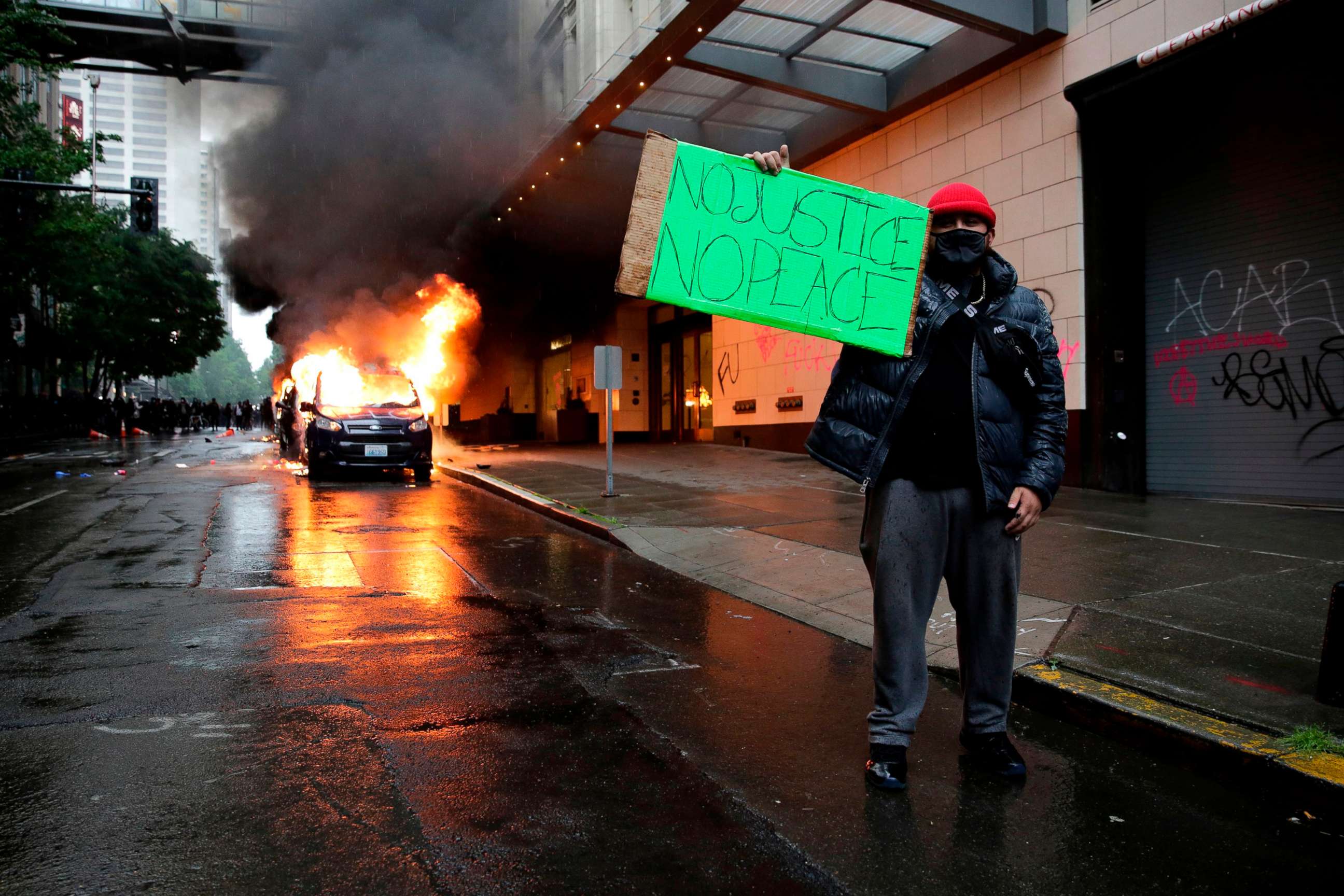 Bystanders in the crowd told him that an officer had sprayed the girl.
Washington Gov. Jay Inslee activated the National Guard in Seattle as the protests continued. Up to 200 members of the Washington National Guard were activated, according to the governor's office. They will be unarmed and work under the direction of Seattle officials, the governor's office said.
8:27 p.m.: Police, protesters clash again in Atlanta
Police and protesters clashed for the second night in a row in Atlanta, according to Atlanta ABC affiliate WSB.
There were several clashes near the Centennial Olympic Park downtown and several people were taken into custody, according to the outlet.
Later in the evening, police would announce 51 arrests and one officer injured by an ATV.
Protesters smashed windows at CNN headquarters and lit several fires in the city on Friday.
8:04 p.m.: Protests pick up outside White House
The scene outside the White House was a tense one with several hundred protesters and growing. By far the majority are calm and chanting peacefully, but there has been a lot of anger and several flare-ups with the police, who are remaining relatively calm. Some protesters are throwing water bottles, taunting police and even burning a flag.
D.C. police are spraying tear gas in isolated areas to try and hold the line. Protesters are being kept out of Lafayette Park, forced back onto 16th Street and H Street. But that is not deterring anyone.
Most ABC News talked with are locals, some first-time protesters. They are leading each other in chants of "I can't breathe," and, "Black lives matter," but also sharing food, water, and even masks.
7:36 p.m.: Bill Clinton issues a statement
Former President Bill Clinton issued his first remarks after the death of George Floyd, calling it a "painful reminder that a person's race still determines how they will be treated in nearly every aspect of American life."
Clinton said no one deserves to die in the way that Floyd did, and that "if you're white in America, the chances are you won't."
He encouraged Americans to ask themselves if Floyd would still be alive if he were white. He also said the public should question why this keeps happening, what can we do to make sure every community has the police department it deserves and what an individual can do.
"We can't honestly answer these questions in the divide and conquer, us vs. them, shift the blame and shirk the responsibility world we're living in," Clinton said. "People with power should go first -- answer the questions, expand who's 'us' and shrink who's 'them,' accept some blame, and assume more responsibility. But the rest of us have to answer these questions too."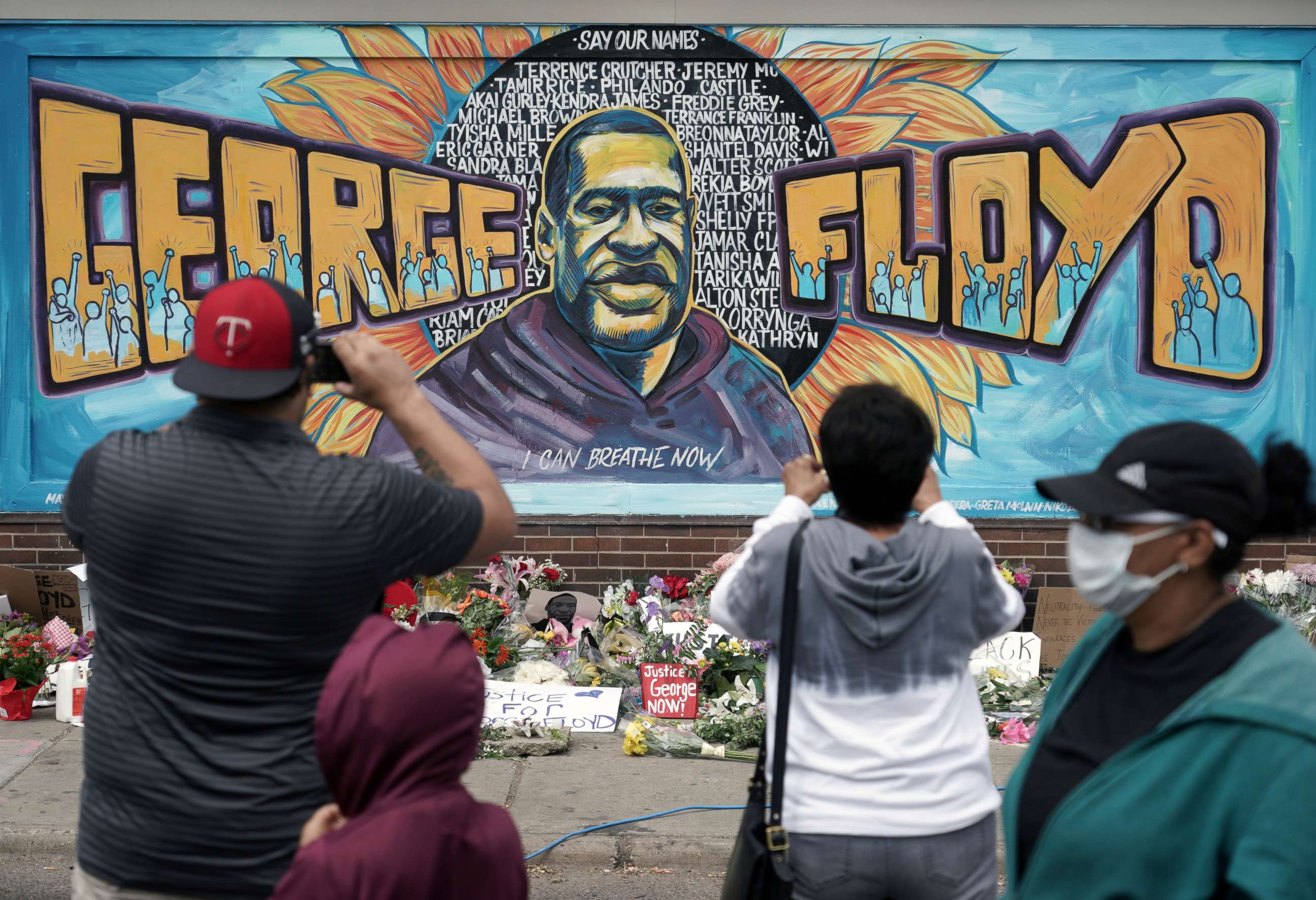 Clinton said answering these questions is "the least we can do for George Floyd's family, and the families of all other Americans who have been judged by the color of their skin rather than by the content of their character."
Clinton, quoting from Dr. Martin Luther King Jr.'s "I Have a Dream" speech, said Dr. King's hope seemed even more out of reach today.
"And we'll never reach it if we keep treating people of color with the unspoken assumption that they're less human," he said.
7:18 p.m.: Trump says administration will stop 'mob violence'
President Donald Trump said his administration would stop "mob violence" as protests raged on.
"I stand before you as a friend and ally to every American seeking justice and peace, and I stand before you in firm opposition to anyone exploiting this tragedy to loot, rob, attack and menace," Trump said during remarks after the launch of SpaceX Crew Dragon. "Healing, not hatred. Justice, not chaos, are the mission at hand."
Trump labeled some demonstrators as "mobs," "thugs" and "radical-left criminals." He once again signaled out ANTIFA and allegedly radical-left groups without providing any evidence that they're actually leading or participating in the protests.
"What we are now seeing on the streets of our cities has nothing to do with justice or with peace," the president said. "The memory of George Floyd is being dishonored by rioters, looters and anarchists."
He said he understands "the pain" people are feeling and supports peaceful protesters "but what we are now seeing on the streets of our cities has nothing to do with justice or with peace."