As hundreds have rallied to search for 20-year-old Mollie Tibbetts -- who went for a jog Wednesday evening in the rural town of Brooklyn, Iowa, and never returned -- her mother said she was on the cusp of new, exciting activities in her life.
While time passes, she said the uncertainty has been "excruciating."
Laura Calderwood, Tibbetts' mother, told ABC News there are "no words to describe how you feel when you don't know where or how your child is."
Tibbetts, who was the middle child in her family, was looking forward to her upcoming sophomore year at the University of Iowa and full of hope.
"She is just such an outgoing, fun, loving life, loving person," her mother said. "She was getting ready to move into her first apartment."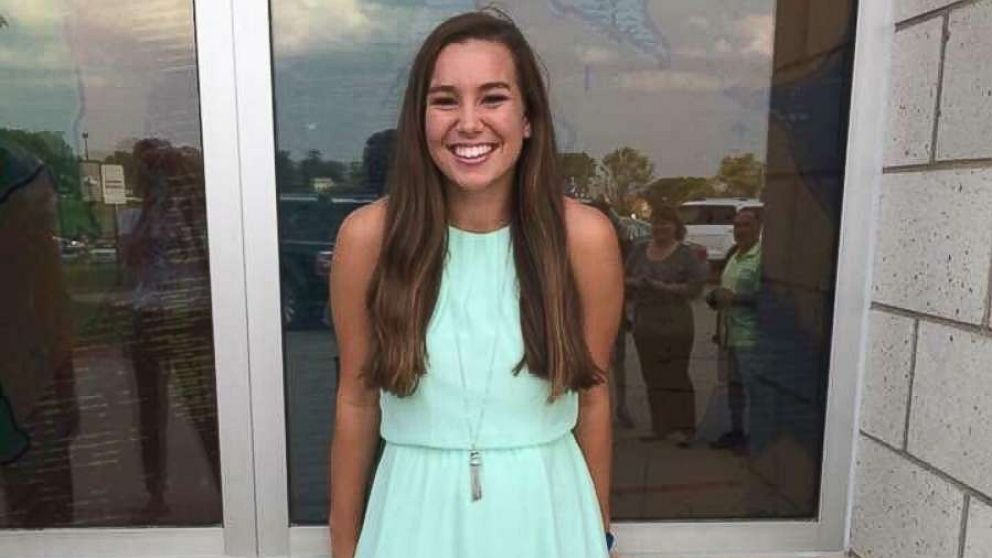 Next month, Tibbetts and her boyfriend were planning an international trip together.
"She and her boyfriend Dalton were getting ready to go to the Dominican Republic on August 2nd to attend Dalton's brother's wedding," Calderwood said. "As that date gets closer, it's like closing in on me, because I'm thinking about these two people that are getting married that were also really close to Mollie. [It's] supposed to be the happiest day of their life."
Tibbetts' boyfriend, 20-year-old Dalton Jack, told ABC News on Monday that he last saw his girlfriend on Monday, July 16. The next day, he went to Dubuque for his work at a construction company.
He said Tibbetts stayed at his house alone and watched his dogs. Going for an evening run, he said, was her regular routine.
"She goes for a run every night. She likes to go whenever the sun's not down, but it's starting cool off, like 6 or 7," he told ABC News Monday. "She knows Brooklyn extremely well, better than I do and I've lived here my entire life."
Jack said he believes Tibbetts would have been wearing both her fitness tracker and her cell phone when she went out.
"She probably has on her Fitbit because she never takes it off. She uses it for the sleep tracker and for all her runs and everything," he said. "She probably has her cell phone, but it's either off or dead and we've tried calling it obviously and it goes straight to voicemail."
The couple met in high school and have been together for more than two years.
"She is kind, sweet, caring, she'll do anything for everybody," Jack said.
Tibbetts was reported missing on Thursday, July 19. The sheriff's office said it's unusual for a missing person search to go on this long in the town.
"We've had missing persons before, but usually we find them the same day or a couple days later," Poweshiek County Sheriff Thomas Kriegel told ABC News on Monday. "We never had one this long that I can recall."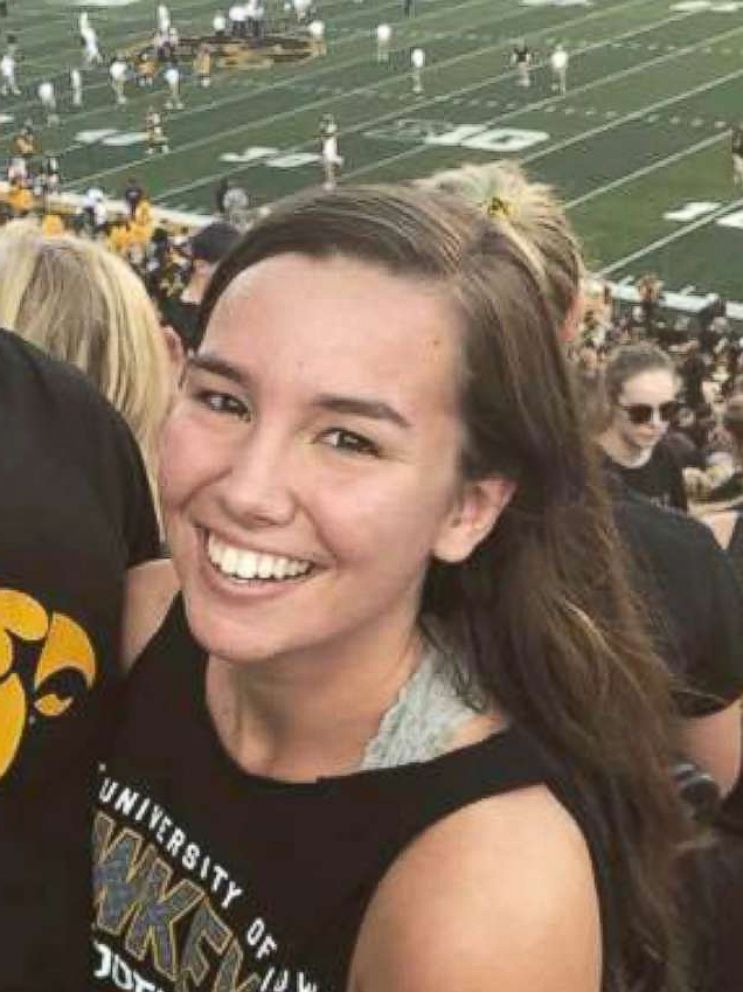 In this close-knit farming community of about 1,500 people, everyone knows everyone, Kriegel said. But the rural area makes the search difficult.
"We're surrounded by farm ground -- corn and soy beans. Right now the corn is probably eight, nine feet tall. The only way you can search it is basically walk down every other row," he said. "It's difficult. Even the planes flying over have a difficulty looking down in the corn rows."
Crews have searched every road, every ditch and every body of water near town, the sheriff said. On Friday authorities also conducted a large ground search of the areas around Brooklyn -- and at least 250 people came out to help.
In addition, a helicopter and a plane flew over the area, he said, and kayakers searched miles along the small rivers on both sides of town.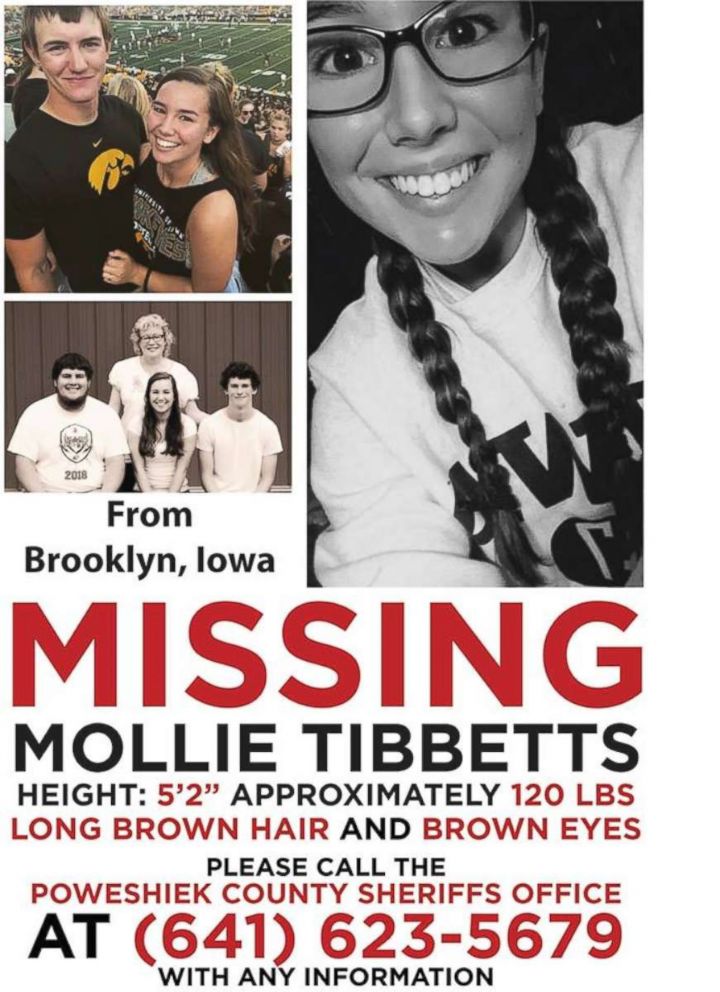 Calderwood said her daughter's disappearance "completely upended the entire community." She said she can see the toll it's taking in their eyes.
She remains hopeful and praised the efforts of law enforcement.
The university said its "thoughts are with Mollie Tibbetts' family and friends."
"The University of Iowa is monitoring the situation and will offer support as needed," the school tweeted Friday.
Tibbetts is described as having long brown hair and brown eyes. She stands at 5 feet 2 inches tall and weighs about 120 pounds.
Anyone with information is urged to call the Poweshiek County Sheriff's Office at 641-623-5679.
ABC News' Amanda McMaster contributed to this report.