— -- The death of a toddler whose mom pushed him on a playground swing for two days has been ruled a homicide after investigators determined the boy was alive when she placed him on the swing, suggesting to at least one psychologist that she had a "maternal mental illness."
Ji'Aire Donnell Lee, 3, was found dead on the park swing in La Plata, Maryland, on May 22 after a neighbor called police to report that his mother had been pushing the boy "for an unusually long period of time," according to the Charles County Sheriff's Office.
The Chief Medical Examiner in Baltimore ruled Tuesday that the cause of death was dehydration and hypothermia. The boy had no obvious signs of trauma, the office said.
Now the Office of the State's Attorney will have to decide whether the mother, Romechia Simms, subsequently identified in news reports and on a GoFundMe page dedicated to raising money for her son's funeral, should face charges.
Michael O'Hara, a clinical psychologist who is a professor at the University of Iowa, said he has seen similar cases involving psychosis.
"In a case like this, and I've seen cases like this before, I'm sure if they look very carefully, they're going to see that this woman had serious psychiatric issues going on and was probably not functioning very well at all," O'Hara, who has no connection to the case, said.
The 24-year-old mother was transported to a nearby hospital for evaluation when police arrived on the scene. Relatives who have commented on Ji'Aire's death have said his mother had a history of mental issues.
"Ji'Aire's family has been struggling for several months with homelessness and mental health issues," according to the GoFundMe page.
No fixed address could be found for the mother.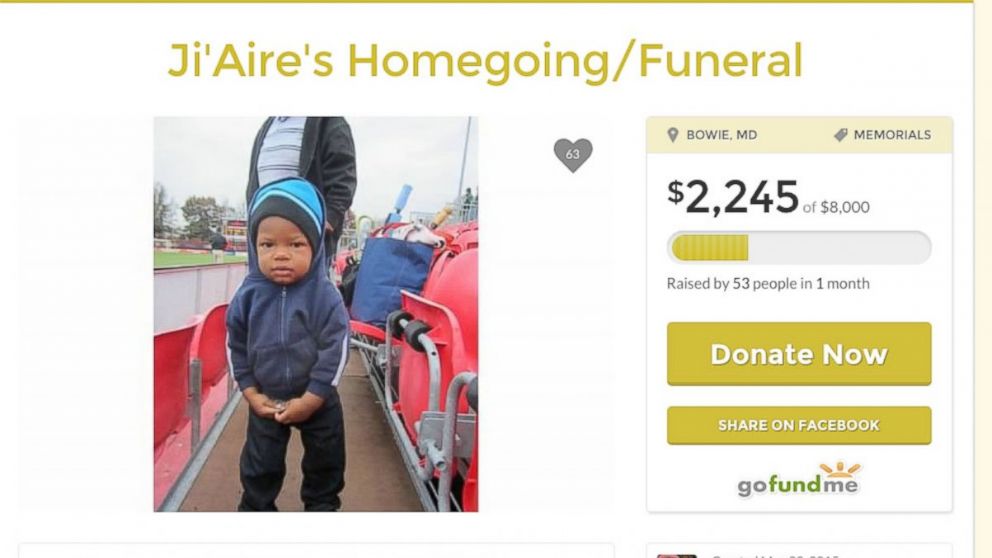 "I think we're really talking about maternal mental illness, probably something very severe. It sounds like she almost certainly had an enduring break with reality," professor O'Hara said.
"In terms of child deaths, sometimes disturbed women will act impulsively. … Whatever was going on, it obviously wasn't acute in the sense that it lasted a short period of time she was presumably disconnected from reality for possibly that entire time" that they were at the park, he added.
O'Hara said doctors would not classify such a case as anything to do with postpartum depression or postpartum psychosis because "postpartum" typically only applies to mothers who have given birth within the past year.
The sheriff's office confirmed Simms was evaluated at a hospital immediately after they were found on the playground, but Kristen Ayers of the State's Attorney for Charles County told ABC News Simms is no longer in custody.
The autopsy results have not been officially handed over to the State's Attorney, but will be in the next week before the case goes before a grand jury, which will be tasked with deciding whether the mother should face criminal charges.
Her mother, Ji'Aire's grandmother Vontasha Simms, spoke to The Washington Post about the case and said she believes her daughter was a good mom.
"I don't believe at any time she did anything wrong to my grandson," Simms told the paper. "I feel that somehow, that sometime at the park she fell into some type of mental episode or psychosis or something, I'm not exactly sure.
"I feel that between the combination of my grandson having a cold and the cold rainy weather and her pushing him in the swing and them being there for an extended period of time, I feel that's what really exacerbated that fact that of him having that chest cold."