Train cars containing hot asphalt, molten sulfur still in Yellowstone River after derailment
Cleanup is still underway at the site near Colombus, Montana.
Parts of a freight train carrying hazardous materials remain in the Yellowstone River in southern Montana after a bridge collapsed over the weekend.
Nine mangled cars -- six that contained hot asphalt, three holding molten sulfur and one with scrap metal -- were still in the rushing water on Monday evening as cleanup work continued, according to Columbus Fire Chief Rich Cowger.
"Some divers were brought in to see about how we would attach to those cars," Cowger said during a press conference. "While those assessments were being done, it was noticed that there is still some products of asphalt that's leaking out of those cars that are damaged."
The incident occurred early Saturday near the town of Columbus, about 40 miles west of Billings, in a rural area of the Yellowstone River Valley. The train was traveling over a bridge when it collapsed and 16 cars derailed, sending 10 of them into the river below, some 110 miles downstream from Yellowstone National Park. No injuries were reported.
It remains unclear whether the derailment caused the bridge to collapse or if the collapse precipitated the derailment.
"We honestly have no idea what happened first, whether it was the bridge or the derailment," Cowger told reporters on Monday evening. "There was an eastbound train across that bridge an hour before and things were fine with the bridge then. So there's an investigation to figure what that looks like and what exactly happened. That'll take some time as cars are pulled out of the river."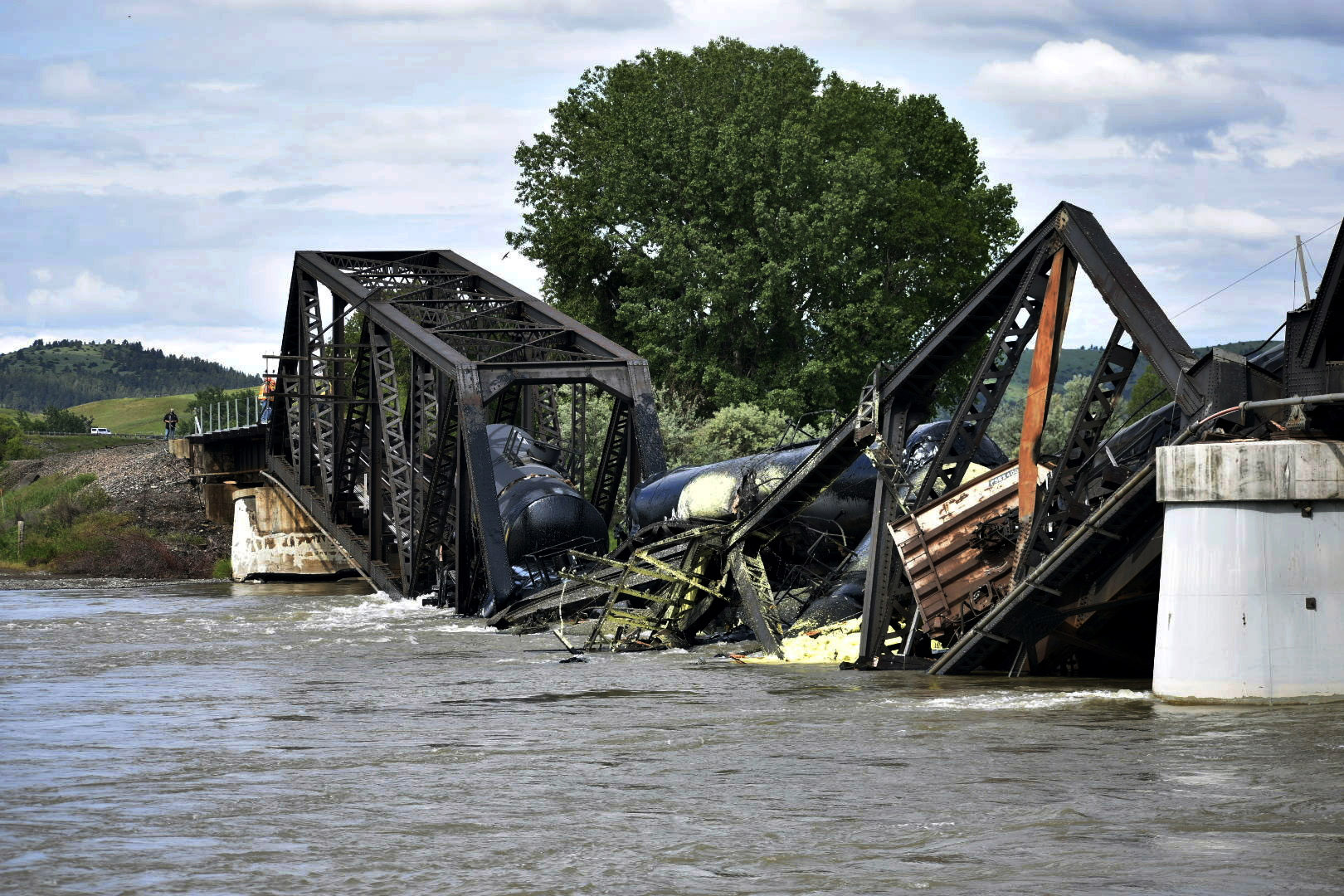 The train's operator, Montana Rail Link, is developing a cleanup plan and will be responsible for all related costs. Both asphalt and sulfur "harden and solidify quickly when interacting with water and modeling suggests that significant downstream movement of material is unlikely," according to a statement from Montana Rail Link spokesperson Andy Garland.
Two cars containing sodium hydrosulfide were successfully offloaded and removed on Sunday via a 120-ton crane, according to Cowger. There has been no release involving this material, according to Montana Rail Link.
"We've made some good progress today with some cleanup," Joe Racicot, president of Montana Rail Link, said during the press conference on Monday evening.
Test results from water samples taken on Saturday indicated the materials from the derailment had not affected water quality, according to Shasta Steinweden, complaint coordinator for the Montana Department of Environmental Quality's Enforcement Program. She said the tests showed no presence of petroleum, while the sulfur levels detected were consistent with upstream water samples.
"We are awaiting results from Sunday's and Monday's samples," Steinweden told reporters on Monday evening. "We will continue to evaluate our sampling plans and locations and expanding those based on the evolving nature of this incident."
Based on the results so far, Steinweden said officials "don't foresee any long-term damages" to water quality, though testing will continue for "as long as needed."
"What we are going to be assessing and looking at as far as long-term cleanup will be asphalt that is on the banks of the river and looking to remove all of that," she added.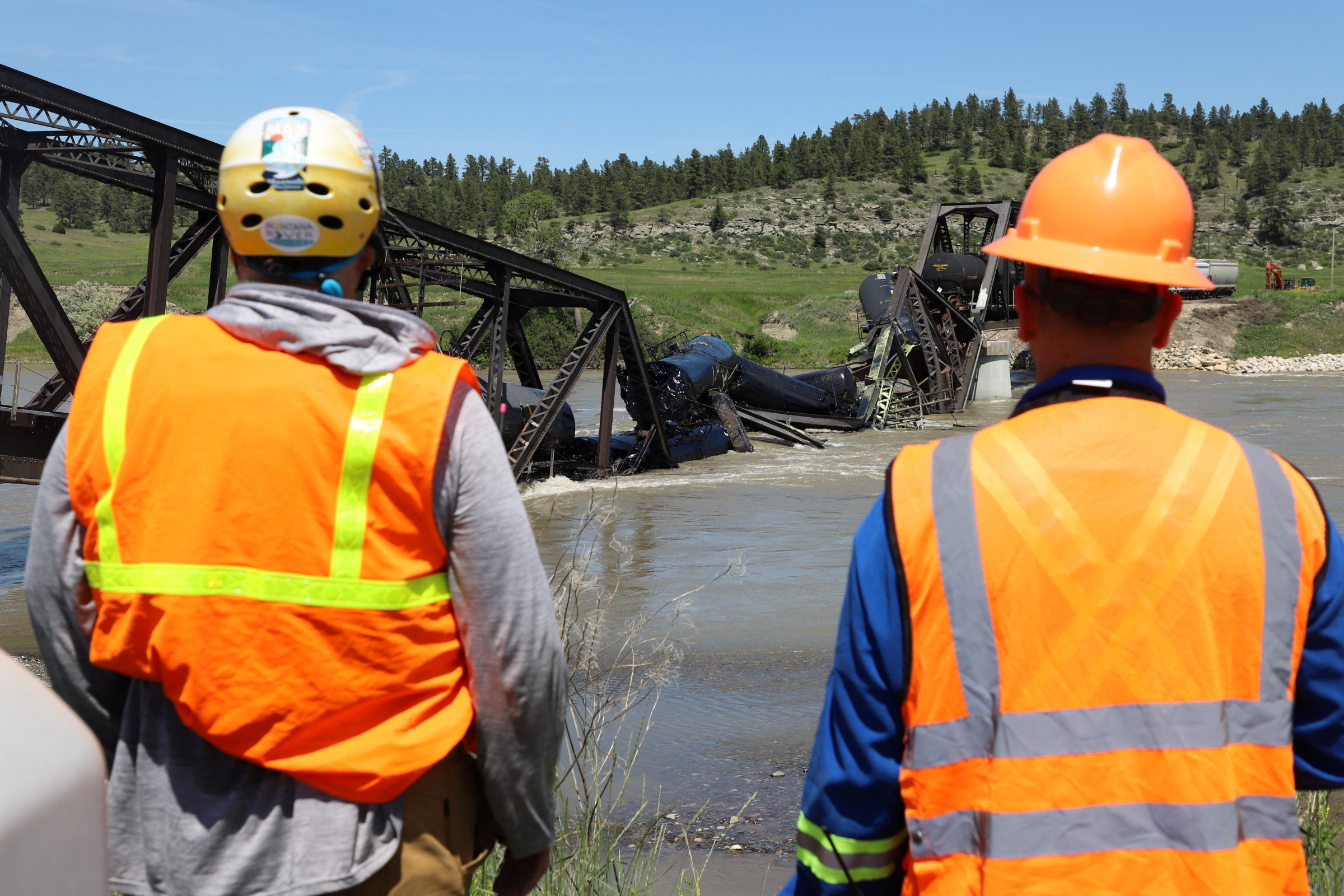 When asked how much substance is being leaked on an hourly or daily basis, Steinweden told reporters: "We can't determine that at this time. However, when the tank cars are removed, we will do an assessment on what is left product-wise in those cars and from that information, we will be able to tell more accurately what our release estimate is."
And regarding the possible damages to fish and wildlife in the affected area, Steinweden said: "We don't know, which is why we're calling in the experts to sort of make those determinations."
"What we are concerned about is, you know, the fish and wildlife potentially coming into contact with the product," she added.
The Colombus fire chief noted that there "isn't a sheen on the water or anything like that," since the product is "somewhat solidifying together as it comes out."
The U.S. Environmental Protection Agency has invited both federal and state fish and wildlife agencies to come to the site in Montana's Stillwater County and assess how the derailment has impacted wildlife, according to Joni Sandoval, the EPA on-scene coordinator. A portion of the Yellowstone River remains closed, she said.
ABC News' Patricio Chile, Peter Charalambous, Marilyn Heck, Samira Said and Aliyah Thomas contributed to this report.