— -- The U.S. Navy said Thursday night divers had recovered a second body from the USS John S. McCain, which struck a merchant ship near Singapore on Monday.
The sailor was identified as Electronics Technician 3rd Class Dustin Louis Doyon, 26, a native of Connecticut.
Divers found the body of a sailor in the ship's flooded compartments earlier in the day on Thursday. The Navy identified him as Electronic Technician 3rd Class Kenneth Aaron Smith, 22, of New Jersey.
Eight sailors remain missing following the collision. The Navy said more divers and equipment arrived overnight Thursday to help with the search.
Crews from Singapore, Malaysia, Indonesia and Australia spent more than 80 hours looking for the sailors, who went missing on Monday morning after the McCain, a guided-missile destroyer, collided with a Liberian-flagged tanker, the Alnic MC.
According to the Navy, the search area covered approximately 2,100 square miles east of the Straits of Malacca and Singapore. The McCain is now docked at Changi Naval Base in Singapore.
"U.S. Navy and Marine Corps divers will continue search and recovery efforts inside flooded compartments in the ship for the missing sailors," the Navy said.
Monday's collision was the second for the 7th Fleet in recent months. In June the destroyer USS Fitzgerald collided with a Philippine-flagged container ship off the coast of Japan, killing seven U.S. sailors, who could not escape flooded areas in the ship.
The commander of the 7th Fleet, Vice Adm. Joseph Aucoin, was relieved of duties this week, after the Navy determined that it lost confidence in his ability to lead the fleet.
The eight missing sailors are: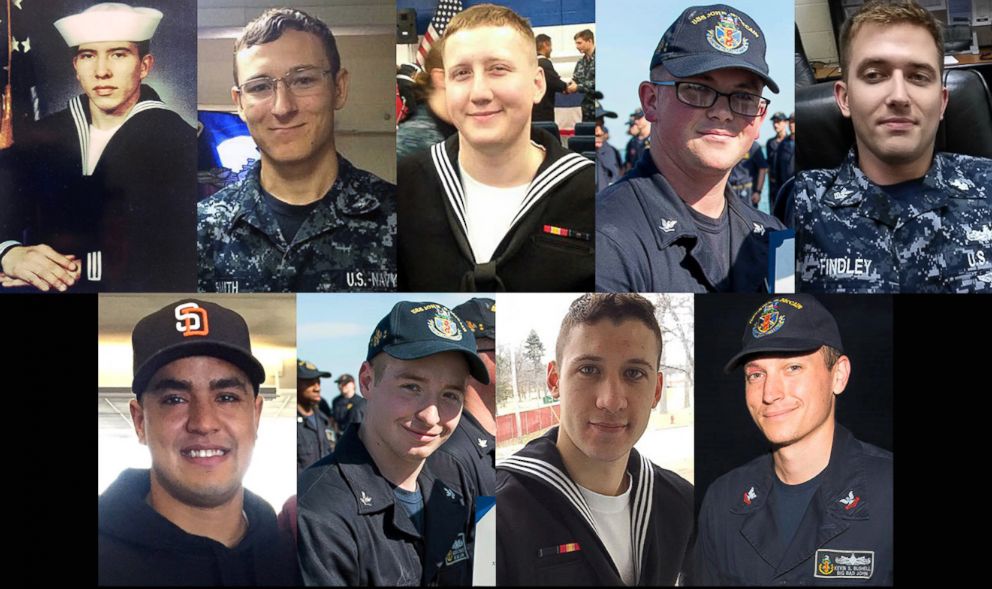 Electronics Technician 1st Class Charles Nathan Findley, 31, from Missouri
Interior Communications Electrician 1st Class Abraham Lopez, 39, from Texas
Electronics Technician 2nd Class Kevin Sayer Bushell, 26, from Maryland
Electronics Technician 2nd Class Jacob Daniel Drake, 21, from Ohio
Information Systems Technician 2nd Class Timothy Thomas Eckels Jr., 23, from Maryland
Information Systems Technician 2nd Class Corey George Ingram, 28, from New York
Electronics Technician 3rd Class John Henry Hoagland III, 20, from Texas
Interior Communications Electrician 3rd Class Logan Stephen Palmer, 23, from Illinois
The Navy continues to investigate the circumstances surrounding the McCain's collision. A U.S. official told ABC News on Tuesday that an initial report indicated that the McCain reported a loss of steering in the minutes before the collision.
Even if the McCain lost steering ability, the official cautioned, the crew should have been trained to handle such a situation and take evasive maneuvers to avoid a collision.
ABC News' Mark Osborne contributed to this report.