Report paints new picture of homelessness in California
The report highlights the impact of low incomes and high housing costs.
The largest representative study on homelessness since the mid-90s found the state's income inequality and high housing costs left people vulnerable to homelessness – particularly older residents and residents of color.
California is home to 30% of the nation's homeless population and half of the nation's unsheltered population – despite making up only 12% of the U.S. population – according to the study released Tuesday by the University of California, San Francisco.
More than 171,000 people experience homelessness daily in California, two times more than the next highest state, New York, the report states.
Highlights from the report's findings
The most frequently reported economic reason was loss of income.
"Participants living on the economic margin, with high housing costs, low incomes and little savings, had little margin for error," the report said. "Loss of income or decrease in work propelled many living on the economic margins into homelessness."
The report states that 22% of people reported lost or reduced income was a reason for losing their last housing. Ten percent said that non-housing costs, such as healthcare or food, had increased and left them unable to afford rent. Eight percent noted their rent had increased.
In the six months prior to homelessness, the median monthly household income for the homeless people surveyed was $960. A high proportion of them were burdened by rental costs, paying more than 30% of their income in rent.
However, economic, health and social issues were often intertwined.
Survey participants also reported job loss due to injuries, illness, or the need to provide caregiving to family members. Some reported job loss occurred after contracting COVID without job protections that would allow them to miss work during their sickness or to isolate. Thirteen percent of participants said substance use was their reason for leaving their last shelter, while 11% said someone close to them became sick, disabled or died. Nine percent said they themselves became sick or disabled.
Some say they experienced discrimination in the labor market, based on their disability, race, immigration status, or their language. This led to a lack of employment opportunities, reduced hours or wages, lower pay than promised and more.
One participant, who uses a wheelchair, told researchers it's been difficult to find a job: "Everywhere I go, I ask. I mean I've been all over with employment. It's difficult, especially with the disability and wheelchair. You know, I can fix and dress myself up nice. But, once they see the [wheelchair] – you know?"
Who makes up the homeless population?
The vast majority of homeless people in the state were Californians, despite myths about homeless migration, according to the report. Ninety percent of participants lost their last housing in California, and 75% of people live in the same county they resided in before becoming homeless, according to the study.
The homeless population in California is also aging – with 47% of the adults surveyed aged 50 or older.
Twenty-seven percent of those surveyed were white, 26% were Black, 26% were Latino and 12% were Native American, Alaska Native, or Indigenous. Black and Native Americans were disproportionately represented among the homeless -- the state's population is 6% Black and roughly 2% Native or Indigenous, according to the U.S. Census Bureau.
One in five participants were formerly institutionalized, which can include past incarceration. They say they faced challenges such as barriers to employment and lack of assistance from service providers that left them stuck on the streets.
Sixty-nine percent of participants were cisgender men, and 30% were cisgender women. One percent identified as trans or gender-nonconforming, 90% of participants were single adults, 7% were adults in families and 3% were aged 18 to 24.
Recommendations from the report
Researchers recommend six key policy changes based on the findings in the report.
They urge an increase in affordable housing accessible to extremely low-income households, as well as expanded targeted homelessness prevention efforts, including financial support and legal assistance in places accessible to those vulnerable to homelessness -- i.e., jail exits or social service agencies.
"Having experienced homelessness firsthand, I vividly recall the relentless fight for survival, the pervasive shame that haunted me, and my unsuccessful endeavors to overcome homelessness on my own," said Claudine Sipili, a member of the study's Lived Expertise Board, in a statement.
Sipili continued, "The study holds great significance for me because it aims to provide a more comprehensive understanding of homelessness. I hope it will inform the development of effective strategies, policies and programs, address the issue in a dignifying way and support individuals in their transition from homelessness to housing stability."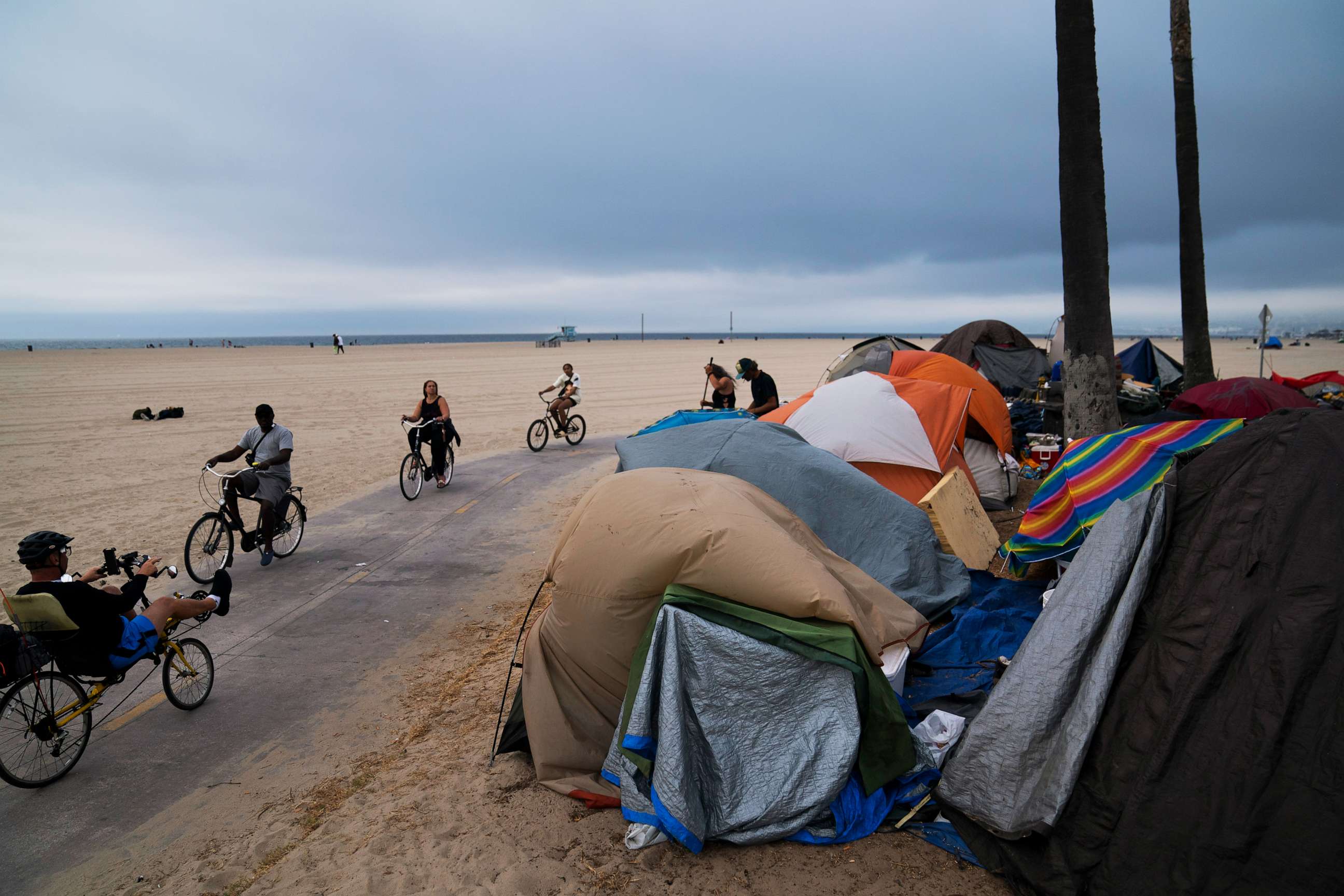 Researchers also recommend providing support to match the behavioral needs of the population, including low barrier mental health services, substance abuse services and harm reduction services.
It is also recommended to embrace household income support through training, as well as outreach on job search and transportation. For those who are unsheltered -- or not yet completely homeless but in unstable housing -- an increase in racially equitable outreach and services is also recommended.
"As we drive toward addressing the health and housing needs of Californian's experiencing homelessness, this study reinforces the importance of comprehensive and integrated supports," said Dr. Mark Ghaly, Secretary of the California Health and Human Services Agency, in a statement.