— -- O.J. Simpson headed to Las Vegas, the city where he was arrested for armed robbery a decade ago, upon his release from a Nevada prison early on Sunday, ABC News has confirmed.
Simpson submitted a parole release plan for a residence in Las Vegas, according to a statement from the Nevada Division of Parole and Probation. His case was assigned to an officer in the division's Southern Command, Las Vegas, the statement said.
After spending nine years in prison for a Las Vegas robbery, the former NFL player and movie star quietly walked out of Nevada's Lovelock Correctional Institute at 12:08 a.m. local time Sunday, according to the Nevada Department of Corrections.
Brooke Keast, a spokeswoman for the Nevada Department of Corrections, said Simpson was upbeat and happy as he left. Keast said he didn't want his picture taken, and that he wanted the release to be quiet, without media attention.
Dressed in jeans and a jean jacket -- the same type of prison denim that he wore during his parole hearing -- white sneakers and a hat, Simpson, 70, signed release papers and left the facility in the dark of night on the first day he was eligible for release.
As he left prison, in his hands were the possessions he accrued over his nine years there: two boxes of legal paperwork, some clothing and items that he had acquired or purchased through the prison store, according to the Nevada Department of Corrections, which released a short video of Simpson's prison exit, as well as a photo of him signing release papers. Keast said prison officials did not want anything left behind with Simpson's signature on it that others could take.
When prison officials told Simpson, "Don't come back," the former Buffalo Bills star responded, "I don't have any intent," according to Keast.
Upon his release, a decoy van was sent down the main road outside the prison, while the SUV carrying Simpson left on a small dirt road in the rear of the facility.
Simpson's sister, Shirley Baker, told ABC News from California on Sunday, "We are just joyous, grateful and celebrating today."
Keast said Simpson met with his parole officer sometime last week, allowing the Department of Corrections to release him directly from Lovelock on a weekend. Most inmates are transferred to another facility to be released, however, officials felt that the less Simpson was moved, the safer his release would be. Keast said the early morning release was best for Simpson, the staff and the community, and said it "had to be done for safety reasons."
Keast said Simpson's final few nights in prison were spent in the infirmary, where he was alone with his cell door open.
Simpson was sentenced to prison following an arrest in 2007 during a botched robbery in Las Vegas, when he led a group of men into a hotel and casino to steal sports memorabilia at gunpoint. He contended the memorabilia and other personal items belonged to him.
Simpson, who served his time at Lovelock, was granted parole at a hearing in July.
Before the decision was announced, Simpson gave his account of the botched robbery to the parole board, telling the board members how he learned that some "some guys" were trying to "fence" what he said were his personal mementos in Las Vegas.
"As a perfect storm we all ended up in Las Vegas, you know? I was there for a wedding and [was told that] the property was there."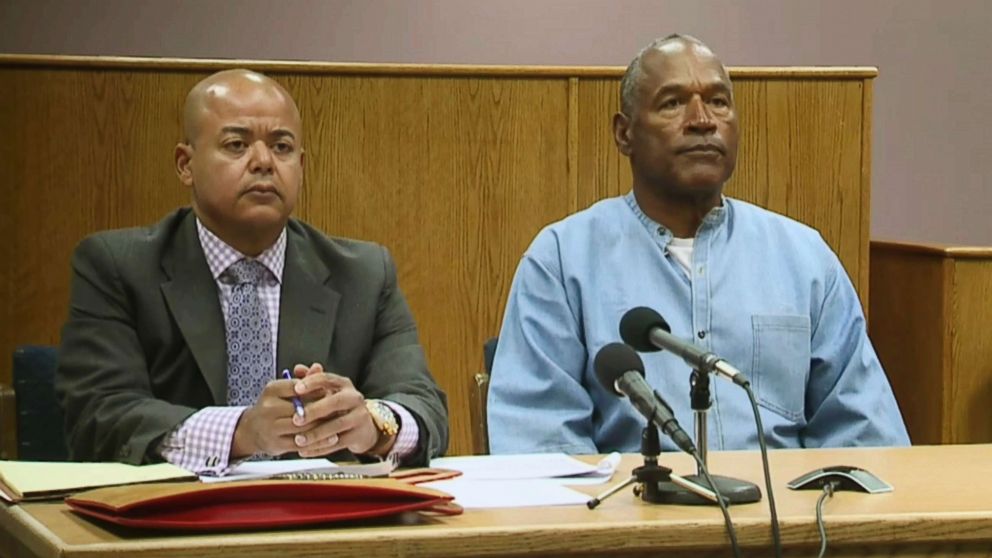 He later continued, "I said, 'Of course I would like to get the property.' He told me the names of what he thought were the people in the room, and I realized these are friends of mine. You know? Actually guys who helped me move, helped me move and store some of this stuff."
Simpson explained, "When I came into the [hotel] room I noticed spread out everywhere was my personal property." "The only thing I saw that was on display that wasn't mine was some baseballs, and I made it clear to everybody those are not mine. All I want is my property. ... I wasn't there to steal from anybody."
"I would never, ever pull a weapon," he said.
Simpson reassured the board he would be successful meeting the conditions of his parole before it was granted, saying, "I'm not a guy who lived a criminal life."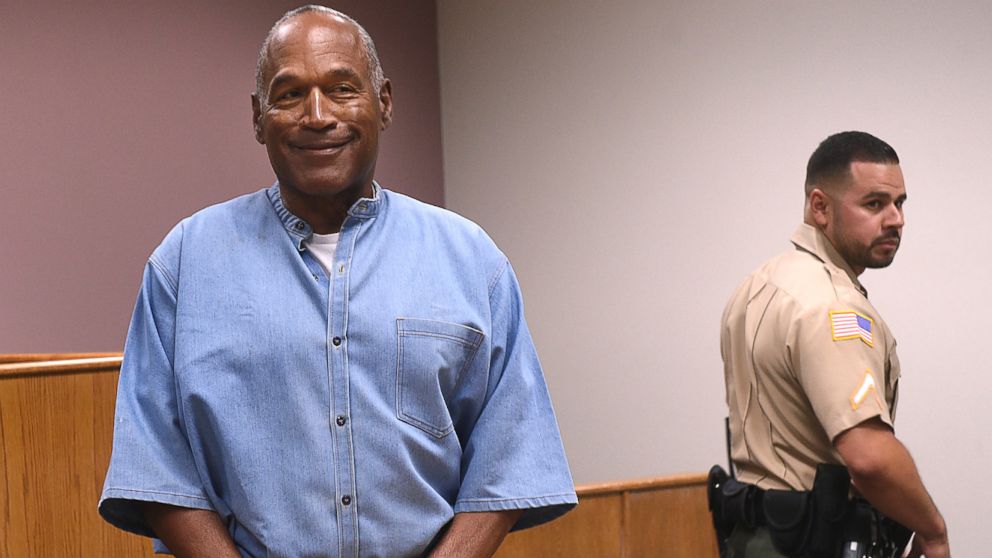 Simpson's attorney, Malcolm LaVergne, told ABC News on Friday that upon his release, Simpson wants to go to Florida, where he can "see his family and hug his family on the outside of prison."
"He wants to eat seafood, he wants to eat steak," LaVergne said. "He wants to enjoy the very simple pleasures that he hasn't enjoyed in nine years."
As of Sunday afternoon, Florida's Department of Corrections had not received any transfer paperwork from Nevada, said Ashley Cook, spokeswoman for the Florida Department of Corrections.
Florida Attorney General Pam Bondi is objecting to Simpson's relocation to the state, writing a letter days before his release to Florida Department of Corrections Secretary Julie L. Jones requesting that the department "immediately notify all authorities of Nevada that Florida objects to granting Simpson permission to relocate to Florida to serve parole," according to a press release.
Tom Scotto, one of Simpson's longtime friends, told ABC News, "All he wants to do is spend time with his family and friends and his kids. And play a little golf."
But Scotto added that Simpson won't be shying away from the public eye.
"We're not gonna hide," Scotto said. "He's going to do the same things he always did."
Over 20 years ago, Simpson went on trial for the 1994 killings of his ex-wife, Nicole Brown Simpson, and her friend Ron Goldman. On Oct. 3, 1995, at the end of a televised trial that captivated the nation, Simpson was acquitted of all criminal charges.
Simpson was found liable for the killings in a 1997 civil trial. He has always maintained his innocence.
Ron Goldman's father and sister, Fred and Kim Goldman, said in a statement on Sunday, "Now that Simpson has been released from prison, we the Goldman family will continue our quest in securing the only form of justice for Ron we have available; the rights to our Civil Court case judgement where Simpson was found to have willfully and wrongfully caused the deaths of Ron and Nicole. We anticipate that the Nevada Board of Parole will uphold the conditions of Simpson's parole and not provide leniency."
Michael Wright, a spokesman for the Goldmans, said in the statement that the civil judgment awarded to the Goldmans has climbed to over $66 million.
After the parole hearing, Fred Goldman said on "Good Morning America," "It was never about the money [in the civil case.] It was punishment, and we didn't have the opportunity to see him go to jail or death row for murder, but he got a judgment against him and honoring that judgment or making him honor the judgment is the only punishment that we can get from him."
Kim Goldman said on "GMA" in July that when Simpson is released, "We're going to go back to doing what we've done. I run a nonprofit working with teenagers, I do stories on other victims and survivors, I'm raising my kids. We're active in the world of victims and survivors' advocacy. We're going to continue doing those things and take it one day at a time and if he chooses to write a book, or do a reality show, we'll be there."
ABC News' Duan Perrin and Sabina Ghebremedhin contributed to this report.