— -- Four-time Olympic gold medalist Simone Biles said today that she was "sexually abused" by disgraced sports doctor Larry Nassar.
"I too am one of the many survivors that was sexually abused by Larry Nassar," Biles, 20, said in a statement released on her Twitter.
"I've felt a bit broken and the more I try to shut off the voice in my head the louder it screams," she added. "I am not afraid to tell my story anymore."
Biles is the latest high-profile athlete to accuse the former USA Gymnastics team doctor of sexual misconduct. Olympic gymnasts Aly Raisman, McKayla Maroney and Gabby Douglas have also publicly said they were abused by Nassar.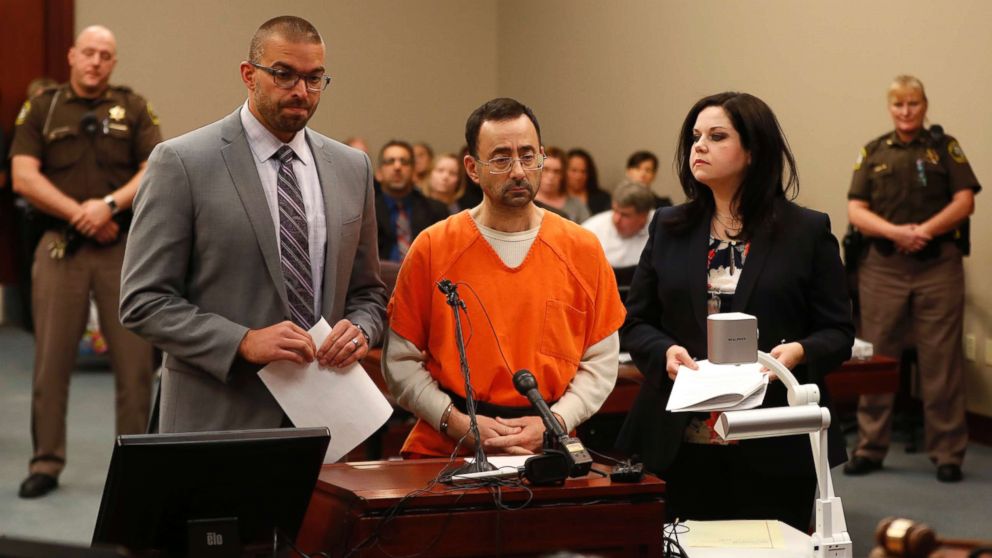 Nassar was sentenced to 60 years in prison last December after pleading guilty to federal child pornography charges. Nassar also pleaded guilty in November 2017 to seven counts of first-degree criminal sexual conduct involving girls who were 15 years old or younger in Ingham County, Michigan, as well as three other counts of first-degree criminal sexual conduct in Eaton County, Michigan.
In addition, he has been accused of sexual misconduct by more than 125 women and girls in civil lawsuits.
Nassar's victims will address an Ingham County court beginning Tuesday as part of his sentencing for the seven counts of criminal sexual conduct. Up to 125 victims may speak over the course of several days.
He is due to be sentenced for the three additional counts in Eaton County on Jan. 31.
Nassar plans to appeal the federal sentence, according to The Associated Press.
In her statement today, Biles lauded the other accusers who have come forward and spoken out against Nassar.
"After hearing the brave stories of my friends and other survivors, I know that this horrific experience does not define me," she wrote. "I am much more than this."
She slammed the physician's behavior as "completely unacceptable, disgusting, and abusive."
Biles also called for more accountability, saying, "We need to know why this was able to take place for so long and to so many of us.
"We need to make sure something like this never happens again," she added.
Biles also said that she refuses to let Nassar's actions stop her from pursuing her gymnastics goals, including her "dream of competing in Tokyo 2020."
"I love this sport too much and I have never been a quitter," she said. "I won't let one man, and the others that enabled him, to steal my love and joy."
In a statement today, USA Gymnastics said: "USA Gymnastics is absolutely heartbroken, sorry and angry that Simone Biles or any of our athletes have been harmed by the horrific acts of Larry Nassar. USA Gymnastics' support is unwavering for Simone and all athletes who courageously came forward to share their experiences. We are our athletes' advocates. USA Gymnastics will continue to listen to our athletes and our members in our efforts of creating a culture of empowerment with a relentless focus on athlete safety every single day."
Shortly after Maroney came forward with her allegations of assault, USA Gymnastics issued a statement saying, "We are strengthening and enhancing our policies and procedures regarding abuse, as well as expanding our educational efforts to increase awareness of signs to watch for and reporting suspicions of abuse, including the obligation to immediately report. USA Gymnastics, its members and community are committed to working together to keep our athletes as safe as possible."