— -- A New Orleans woman survived a tornado that tore through her home by hiding in her bathtub.
Linda Pierre was home alone when the tornado hit around 11:20 a.m. Tuesday. She tried to call her husband as she sat in the bathtub but couldn't reach him, so she called her mother.
"I told her that we were getting hit by the tornado. She told me to calm down and I just started praying because I let my faith kick in," Pierre told ABC News.
Her mom "talked me through everything," she added.
"And I waited 10 minutes and I assessed my house, and I realized we had a lot of damage to the back of the house but, structurally, the house was sound," Pierre said.
Pierre went to her front door and "dropped to my knees" after seeing the destruction left in the front yards of the houses on her street, she said.
"I couldn't believe what I was seeing all around me," Pierre added. "But God kept me."
At least five tornadoes were reported in Louisiana Tuesday. The powerful winds leveled homes, knocked down trees and left thousands without power. No deaths were reported, Louisiana Gov. John Bel Edwards reportedly said.
The governor declared a state of emergency for Louisiana.
"I am heartbroken to once again see Louisiana families suffering," he said in a statement. "We are working tirelessly to ensure that every citizen affected by this storm receives the resources they need as quickly as possible."
At the Pierre home, their fully-furnished sun room in the back of the house was destroyed and the roof was blown off. Wooden planks went barreling into husband Roland's car, leaving the front windshield shattered.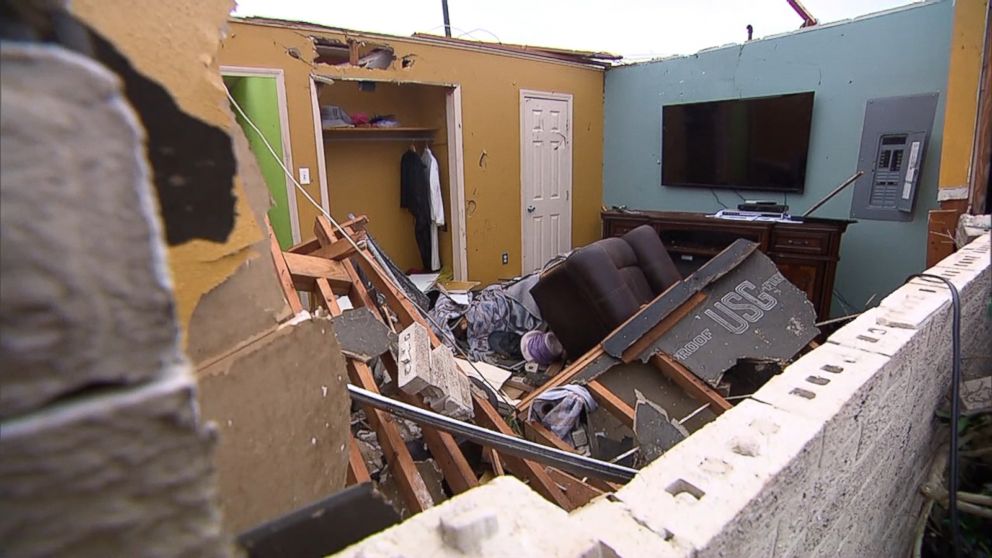 But Pierre said she's not worried about material things, adding she and her husband will rebuild.
"We got each other, and it could've been a whole lot worse," Roland Pierre, who was at work when the tornado hit, said. "This is devastating for a lot of folks."
Noting that many residents have "a lot of work to do," he called New Orleanians "resilient," saying, "we're used to this kind of stuff."
Pierre also said he's thankful that the tornado didn't strike at night while they were asleep.
"Thank goodness it happened when it did; daylight. Folks were able to get around, grab themselves and just get out into the open to get some help," he said.