— -- The owner of the car that froze from waters on Lake Erie Sunday night and Monday morning spoke to ABC News saying, "I hope summer comes soon."
Justin Yelen, 24, went drinking with friends Sunday night at Hoak's Lakeshore restaurant in Hamburg, N.Y. when he decided to go the safe route and leave his car there overnight, his parents told ABC News today. But, with fierce 47 mph winds and freezing temperatures, it looks like his 2010 Mitsubishi Lancer will remain at the restaurant's lakefront parking lot much longer than he intended because of a thick ice coating, that appears to be at least 5 inches.
Yelen's mother, Amy Yelen, told ABC News if the car had been parked across the lot instead of right on the water, he may have been able drive it the next day.
"Did [he] just want to get a scenic parking spot? As close to the water as humanly possible?" Amy Yelen said she asked herself when she saw the car, calling her son a "goof."
Yelen said when he left the restaurant around midnight, his car already had a thin coat of ice around it and the tires were stuck in puddles of water that had frozen over. When he woke up the next morning, he looked at Facebook and saw that not only had his car been featured on local and national news, a video had been taken of the car and viewed over 10 million times.
The restaurant is known to have water from Lake Erie freeze over, the Yelens said. A photo taken at the restaurant Monday shows ice that froze over as water splashed onto the deck.
"There's always spray [from the lake] coming up on the road right near there," Amy Yelen said.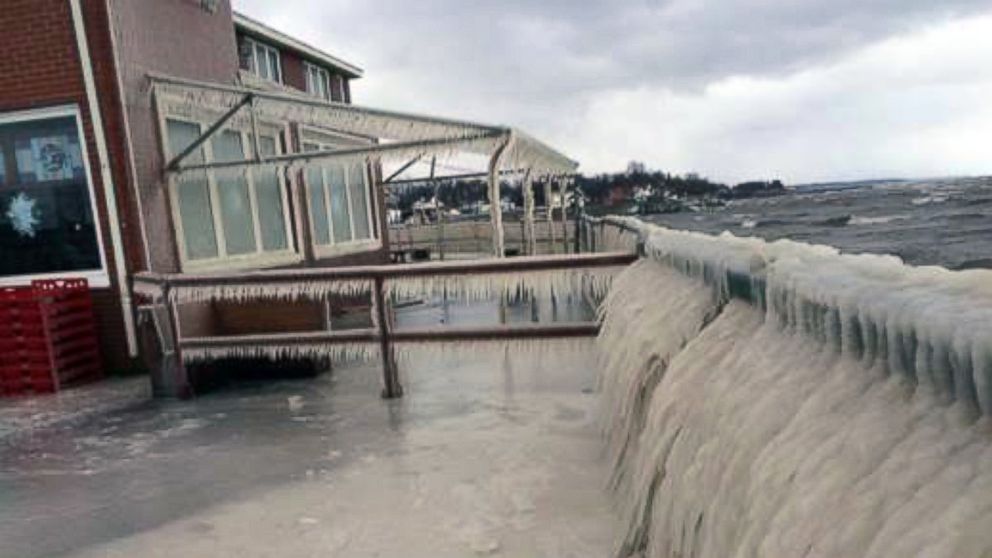 The car is now in even worse condition than when the photo was taken Monday morning, Yelen's father, Joe Yelen told ABC News. He drove to the location to try and work on it, but waves from Monday and Tuesday have continued to splash over and freeze onto the car. He said when he saw a photo of the car on local news, he immediately recognized it as his son's and drove to the location with an ice pick to try and free it from its icy prison.
"I didn't know how bad it was," he said, but after looking at it, "I knew it wasn't going to happen with an ice pick."
A local car dealership has offered to retrieve the car and take it to a garage to thaw it out for free, Yelen said.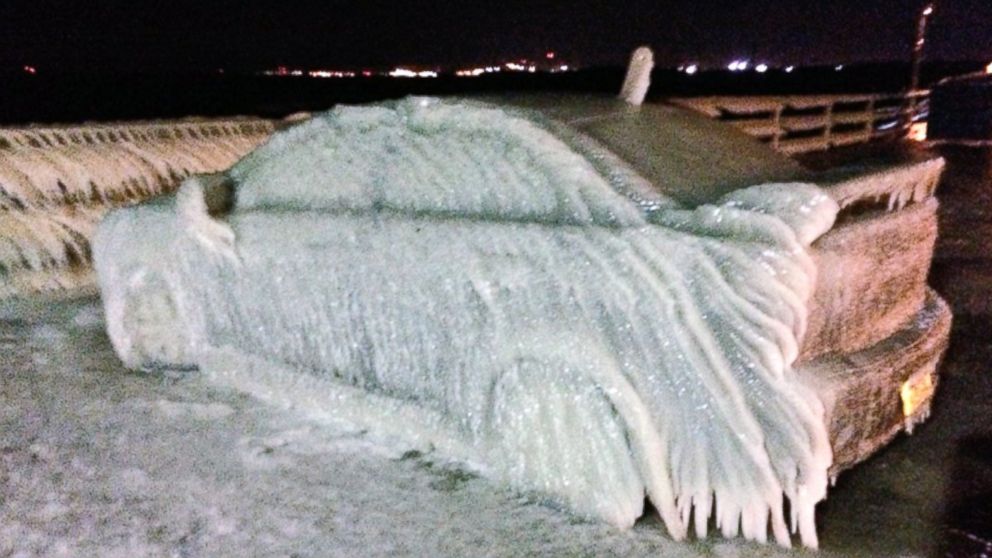 For the next several days, Yelen will need to rely on his family to shuttle him to and from his job at a restaurant in downtown Buffalo, he said, adding that he hopes his car is "okay."
Although Yelen's frozen car troubles may seem like a huge problem, his parents are happy that he left it in the restaurant parking lot.
"It was a smart move," Joe Yelen said. "Even if it doesn't seem like it now covered in ice."
Yelen said he's delighted that the image of his frozen car has been turned into memes, some with characters from Disney's "Frozen" surrounding it.
Considering the unexpected situation with his car, Yelen says that he still can't wait for summer.