Linda Beigel Schulman always wanted to go inside the Parkland, Florida, building that's sat untouched since her son's murder. This week, she got her chance.
Schulman's son, geography teacher and cross-country coach Scott Beigel, was among the 17 students and staff killed in the Feb. 14, 2018, mass shooting at Marjory Stoneman Douglas High School.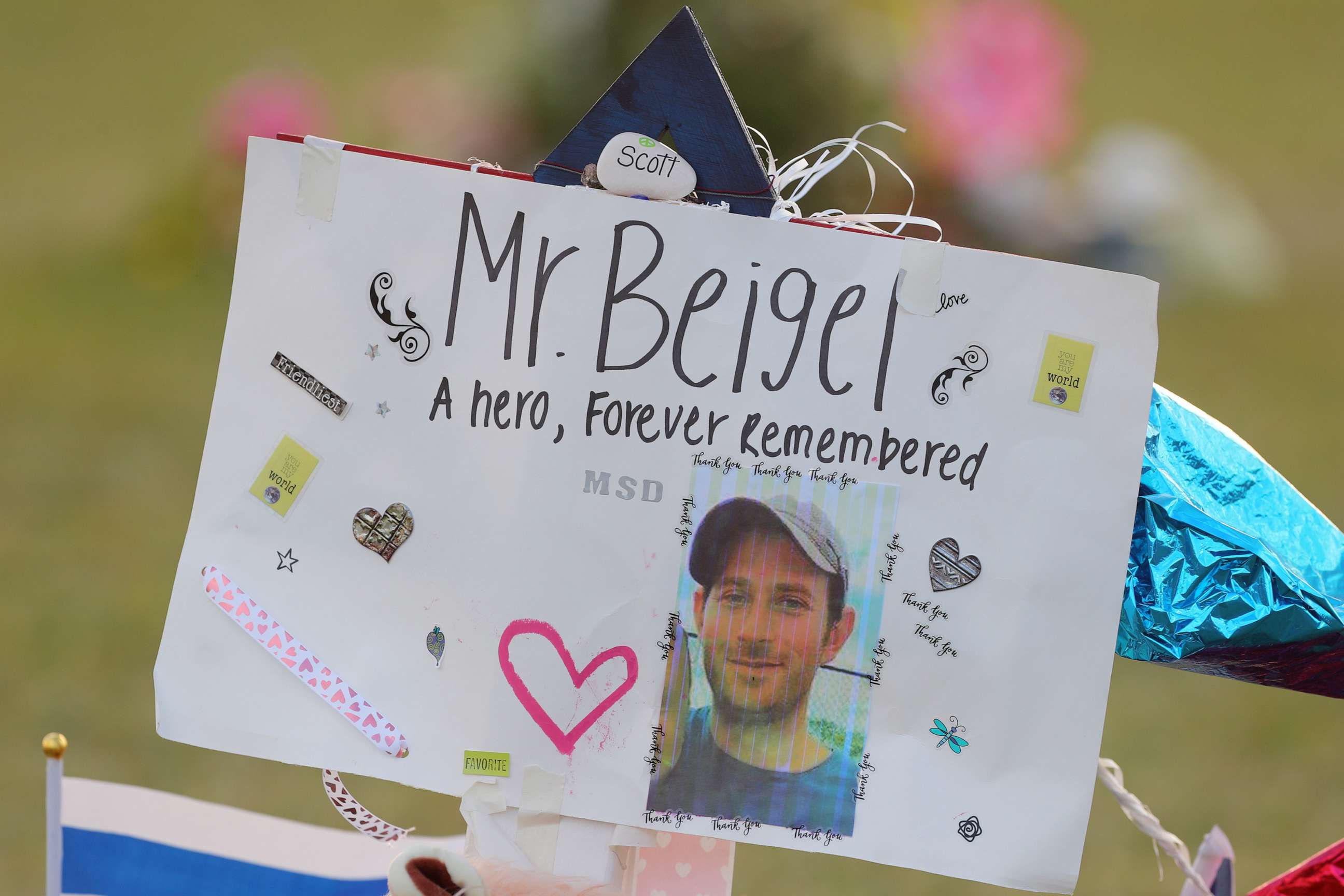 Beigel, 35, was shot while shepherding his students to safety in his third floor classroom in the 1200 building.
Victims' families were permitted to see the building this week now that the trials have concluded for gunman Nikolas Cruz, who last year was sentenced to life in prison, and former school officer Scot Peterson, who last month was acquitted of child neglect after he had allegedly retreated while students were being shot.
Schulman and her husband flew from New York to Florida on Wednesday to visit the 1200 building for the first time, tracing the path of the massacre from the first floor to the third.
Schulman had seen video of the crime scene at Cruz's trial, so she said she thought she was prepared to see the building, where dried blood and students' strewn papers sit untouched like a time capsule.
"I was not prepared. I was so mistaken," she told ABC News on Thursday.
"Seeing the video, as horrific as it is ... especially the clip when the murderer aimed his AR-15 at Scott, and Scott going down after he was shot. It's like, if you and I do a Zoom and then I talk to you in person," she explained. "It was horrible. ... All the glass being shot out ... seeing the bullet holes in the walls."
On the third floor, Schulman reached her son's classroom. Schulman and her son had an unbreakable bond, and the two spoke on the phone most days.
"No matter what it was gonna take, I was gonna go into Scott's classroom. I wanted to stand where Scott took his last breath," she said. "I wanted to see where it was that he had fallen and was laying on the floor."
On Beigel's desk, she found her son's open laptop, covered with dust, along with students' assignments.
"I saw Scott's notes and his lesson plans, and was able to take pictures of his walls," she said. "He loved his students and I needed to see where he was."
She took home with her a yellow banner with a huge smiley face that had hung in the classroom.
"I'm going to give that to my grandkids," she said, "so when they look at it, they remember Scott."
Max Schachter, whose 14-year-old son, Alex, was killed in his first floor classroom, debated whether he'd go inside the building. But he ended up touring the crime scene on Thursday.
"I came to the decision because I wanted to be in that room. I wanted to sit in Alex's chair. That was the last place he took his last breath," Schachter told ABC News on Friday. "I wanted to connect with him in that space."
Schachter said his son's classroom "was like a horror scene from a war zone."
"It was grotesque," he said. "There was so much blood everywhere, especially around Alex's desk."
Schachter said he prepared for Thursday's visit by listening to the medical examiner's testimony and prosecutor Mike Satz's closing arguments from Cruz's trial to help him understand his son's last moments.
Alex, a talented trombone player in the school marching band, was in his classroom when he heard the first shots in the hallway, and he tried to run, Schachter said, "but he didn't have enough time."
Alex "was shot twice in the chest, severed his spinal cord and he fell backwards over the chair," he said.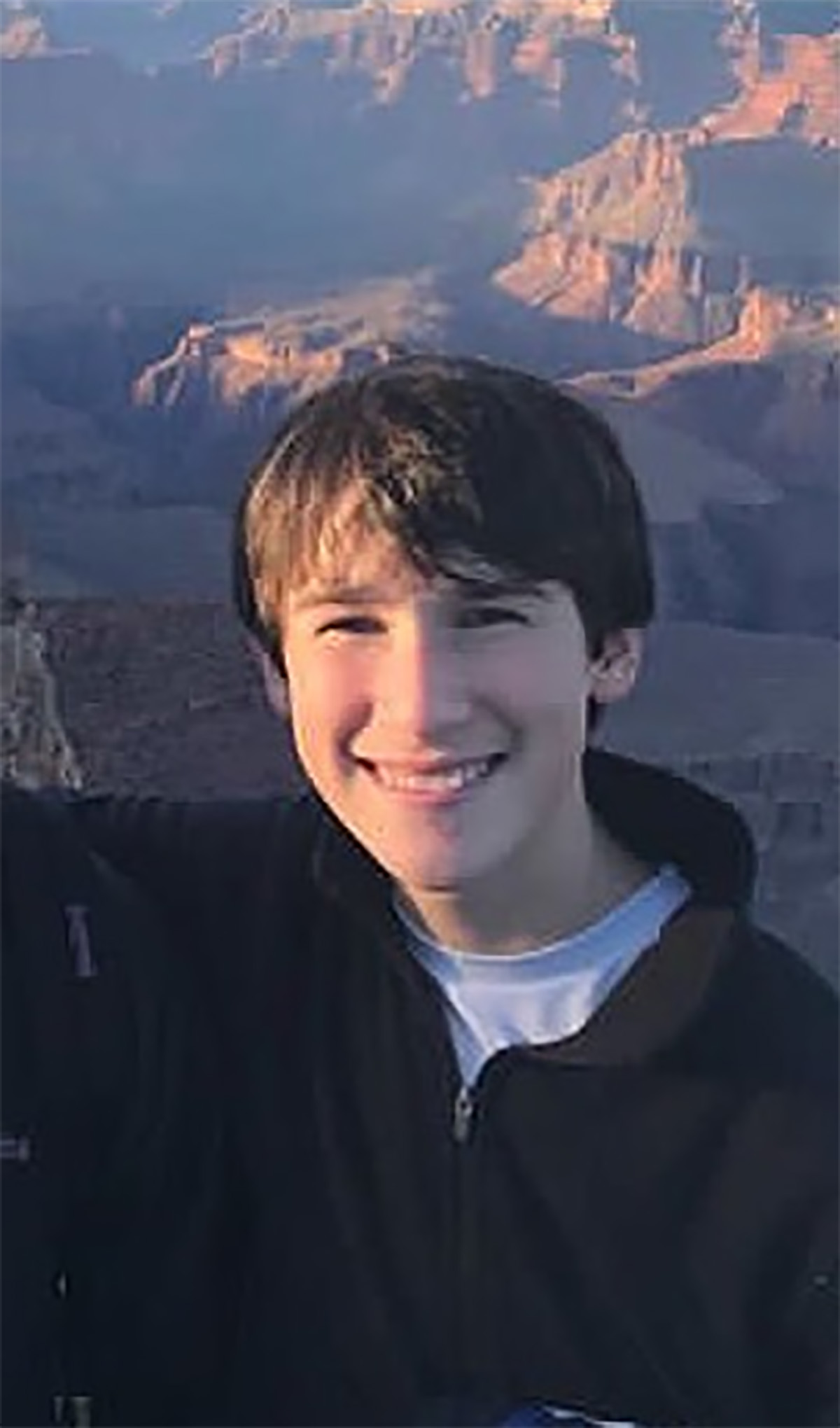 As the gunman opened fire from the hallway, other students rushed to the teacher's desk, but there wasn't enough space to hide.
"There's blood stains all over the floor in front of the teacher's desk, on the side of the teacher's desk," Schachter said.
On the classroom floor, Schachter found a paper Alex had written and he took it with him.
"There was blood stains all over it, but I wanted it," he said. "It was my little boy's."
Schulman said she's advised other Parkland families going inside the 1200 building to "be prepared."
Seeing the building made her feel "like it happened yesterday," she said. "I feel like somebody told me my son was murdered again."
Schulman said she's glad the school district plans to tear the site down.
But she hopes a future memorial there won't be somber, and instead can be a place for students to have fun and laugh, like a baseball field, as a way to honor her son who had a lifelong passion for sleepaway camp. After Beigel's death, Schulman started the Scott J. Beigel Memorial Fund, which sends at-risk kids touched by gun violence to camp.
Schachter said he wants the building to remain.
"They should leave it up until every legislator, every school principal, walks through that building," he said.
Schachter, who founded Safe Schools for Alex, a nonprofit looking reduce school violence, said, "After walking through there, I am even more focused and driven to make the changes necessary so that all kids can learn in a safe environment."