PEN America, a nonprofit dedicated to protecting free expression, and Penguin Random House, one of the country's largest book publishers, filed a lawsuit Wednesday targeting a Florida school district for removing certain books from the shelves of public school libraries.
Authors and parents of children affected by the book bans in the Escambia County School District have also joined the federal lawsuit, which is asking for books to be returned to school libraries.
The lawsuit argues that the school board's removal and restriction of books that discuss racism and have LGBTQ themes violates the First Amendment. Several authors whose books have been impacted by book bans across the country, including David Levithan, George M. Johnson and Ashley Hope Pérez, are backing the lawsuit.
The lawsuit alleges, in every decision to remove a book, "the removals have disproportionately targeted books by or about people of color and/or LGBTQ people, and have prescribed an orthodoxy of opinion that violates the First and Fourteenth Amendments."
Members of the school board declined ABC News' requests for comment. Local news outlet Pensacola News Journal reported that the district purged their book selection after a teacher challenged more than 100 books for inappropriate content.
Recent legislation in Florida, including the Parental Rights in Education Bill and the Stop WOKE Act, have led to restrictions and removals of books across the state, impacting stories representing marginalized communities, critics of the legislation argue.
"Young readers in Escambia schools and across the nation deserve a complete and honest education, one that provides them with full access in libraries to a wide range of literature that reflects varied viewpoints and that explores the diversity of human experiences," said Pérez, in a statement. Her book, "Out of Darkness," is one of the most targeted books in the U.S.
She continued, "as a former public high school English teacher, I know firsthand how important libraries are. For many young people, if a book isn't in their school library, it might as well not exist."
The "Stop WOKE Act" restricts lessons and training on race and diversity in schools and in the workplace, particularly anything that discusses privilege or oppression based on race. WOKE in the bill stands for "Wrongs to Our Kids and Employees."
The Parental Rights in Education law states instruction on "sexual orientation or gender identity may not occur in kindergarten through grade 3 or in a manner that is not age-appropriate or developmentally appropriate for students in accordance with state standards," according to the bill's language.
A record-breaking 1,269 demands were made to censor library books and resources in 2022, the highest number of attempted book bans since the American Library Association began collecting data over 20 years ago, the association said.
A record 2,571 unique books were targeted for censorship in 2022, a 38% increase from 2021 when 1,858 titles were targeted.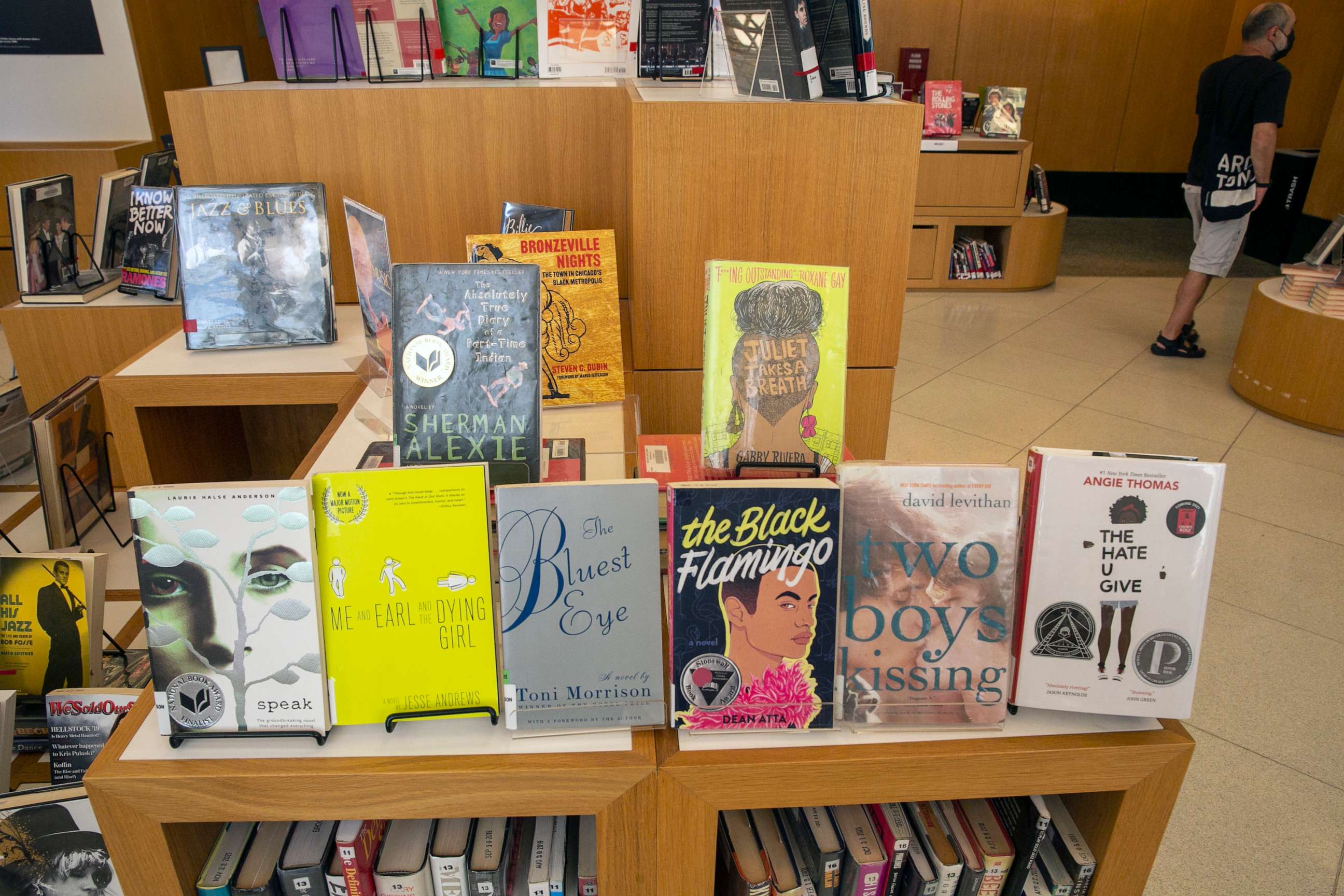 Book bans particularly affect books written by and about people of color and queer communities, according to the ALA.
Penguin Random House has faced book bans involving several of their titles throughout the years, including "1984" and "Animal Farm" by George Orwell, "The Bluest Eye" and "Beloved" by Toni Morrison and more.
"Books have the capacity to change lives for the better, and students in particular deserve equitable access to a wide range of perspectives. Censorship, in the form of book bans like those enacted by Escambia County, are a direct threat to democracy and our constitutional rights," said Nihar Malaviya, CEO of Penguin Random House.
Malaviya continued, "We stand by our authors, their books, and the teachers, librarians and parents who champion free expression."