Suspected San Diego shooter 'had a beer in one hand and his gun in the other,' witness says
The alleged gunman was shot and killed by police.
— -- The man accused of opening fire at a birthday pool party at a San Diego apartment complex, killing one and injuring seven, allegedly sat calmly at the pool with "a beer in one hand and his gun in the other," a witness told ABC News.
The suspected shooter, identified by officials as Peter Selis, 49, was shot and killed by police at the pool area of the La Jolla Crossroads apartment complex Sunday evening, San Diego police said.
Resident Kaela Wong, who was in the pool's Jacuzzi when the shooting happened, said about 30 people were at the birthday party.
Wong said the suspected shooter was sitting under an umbrella in the shade and "didn't draw any attention to himself."
"He had a beer in one hand, and his gun in the other," Wong told ABC News. "I didn't even realize that he had a gun until he started shooting."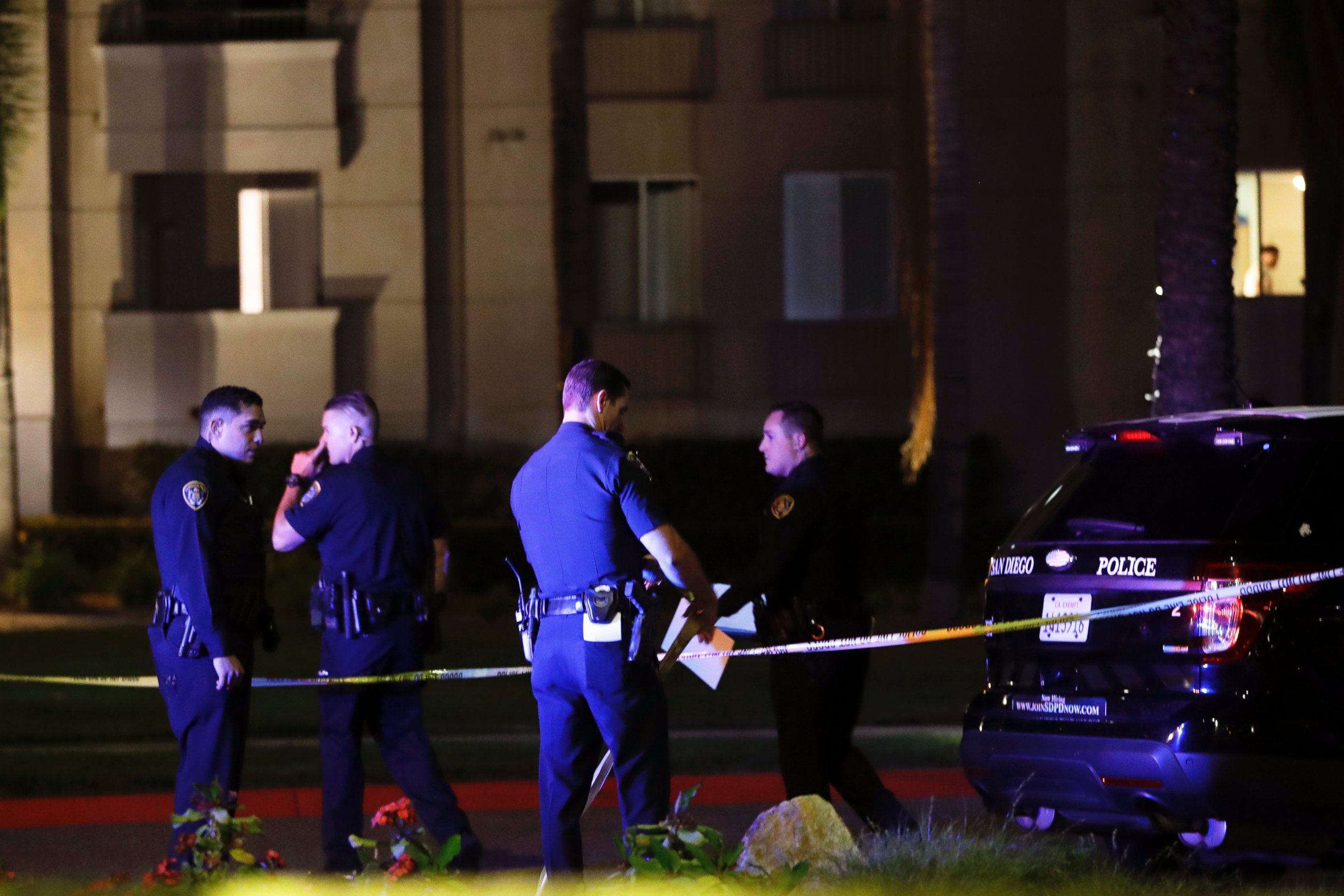 Wong said she thought the first shot was a bottle of champagne popping. Once the sound was more rapid, she realized it was gunfire but said she didn't immediately know where it was coming from. People started falling to the ground, Wong said, and she said the suspect still sat calmly with his beer, looking at his gun.
Wong said the alleged gunman appeared to be aiming at the crowd, not a specific target.
Wong said she heard the alleged gunman tell pool-goers they could stay and die or they could leave.
Wong, terrified, eventually fled the Jacuzzi and ran from the scene, she said.
San Diego Police Chief Shelley Zimmerman said Monday that "in the few days prior to this senseless act of violence," Selis and his girlfriend had split up, and his family described him as distraught and depressed.
Selis, who lived in the apartment complex, allegedly entered the pool area, sat in a lounge chair, and then called his ex-girlfriend and told her he just shot two people, police said. Selis allegedly stayed on the phone with his ex as he continued to open fire at the victims who were "just mere feet from him," Zimmerman said. Selis allegedly wanted his ex to listen in as he "carried out his rampage," Zimmerman said.
Police said it appears the victims were only targeted because they happened to be at the pool at that time.
Maniza Sheikhani, who was at the complex at the time of the shooting at around 6 p.m. local time, told ABC News, "I heard what sounded like fireworks, I wasn't sure what it was. And then I smelled smoke and I turned around and I heard people screaming and running ... I just ran. And I heard other people screaming, 'There's a shooter, there's an active shooter.'"
There were seven gunshot victims and an eighth victim who suffered a broken bone while fleeing the area, police said. Police said the eight victims, all adults, were hospitalized and one woman later died. Two victims are in critical condition but all are expected to survive, Zimmerman said.
San Diego mayor Kevin Faulconer called it a "horrific and disturbing act."
Zimmerman said the police department offers its thoughts and prayers to "the victims, their families and everyone affected by this terrible crime."
ABC News' Matt Gutman and Scott Shulman contributed to this report.