— -- Five Jewish headstones were knocked over in a Philadelphia cemetery this week, the second time Jewish graves have been vandalized in the city this year, police said.
No arrests have been made in either case, the Philadelphia Police Department said, adding that they consider this week's incident to be a random act of vandalism, not anti-Semitism.
A groundskeeper at Adath Jushurun Cemetery -- a predominately Jewish cemetery -- found five tombstones knocked over on Tuesday afternoon, Philadelphia Police Lt. Dennis Rosenbaum said.
It appears all five of the headstones that were knocked over marked the graves of Jewish people, Rosenbaum said. Two additional stones were dislodged but didn't tip over, he added.
In February, another Jewish cemetery about half a mile away from the Adath Jushurun Cemetery was desecrated. Over 100 headstones were discovered toppled and cracked at Philadelphia's Mount Carmel Cemetery.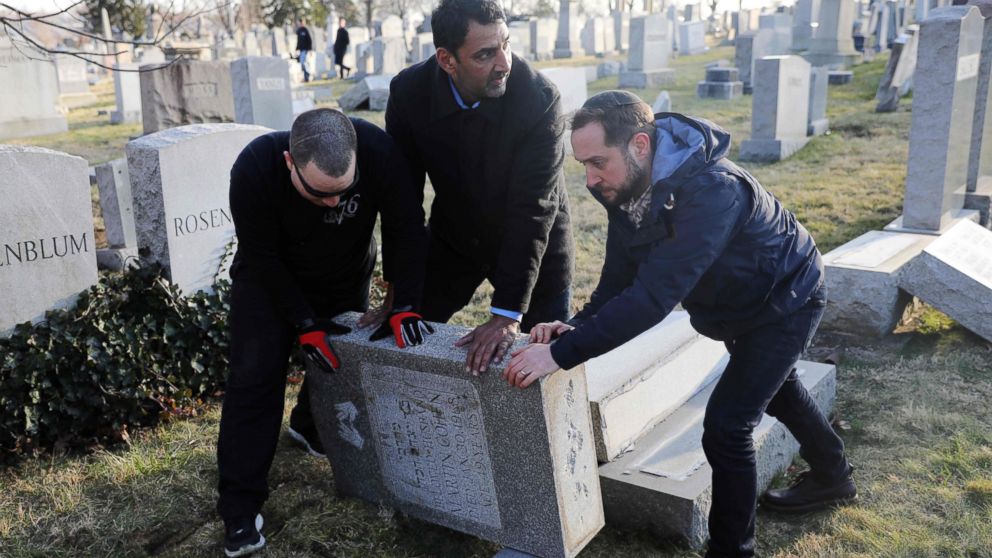 Rabbi Yosef Goldman of Philadelphia's Temple Beth Zion–Beth Israel remembered seeing "row upon row of toppled tombstones" following the February incident.
"Many of them weighed several hundred pounds," he said. "What I saw was devastating."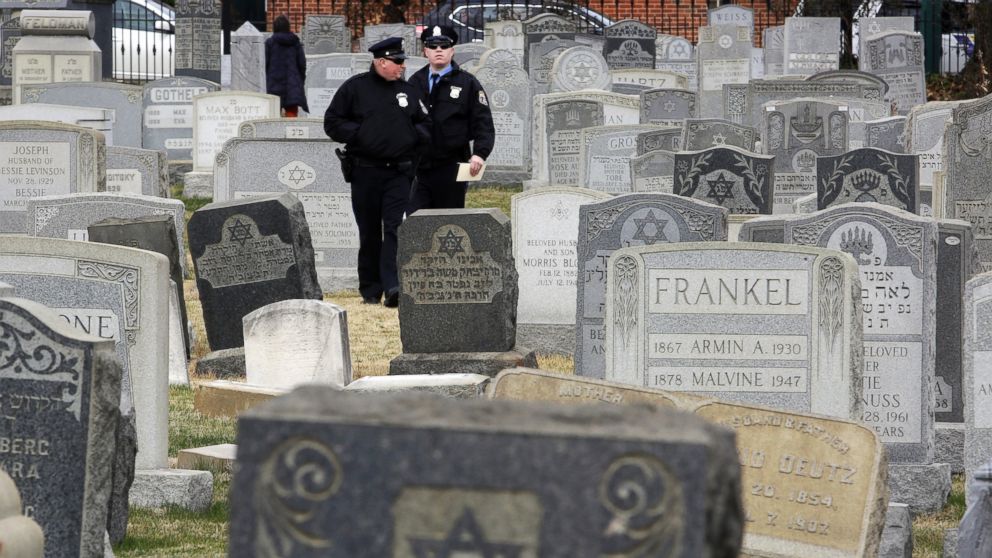 Although a $74,000 reward was offered for information about the February incident, no arrests were made, police said.
Police are also investigating if the two incidents this year are connected, Rosenbaum said.
But the police department said there is currently no information that leads them to believe this week's incident was an act of anti-Semitism.
Steve Rosenberg, an official with the Jewish Federation of Greater Philadelphia, told ABC News today, "We are following the lead of the police that this is a random act of vandalism."
Rosenbaum said the cemetery where this week's vandalism occurred spans two square blocks in a residential area. The police department is collecting home surveillance video from neighborhood residents and are looking at video from a 24-hour window between Monday to Tuesday, he said.
"We're working with the neighborhood, the Jewish Federation here who raised a lot of the reward money [in the February incident]," Rosenbaum said. "We're hoping someone will come forward and give us information."
Police said they are also hoping that any leads that emerge in this case could also help them solve the February case.