A plane flying over Broomfield, Colorado, dropped debris in several locations Saturday, said Broomfield police.
The Boeing 777-200's right engine failed shortly after takeoff and has since landed safely at Denver International Airport, the Federal Aviation Administration said.
No injuries have been reported, police said. Any damage to homes was still being assessed, Broomfield Police Department Public Information Officer Rachel Welte told reporters Saturday afternoon.
A person familiar with the situation told ABC News that investigators will focus on a possible uncontained engine failure based on the vibration observed in video evidence and damage to the containment ring.
Authorities released photos of debris outside of a house.
"Some of the debris landed in Commons Park and in the Northmoor and Red Leaf neighborhoods," police said. "Our patrol officers are working to locate all of the debris."
Broomfield police urged residents not to touch any debris they come across, and to report it to the department.
"The biggest thing right now is we are now securing the scene," Welte said during a press briefing. "The debris was so far and wide. If you find a breach in your home, near your home, in your neighborhood, please don't touch it."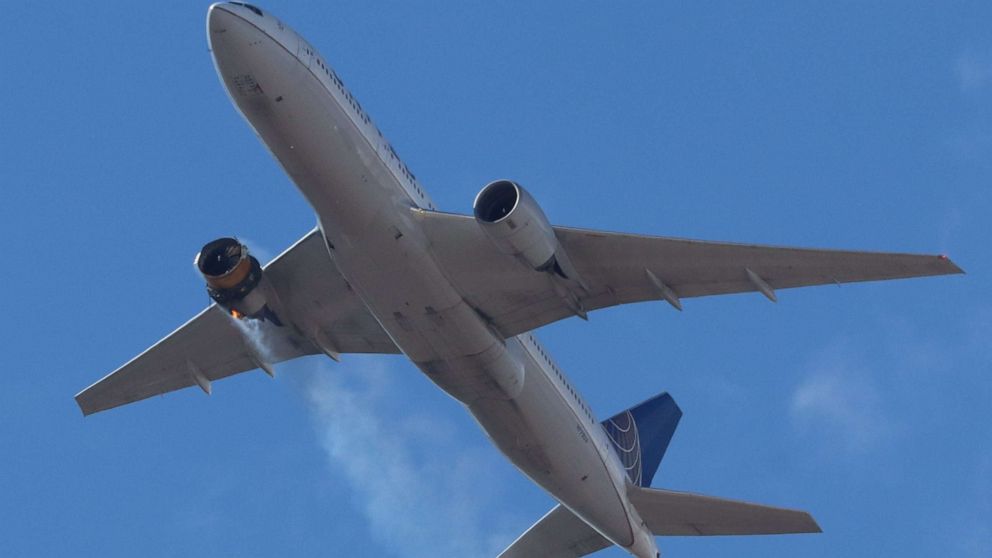 Broomfield appears to be the only area impacted at this point, Welte said.
Police started hearing reports from residents shortly after 1 p.m. local time of a loud explosion and what they thought was a plane falling from the sky.
"The fact that we are still not getting reports of any injuries is absolutely shocking at this point," Welte said. "It's amazing."
United flight 328 was headed to Honolulu at the time, the FAA said.
In a statement, United said the flight was met by emergency crews "as a precaution" after returning to Denver.
"There are no reported injuries onboard, and we will share more information as it becomes available," it said.
There were 231 passengers and 10 crew onboard the flight. All deplaned and were transported back to the terminal. The airline said it is now working on getting the customers a new flight to Honolulu over the next few hours.
The FAA and National Transportation Safety Board will investigate.
Broomfield is about 15 miles north of Denver.
ABC News' Matthew Fuhrman, Lena Camilletti, Matt Foster, Mina Kaji and Amanda Maile contributed to this report.