The man accused of the massacre of eight people -- seven of them his relatives -- in a Georgia mobile home "has a conscience" and couldn't have done what police say, his brother and grandfather said today at the funeral of the family members.
Guy Heinze Jr., 22, was arrested Friday night and charged with eight counts of murder in the killings, which were discovered after Heinze went to a neighbor saying he'd found his family dead, and the neighbor called 911 and then persuaded him to get on the phone.
In the 911 call, Heinze was both frantic and heartbroken. "My whole family's dead! My dad and my mom and my uncle, my cousins," he moaned into the phone.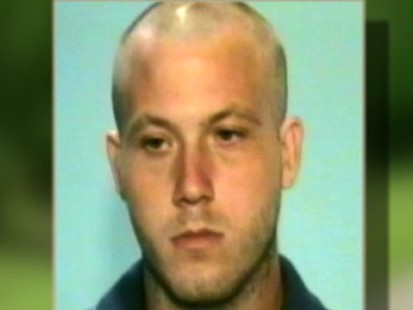 Barely coherent, he said he had arrived at the mobile home that morning, Aug. 29, to find family members dead and bleeding. He said, "It looks like they've been beaten to death, but I don't know, man."
Heinze was arrested a day later on charges of drug possession, tampering with evidence and other related charges, but Friday night police announced that he was being charged with the killings.
At the funeral today for the seven members of Heinze's extended family, his 16-year-old brother Tyler Heinze and his grandfather, William Heinze, both told reporters they cannot believe he is guilty.
"I know my brother didn't do this. My brother has a conscience," Tyler Heinze said outside the cemetery.
"I can say there was drug involvement in the house, and I think somebody ripped somebody off and somebody needed to get their money back," the teen said. "Maybe somebody in the house double-crossed someone. It could've been my brother who double-crossed somebody, and it could be part of his fault that somebody came in there and did this."
Heinze's grandfather said the young man loved his father, who was among the victims.
"He loved his dad. I know in that 911 call that we heard on the news, he was devastated to find his dad dead like that," William Heinze said. "I just can't believe it, unless they really had some proof."
Evidence, Motives Not Revealed After Arrest
Glynn County Police Chief Matt Doering said at a news conference Friday night that two pieces of evidence had come to light late in the day that led to the arrest. The chief declined to provide additional details about the evidence against Heinze or a possible motive.
"This is very much an ongoing investigation," he told reporters Friday night. "Two pieces of information came forward to us. We took those two pieces of information compared to the whole of the all the evidence collected all week long ... and that led us to believe, that Guy Heinze Jr. is the responsible person."
Doering said that the warrants were served to Heinze in jail. Earlier in the day, Heinze had been released on bond after being held for evidence tampering, lying to police and drug possession. That bond has since been revoked.
"There's not much more I can say," Doering said. "I know you have a lot questions."
Heinze was charged with eight counts of first-degree murder in the killings of seven family members, including his father, and a family friend. He was also charged with attempted murder in the assault of a 3-year-old child, who is now in critical condition and "has improved some," Doering said.
The chilling 911 tape had cast some light on the murky details of the mass killing at the sleepy New Hope Plantation mobile home park.
Chilling 911 Call
Police first learned of the massacre when neighbor Margaret Orlinski made a 911 call Aug. 29 saying Heinze Jr. was "freaking out," apparently arriving home to that gruesome tableau. "He says everybody is dead."
In the recording, Orlinski coaxes Heinze Jr. to the phone. Whimpering, Heinze Jr. relays that "my whole family is dead," and rushes back into the trailer.
Later he yells back that the ambulance "better hurry," because his cousin, Michael Toler, a 19-year-old man with Down syndrome, was alive, but "that his face is smashed in."
Neighbors, including the mobile home park's maintenance man, are overheard responding to the commotion.
After taking the phone from Heinze Jr., neighbor Orlinski tells the dispatcher, "I know there's a little baby. ... Shoot, there's a little baby. I don't know if the baby was in there or not."
The dead include many members of Guy Heinze Jr.'s family: Guy Heinze Sr., 45; his uncle, Rusty Toler Sr., 44; and his aunt Brenda Gail Falagan, 49. Also slain were Toler Sr.'s four children -- Chrissy Toler, 22; Russell D. Toler Jr., 20; Michael Toler, 19; and Michelle Toler, 15. Chrissy Toler's boyfriend, Joseph L. West, 30, was also killed.
In the recording, the 911 dispatcher admonishes Heinze not to touch anything. Moments later Orlinski is overheard telling Heinze not to touch anything, "doorknobs or anything other that what you already touched ... he says they were beat to death."
But Heinze returned to the mobile home anyway and apparently found two survivors. One of them, his cousin Michael Toler, died Aug. 30.
Police later charged Heinze with drug possession and making false statements to police. He is accused of possession of a controlled substance, possession of marijuana, tampering with evidence and obstruction of an officer, which is related to making false statements to police.
Jimmy Durben, a director at the Glynn County coroner's office who was at the crime scene, told ABC News affiliate WJXX-TV in Jacksonville, Fla., that the Georgia Bureau of Investigation crime lab would determine the cause of death of the victims.
He described the crime as brutal and called it "the worst crime scene I have ever witnessed in my 17-year history in the coroner's office."