Police in Canada's capital are upping their response to protests after more than 4,000 anti-vaccine demonstrators gathered downtown throughout Saturday, with many exhibiting "aggressive, illegal behavior," the Ottawa Police Service said in a release.
The Royal Canadian Mounted Police, Ontario Provincial Police and Ottawa Police Service said they were joining forces to set up a command center to "respond to the current situation in our city."
The "enhanced, Integrated Command Center (ICC)" is in response to a "significant influx of demonstrators into the Ottawa area," the Ottawa Police Service said in a statement.
The news comes amid a volatile day near the U.S.-Canadian border, where thousands of semitruck drivers have been protesting COVID-19 vaccine mandates for weeks.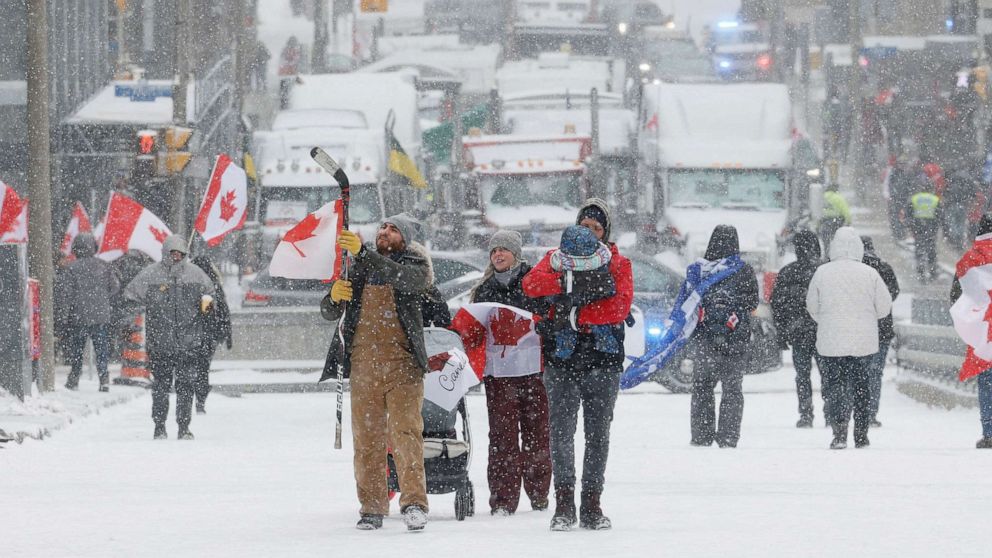 Several hundred protesters planted themselves about 100 feet from the foot of the entry to the Ambassador Bridge over the U.S.-Canadian border on Saturday, even as all of the trucks left the scene throughout the day in the face of a police crackdown.
Canadian police had blocked off the area surrounding the bridge Saturday morning and surrounded a group of about 100 protesters at the foot of the bridge.
Police dressed in riot gear, along with law enforcement vehicles, had lined up on all sides of the protesters, in order to box them in.
This comes after a judge on Friday ordered protesters to end their blockade, which disrupted the flow of goods between the two countries, according to The Associated Press. The auto industry on both sides of the border, for instance, has been forced to roll back production.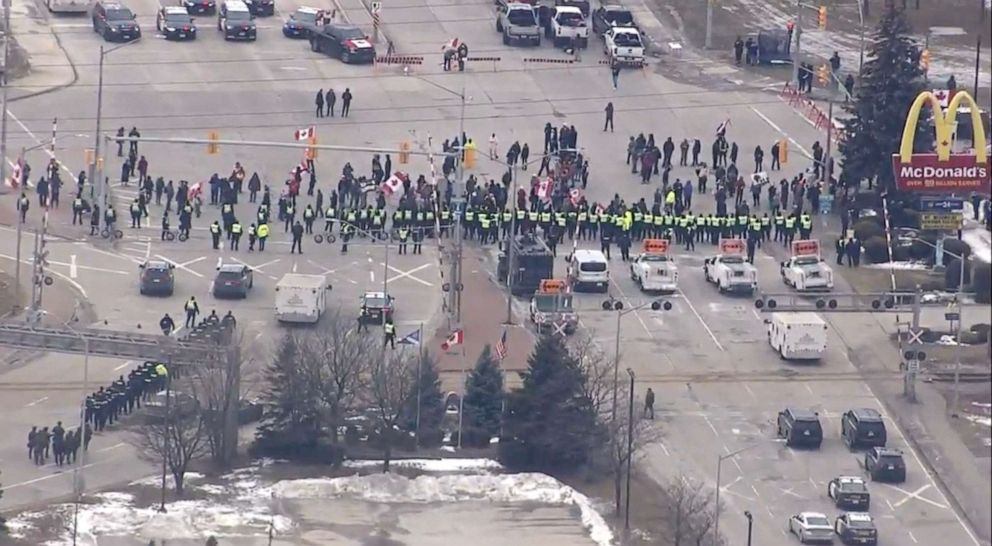 "We urge all demonstrators to act lawfully & peacefully. Commuters are still being asked to avoid the areas affected by the demonstrations at this time," Windsor police said in a tweet Saturday morning.
"We are providing notice that anyone blocking streets or assisting others in the blocking of streets may be committing a criminal offence and must immediately cease further unlawful activity or you may face charges. You could be arrested if you are a party to the offence or assisting others in the direct or indirect commission of this offence," Windsor Police said in a statement on Friday.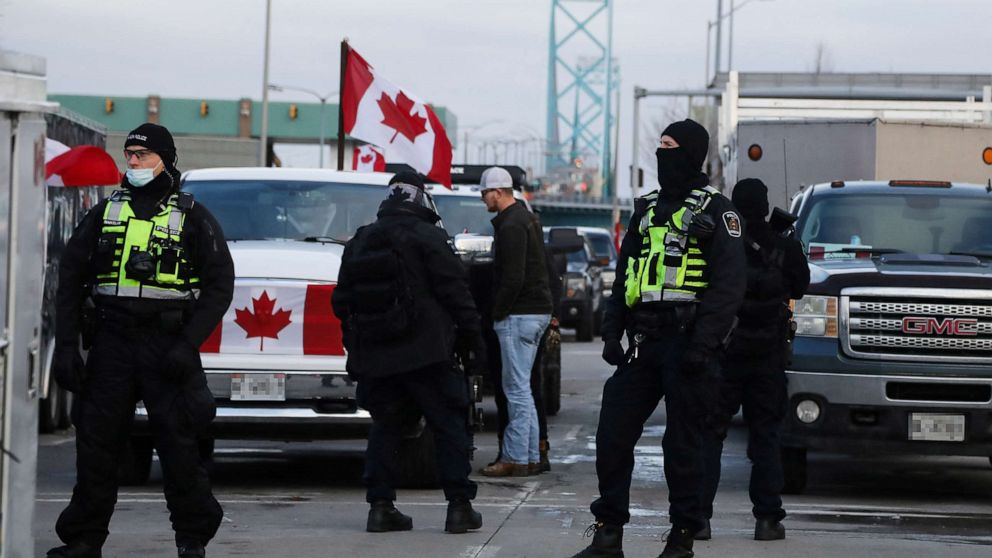 "Charges and/or convictions related to the unlawful activity associated with the demonstration may lead to denial in crossing the USA border," Windsor police warned.
New York Gov. Kathy Hocul visited an interagency command center in Buffalo to asses the situation, according to her office
"We are ready to address any potential travel and commerce disruptions, and also ensure we can protect everyone's right to peaceful protest," she said in a statement.
In Ottawa, police made 26 arrests Saturday in relation to criminal charges at ongoing anti-vaccine mandate protests and they "have a plan to end this unlawful occupation and await the necessary reinforcements to do so," the Ottawa Police Service said in a statement.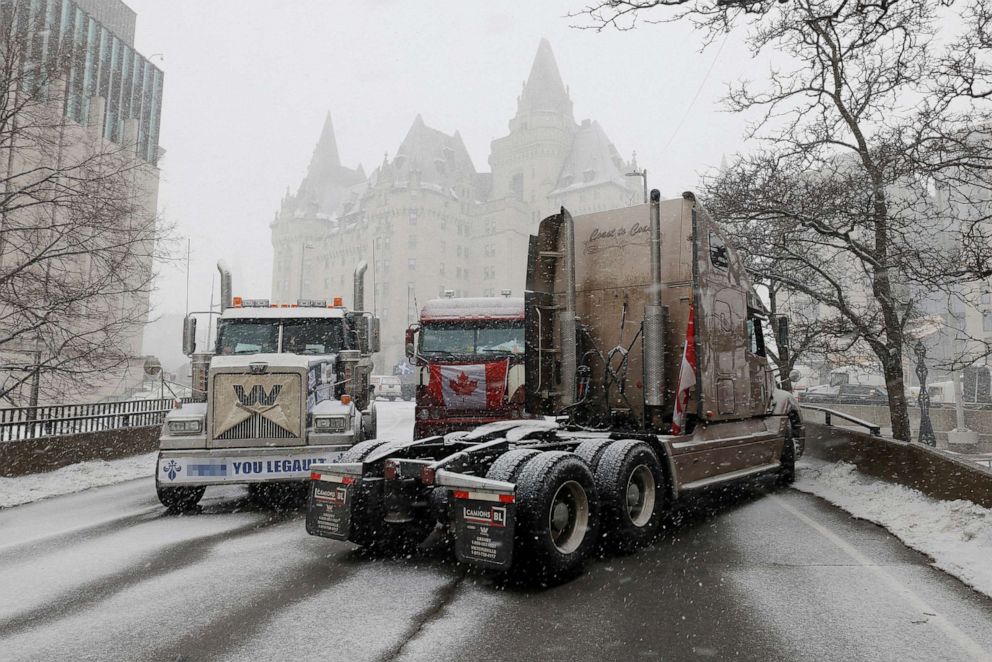 "Overnight, demonstrators exhibited aggressive behaviour towards law enforcement including refusing to follow directions, overwhelming officers, and otherwise subverting enforcement efforts. All available officers were deployed last night," Ottawa Police Service said. "We continue to monitor events across the province and adjust plans locally."
Two additional public intoxication arrests were made, police said.
ABC News' Will McDuffie, Ahmad Hemingway and Zach Fannin contributed to this report.