4 dead, including 2 former police officers on the run, following traffic stop
All four appear to have been shot, authorities said.
Four people were pronounced dead following an attempted traffic stop in Maryland, as a manhunt was underway in the state for two former police officers who were considered armed and dangerous. On Thursday night, police confirmed two of the deceased were the former officers.
Three passengers were pronounced dead at the scene in Smithsburg late Thursday afternoon, including a female driver, an adult man and one child, according to Maryland State Police.
A fourth passenger, another child, was medevacked to a local hospital and pronounced dead, police said.
All four appeared to have been shot, Elena Russo, a spokesperson for Maryland State Police, said during a press briefing. The car had run off the road and hit a fence line, she said.
Maryland State Police said in a statement later Thursday that they were able to identify the deceased individuals.
The woman in the front seat of the car was Tia Bynum, 35, a former Baltimore County police officer. She was pronounced dead on the scene by emergency medical service personnel. "Bynum was wanted by the Baltimore County Police Department and considered armed and dangerous," they said. The man in the back seat was identified as Robert Vicosa, 41, also a former police officer. He was also pronounced dead on the scene and was previously wanted for committing multiple felony crimes in Pennsylvania and Maryland.
"Police believe the two juveniles located in the back seat were Vicosa's children," the police department said. One was pronounced dead at the scene and the other was transported by police to Meritus Medical Center in Hagerstown, where she was also pronounced dead.
Both adults and both children have been transported to the Office of the Chief Medical Examiner in Baltimore for autopsy, police said.
"This is a complex incident. It is going to take time," Russo said. "We are really working hard to understand what occurred."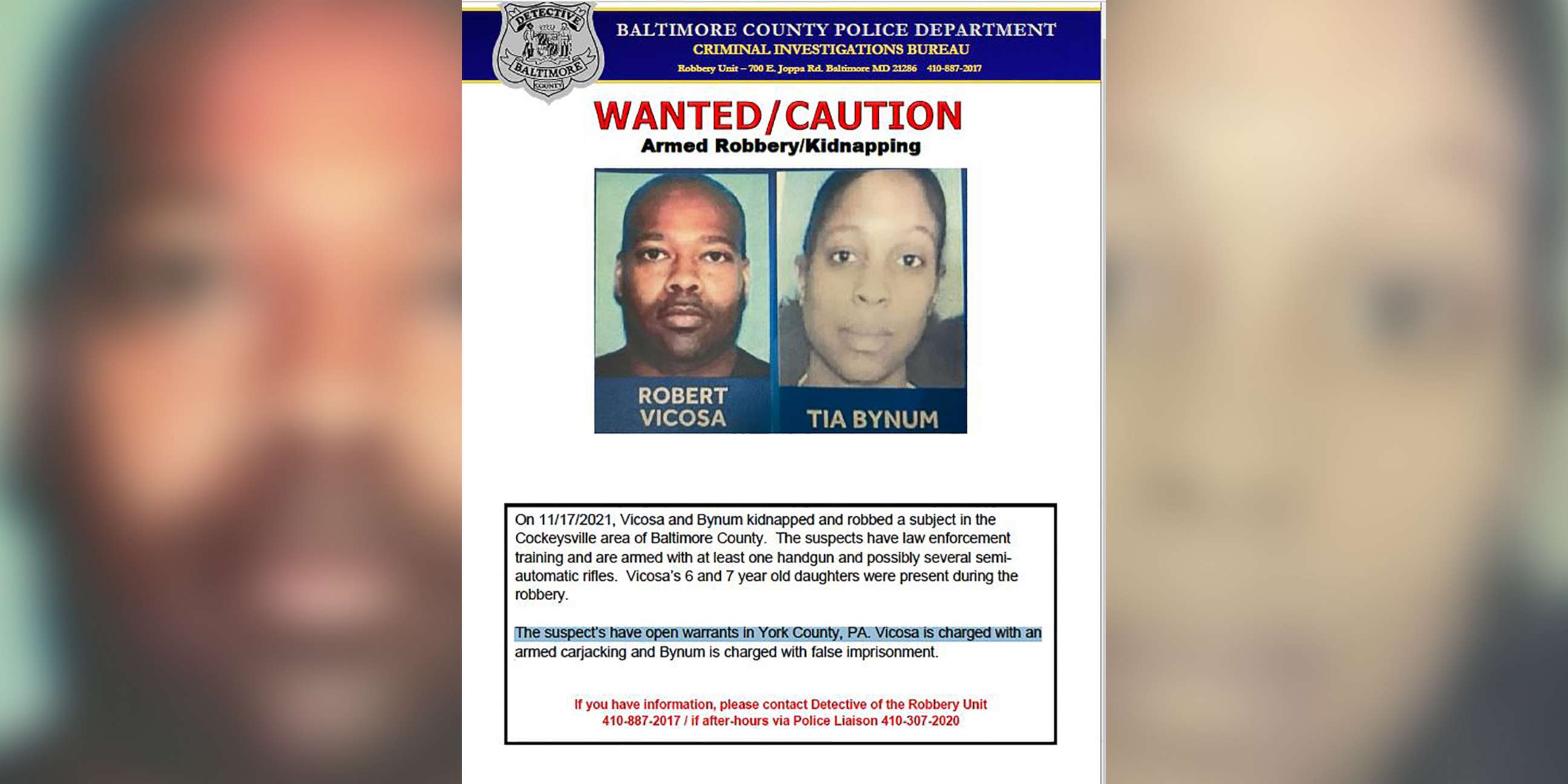 Russo would not confirm Thursday afternoon if the deadly incident was related to the manhunt for former Baltimore County police officers Vicosa and Bynum, who were being sought for an alleged kidnapping and armed robbery that occurred Wednesday in Baltimore County, Maryland. Vicosa has also been accused of stealing a car in York County, Pennsylvania, and fleeing with his two young daughters earlier this week.
Russo did say that investigators believe the Smithsburg incident is potentially related to two incidents in Maryland and Pennsylvania
"The Pennsylvania State Police were attempting a traffic stop on a car that matched the description of a suspect vehicle involved in an incident in Baltimore County," Russo said.
Maryland Gov. Larry Hogan appeared to reference the incident in a statement on Twitter Thursday night, calling it a "horrific tragedy."
"We are grieving tonight over the unfathomable loss of two innocent children in what is clearly a horrific tragedy and heinous crime," he said. "Maryland State Police have begun what will be a thorough investigation into today's events."
Authorities began searching for Vicosa after he allegedly held a woman at gunpoint at a home in York County, stole her car and fled with his two daughters, ages 6 and 7, police in York County said. The stolen car was found in Red Lion, Pennsylvania, police said.
On Wednesday afternoon, Vicosa and Bynum allegedly committed a kidnapping and robbery in the Cockeysville, Maryland, area, the Baltimore County Police Department said.
Vicosa was allegedly armed with a semi-automatic handgun, police said, adding that his daughters were present during the robbery.
The suspects allegedly carjacked a man and forced him to drive them, before releasing the victim unharmed, Baltimore County Police Chief Melissa Hyatt said.
Baltimore County police said Vicosa was fired in August for several disciplinary violations, according to records obtained by Harrisburg, Pennsylvania, ABC affiliate WHTM. Police said Bynum, who was in the criminal investigations bureau, is currently suspended and stripped of police powers.
Vicosa and Bynum were believed to have been "armed with at least one handgun and possibly several semi-automatic rifles," police said in a public alert Thursday morning.
Hyatt began her remarks at a news conference Thursday morning with a personal plea to Bynum.
"Our priority is the safety and well-being of [Vicosa's daughters] Giana and Aaminah. Please get these two innocent and precious children to a safe location," Hyatt said. "We want to work with you on a safe and peaceful resolution."
She urged both suspects to "peacefully surrender to authorities."