Portraits of protesters on the front lines in St. Louis
They talk about why they participate and gains since Ferguson.
September 19, 2017, 2:13 PM
— -- It's been four straight nights of civil unrest in St. Louis, Missouri, after former police officer Jason Stockley was acquitted of murder in the death of Anthony Lamar Smith.
Black Lives Matter: A movement in photos
ABC News takes a look back at the Black Lives Matter movement. The phrase "Black Lives Matter" was born in a Facebook post by Alicia Garza in response to the July 2013 acquittal of George Zimmerman, who fatally shot Martin. The movement emerged as a reaction to the perceived violence and systemic racism by police toward African-American communities. <br><br>People celebrate at George Floyd Square after the guilty verdict in the Derek Chauvin trial, April 20, 2021, in Minneapolis.
Stephen Maturen/Getty Images
The protests have been marked by a police force digging-in behind an acting police chief who, after the third night, stated that his force "owned" the night.
Indeed, every night, the arrest tally swelled during a mix of peaceful protests and violent flare-ups; police said they wanted to tamp down on property destruction and assaults against their own.
"I'm proud to tell you the City of St. Louis is safe and the police owned tonight," Lawrence O'Toole, the acting police chief, told reporters on Monday.
Powering these daily rallies have been mostly peaceful protesters who have used creative tactics to emphasize their anger and demand for radical change after another white police officer was acquitted in the fatal shooting a black man under murky circumstances.
The rally cry started on Friday after St. Louis Circuit Judge Timothy Wilson found Stockley, 36, not guilty of first-degree murder and armed criminal action.
ABC News spoke to some of the mothers, religious leaders and students who have come out each night. Some have direct ties to Ferguson, Missouri, where in 2014 the police officer who shot and killed unarmed 18-year-old Michael Brown was not asked to face charges or disciplinary action.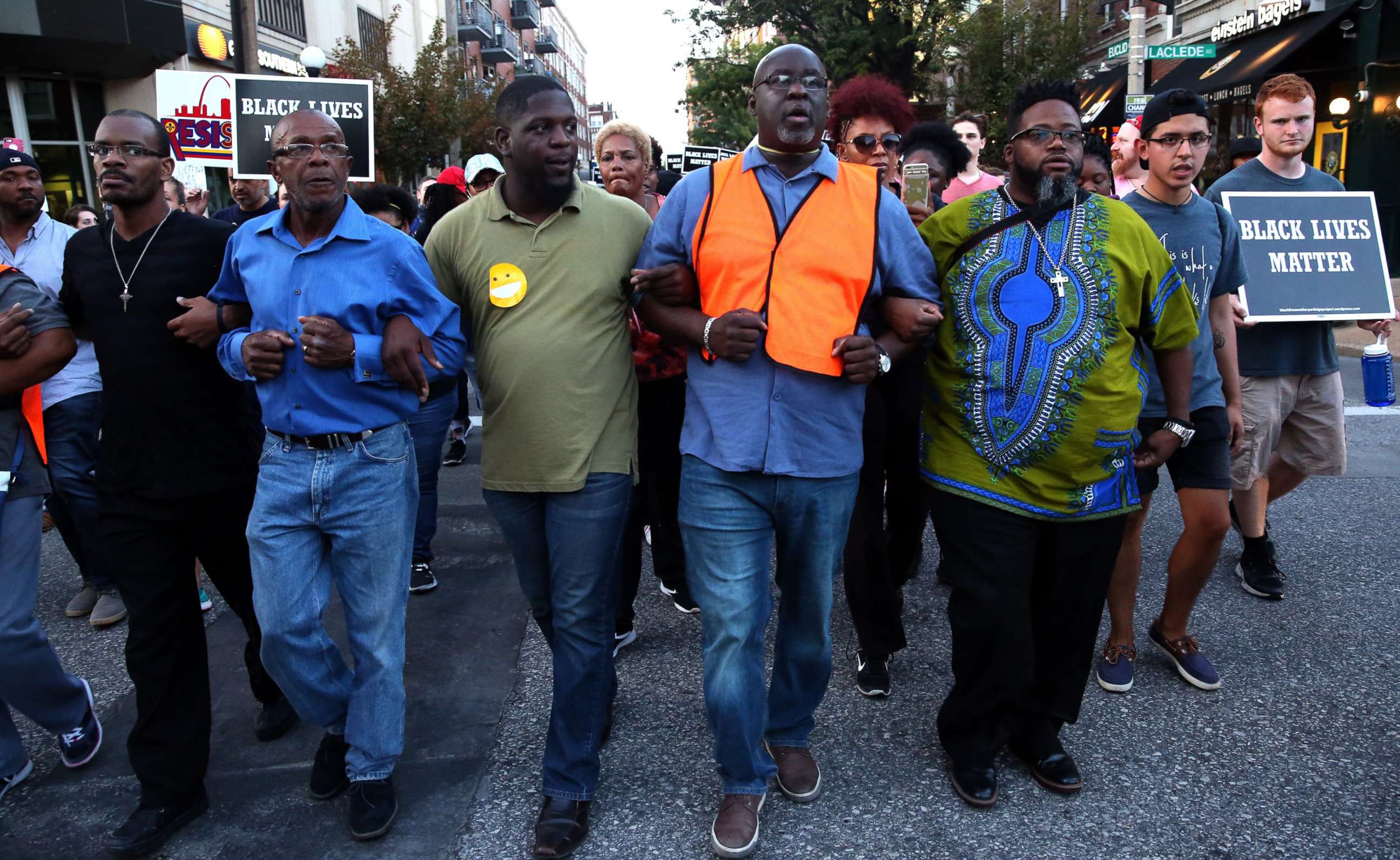 Name: Reverend Clinton Stancil
Age: 54
Occupation: Reverend of Wayman AME Church in St. Louis
"It's not peaceful, it's nonviolent," said Rev. Clinton Stancil just before the fourth day of protests got underway on Monday evening at the University Loop St. Louis, Missouri.
Stancil is one of the original advocates for young protesters to take action and cause economic disruption in the city's most bustling areas of commerce. Protestors have tactically marched to strategic centers of the city –- the malls, downtown and nightlife hotspots. Once there, he said, his group intends to cause nonviolent disruption in the business community in order to be heard.
"Kill their economy until they stop killing their kids," is the core of the strategy, he said.
Affecting the city's commerce is what Rev. Stancil believes will force the government to take their protests seriously.
He believes the message of Black Lives Matter hasn't wavered.
"We can never say all lives matter until black lives matter," he said. "White brother and sisters that are standing in solidarity need to speak up in this community."
Rev. Stancil said protesting is one of the ways to bring the youth of St. Louis together, with support and guidance.
The movement, he said, has evolved since the protests in Michael Brown's name in Ferguson; the Anthony Lamar Scott protests are more strategic.
In Ferguson, protesters damaged their own community businesses and neighborhoods.
Rev. Stencil hopes that this time protesters learn from Ferguson and focus on mass disruption.
"We are no longer going to set fire," he said, as he was heading into a meeting to devise where the next protest would be held. "We are going to disrupt until we get a seat at the table and a change in policy where police are held accountable for their actions."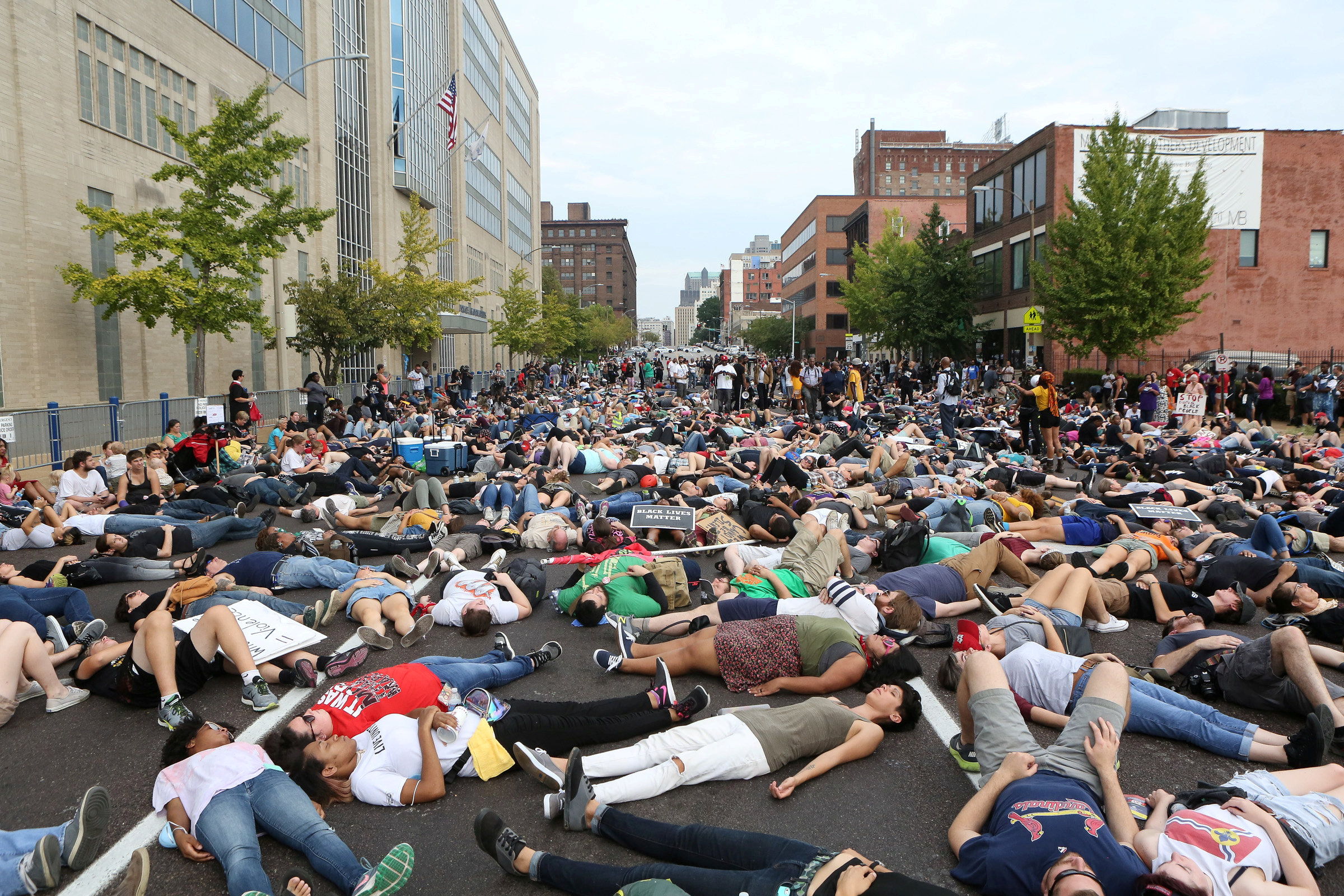 Name: Fredrick "Fred" Scott
Age: 65
Occupation: Retired and father of four sons
Fred Scott came out during the protests and defiantly raised his handmade sign that reads, "Stop killing us!"
It was a departure from his Ferguson sign that read: "Go kill Isis and leave us alone."
He said he has made it a mission to try to be on the streets during every protest calling out questionable police tactics.
"I'm out there to represent the black brothers in the U.S.," he said. "I'm there to support the young black people or any black man."
As a father raising four black sons, ranging from the ages of 24 to 50, in St. Louis, Scott feels he has a duty to be out and amongst the protests as opposed to watching them on the television.
The retiree has encouraged his sons to join the protests too.
His sons were with him protesting in Ferguson and the Scotts have taken their family unit to protest in St. Louis.
"I try to gather them when I can, to teach them the right way so they know for the future," he said.
Over the past four days and whenever he and his sons attend any protest, Scott maintains that he and his sons follow the police instructions and always march peacefully.
Despite the headway he feels has been made since Ferguson, Scott laments that the destruction hasn't stopped.
"I'm not trying to be destructive, I'm fed up," he said as the sun began setting in the city. "Being a black man with black sons is scary."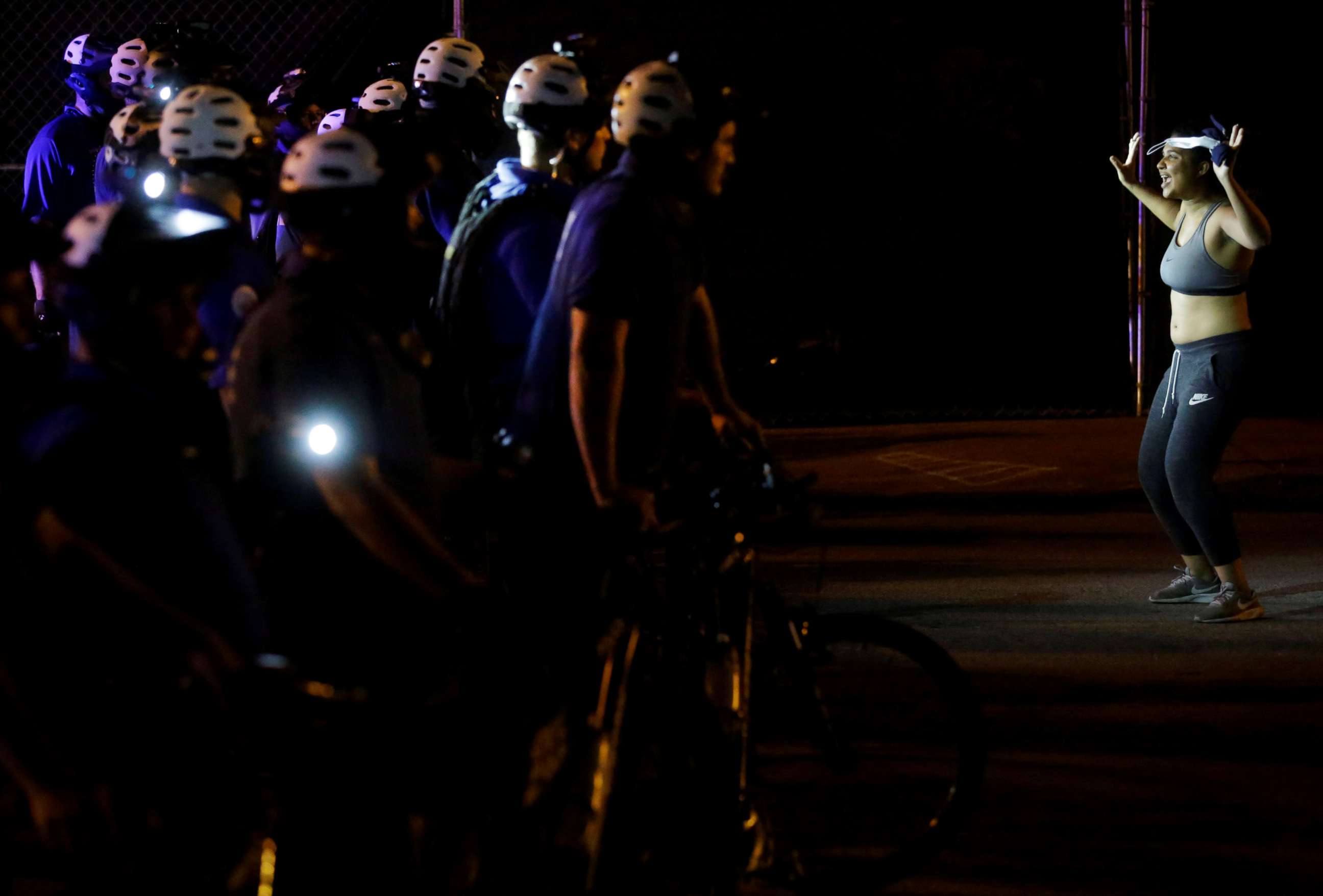 <
Name: Anna Robinson
Age: 20
Title: Freshman at the St. Louis Community College at Forest Park
Anna Robinson had never been to a protest before, but the chants and the amassing crowds outside of her downtown apartment downtown over the past days changed that.
The student rushed downstairs and asked some of the protesters how she could get involved. The answer, they told her, was to stay outside.
Robinson became a part of the cause and now she is also considering a law enforcement studies major.
"I really didn't know what I was expecting," she said. "It was one of those experiences that gives you an interesting perspective of what's really going on."
After 30 minutes, she said the peaceful protest turned surly with St. Louis Mayor Lyda Krewson's home windows getting smashed and she said she saw some infighting amongst the protesters.
The experience has reinforced her desire to help those she sees as disenfranchised.
"There are corrupt cops out there, and I do not think that most cops are like that," Robinson said.
She said the diverse crowd of protesters was a surprise. She described seeing Hispanic, white, black and Asian activists, as well as retired cops and soldiers, working in solidarity.
Robinson said she wants to help Black Lives Matter and plans to attend more of the protests in St. Louis, as long as they stay peaceful.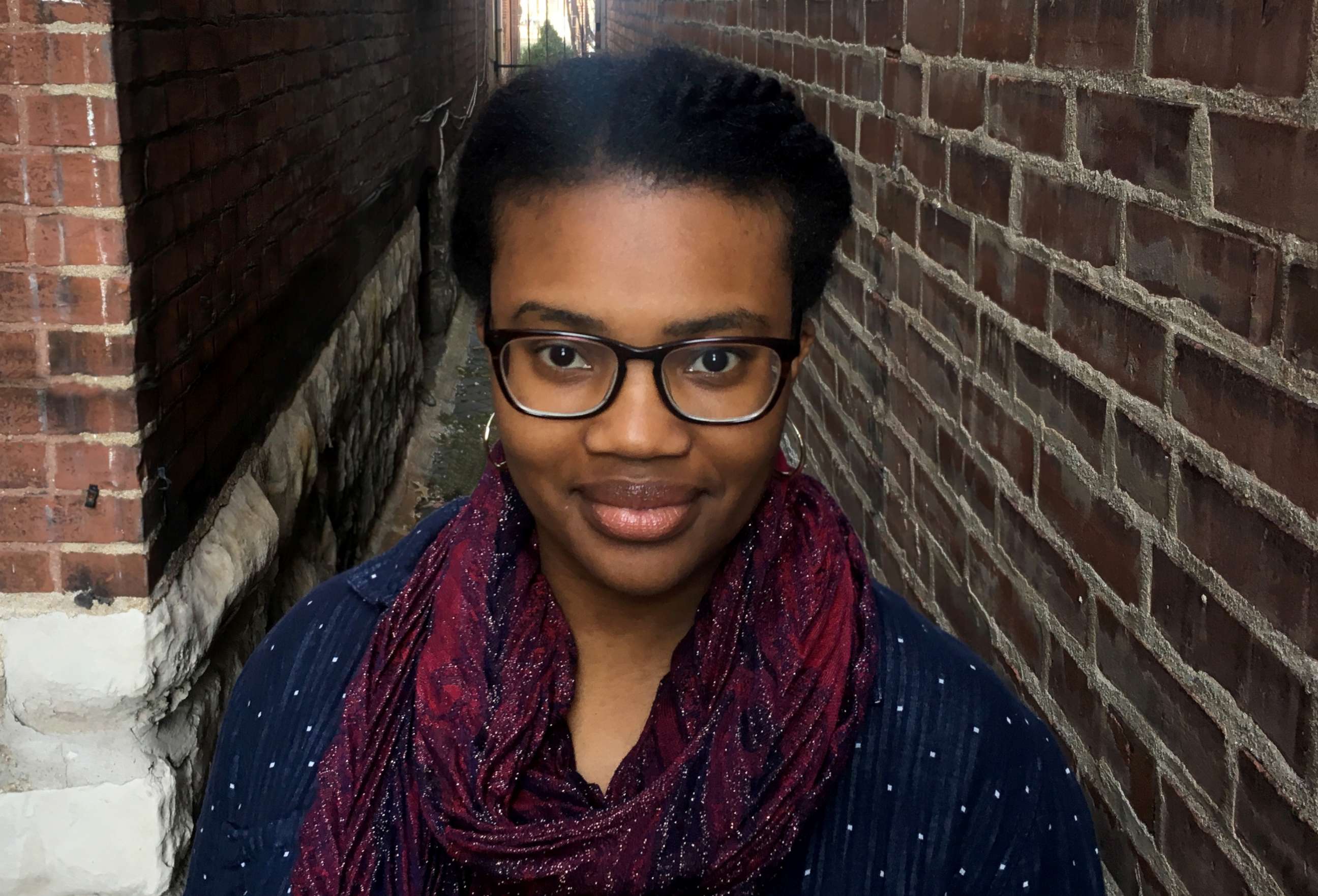 Name: Michelle Higgins
Age: 36
Title: Director of Faith for Justice
Something about the man in the crowd during Saturday night's rally didn't sit right with Michelle Higgins.
She said he was dressed in plainclothes and walking with a German shepherd, but she said he wasn't blending in.
"He was clearly a cop trying to keep undercover, but that was triggering," she said.
ABC News cannot confirm the identity of the man or why he was present.
But the fact that a dog was walked out into the crowd of protesters hit Higgins hard. She said it hearkened back to the Civil Rights Movement's past when dogs "were trained to attack us."
Higgins said she is encouraged by what she calls "the season of protest."
The past days have been speaking to not only Smith's death but everyday atrocities.
"What is unseen is how endangered black lives are and how hostile police are trained to be against black lives," she said.
She believes how police are being taught from the beginning needs to change.
"When police take to the street they are trained to fear us before they hear us," she said.
After Ferguson, Higgins said that black people became "more and more aware of their political power."
She said coming out strong in St. Louis day after day has reinforced the message and represents positive change.
"We can strike a healthy fear in places where power is held," she said.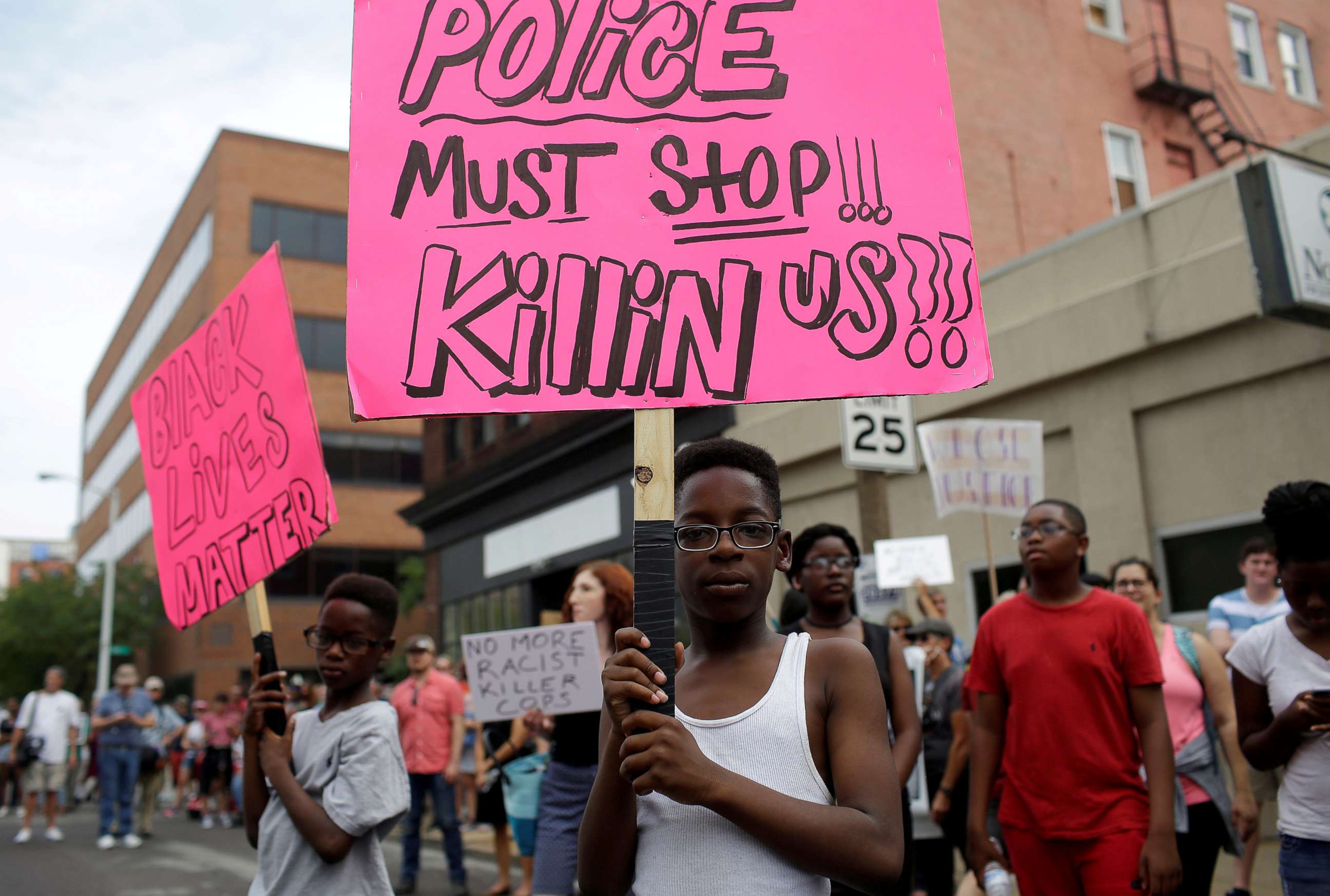 Name: Emily Davis
Age: 41
Title: Mother of three children
Emily Davis is from Ferguson, Missouri.
In the past four days, she has done everything possible to not miss protests in St. Louis.
The effort isn't merely helping but also setting an example to her kids ages 6, 10, and 11-years-old.
"It's the right thing to do," she said. "I need my kids to see that it's not okay to stand there and watch ... It's not okay. I need them to see me doing something."
She's brought her own signs to the cause, including: "Due to injustice road closed."
The motive behind her efforts is to maintain the spirit of protest in the streets after the marches end.
"We've been out there writing policies, knocking on doors in our neighborhoods," she said. "We're coming at this from all directions."
The mother, who said she was still going out again even after being pepper-sprayed and tear-gassed during the previous nights, wants more to happen.
"We haven't solved the problem yet."
She believes the public should "demand accountability" and so-called "good cops" to "stand up against the bad ones."
"Communities would be safer, the police would be safer and people from every background would be safer," she said.