Power restored at Atlanta airport after 11-hour blackout grounds 1,500 flights, but service not back to normal
Power outages in some parts of Atlanta's airport have grounded some flights.
December 18, 2017, 8:46 AM
— -- Power has been restored at Hartsfield-Jackson Atlanta International Airport, the nation's busiest airport, after a Sunday blackout stranded thousands of passengers and grounded at least 1,500 flights, but normal service is still a few days away.
A "switch failure" sparked a fire that knocked out power at the airport, Paul Bowers, the CEO of Georgia Power, which provides electricity to the facility, said today on "Good Morning America."
The outage slowed planes on the tarmac to a crawl and turned flights on radar screens into spaghetti doodles as they were rerouted from the airport.
Bowers said the mechanical failure and subsequent fire are being investigated to determine whether there was foul play.
"We will fix that cable this week and have all the service back to normal operations by the end of the week," he added.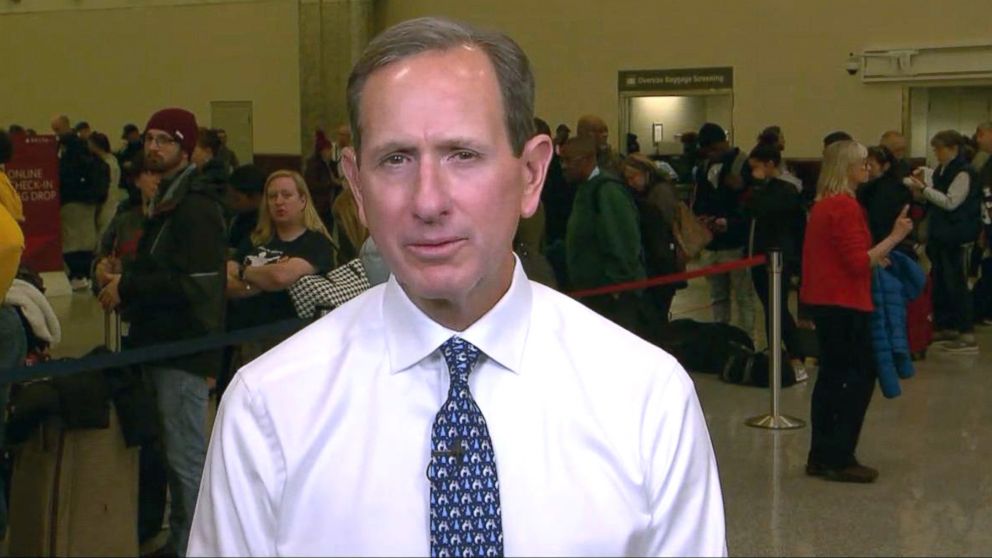 The power outage started around 1 p.m. Sunday.
Airport personnel, Atlanta Fire and Rescue officials and Georgia Power workers were on the scene to respond and restore service as passengers sat on planes on the tarmac or runways for hours, witnesses and officials told ABC News.
The central issue, Bowers said, was that a switchgear ignited and "impacted our cables and the cables coming from two different directions, and that's what ultimately caused the outage."
Not only did the main system fail, he said, but the airport's backup system went out as well.
"So you have seven cables that come through this airport," Bowers explained. "One tunnel, and this tunnel, it is the feed source, if you will, for both directions.
"That switchgear itself sits on the bottom of that tunnel, and when it ignited, it burned up that wall where you see cables coming through."
The issue at hand is that the four cables coming from one direction and three coming from the other direction were compromised by the blaze.
Authorities announced Sunday evening that electricity would be restored at the airport by midnight and, by 11:45 p.m., power had been restored for all essential airport activities, including all concourses and flight operations, Georgia Power announced via Twitter, but not before about 30,000 people were affected by the blackout.
Bowers apologized for the "inconvenience" the blackout caused and said officials are working to mitigate the problem so it doesn't happened again.
"Right now our focus is reliability [and] ensure this doesn't happen again," he said.
Georgia Power tweeted today that "essential services have been restored."
It was a traveling slog for thousands of passengers on the airport's inbound flights who were stuck on planes for hours.
Ann Mason, who was traveling to South Bend, Indiana, told ABC News she saw smoke coming from one of the terminals and that people were told to evacuate.
"We were in Terminal D, and we could see fire trucks all along terminal E and black smoke coming from the back probably from Terminal F," she said. "Terminal D got so bad that they told us to evacuate for the smoke and either go to Terminal C or to leave the building. I decided to leave the building."
Jenny Bloom, who was on a flight from Florida that landed around 2:30 p.m., was still on the plane four hours later.
"[The pilot] came on about a half an hour ago and actually said that he thinks we're better off here on the plane than going into the terminal because the power is out and nobody can get out," she told ABC News around 6:30 p.m. "So I think people on the plane are doing fine. I mean, people are not upset, they're staying pretty calm, and it's been fairly quiet. You know, all things considered, I think they're handling this really well."
Thomas Guzik tweeted that he was being rescued from the airport's sky train by firefighters.
And cartoonist Dave Trumbore also took to Twitter but has been jovial about the situation.
"This started as a joke but the flight attendants *quite honestly and literally* just said they have no snacks left and have rationed us a half-cup of water each!" he wrote.
But another traveler described the dreary, unpredictable scene inside the terminals.
"The lights flickered once. That was really scary," Muhammad Saeed said. "And then they flickered again, and they didn't come back. And it's been about an hour now, and it's just pitch darkness in the airport."
The airport tweeted early today to urge passengers to check with their airlines for flight information.
The airport shutdown forced airlines to cancel flights. Delta, which has a large hub operation in Atlanta, said Sunday evening it had already canceled approximately 900 Sunday flights and another 300 on Monday. Another 48 flights were being diverted to other airports, the airline said.
Delta later said that the 300 flights canceled today were mostly inbound flights, to give the airport time to rebound after the blackout. Delta says its flight schedule is expected to return to normal by this afternoon.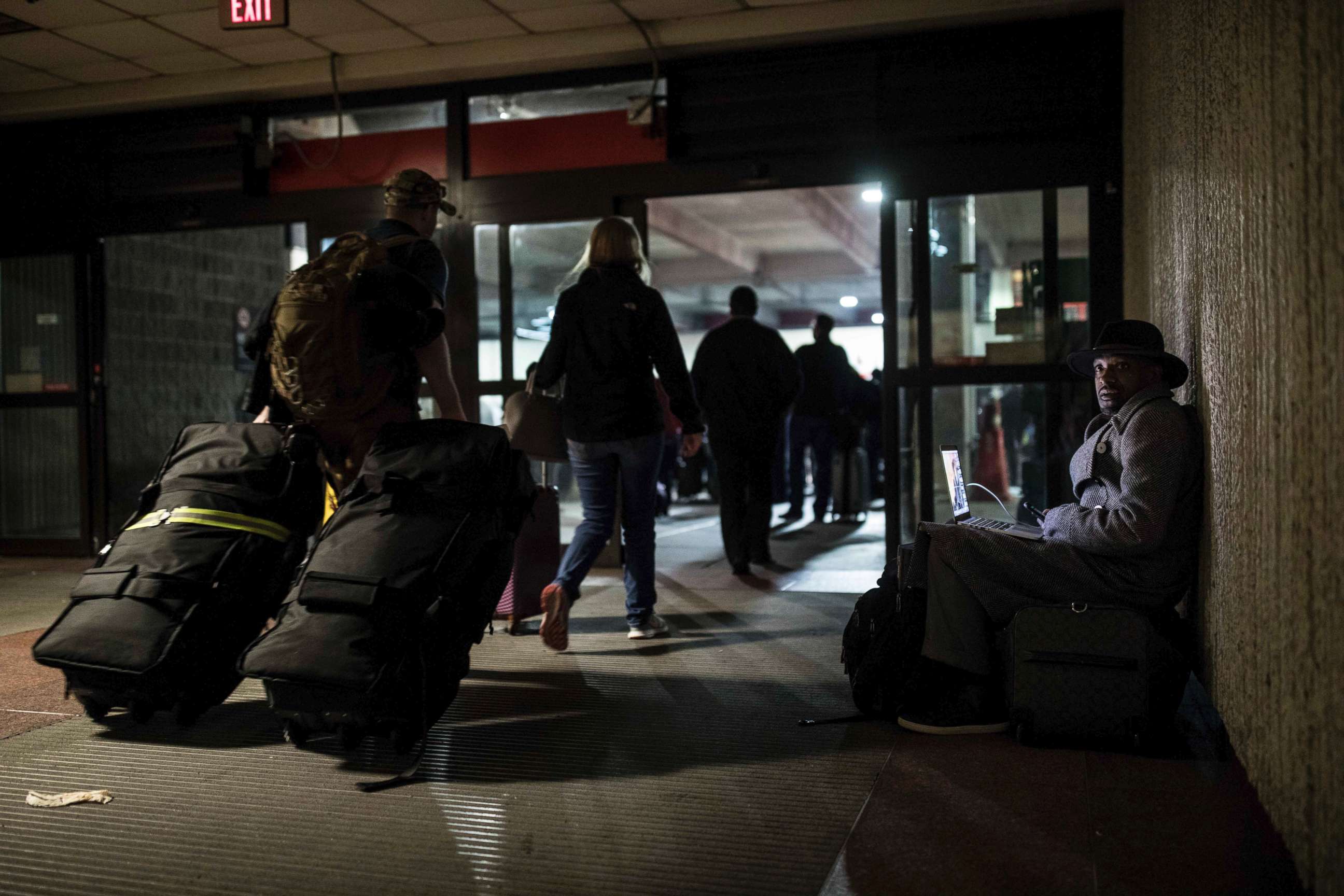 Multiple airlines, including Southwest and Delta, told ABC News they decided to deplane passengers by sending them down airstairs and having many of them walk through the winter cold back to the terminal.
Before that, the Federal Aviation Administration confirmed for ABC News, there were up to 100 planes stuck on the tarmac.
The FAA's Air Traffic Control System Command Center verified there were "80 to 100" planes" parked on taxiways.
The agency said flights headed to the airport were grounded "due to the power outage" but noted that the airport's tower never lost power and remained capable of operating normally.
Atlanta Mayor Kasim Reed tweeted late Sunday evening that all passengers were finally off the planes.
Earlier in the evening Reed said there was no evidence the fire was deliberately set but a security sweep was being conducted. Because extra personnel had to be taken onto the airport campus to fight the fire, authorities wanted to make sure the fire wasn't set to allow someone access to the airport grounds who wouldn't normally have it, the mayor said.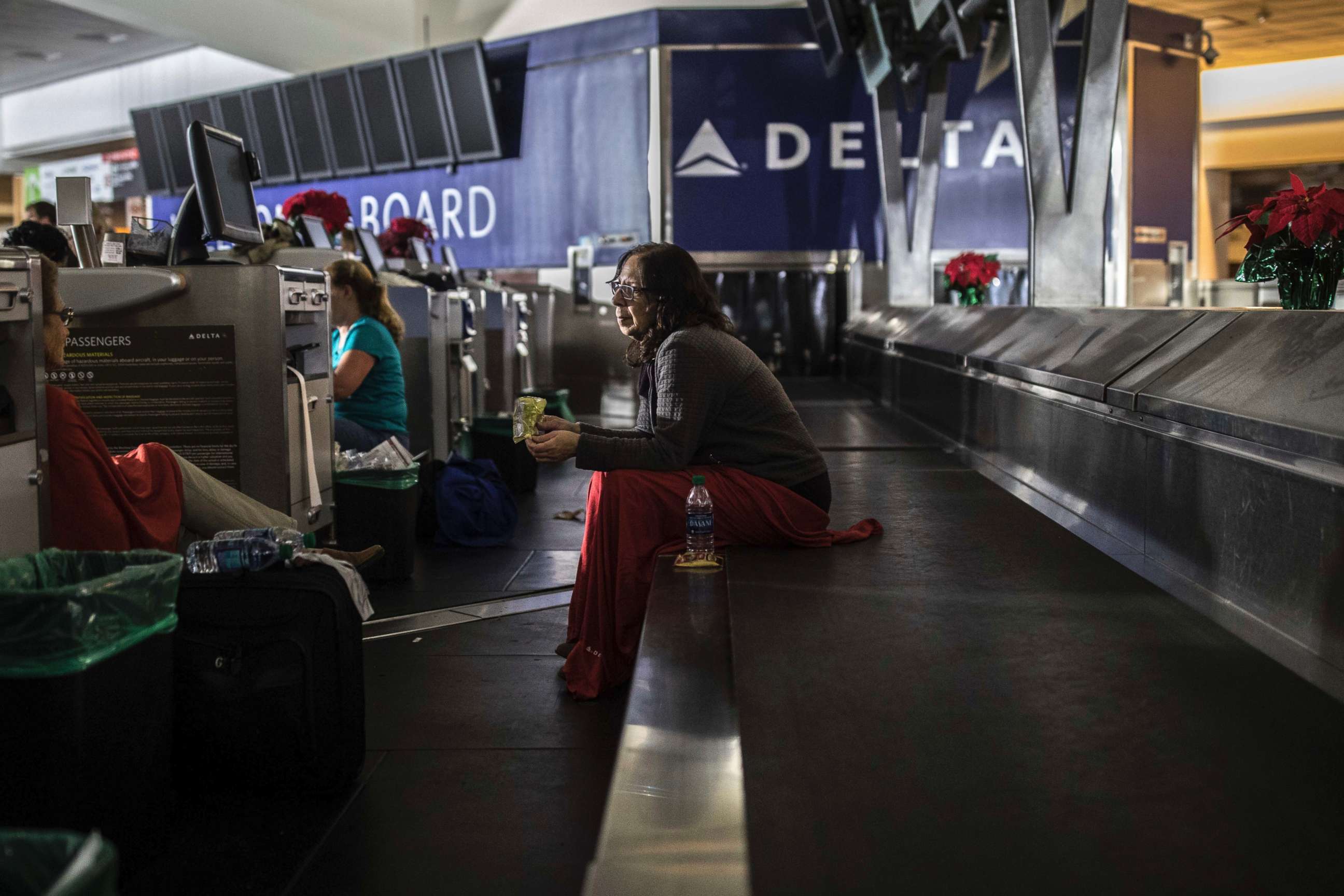 Atlanta police said they were trying to get everyone out of the airport and were asking others not to arrive.
"We need everyone to refrain from coming to the airport. We literally have no power, and the ETA for having power is very vague," Atlanta Police Sgt. Warren Pickard said.
He said that there were no injuries and that everything has been orderly so far.
Delays were expected to continue into today at several terminals, an FAA official said.
The airport tweeted earlier that the outage "impacted several areas in the airport" and that officials were "working to remedy the situation."
Hartsfield-Jackson sends jets to 150 domestic destinations and more than 75 destinations in 50 other countries.
It is one of the busiest airports in the world, with a daily average of 275,000 passengers passing through its terminals and about 2,500 flights arriving and departing.