A protester taking part in a march in Sacramento, California, against the police shooting of Stephon Clark was struck and injured by a police vehicle Saturday night.
The California Highway Patrol confirmed that a protester was hit by a Sacramento County Sheriff's Department vehicle around 9 p.m. local time. An ambulance arrived and took the woman to a local hospital, where she is listed in stable condition.
Video of the incident showed protesters surround two sheriff's vehicles with their lights and sirens on. Officers warned protesters to move four times before the two vehicles drove forward. The first sheriff's vehicle drove off before the second sheriff's vehicle clipped the protester with its front right fender. The woman is sent tumbling to the ground before being surrounded by other protesters and later emergency services personnel. The vehicle that struck the protester continued driving.
Sgt. Shaun Hampton, sheriff's spokesman, said in a release that protesters were "yelling while pounding and kicking the vehicles' exterior."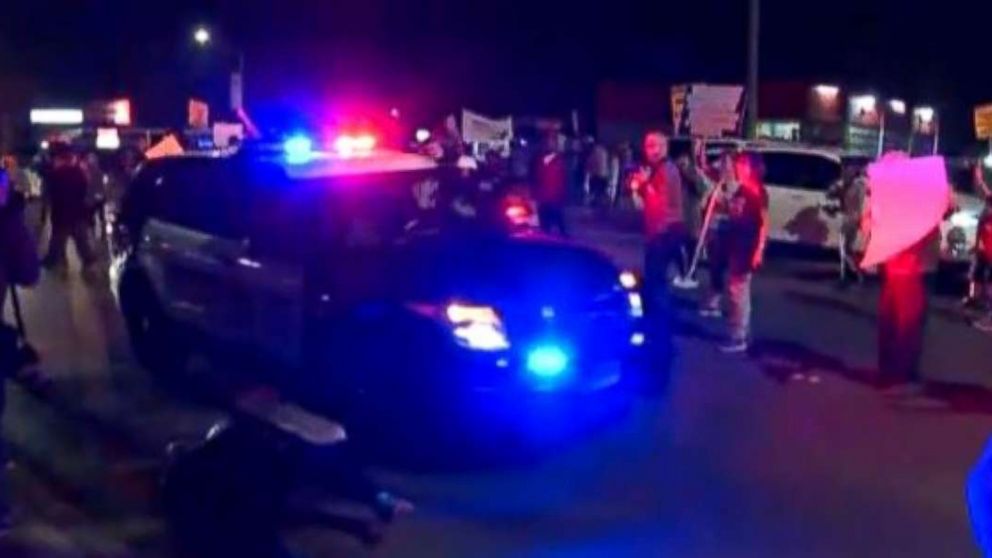 "During the incident, the Sheriff's Department vehicle sustained scratches, dents, and a shattered rear window," Hampton wrote in the release. "The damage to the vehicle was not a result of the collision involving the pedestrian but was caused by vandals in the crowd."
CHP will be the investigating agency on the accident an official told ABC News.
The incident took place near the intersection of 65th Street and Florin Road in the South Sacramento neighborhood where Clark was shot and killed by police officers last month. Sacramento police officers were looking for a person responsible for vandalizing cars in the area on the evening of March 18 when they came across Clark in the backyard of his grandmother's home. According to police, they thought they saw Clark holding a gun and opened fire 20 times. Police found no gun, and later said they believe the object Clark was carrying was actually his cellphone.
Clark was shot eight times, including six times in the back, said civil rights attorney Benjamin Crump, who is representing Clark's family, at a press conference releasing an independent autopsy report on Friday.
Bodycam footage of the shooting released by police shows two officers yelling "show me your hands" before yelling "gun, gun, gun" and opening fire immediately.
A funeral was held for the 22-year-old Clark on Thursday. He was engaged and the father of two young children.
Protests have been held nightly in Sacramento since the shooting of Clark. Protesters shut down access to the home of the NBA's Sacramento Kings, Golden 1 Center, on March 22 and March 27. They also interrupted and took over an emergency city council meeting led by Stephen's brother, Stevante, on March 27.
The march and vigil on Saturday drew in excess of 50 people, according to Sacramento ABC affiliate KXTV.
ABC News' Matthew Fuhrman contributed to this report.