Seven people were arrested and charged with domestic terrorism and criminal trespass near a police training center under construction in Georgia, according to officials.
Officers located and removed approximately 25 campsites belonging to protesters. Officials said they recovered mortar style fireworks, multiple edged weapons, pellet rifles, gas masks and a blow torch.
Three other people who were at the site provided their names to authorities and were let go. One protester died on Thursday in a wooded area just outside of Atlanta, Georgia.
"As law enforcement was moving through the property, officers located a man inside a tent in the woods," the Georgia Bureau of Investigation said in a statement following the incident. "Officers gave verbal commands to the man who did not comply and shot a Georgia State Patrol Trooper."
Police returned fire on the man, who died on scene. A Georgia State Patrol trooper was hit in the shooting and was evacuated to a safe area before being taken to hospital where he underwent surgery for injuries.
The man killed has been identified as 26-year-old Manuel Esteban Paez Teran.
Activists who are protesting the 85-acre and $90 million construction project -- nicknamed "Cop City" -- have been camping out on the site for months in an attempt to cease progress on the development.
In December, five people were arrested and charged with domestic terrorism and other charges following a joint operation at the planned construction site.
Authorities said there are a litany of crimes being committed at the protest site following the five arrests last month.
"Some of the criminal activities include carjacking, various crimes against persons, destruction of property, arson, and attacks against public safety officials," the GBI said. "Law enforcement continues to address the criminal acts committed by the individuals that continue to occupy the area of the proposed training site."
The GBI even said that protesters threw rocks at police cars and attacked EMTs outside nearby fire stations with rocks and bottles in December.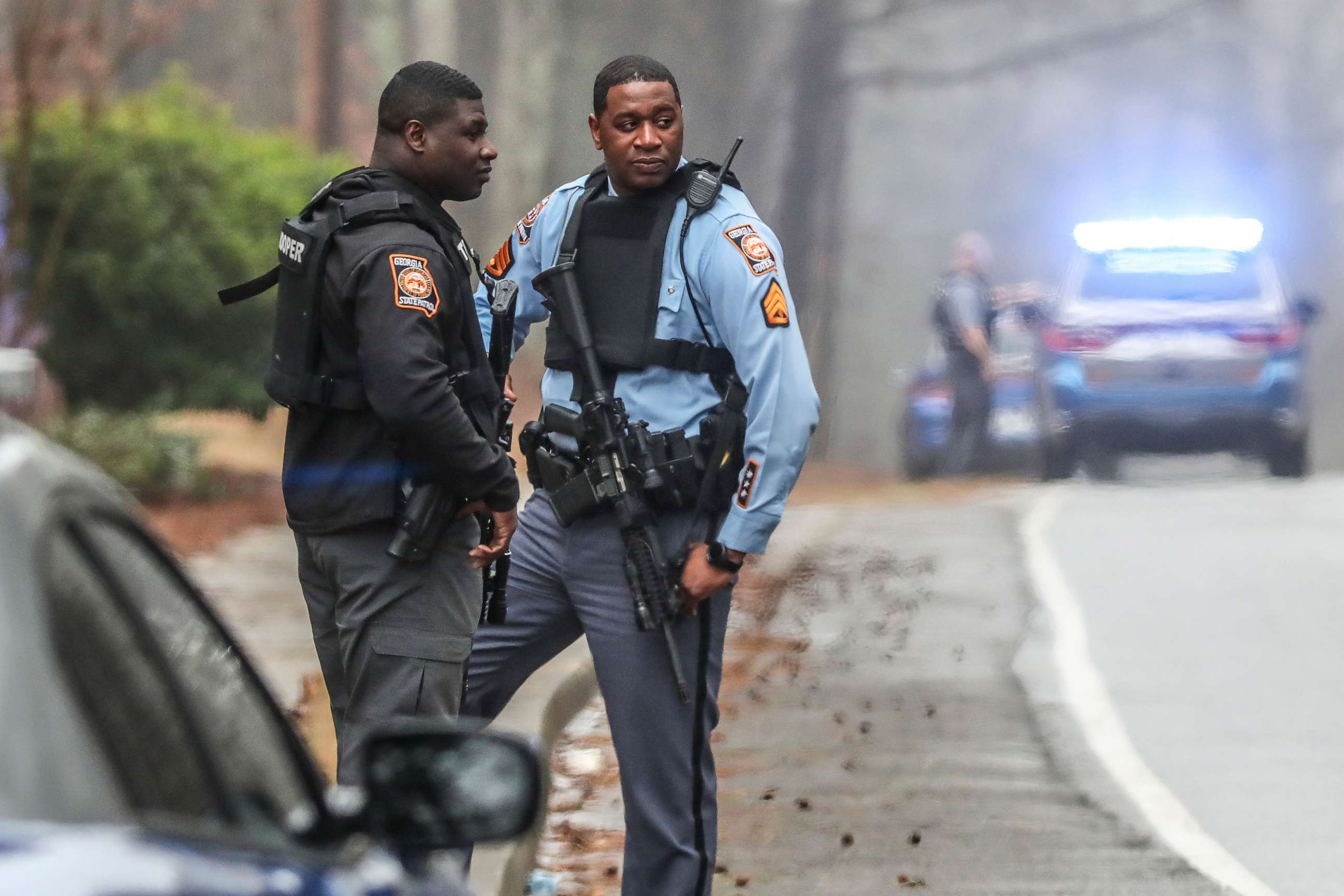 A handgun and shell casings were located at the scene of the latest incident on Wednesday and the investigation into what happened is still active and ongoing, said the GBI.
Several other people were arrested and taken to the DeKalb County Jail after Wednesday's shootout though the GBI did not confirm how many were taken into custody or confirm their identities. Charges against the individuals are now pending and the GBI said updates will be provided at a later time.
A tweet published by the "Defend the Atlanta Forest" movement blamed the police for the shooting, saying "police killed a forest defender today, someone who loved the forest, someone who fought to protect the earth & its inhabitants."
Georgia Gov. Brian Kemp also acknowledged the shooting in a tweet and said that his "thoughts remain with [the injured trooper] and his family, our resolve also remains steadfast and strong to see criminals brought to justice."
Kemp later thanked law enforcement for their effort to "stop illegal activity in and around" the site of the center.
"The state respects peaceful protest. In fact, three protestors were asked to vacate the area yesterday, complied with instruction and were able to leave without incident. But as I have also always said, acts of violent intimidation, destruction, and terrorism will not be tolerated in Georgia. The safety of our citizens is my top priority. Those who break the law with no regard for those harmed by their actions will face justice, and I am grateful for these arrests," Kemp said in a statement on Twitter.
Protesters claim the police training center will only serve to further militarize law enforcement and that the conflict between the protesters and authorities have been escalating in recent months.
"What is taking place is a classic example of tyrannical government overreach," activists said in a statement published by the Atlanta Community Press Collective. "The public has a right to defend its interests. We are advocates of a free and peaceful society built on cooperation and mutual understanding. The government is escalating this situation pointlessly."