— -- North Carolina's controversial, so-called "bathroom law" has become a flashpoint in the state -- PayPal announced last week that it is withdrawing plans to open a new global operations center in Charlotte, Bruce Springsteen cancelled a concert in Greensboro scheduled for last weekend, and protesters spoke out today both in support of and in opposition to the law, known as House Bill 2.
Critics call the law anti-LGBT, saying it discriminates against gay and transgender residents. But supporters argue the law defends religious liberty and protects girls in public restrooms.
But HB2, also known as the Public Facilities Privacy and Security Act, has become a rallying point for both supporters and critics across the country, being one of the most visible of similar laws and proposals across states in the South.
HB2 was signed into law by Gov. Pat McCrory in March, and directs all public schools, government agencies and public college campuses to require that multiple-occupancy bathrooms and changing facilities, such as locker rooms, be designated for use only by people based on their "biological sex" stated on their birth certificate. Transgender people can use the bathrooms and changing facilities that correspond to their gender identity only if they get the biological sex on their birth certificate changed.
The bill also declares that state law overrides all local ordinances concerning wages, employment and public accommodations. So, the law bars local municipalities from creating their own rules prohibiting discrimination in public places based on sexual orientation and gender identity.
Among the bill's critics is Springsteen, who on Friday cancelled Sunday's sold-out show in Greensboro, and today is refunding the concert tickets.
Springsteen explained on Facebook, "Some things are more important than a rock show and this fight against prejudice and bigotry ... is one of them."
"It is the strongest means I have for raising my voice in opposition to those who continue to push us backwards instead of forwards," Springsteen wrote.
Former NBA star Charles Barkley agreed, saying the NBA should move next year's NBA All Star Game planned for Charlotte to somewhere else.
The issue extends beyond North Carolina -- singer Bryan Adams is cancelling his concert in Mississippi scheduled for this Thursday after a similar law there passed.
"I find it incomprehensible that LGBT citizens are being discriminated against in the state of Mississippi," Adams said in a statement on Instagram today. "I cannot in good conscience perform in a State where certain people are being denied their civil rights due to their sexual orientation. ... Using my voice I stand in solidarity with all my LGBT friends to repeal this extremely discriminatory bill."
North Carolina's governor and his supporters are fighting back, saying their critics were fine with similar laws in other places. "They demonized our state for political gain," McCrory has said.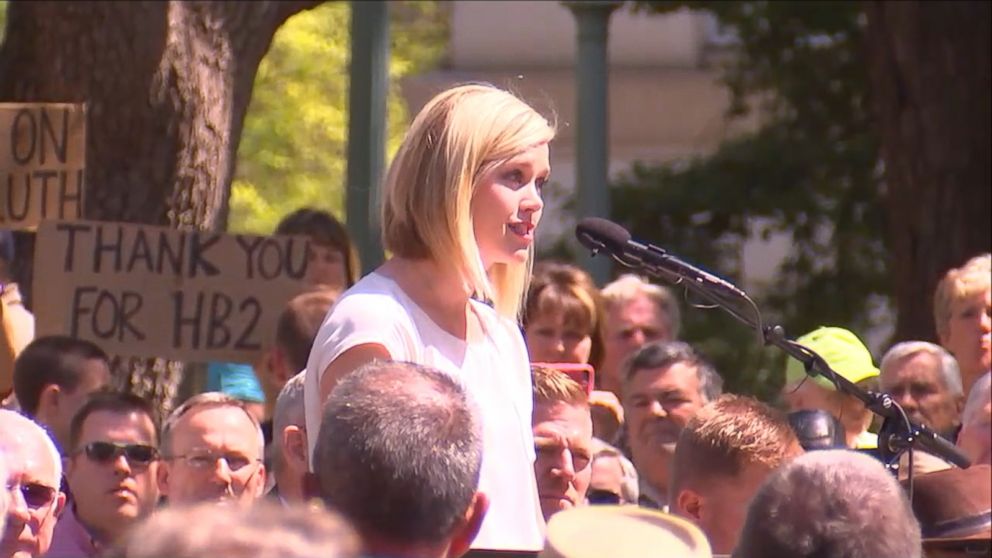 So why is this all coming to the forefront now?
Mara Keisling, founding executive director of the National Center for Transgender Equality, said she believes McCrory's seeking re-election this year played a role in the timing of the passage of the North Carolina law. Keisling called it an "effort by the governor to beef up his extremist right-wing base for the gubernatorial election."
"This guy is using it for political gain and it blew up in his face," Keisling told ABC News, adding that her organization is non-partisan.
Keisling said that "before North Carolina passed its bill, we never had lost a state legislative battle specifically on a trans issue."
"Sometimes it's not the governor's fault, but in this case, he's the one that called for it," Keisling said.
"He's hurting himself, clearly, and the entire state," she said, noting that it should become clear during the election in November how the law impacted the governor's approval rating.
McCrory defended the law last week, saying it "was to ensure that that expectation of privacy would remain in our high schools and our universities and our community colleges," McCrory told the Associated Press. "For those who disagree with that basic norm, they have that decision to make."
McCrory's office did not respond to a request for comment on Keisling's claims but did refer to a statement McCrory issued March 23 after signing House Bill 2.
But Kami Mueller of the North Carolina Values Coalition said to a cheering crowd today that she's thankful for the governor and the leaders of the state for "standing up."
The coalition is a non-partisan group that works to "preserve and promote faith, family and freedom," according to its website.
"These men and women are standing firm on the side of truth," Mueller said today during the rally, referring to the state lawmakers who supported HB2. "No one should be punished for what they believe."
Keisling also noted that many states have short legislative sessions early in the year. There have been 50 anti-trans bills introduced this year, part of 200 anti-LGBT bills introduced this year, Keisling said, noting that out of the 50 anti-trans bills introduced, 33 have either been voted down or vetoed.
In North Carolina, Keisling predicted a repeal.
"There is no problem that needs to be solved, and every state that has taken a serious look at it has decided not to do anything," she said.
"If trans leaders like me have something to be faulted for, it's that we've been doing a lot of education ... but we haven't done it enough," Keisling added. "Apparently more Americans think they have seen a ghost than they know a trans person. That's why Gov. McCrory thought he could use us this way. That's why he thought he could call us predators."
Keisling said, "If there's any silver lining here ... [the North Carolina law] is causing thousands of trans North Carolinians to step up ... and finish the education that we know we have to be doing."