— -- It's as hot in Manhattan as in Maui today, as record-high temperatures put autumn weather on hold in parts of the U.S.
The unusual October heat is forecast to continue through the middle of this week, possibly breaking records in the South, the Plains and the Northeast.
High temperatures equaled or broke records in nearly a dozen locations around the country. yesterday, with temperatures in some areas reaching close to 100 degrees.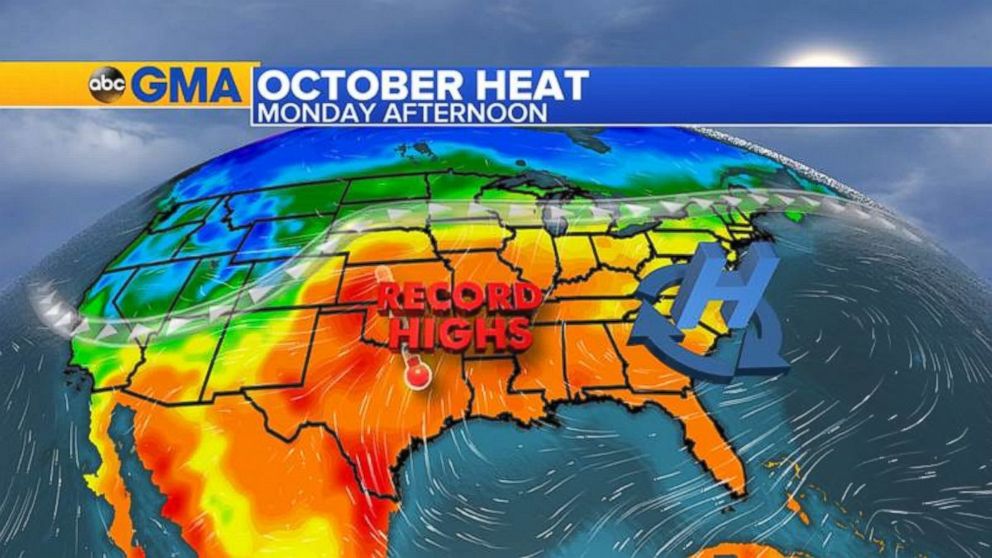 The thermometer in Dodge City, Kansas, hit 99 degrees yesterday, tying the city's previous record. Temperatures in Garden City, Kansas, reached 98 degrees, also matching a previous record. Meanwhile, Amarillo, Texas, recorded a high of 98 degrees, smashing an old record of 91 degrees.
In the Northeast, the return of summer temperatures is bringing highs in the mid-80s.
The fall heat comes after a sweltering summer that smashed temperature records around the Northern Hemisphere. In July, NASA released midyear data that revealed 2016 was on track to be the hottest year since the agency's recordkeeping began in 1880.
NASA has since announced that August tied with July of this year for the warmest month ever recorded.
The current high temperatures are expected to break with much cooler air moving into the Midwest by Wednesday and into the Northeast by the weekend.
ABC News' Max Golembo contributed to this report