Hurricane Florence Thursday dropped to a Category 2 storm with winds of 105 mph as it moved toward Bermuda and potentially the East Coast on Thursday.
Interested in
Hurricanes?
Add Hurricanes as an interest to stay up to date on the latest Hurricanes news, video, and analysis from ABC News.
The storm had risen briefly to Category 4 Wednesday with winds of 130 mph before weakening to a Category 3 and then a Category 2. The storm was forecast to strengthen again into a Category 3 hurricane by the end of the weekend into next week.
A Category 3 hurricane qualifies as a major storm, while winds from 130 to 156 mph bump it up to Category 4. A Category 5 hurricane, the strongest, has winds of at least 157 mph.
Florence was expected to continue to move northwest through the weekend and approach Bermuda around Monday or Tuesday.
It may be close to the East Coast by the middle or end of next week.
Florence will likely bring large waves that could cause life-threatening surf and rip currents on the East Coast from Florida to Maine.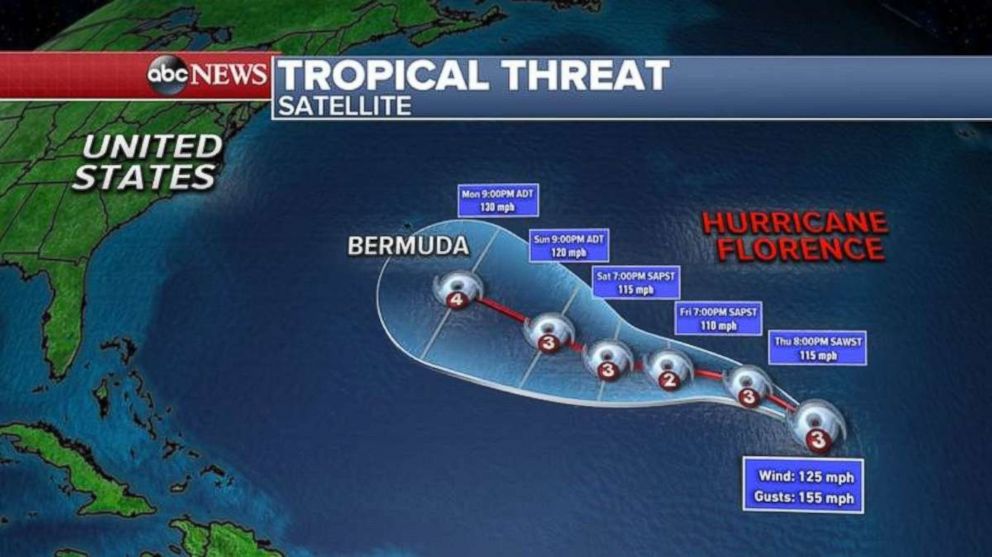 With hurricane season in full swing, another tropical wave is behind Florence -- Helene -- potentially becoming the next storm.
Peak hurricane season is from mid-August through mid-October and the peak date for hurricane season, on average, is Sept. 10.
The new storms formed just as tropical depression Gordon left flooding and rain behind for the Gulf Coast.
Parts of Florida saw almost 10 inches of rain.
Escambia County Fire Rescue including our special ops team, EMS, Escambia County Sheriff's Office and emergency management staff were called out to assist residents on Ashbury Lane this afternoon who were isolated by water on the roadway. Read the full story on our Facebook page. pic.twitter.com/LlEOGDqfDV

— BeReadyEscambia (@bereadyescambia) September 5, 2018
The remnants from Gordon continued into Arkansas Thursday morning.
Flood watches have been issued after parts of Kansas saw severe flooding Wednesday. Parts of Iowa have seen more than 10 inches in the past few days.