— -- The three sisters who were rescued after getting lost on a hike outside Jackson Hole, Wyoming, said today they relied on their faith to help them survive.
"Just trusting in God and knowing that he was going to carry us through; really that's the only thing that can keep you sane in the wilderness for six days, not knowing what's going on," Erin Andrews-Sharer, 22, said at a news conference this afternoon.
Standing beside her sisters Megan, 25, Kelsi, 16, and their parents, she discussed how they looked for "little signs … like a rainbow to show you that, you know, God's really taking care of you."
The sisters, who are from Wisconsin and Ohio but had traveled to Wyoming for a camping trip in the Bridger-Teton National Forest, said they had all of the tools they needed to survive in the wilderness, including warm gear, a water filter and whistles.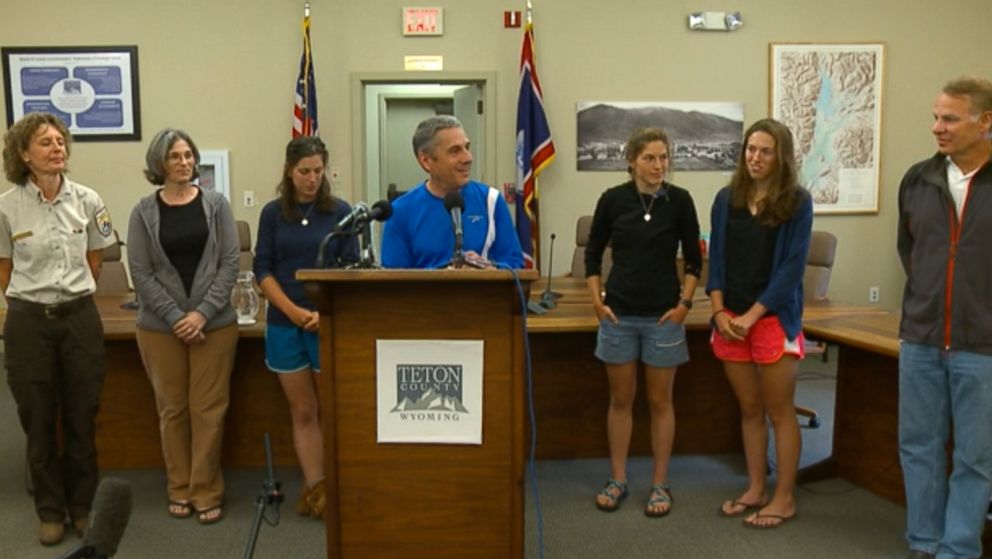 They only wanted for food, with Megan Andrews-Sharer noting they hadn't packed enough food to last for 10 days because their trip was supposed to be shorter before they got lost. It's unclear how many days they were lost.
"Shirley and my biggest concern was what would happen with their food supply," their father, Eric Andrews-Sharer, said, referring to his wife.
"They did a good job rationing the food that they had," he said, noting they knew they would have enough water because they purposefully picked a route near water.
The search for the sisters started Tuesday, their empty car was found Wednesday and they were rescued after being spotted by helicopter searchers Thursday.
"The most important thing that they did to help themselves was to stay put," Eric Andrews-Sharer said. "They did all the things you would want your kids to do."
They did not run into any threatening animals, which their father said was likely because the girls "make a lot of noise together." They regularly sing together while on hikes and he noted that they sang "The Star-Spangled Banner" during this trip to celebrate the Fourth of July.
They repeatedly thanked the search teams who had been looking for them and said they will "absolutely" be coming back to the area for future hikes.
"As we landed in the helicopter," Erin Andrews-Sharer said, "I realized there was no way people were going to give up [the search] and that was something that had crossed my mind a couple times."