— -- It's been several weeks since the deadly hurricanes Harvey, Irma and Maria left behind destruction in parts of Texas, Florida, Puerto Rico and the U.S. Virgin Islands, yet many people are still rebuilding their lives and communities.
"Good Morning America" visited some of the areas hit hardest by the storms, checking in on the recovery efforts and highlighting some incredible acts of heroism that emerged as people came together to mend their storm-ravaged communities in time for the holidays.
Ways you can help:
American Red Cross: Help people affected by disasters like storms and countless other crises. Visit Redcross.org/abc, call 1-800-RED CROSS or text the word REDCROSS to 90999 to make a $10 donation.
Feeding America: The nation's largest domestic hunger-relief charity provides support, food and supplies to people impacted by the recent natural disasters, serving all 50 states, the District of Columbia and Puerto Rico. Visit FeedingAmerica.org/ABCAdopt a Family, USVI: Adopt a Family, USVI pairs those who wish to help with families in need who were impacted by Hurricanes Irma and Maria in the U.S. Virgin Islands.Rebuilding Together: Rebuilding Together helps repair and rebuild homes free for elderly and low-income homeowners. The group has been especially active in aiding the long-term recovery efforts in Houston since Hurricane Harvey.
Houston: 'We've gotten through this storm together'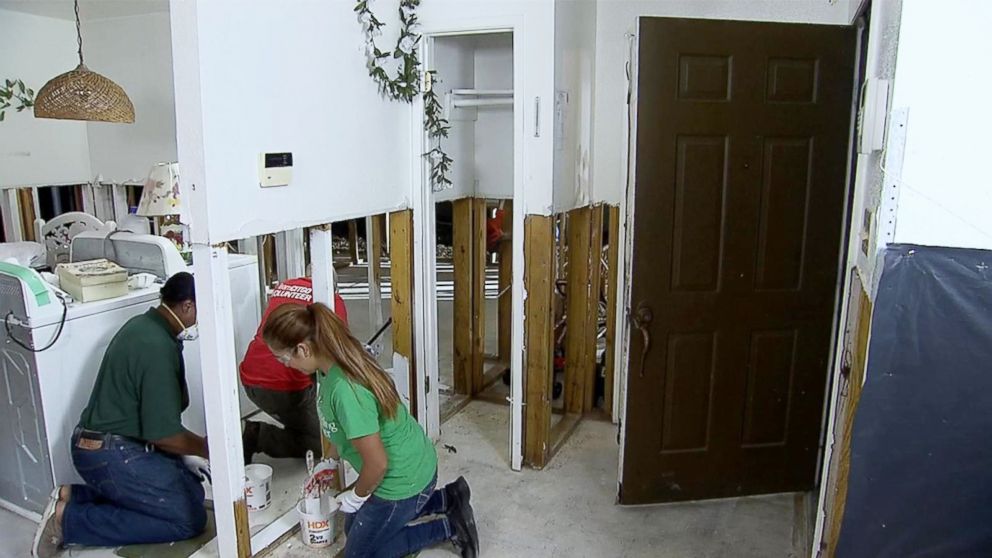 ABC News' Michael Strahan headed to his hometown of Houston, Texas, where Hurricane Harvey was blamed for the death of dozens of people, according to Texas officials.
The storm damaged or destroyed at least 185,149 homes in the Lone Star state, according to data released shortly after the storm by the Texas Division of Emergency management. Approximately 68,000 damaged or destroyed homes are located in Harris County -- which houses the city of Houston -- according to data released by the Federal Emergency Management Agency (FEMA).
Even as the deluge of deadly floodwater receded, it left behind a massive cleanup effort that remains ongoing. An estimated $61 billion is still needed to repair public infrastructure, according to a report released by Texas Gov. Greg Abbott at the end of October.
Strahan caught up with Iashia Nelson, a mother of three who Facetimed live on "GMA" during the storm, pleading to be rescued as she and her neighbors fled to the roof of an apartment building in downtown Houston while the floodwaters rushed around them. Nelson was eventually rescued, but her plea highlighted the agony that many storm victims faced.
The Hurricane Katrina survivor, who had moved to Houston after leaving New Orleans, Louisiana, said that she feels grateful to be alive, but added that even several months after Harvey, the recovery effort remains a work in progress.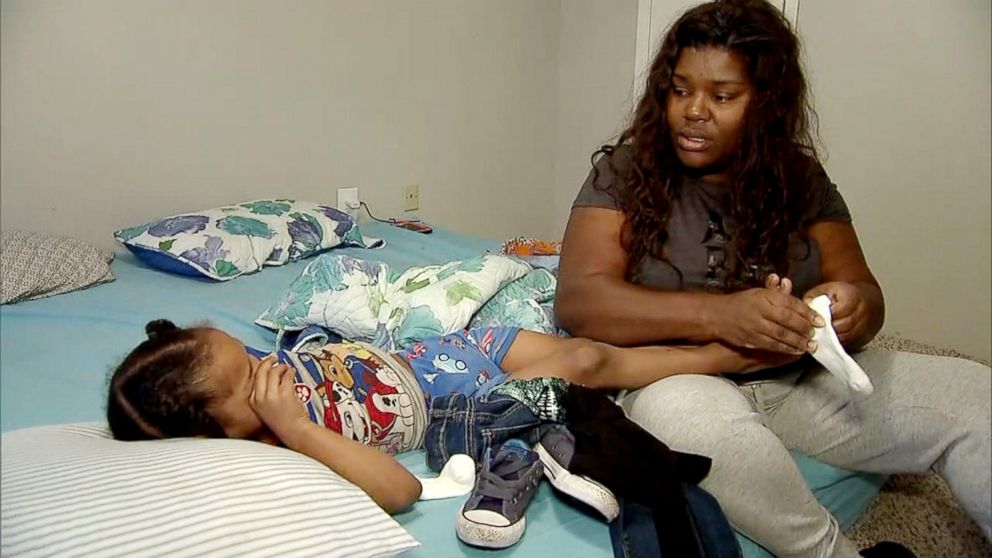 "Reality set in once I went back to my apartment and realized I had nothing," she told ABC News, adding that what her family needs most now is "clothes."
Despite losing nearly all of her belongings, Nelson said she is focusing on the positive aspects of her situation and working to set a good example for her children.
"When something bad happens, I always look for the good," she added. "'Cause I always say, 'When it's something bad, something good is to follow.'"
Strahan also revisited one of Houston's hometown heroes, Jim McIngvale, better known as "Mattress Mack," who opened his furniture store up to the public for shelter when the storm hit.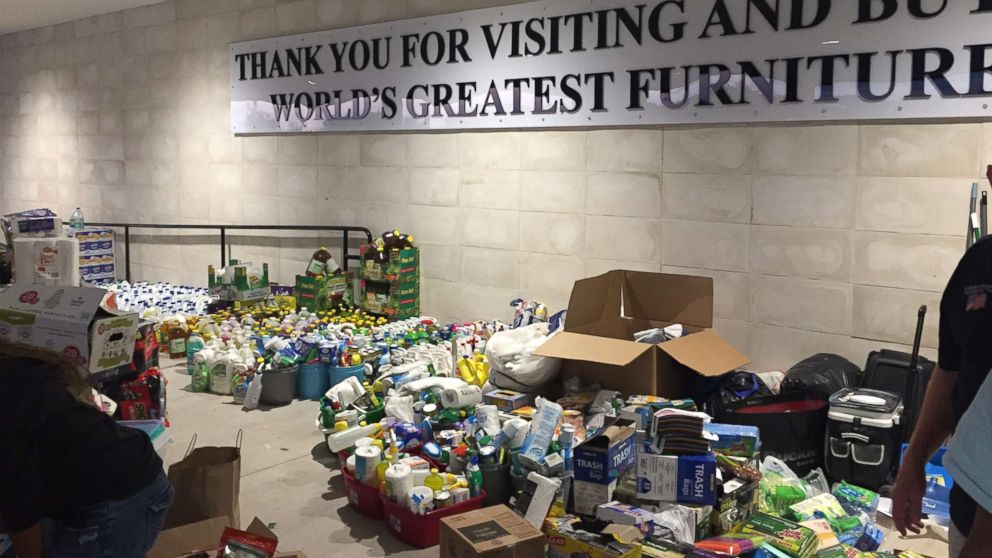 McIngvale announced that he will host a Thanksgiving dinner at the same furniture store, and extended an open invite to all members of the community.
"We want to get together as a community and be grateful that we've gotten through this storm together," McIngvale told ABC News. "We're going to celebrate the things we have to be thankful for."
McIngvale also surprised a Houston resident live on "GMA" with the news that he will fully furnish her home for free.
"Our store is right up the street," McIngvale told the stunned woman. "You drive up there and pick out everything you want and we'll deliver it right here."
Hurricane Harvey caused a crisis for C.E. King High School in northeast Houston, destroying classrooms and leaving its gym floor and football field in bad condition.
Strahan first met the school's football team in September, when they spoke about their fears during the storm. The students are sharing classrooms with an elementary school but the football team is back on the field playing better than ever.
Hundreds of donations poured in for the team, including a $45,000 donation from Dick's Sporting Goods and new uniforms courtesy of Under Armour.
Florida Keys: 'Together we can do this'
In the Florida Keys, Hurricane Irma's 130 mph winds and storm surges did serious damage. A quarter of the homes in the Keys were destroyed, and 17 people were killed, according to authorities.
"The level of destruction was numbing," Harry Russell, a life-long resident of the Keys and principal of Sugarloaf School in Summerland Key, one of the areas hardest hit, told ABC News Rob Marciano.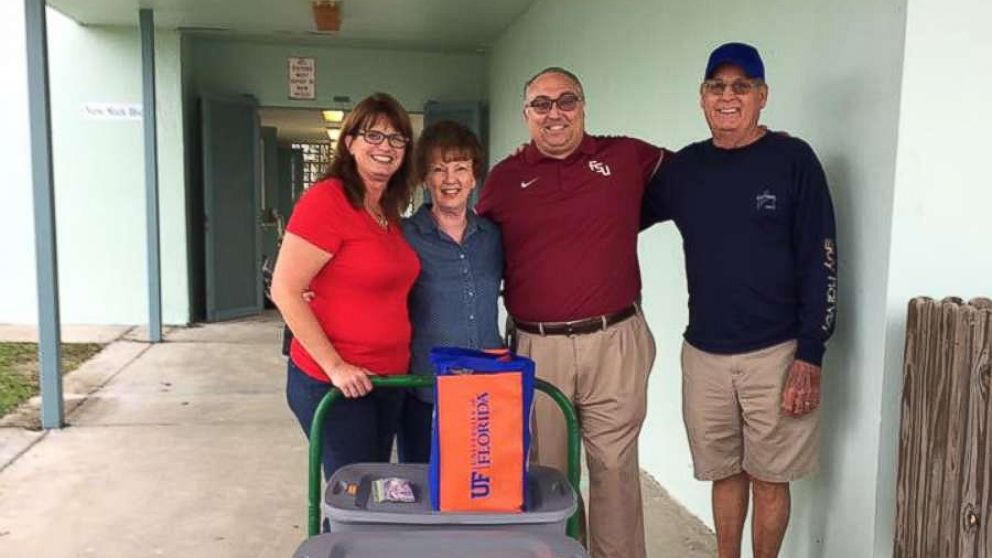 "I've been involved in other hurricanes but the sheer magnitude of this – the effects, the scale, is huge and impacted a lot of areas and a lot of people in a big way," Russell said. "But it made me motivated to go to work as a school principal to offer help and assistance."
Russell, 46, rose to the occasion as the community worked to rebuild. He opened up the school to Banana Cabanna Academy daycare center, which was completely destroyed. The temporary daycare helped allow thirty families to return to work and to restore a sense of normalcy to their lives.
"I kind of had given up and was ready to walk away," Banana Cabanna Academy daycare owner Rhonda Threlkeld told ABC News. "Having this as a starting point, a stepping stone, gave us hope to move forward and start again. The community has been so giving beyond anything I could expect."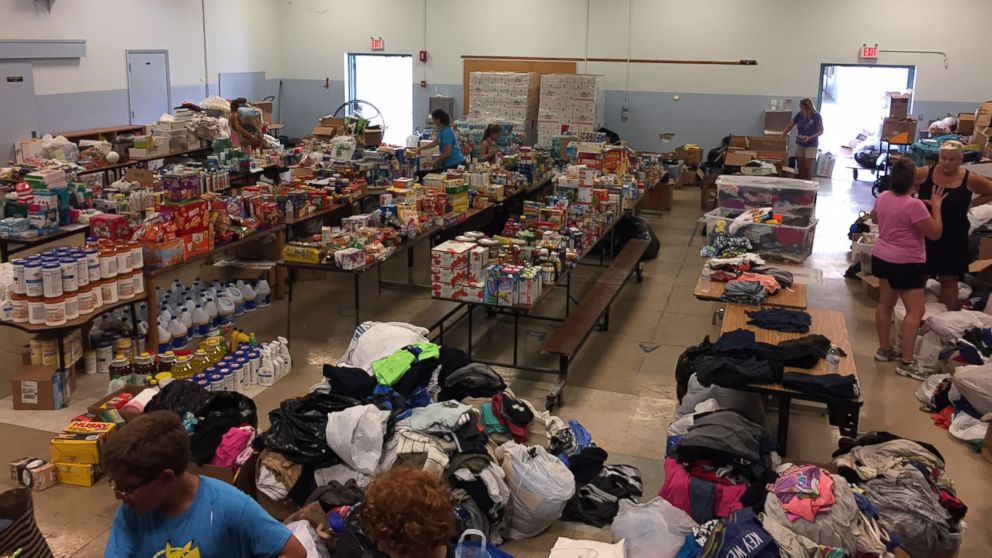 "It was a weight off our shoulders that's indescribable to have kids here, have them safe," Caroline Thomason, a mother to a child in first grade, adding it's a testament to the "drive and tenacity of the people that live here."
The school also turned the cafeteria into a distribution center, manned by local volunteers, where donated supplies could reach those in need.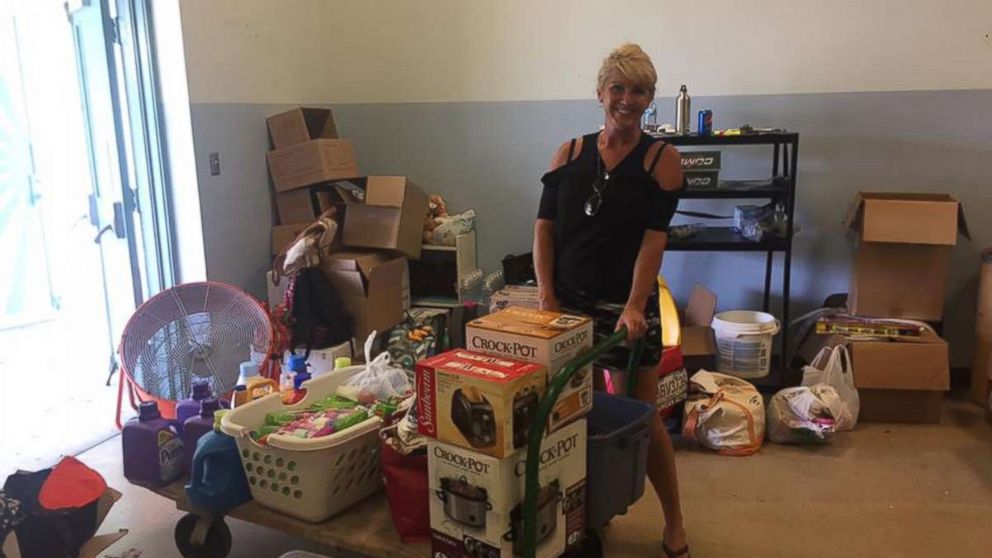 "When I think about all the contributions and the donations from everywhere ... it does give me hope," PTO president and volunteer Heather Allen said. "And lets me know we are not in this by ourselves, together we can do this. ... I feel whole when I'm out here in the community helping."
Winn-Dixie presented Russell with a check today for $25,200, enough to provide a Thanksgiving meal for every student at Sugarloaf School.
"That was our next big focus, a Thanksgiving meal for all our our families, so this is fantastic," Russell said.
U.S. Virgin Islands: 'We're a very resilient community'
ABC News' Robin Roberts visited the U.S. Virgin Islands, which was impacted by both Irma and Maria. As of early November, swaths of the population in the U.S. Virgin Islands remains without power.
Ian Samuel, a resident of St. John's who works on Bloomberg Philanthropies' recovery team on the island, told ABC News that he chooses to remain hopeful as he rebuilds his community, even though he his home was completely destroyed by the hurricanes.
"If you talk to a lot of people here, lost their home, lost their car, lost their job, but we got life, and once you got life you can build back, and you can do whatever you need to do," Samuel said.
"It's all about restoring hope and making sure people don't lose that hope, that things are going to get better," he added of the work he currently does. "And that's what where here to do is give them that hope."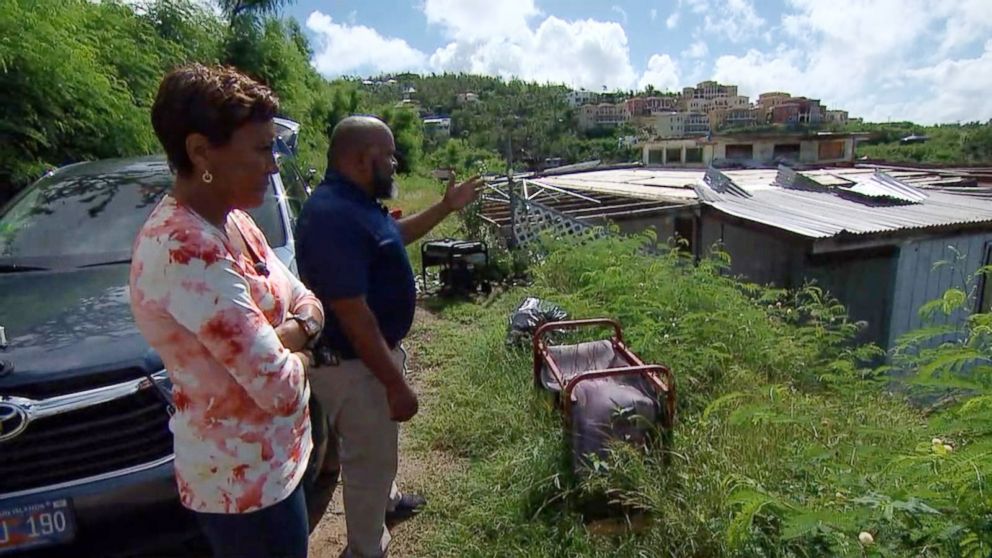 Samuel added that the work they do with Bloomberg Philanthropies helps with "filling in the gaps created by FEMA."
"FEMA is a great organization," he added. "They're here to help, but there are a lot of gaps."
Despite losing most of his belongings and his house, Samuel said "Things could always be worse. You got to just keep that mindset, it'll help you get through."
"We're a very resilient community," he added.
Tesroy and Maekiaphan Phillips, who live in St. Thomas, are also working to spread hope in the aftermath of the storms, after they immediately took action when they realized they were one of the only families in their community with a generator.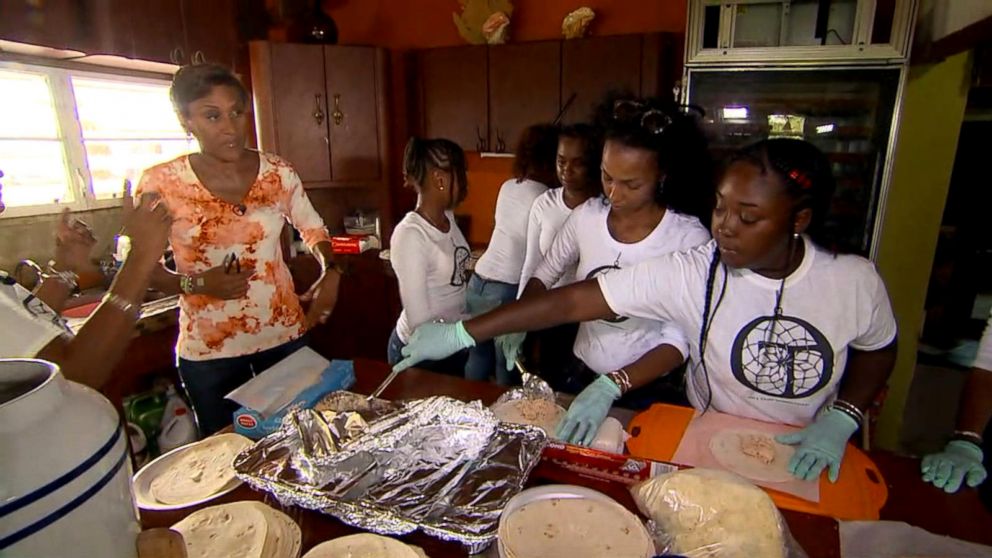 Maekiaphan Phillips and her family have cooked and distributed more than 3,500 meals to members of their community following the storm.
"I cook for 25 people normally, that's just us, so it's not too much extra to share with the community," Maekiaphan Phillips, a mother of 12, told ABC News, adding that she started cooking for her community when they realized "we were the only ones in this neighborhood with a roof."
The family cooks approximately 250 meals a day, mostly of the food donated from others to the island.
Tesroy Phillips told ABC News that his wife initially served strangers using the special china that he got for her.
Maekiaphan Phillips said she did that in order "to give back people a little bit of humanity." Tesroy Phillips added that the small gesture helped give people "a little hope."
Maekiaphan Phillips said she hopes her actions will inspire their children.
"We raised our children to serve god and to always love your neighbor as yourself," she said.
Puerto Rico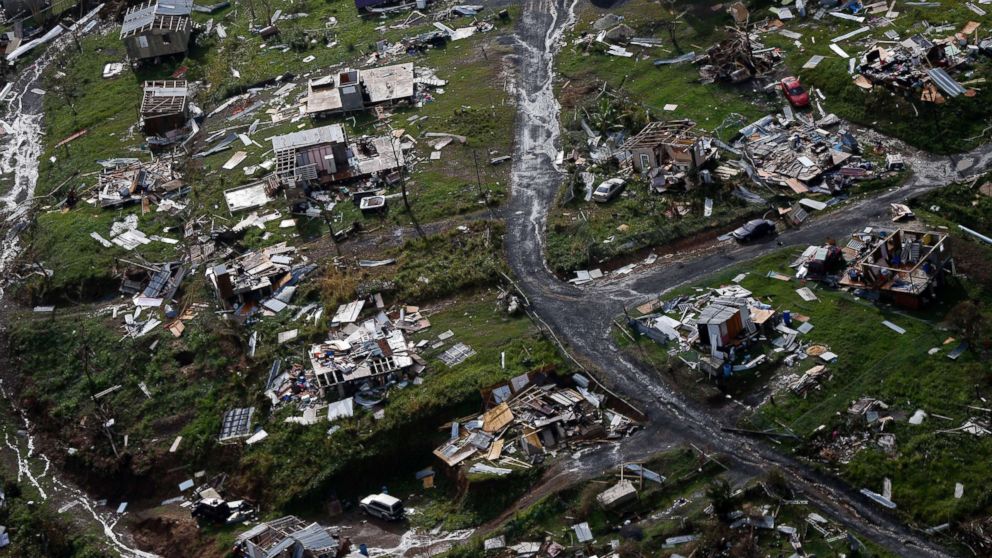 Roberts also headed to Puerto Rico, where the devastation left in the wake of Hurricane Maria remains palpable and delayed relief efforts have courted controversy.
As of early November, nearly 60 percent of the island remains without electricity and thousands of people remain in shelters, The Associated Press reported.
Roberts surveyed the damage on a helicopter ride with Mike Byrne, the federal coordinating officer for FEMA who is leading the agency's efforts in Puerto Rico.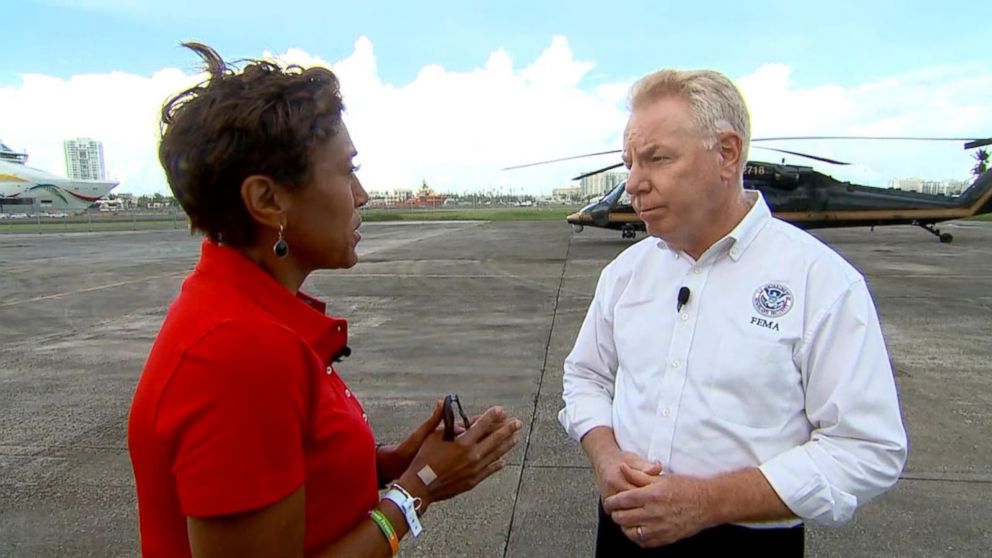 "We're bringing in lots of people. We're bringing in lots of different programs," Byrne said. "We've given out over 100 million dollars in aid directly to the citizens."
He continued, "We're just not going to stop. We're going to keep at it and at it and at it until we make a difference for everybody."
The nonprofit organization World Central Kitchen has been on the ground working to provide chef-prepared meals to those most impacted by the storm.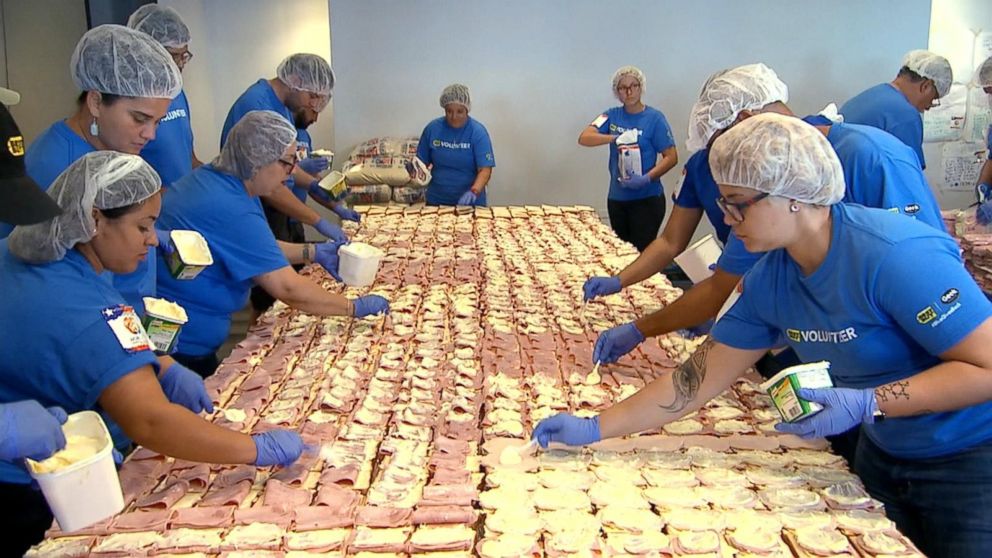 The organization, started by chef Jose Andres, has prepared 2.6 million meals and counting in Puerto Rico from 17 kitchens across the island following Maria.
Jose Alejandro Ortiz, an entrepreneur, was launching a food service delivery app when Maria hit. He has spent the past 46 days volunteering with World Central Kitchen.
"There's no word that I can describe it," Ortiz told Roberts. "Sometimes I feel happy, proud. Sometimes I feel sad when I go out and see that people have that need."