— -- The father and sister of Ron Goldman said they found the decision to grant O.J. Simpson parole "very disappointing."
"It was shocking," Kim Goldman, sister of Ron Goldman, said today on "Good Morning America" about a Nevada parole board's granting Simpson parole for a 2007 botched robbery. "I think I expected that [Simpson] was going to come in with a script-- 'I did these crimes, I'm so sorry, I'm remorseful, I know that there was a gun in the room.'"
Kim Goldman and Ron's father, Fred Goldman, spoke to "GMA" Friday about their reactions to the Thursday hearing and Simpson's comments to the parole board.
"I thought he was going to follow what I thought was going to be a very strategic plan for the day and then he went off-script," Kim Goldman said. "He became exactly who he normally is, and I started to panic a little and obviously like everybody else we watched them unanimously willing to release him and it was very disappointing."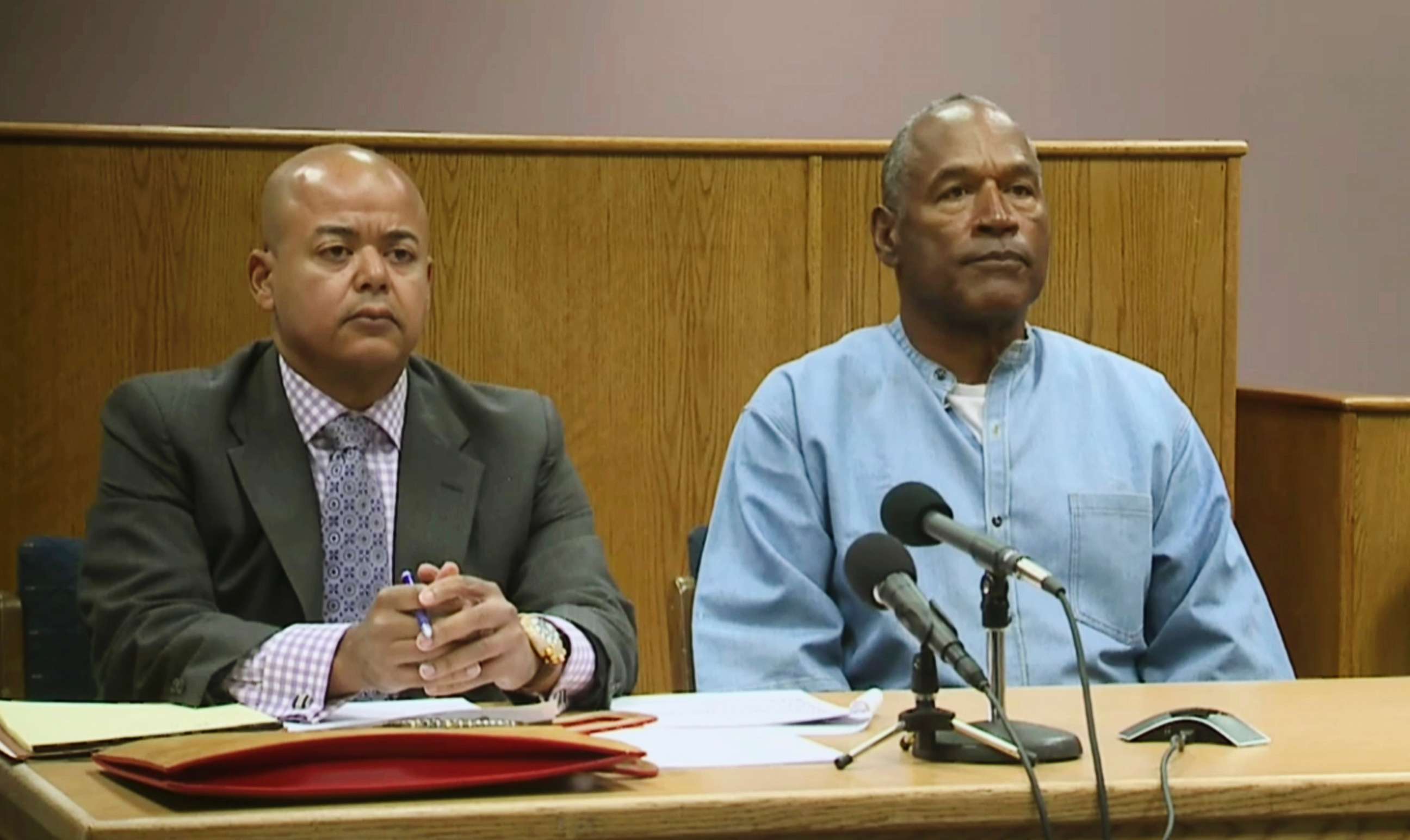 The Goldmans said Thursday on "GMA" that they do not expect to ever see justice for the 1994 killing of their family member, Ron Goldman. Goldman was killed along with Simpson's wife, Nicole Brown Simpson.
Fred Goldman remarked on the 70-year-old Simpson's comment before the parole board that he has led a "conflict-free life."
"Everybody in the world except him knows that he has not led a conflict-free life," Fred Goldman said. "He beat up his first wife, he beat up Nicole numerous times, he had numerous other altercations with people over the years -- hardly conflict-free, nor do I suspect it'll ever be conflict-free. He's just not capable of being that person."
The Goldmans said they feel the parole board members did not "pressure" Simpson enough during the hearing.
Fred Goldman said it was "frustrating" to see the board not bring up the 1997 civil case against Simpson.
"They never pressed him about anything," he said. "He snapped at one of the commissioners ... the first gentleman who spoke, he snapped at him. There was no feedback to that. He lied numerous times about many things. He was never requestioned about anything. My sense was that a checklist of whatever it was, 10 things, and they checked them off and as long as he answered the proper number of items on the checklist, it was a done deal."
Simpson served nine years of a 33-year sentence at Lovelock Correctional Facility in Nevada. He is expected to be released as early as Oct. 1.
"We've lived our life with him being a free man, we've done this," Kim Goldman said. "So, we've had nine years of reprieve. We're going to go back to doing what we've done. I run a non-profit working with teenagers, I do stories on other victims and survivors, I'm raising my kids. We're active in the world of victims and survivors' advocacy. We're going to continue doing those things and take it one day at a time and if he chooses to write a book, or do a reality show, we'll be there."
"We're going to jump on him," Fred Goldman said in reference to the possibility of Simpson's earning money from such activity. "To get some satisfaction of justice. It was never about the money [in the civil case.] It was punishment, and we didn't have the opportunity to see him go to jail or death row for murder, but he got a judgment against him and honoring that judgment or making him honor the judgment is the only punishment that we can get from him."