Rudy Giuliani has tested positive for COVID-19, President Donald Trump tweeted on Sunday.
"@RudyGiuliani, by far the greatest mayor in the history of NYC, and who has been working tirelessly exposing the most corrupt election (by far!) in the history of the USA, has tested positive for the China Virus. Get better soon Rudy, we will carry on!!!" Trump tweeted.
Giuliani, 76, was admitted to MedStar Georgetown University Hospital in Washington Sunday, sources familiar with the matter told ABC News. It is unclear when exactly Giuliani tested positive or the details of his condition.
The former New York City mayor tweeted out Sunday night that he's feeling good.
"Thank you to all my friends and followers for all the prayers and kind wishes," Giuliani tweeted. "I'm getting great care and feeling good. Recovering quickly and keeping up with everything."
He has spent the last month traveling the country fighting the 2020 election results in states including Pennsylvania, Michigan and Arizona on behalf of the president. On Wednesday, Giuliani attended a hearing in the Michigan House of Representatives where he was seen without a mask and argued the election was riddled with fraud.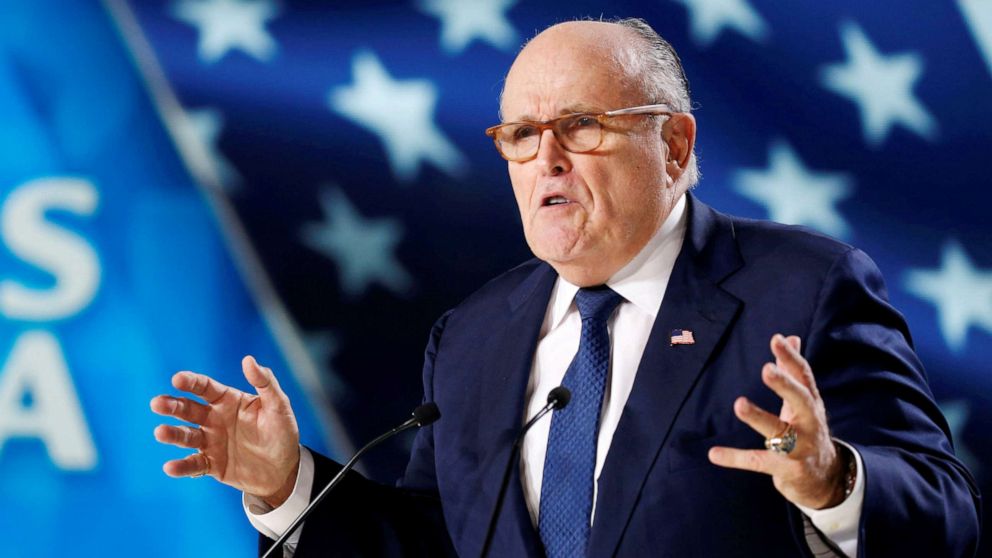 The next day he appeared at a hearing at the Georgia Senate Judiciary Committee to contest that state's results. Not all of the state senators in the hearing were seen wearing masks.
"Senate staff members who were present in the committee room for the hearings have been instructed to work from home until they have an opportunity to take a COVID test and receive the results," a spokesperson for the Georgia state senate told ABC News.
The Trump campaign claims Giuliani "did not experience any symptoms or test positive for COVID-19 until more than 48 hours after his return" and tested negative before he traveled to each state, the campaign said in a statement Sunday.
The Trump campaign also says that other "team members" who came in close contact with Giuliani will "be following their physicians' directives and CDC guidelines on self-isolation and testing"—but the campaign does not name any names or mention if Trump Legal adviser Jenna Ellis will be quarantining.
Ellis was with Giuliani Thursday and attended the White House senior staff Christmas party Friday. She previously had the coronavirus over the summer, sources tell ABC.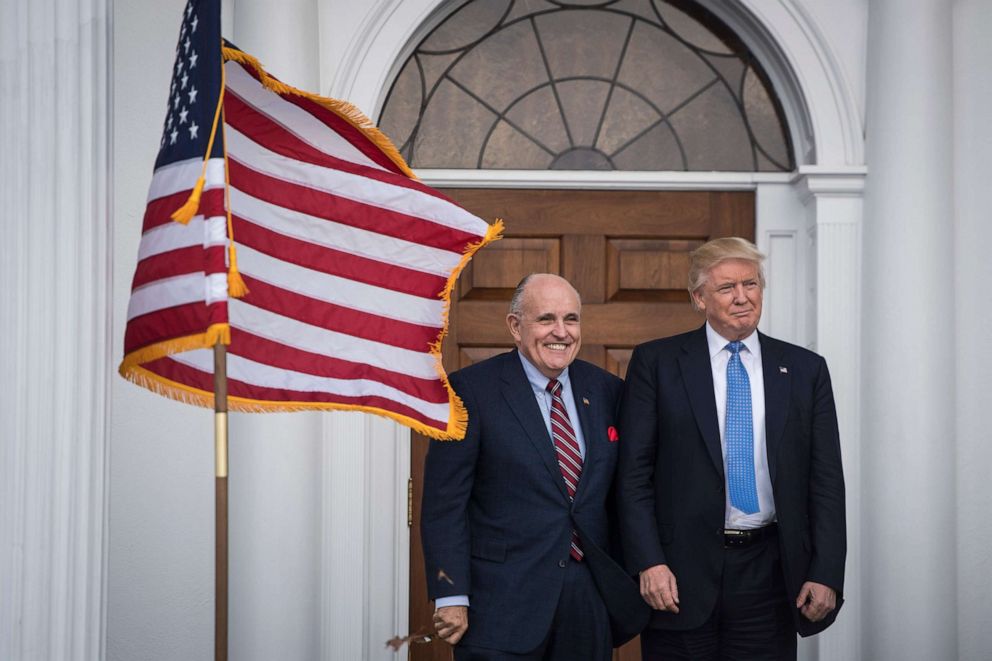 Giuliani appeared in an interview on Fox News with Maria Bartiromo Sunday that was taped at 9 a.m.
He becomes the latest in a growing list of White House officials who have tested positive for the virus. The president, along with first lady Melania Trump and their son, Barron, contracted the virus in October, a week after they hosted a gathering of officials to announce the nomination of Supreme Court Justice Amy Coney Barrett.
White House press secretary Kayleigh McEnany and campaign adviser Chris Christie were also diagnosed with COVID-19 around that time.
More officials have announced they contracted the disease in the last few weeks. On Nov. 9, Secretary of Housing and Urban Development Ben Carson contracted COVID-19.
On Nov. 20, Giuliani's son, Andrew Giuliani, who serves as a special assistant to the president, tested positive for the coronavirus and a day later, Donald Trump Jr. tested positive.
The country is seeing a jump in new coronavirus cases, hospitalizations and deaths. Experts warn that the numbers will get worse as America heads into the winter.
Last week, the White House Coronavirus Task Force issued a warning to the nation's governors urging them to advise senior citizens to avoid leaving their homes for nonessential activities.
"It must be made clear that if you are over 65 or have significant health conditions, you should not enter any indoor public spaces where anyone is unmasked due to the immediate risk to your health," the memo said.
The memo also warned that Americans who celebrated Thanksgiving with anyone outside their household are infectious and "dangerous to others."